Posted on April 10, 2021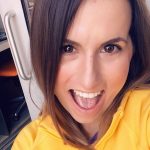 By Leah Brown, SuperWest Sports
A
fter weeks of radio silence following the firing of Jody Wynn on March 15th, news broke Monday in Seattle that the University of Washington had hired a new head women's basketball coach, Tina Langley.

Langley comes to Seattle after six years as the head coach at Rice University in Conference USA, where Langley transformed the Owls in her six seasons in Houston.
In 2015-16, her first season, the team finished 9-22 and advanced to the quarterfinals of their conference tournament. In 2020-21, the Owls finished 23-4, won the WNIT, and were Conference USA West division champions.
In the past three seasons under Langley's leadership, the Owls have amassed an eye-popping 44-4 record in conference.

Before landing the job at Rice, Tina Langley served as an assistant for seven seasons under Brenda Frese, at Maryland, in the Big 10, the last five as associate head coach. The Terrapins twice reached the Final Four with Langley on staff, and in her final season in College Park, the Terps went 18-0 in league play.
Langley is an alumnus of the University of West Alabama, where she received a degree in special education; she also has a Master of Arts in Recreation and Leisure from the University of Toledo, and a Master of Arts in community counseling from the University of Alabama.
With extensive experience east of the Mississippi, Husky fans might be wondering: Why are the University of Washington and Tina Langley a fit?
For starters, Langley has experience building a winner at a mid-major school in Rice. In six seasons, the Owls went from a basement-dwelling conference team to competing for CUSA championships.

Additionally, Langley has extensive leadership experience at a high-performing Power 5 conference school in Maryland; she was Brenda Frese's associate head coach for five seasons, and helped guide Maryland to two Final Fours.
The deficit in Tina Langley's resume is connections to the Pacific Northwest and the West Coast.
Langley said in her introductory press conference on Wednesday that working for a school like Maryland did afford her the ability to recruit nationally, and she does have relationships with coaches in the Pacific Northwest, though certainly she will need to build and grow more connections in the greater Seattle area.
Langley stressed that recruiting is about relationships, and she hopes people can feel her passion and love for the community as she establishes herself at UW.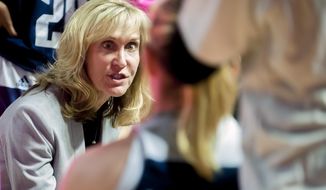 Another concern among seasoned UW fans might be that Tina Langley, a native of Alabama, will help rebuild Washington and leave Seattle when a job closer to home opens up.
Head coaching roles at Auburn and Oklahoma were also vacant during the Washington search, and there were whispers that Langley was a finalist for the Tigers and Sooners, as well as the Huskies. Auburn and Oklahoma were likely in a financial position to top an offer that Washington presented to Langley.
On Wednesday Langley spoke several times about the athletic and academic opportunity available at the University of Washington, indicating that Tina Langley takes academics for her student athletes seriously, particularly coming off a stint at Rice, which is also a stellar academic institution.
What was clear from watching and listening to Tina Langley in her press conference was her deep respect for Seattle and the UW community, her commitment to the student-athletes on the roster right now, and her willingness to learn and be adaptable.

She spoke about what a rich tradition the women's basketball program at Washington has, and how humbled she was to be able to build on the past as she looks forward to what's to come in Seattle.
Without question, Langley exudes a positivity that has been missing from the women's basketball program at UW for the past four years.
As a native of Alabama, she was asked if her family was Roll Tide or War Eagle growing up. Langley's quip was telling.
"Well," she said, "I'm more Go Dawgs!"
If that doesn't make everyone wearing purple and gold stand and cheer, I'm not sure what will. Tina Langley is a great fit on Montlake, and with that enthusiasm and radiant positivity, I'm confident wins will follow.
---
—More from Leah Brown—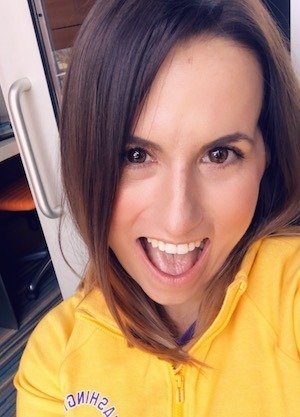 Latest posts by Leah Brown
(see all)