Posted on October 1, 2021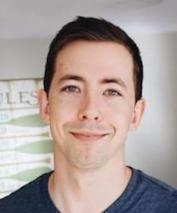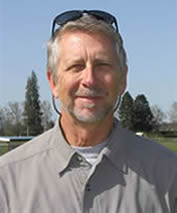 By Steve Ritchie and Eli Ritchie, SuperWest Sports
O
regon's running back duo of C.J. Verdell andTravis Dye came into the Duck football program together in 2018 and have been sharing time in the backfield ever since.
The duo has received some well-deserved national recognition as the most productive active backfield tandem in the FBS, with a combined 4,992 career yards gained through Oregon's September 25th game against Arizona.

During the Arizona game, Verdell moved past Terrance Whitehead to claim the No. 6 spot on the all-time Oregon career rushing list. Dye has also been quietly moving up the list as well, recently reaching No. 16.
Verdell could potentially to move all the way No. 3, with only LaMichael James and Royce Freeman definitely outside his reach. Dye could move into the top 10, needing only 210 yards to pass Jeremiah Johnson.
The productivity of Verdell and Dye has, for the time being, kept touted freshmen Seven McGee, Byron Cardwell and Trey Benson relegated to mop-up duty.
While that trio has the athleticism and explosiveness to someday stake their own claim to Duck fame, right now Oregon's rushing success will be determined by the offensive line and Verdell and Dye.
So where do C.J. Verdell and Travis Dye rank on the list of all-time best Oregon running back duos? Here's our Top 10.
1. LaMichael James (2009-11) and Kenjon Barner (2009-12)
8,705 combined career yards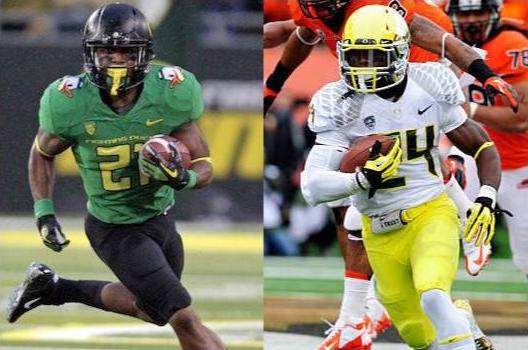 A
s the No. 2 and No. 3 all-time rushers for Oregon, our top duo should come as no surprise. De'Anthony Thomas deserves a nod here as well, overlapping with James for one season and averaging a staggering 10.8 yards per carry as a freshman.
Thrust into the spotlight after LaGarrette Blount's indefinite suspension for "the punch" at Boise State, James belied expectations as a middling 3-star recruit to run for 1,546 yards in 2009.
Converted defensive back Barner showed flashes in contributing 366 on six yards per carry.
James continued to dominate in 2010 and 2011, eventually becoming the all-time rushing leader for Oregon at the time, with 5,082 yards in his three years. Had he stayed for his senior year, he would likely have eclipsed the all-time Pac-12 mark.
Barner nearly broke the 1000-yard season threshold as well, running for 939 as a junior.
2. Jonathan Stewart (2005-07) and Jeremiah Johnson (2005-08)
5,227 combined career yards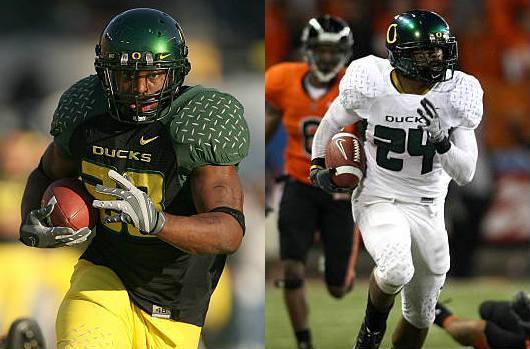 L
ike Verdell and Dye and James and Barner, "JStew" and "JJ" also entered together.
While Stewart was injured much of his freshman year, the pair showed their talent in 2006 in a transition year for the UO offense, following the graduation of Kellen Clemens.
In 2007, with Johnson injured, Stewart stepped up big time, exploding for 1,722 yards as the Ducks climbed nearly to the top of the polls. An injury to Dennis Dixon derailed the season which had seemed destined for glory.
Johnson continued his exceptional career for UO in 2008, while Stewart would become a first-round selection of the Carolina Panthers. He ran for over 7,000 yards during a decade-long NFL career, including a Pro Bowl selection in 2016.
3. Kenjon Barner (2009-12) and De'Anthony Thomas (2011-13)
5,513 combined career yards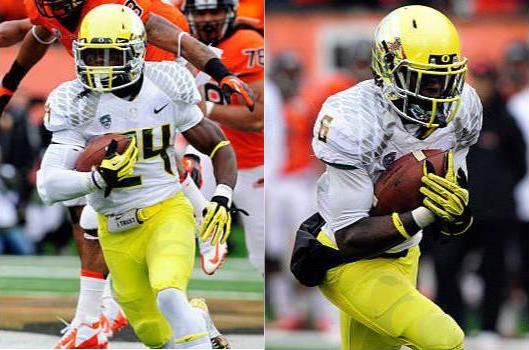 B
arner stepped out of the shadow of LaMichael James to have one of the best seasons ever for an Oregon running back in 2012, finishing with 1,767 yards.
He also broke James' single-game record, running for 321 yards in a spectacular performance against USC in the Coliseum.
Thomas built on a promising freshman season with 701 yards on 7.6 per carry, while also making an impact as a receiver and kick returner. A Fiesta Bowl win over Kansas State capped one of the best Oregon seasons ever.
While neither reached significant heights as pros, both had solid careers, with Barner collecting two Super Bowl rings and contributing significantly on special teams.
4. Royce Freeman (2014-17) and Kani Benoit (2014-17)
6,967 combined career yards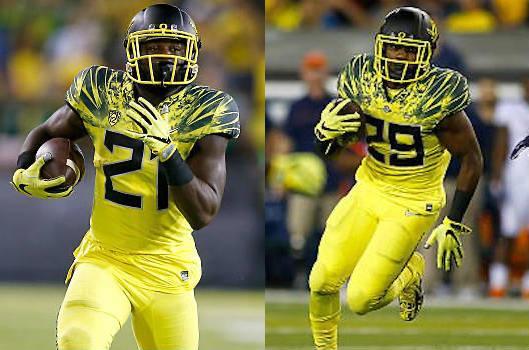 O
ne could take issue with this selection for two reasons.
First, most of those combined yards were gained by Freeman, who is the Oregon all-time leader with 5,621 yards.
Second, you might be tempted to go with Tony Brooks-James as the Robin to Freeman's Batman. "TBJ" did have more career yards than Benoit, 1,863 to 1,346.
However, Benoit and Freeman were together all four years, while Brooks-James came a year later, and a significant number of his yards were gained after Freeman and Benoit departed.
Certainly, Freeman's tremendous freshman year in 2014 was a big factor in the Ducks' drive to the national championship game, so it would be hard to omit him and Benoit from this list.
5. CJ Verdell (2018-21) and Travis Dye (2018-21)
4,992 combined yards to date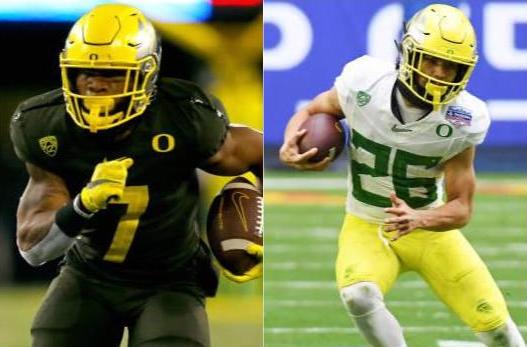 S
ome say the best ability is availability, and Verdell and Dye are the only duo on this list to start together for all four years.
Verdell hasn't yet met his ceiling, with injuries limiting his impact as a junior and inconsistent performances by the Duck offense limiting the ground game in 2021.
Dye had one big run against the Cats last week, but that play showed his limitations as he was caught from behind by a much larger Arizona defensive back.
Both stand to move up this list if Oregon can recapture its early-season form.
6. Maurice Morris (2000-01) and Onterrio Smith (2001-02)
4,386 combined career yards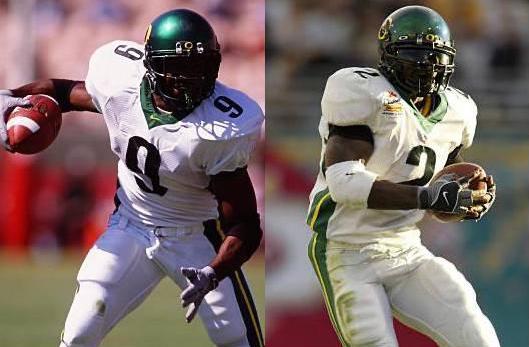 M
aurice Morris and Smith were actually together just one season, but what a season it was.
The combination of this duo in the backfield and an outstanding passing game led by Joey Harrington carried the Ducks to a No. 2 national ranking and a memorable Fiesta Bowl win over Colorado.
Both Morris and Smith had good years for Oregon without the other one, but together they were dynamite.
7. Derek Loville (1986-89) and Latin Berry (1986-89)
4,866 combined career yards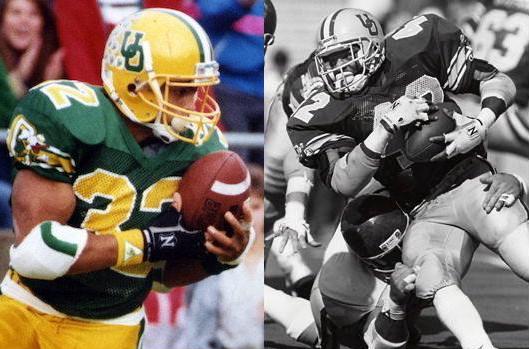 A
nother duo that came to Eugene together and—with quarterback Bill Musgrave—helped Oregon get to its first bowl game in decades, setting the stage for future success.
Loville was a simply spectacular back who held the Oregon career record for more than 20 years, going on to a solid career as a backup with the 49ers in the 1990s.
Loville benefitted from the outstanding blocking of fullback Berry, who was also a good runner and receiver. Unlike most of the duos here, they were usually in the game together in Oregon's I formation set.
8. Ricky Whittle (1992-95) and Dino Philyaw (1993-94)
3,381 combined career yards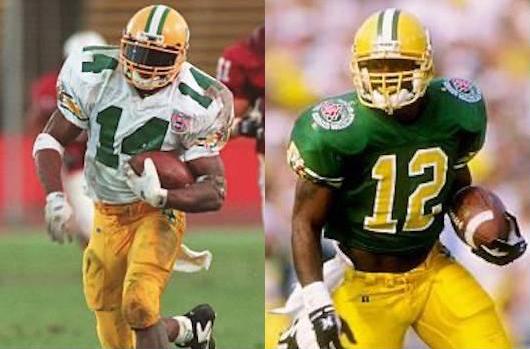 W
hittle and Philyaw were key players for the Ducks in the 1994 season, when they reached the Rose Bowl for the first time in 37 years.
Whittle rushed for 2,545 yards in four years (No. 9 on the all-time list), while Philyaw, a JC transfer, was a versatile back who was also an excellent receiver out of the backfield.
9. Jack Morris (1956-57) and Jim Shanley (1956-57)
2,247 combined career yards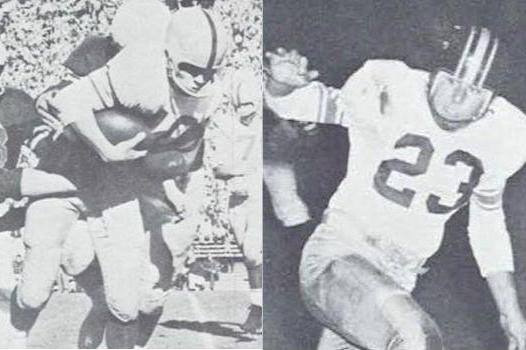 J
ack Morris and Shanley were mainstays on the Ducks' 1957 team that played in the 1958 Rose Bowl.
The "Webfoots" were massive underdogs to Ohio State in that game, but gave the Buckeyes all they could handle before losing on a fourth quarter field goal, 10-7.
The elder of the two authors was a wee lad of six for that season and can't speak with any authority about Morris and Shanley, but both men went on to play in the pros for several years.
Morris was the Oregon kicker as well as running back, and Shanley scored the only UO touchdown in the Rose Bowl game.
10. Mel Renfro (1961-63) and Lu Bain (1961-63)
2,130 combined career yards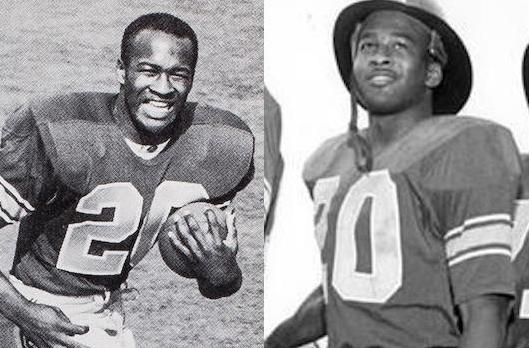 R
enfro and Bain could not play as freshmen, due to NCAA restrictions at the time, so their stats are for three years.
Renfro's 1,540 yards and Bain's 590 may seem like piddling totals by the standards of today's super-charged offensive attacks, but the pace of the games were much slower in that era. Defenses were less worried about the passing game, so they tended to pack in the box to stop the run.
Renfro was one of the best high school athletes in Oregon history, and an All-American for Oregon in both football and track and field. He had a 14-year career with the Dallas Cowboys as a cornerback, and is a member of the NFL Hall of Fame.
---
—More from Eli Ritchie—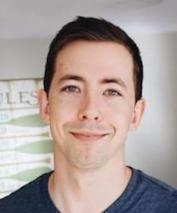 Latest posts by Eli Ritchie
(see all)