Posted on March 9, 2023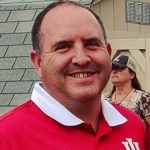 By Stephen Vilardo, SuperWest Sports

The Pac-12 opened on Wednesday with all four games pretty much sticking to chalk.
The Second-Round matchups are set, and you'll find the complete results, an updated bracket, and today's games here.
No. 9-seed Colorado became the first lower-seeded team to come away with a win, defeating 8-seed Washington.
No. 10 Stanford accomplished the same feat, though it's hard to know which team deserved to be the true favorite as 7-seed Utah entered the contest on a five-game skid.
No. 5-seed Washington State took care of 12-seed Cal, and  6-seed Arizona State was able to hold on in a gritty game with 11-seed Oregon State that went down to the final seconds.
Here are my quick notes from the first day along with some game stats.

9-seed Colorado 74, 8-seed Washington 68
The Buffs ended the game +14 on second-chance points. Julian Hammond and Tristan Da Silva did the damage offensively for Colorado with 21 and 18 points respectively.
Washington had a blocked shot rate of 8.4% on the season, but they managed just two blocked shots against the Buffs for 3.0%.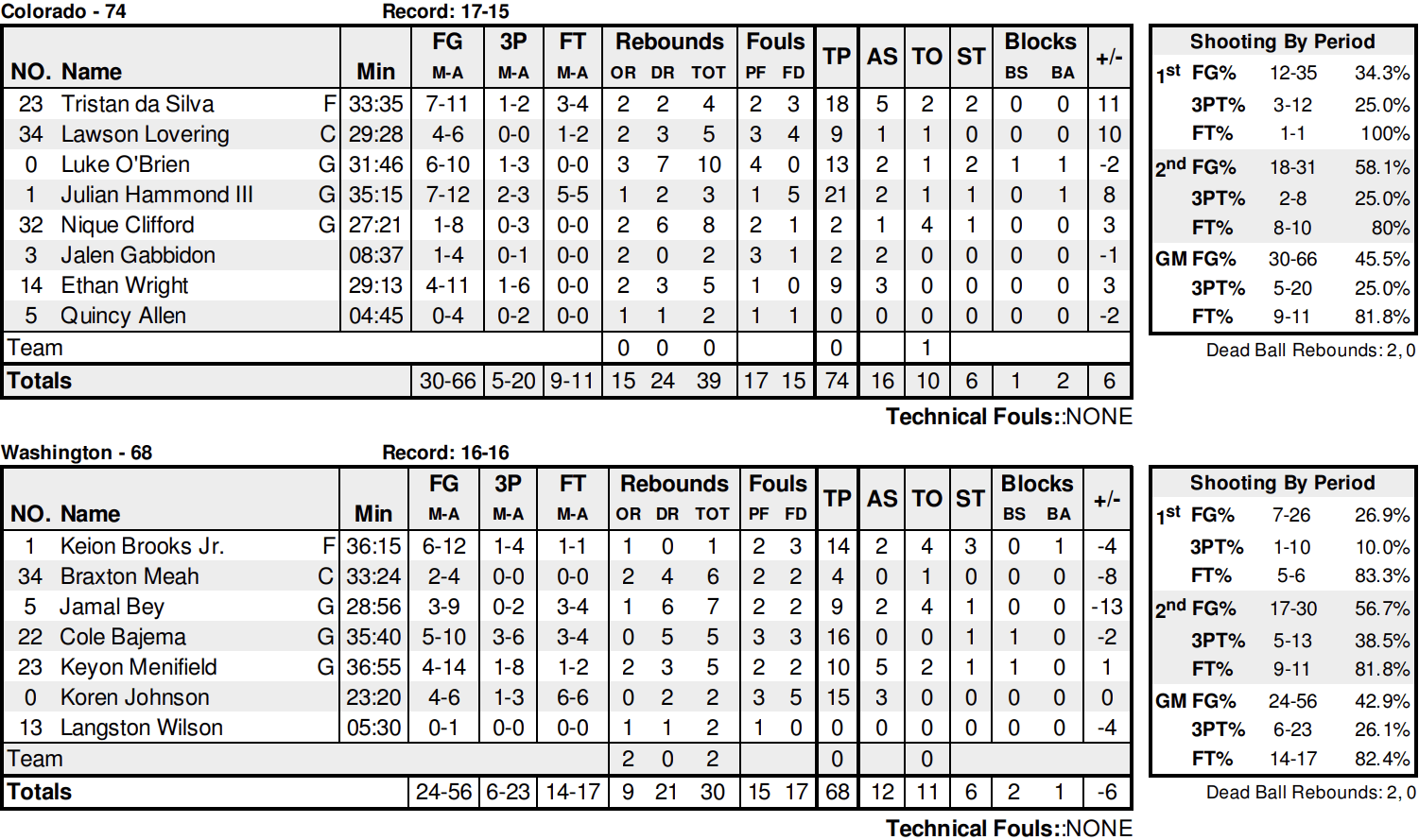 5-seed Washington State 69, 12-seed Cal 52
Washington State had five players in double figures, buildingup up a 14-point halftime lead before rolling over Cal as expected.
Cal will carry a 16-game losing streak into next season, the second-longest in the nation, trailing only the 18-straight losses by Presbyterian.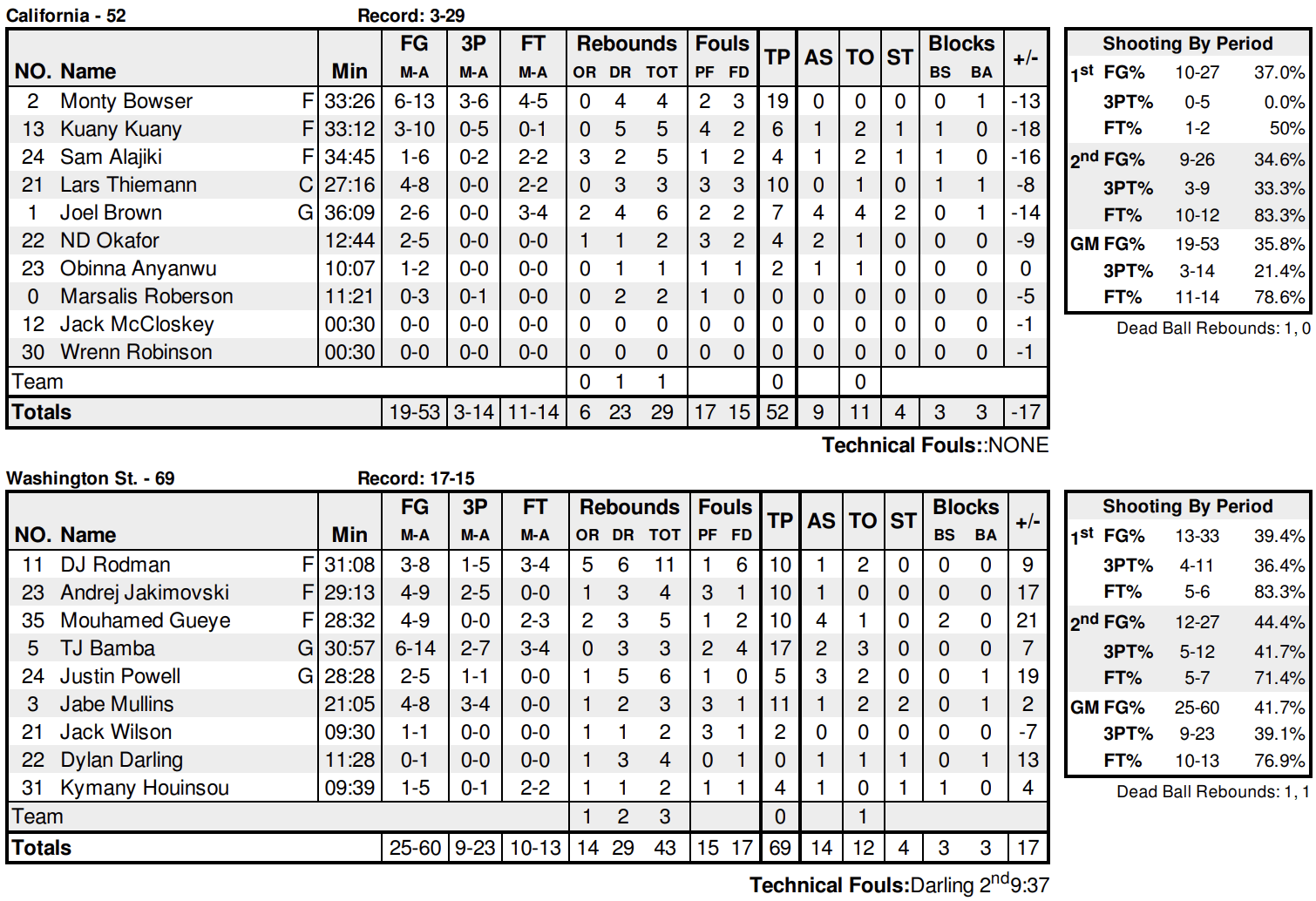 10-seed Stanford 73, 7-seed Utah 62
Spencer Jones scored 10 of Stanford's first 29 to open a seven-point lead for the Cardinal. Branden Carlson scored 14 of the Utes' 27 first-half points.
While Jones' scoring would slow down a bit—he would not get his 12th point until 10 minutes remained in the game—his teammates did not slow down.
A bucket by Jones with 10 minutes to play would extend the Cardinal lead to 11 at 49-38, and Stanford would be in complete control the rest of the way.
Paint points were big in this one as the Cardinal ended up +14 in that category.
Stanford ended up with 10 points off 12 Utah turnovers while the Utes had three points off just four Stanford miscues. Carlson finished with 27 points and 10 rebounds for Utah. The Utes have now lost six in a row.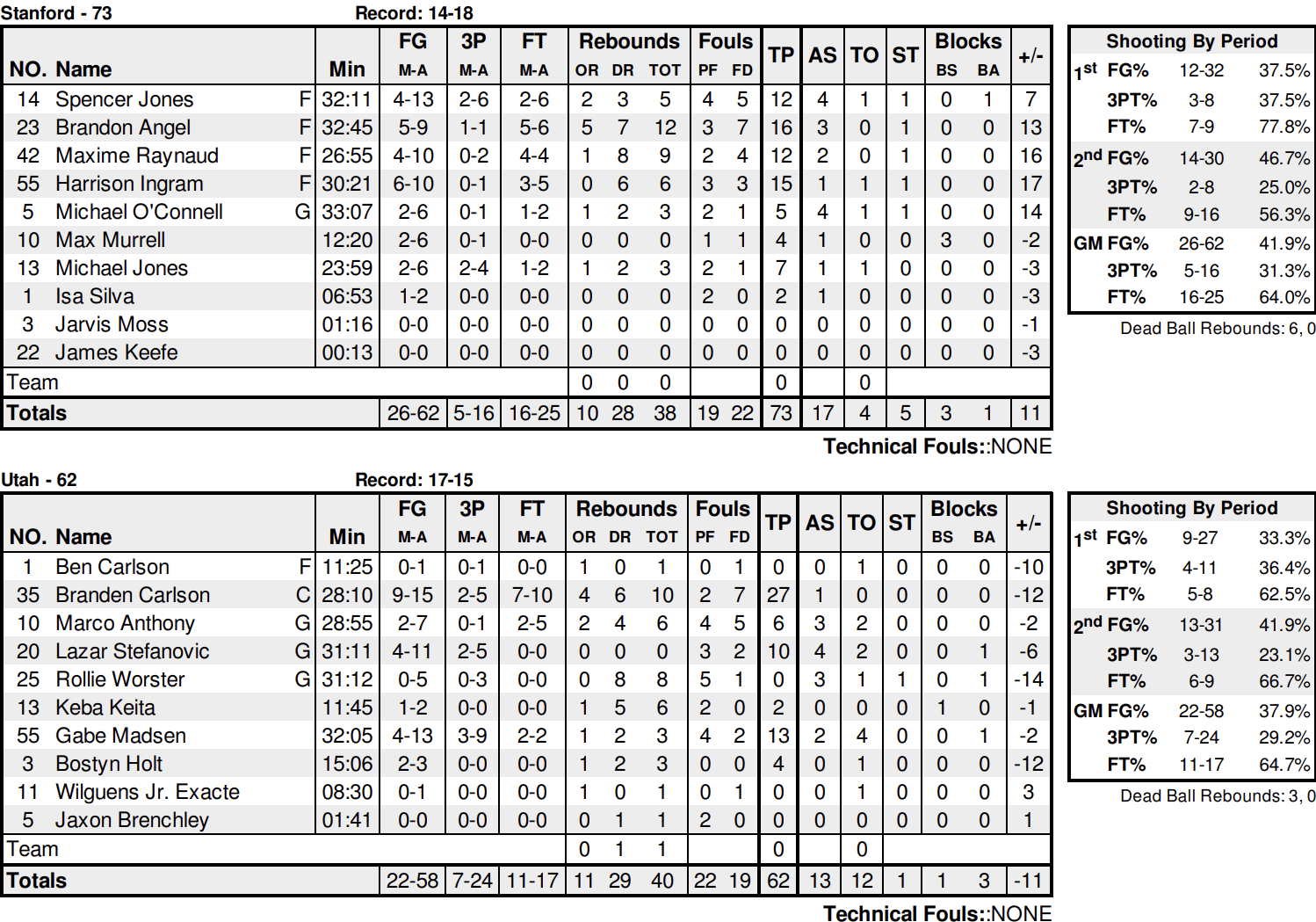 6-seed Arizona State 63, 11-seed Oregon State 57
Arizona State entered this game ranked 22nd in the nation with a blocked shot rate of 8.2% this season, but failed to block a single Oregon State shot in the opening 24 minutes.
In the first half, the teams combined to hit just five of 20 three points attempts. Two for the Beavers and three makes for the Sun Devils proved to be the difference in the half as ASU went into the locker room with a three-point edge.
The Sun Devils held an 8-2 edge in second-chance points at the break. In the second half, the Sun Devils started to make a few threes, while the Beavers did not.
ASU opened the second half by connecting on eight of their first 11 shots to build a 55-43 lead. Oregon State would make a run and make it a two-possession game with under 30 seconds to go.

---
—More from Stephen Vilardo—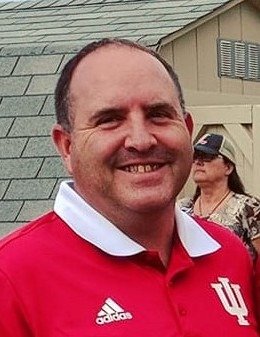 Latest posts by Stephen Vilardo
(see all)