Posted on September 7, 2022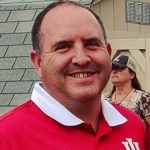 By Stephen Vilardo, SuperWest Sports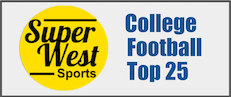 There wasn't a great deal of movement in our Top 25 from Week One.
Two teams enter, which means we had two teams drop out. A lot of the teams at the top end of the rankings won by large margins as expected.
One team dropped a game and actually moved up.
1. Alabama Crimson Tide 1-0 (Last week: 1)
Last Week: Beat Utah State 55-0
The Tide opened the season with a shutout win for the first time since 1988.

They led 55-0 after three and rolled all game.
The 55-point margin was the largest ever in a season opener for the Tide with Nick Saban as head coach.
Next Week: At Texas
2. Ohio State Buckeyes 1-0 (2)
Last Week: Beat Notre Dame 21-10
The Buckeyes got tested early and were up to the challenge.

A much closer game than many expected, including me. Is Notre Dame better than I had thought or is Ohio State not what I expected?
Time will tell, but for now, I am going with undervaluing ND.
Next Week: vs Arkansas State
3. Georgia Bulldogs 1-0 (4)
Last Week: Beat Oregon 49-3
The Bulldogs move up one spot this week and really could have gone up more.

Georgia picked up right where they left off last season.
They dismantled Oregon in every way.
Next Week: vs Samford
4. Clemson Tigers 1-0 (3)
Last Week: Won 41-10 vs Georgia Tech.

Clemson got off to a slow start on Monday night against Georgia Tech but finished strong.
For Clemson, it was their seventh consecutive win, the second longest active streak in the nation (Louisiana has the longest at 14).
Next Week: vs Furman
5. Texas A&M Aggies 1-0 (5)
Last Week: Beat Sam Houston State 31-0

The Aggies got their first season-opening shutout since 1993, dominating the Bearkats, as they should have.
Jimbo Fisher is now 11-1 in season openers as a head coach and 5-0 in openers since coming to College Station.
Next Week: vs Appalachian State
6. Michigan Wolverines 1-0 (6)
Last week: Beat Colorado State 51-7
The Wolverines jumped out to a 44-0 lead as they rolled the Rams in the opener.

Cade McNamara got the QB start against CSU. It may be J.J McCarthy's turn as the Wolverines look to open Mountain West play 2-0 this week vs Hawaii.
Jim Harbaugh is expected to name one of them the starter ahead of week three as the killer nonconference schedule continues with powerhouse UConn.
Next Week: vs Hawaii
7. Notre Dame Fighting Irish 0-1 (9)
Last Week: Lost at Ohio State 21-10
The Fighting Irish get a loss and move up from my preseason rankings?

This is quite simply because I was impressed with their performance in Columbus and feel I probably undervalued them entering the season.
As mentioned with the Buckeyes, we'll see which way it pans out, but as of now, I'm moving the Irish up.
Next Week: vs Marshall
8. Oklahoma Sooners 1-0 (10)
Last Week: Beat UTEP 45-13
The Sooners made crowned Brent Venables a winner in his head coaching debut, making OU head men 18-5 in their debuts in Norman, with Venables becoming the 10th of the last 11 to open with a win.

Oklahoma averaged 8.1 yards per play on the day while UTEP was at 3.1.
The Sooners held the Miners to -19 rushing yards in the first half.
Next Week: vs Kent State
9. USC Trojans 1-0 (10)
Last Week: Beat Rice 66-14
The 52-point win for the Trojans over Rice was their largest margin of victory in any game since beating San Jose State by 53-points in 2009.

The 66 points were the most for USC in a home opener since hanging 70 on Arkansas in 2005. Needless to say, USC's offense was rolling in Lincoln Riley's debut.
Defensively, the Trojans created turnovers with four interceptions—three of them returned for TDs. The last time USC had three pick-sixes in a game was in 1982.
Are the Trojans a little high? Probably, but I had them 10th in the preseason and see no reason to drop them until they give me a reason to do so.
Next Week: at Stanford.
10. Miami Hurricanes 1-0 (13)
Last Week: Beat Bethune-Cookman 70-13
The Hurricanes ran for 313 yards and threw for an additional 300 in this season-opening mismatch.

Mario Cristobal's debut in Coral Gables saw his offense complete 21 of 24 pass attempts and convert all seven third downs and even block a kick.
It was a good start, albeit against an undermatched Wildcats team.
Next Week: vs Southern Miss
11. Pittsburgh Panthers 1-0 (12)
Last Week: Beat West Virginia 38-31

Pitt won their season opener for the seventh time in the last eight years with the win over their archrivals.
Kedon Slovis threw for 308 while leading the Panthers to the fourth-quarter win.
Next Week: vs Tennessee
12. NC State Wolfpack 1-0 (15)
Last Week: Won at East Carolina 21-20
The Wolfpack traveled to ECU and picked up their first win in Greenville in 15 years and just their second ever.
It was not a pretty win for NC State, but they left with a road win.
They looked good in an opening first half with a 21-7 lead at the break before failing to properly finish.
Next Week: vs Charleston Southern
13. Oklahoma State Cowboys 1-0 (14)
Last Week: Beat Central Michigan 55-48
The Cowboys' offense looked incredible gaining 531 yards. The defense…not so much, giving up 546 to the Chippewas.

OSU obviously has some issues on the defensive side of the ball but won the turnover battle and the game.
The offense has the firepower to outscore teams.
Next Week: vs Arizona State
14. Florida Gators 1-0 (NR)
Last Week: Beat Utah 29-26

The Gators won their first home game of the season for the 33rd consecutive year.
Anthony Richardson was the SEC Offensive Player of Week as he became just the fifth UF QB to rush for at least three TDs in a single game.
Next Week: vs Kentucky
15. Utah Utes 0-1- (7)
Last Week: Lost at Florida 29-26
The Utes were unable to leave Gainesville with a win, but they certainly had their chances.

The game saw six lead changes and a dramatic fourth-quarter ending.
Utah lost a nonconference game for just the seventh time since they joined the Pac-12.
Next Week: vs Southern Utah
16. Baylor Bears 1-0 (17)
Last Week: Beat Albany 69-10

The Bears recovered an Albany fumble giving BU 23 consecutive games with at least one takeaway.
Baylor has now won six consecutive games and will take the nation's third longest win streak to Provo when they meet BYU.
Next Week: at BYU
17. Wisconsin Badgers 1-0 (16)
Last Week: Beat Illinois State 38-0
The Badgers held the Redbirds to under 100 yards on the ground for the 10th time in the last 14 games.

UW has held an opponent to less than 100 yards rushing in a game.
This was the ninth time Wisconsin has shut out an opponent since the start of 2015.
Next Week: vs Washington State
18. Mississippi Rebels 1-0 (18)
Last Week: Beat Troy 28-10
Ole Miss may not have won as convincingly as they should have and the win may not have been overly impressive, but the Rebels did lead the entire game.

There was never a moment when the outcome was in doubt.
Ole Miss switched gears in this one as they ran for 266 yards and averaged 8.1 yards per carry.
Next Week: vs Central Arkansas
19. Michigan State Spartans 1-0 (20)
Last Week: Beat Western Michigan 35-13
The Spartans find themselves 1-0 for the 21st time in the last 24 years.

Payton Thorne matched his career-high with four TD passes.
Defensively, Jacoby Windmon led the way with 4.0 sacks, earning the UNLV transfer National Defensive Player of the Week honors in his MSU debut.
Next Week: vs Akron
20. BYU Cougars 1-0 (21)
Last Week: Won at South Florida 50-21
The Cougars got out to a fast start leading the Bulls 35-0 and never looked back as they won their season opener for the sixth time in the last seven years.

BYU put up 575 yards of total offense which was the second most in a season opener under Kalani Sitake.
Defensively the Cougs held USF to 4-of-12 on third downs and got a pick-six.
Next Week: vs Baylor
21. Wake Forest Demon Deacons 1-0 (22)
Last Week: Beat VMI 44-10
No Sam Hartman, no problem for the Deacs in the opener against the Keydets.

Mitch Griffis stepped in and completed 20 of his 29 attempts with three TDs and 288 yards.
This was the sixth straight win for Wake over an opponent from the state of Virginia.
Next Week: at Vanderbilt
22. Arkansas Razorbacks 1-0 (NR)
Last Week: Beat Cincinnati 31-24
The Razorbacks shut out the Bearcats in the first half as the Hogs held a 14-0 lead at the break.

UC fought back and made a game of it before Arkansas got the win.
Bumper Pool led the defense with 13 tackles on the day, the 18th time in his career he has had double-digit tackles.
Next Week: vs South Carolina
23. UCLA Bruins 1-0 (24)
Last Week: Beat Bowling Green 45-17
The Bruins had some turnover issues early on but righting things in a hurry against the Falcons.

Zach Charbonnet ran for 100 yards for the third consecutive game.
UCLA held Bowling Green to 102 total yards in the first half and just 3.3 yards per play.
Next Week: vs Alabama State
24. Texas Longhorns 1-0 (25)
Last Week: Beat Louisiana-Monroe 52-10
The Longhorns won their season opener for the seventh time in the last nine seasons in convincing fashion over ULM.

Bijan Robinson averaged 7.1 yards per carry and Quinn Ewers looked sharp in his first career start.
The competition stiffens considerably this week.
Next Week: vs Alabama
25. Oregon Ducks 0-1 (11)
Last Week: Lost to Georgia 49-3

The Ducks knew it would be a tough task opening with Georgia in Atlanta, but the way Oregon was beat down was a bit shocking.
Bo Nix is now 0-4 in his career against Georgia. UO will get a chance to right the ship against a much easier for this week.
Next Week: vs Eastern Washington
Dropping Out: Iowa and Cincinnati
---
—More from Stephen Vilardo—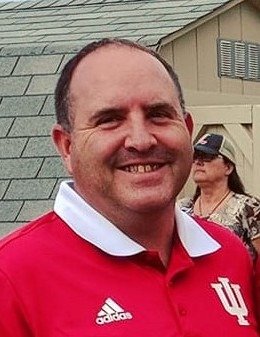 Latest posts by Stephen Vilardo
(see all)