Posted on November 17, 2022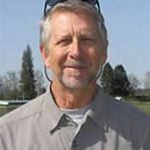 By Steve Ritchie, SuperWest Sports
T
he No. 1-ranked Stanford men's cross country team, winners of the West Regional, are the heavy favorite in Saturday's NCAA Cross Country Championships (ESPNU, 7:00 am PT).

Three other Pac-12 squads made the cut for the meet on the Oklahoma State University course in Stillwater: Colorado (ranked seventh) Washington (17th), and Oregon (21st).
The Cardinal have won four previous national championships, with the most recent coming in 2003, and the other three in 2002, 1997, and 1996.
Stanford coach Ricardo Santos takes an extremely talented and deep team to Stillwater.
Sophomore Charles Hicks is a top contender for the individual title, with teammates Ky Robinson, Meika Beaudoin-Rosseau, Cole Sprout, and Devin Hart usually finishing close behind Hicks.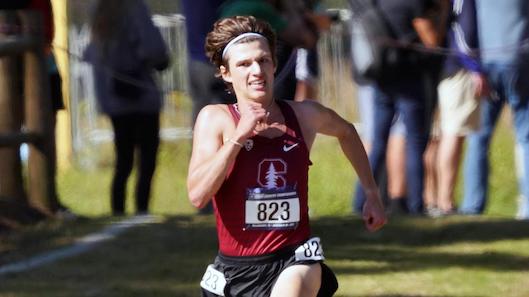 At the West Regional, Stanford placed four runners in the top 10, even though Sprout was held out of the race, presumably, for an injury.
While the Cardinal is favored, they certainly be challenged by Northern Arizona, winners of five of the last six NCAA Championships.
Ranked second nationally, NAU's Nico Young and Drew Bosley are definitely contenders for the individual championship.
Stanford's strength, though, at the three, four, and five positions, would appear to give them the edge, especially if Sprout is able to run.
At the West Regional meet in Tacoma, Wash., three Pac-12 stars battled it out over the last kilometer, with Irish international Brian Fay of Washington taking the win in 28:18.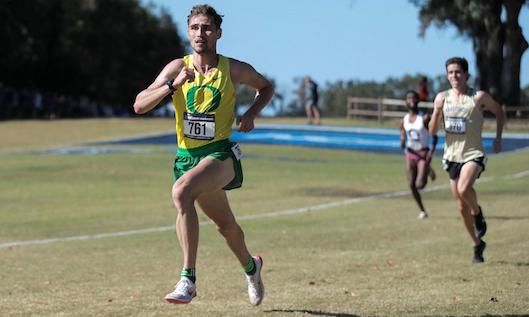 One second back was Oregon senior Aaron Bienenfeld, and just four seconds behind him was Hicks. Fay's victory at the regional meet was the third straight win by a Husky.
Washington and Oregon received at-large bids from the West Region, while Colorado also received an at-large out of the Mountain Region. The Buff's Austin Vancil was seventh in the Mountain Region race.
Six Pac-12 Women's Teams Look for Top Finishes in Stillwater
While no Pac-12 women's teams are ranked in the top five nationally, they are likely to make their presence felt on the Stillwater course on Saturday.
Conference teams made a clean sweep of the top four places at the West Regional meet. Stanford won with 76 points and was followed by Oregon, 96, Washington, 114, and Oregon State, 150.


Stanford and Oregon got the auto qualifiers, while Washington and Oregon State received at-large bids to the nationals.
Utah and Colorado, which are in the Mountain Region, placed second and fifth at the regionals.
Utah qualified automatically while Colorado was an at-large invitee. All six of the Pac-12 are ranked nationally in the top 25: Utah, 7th; Stanford, 8th; Oregon, 9th; Colorado, 11th; Washington, 15th; Oregon State, 23rd.
NC State is the defending NCAA champion and one of the favorites to win this year.
New Mexico, ranked just behind NC State at number two, is also formidable. Oklahoma State and Notre Dame are also in the championship mix as well, based on their regional performances.
Oregon State was unranked going into regionals, but had a great day at the regional meet to move into a qualifying position.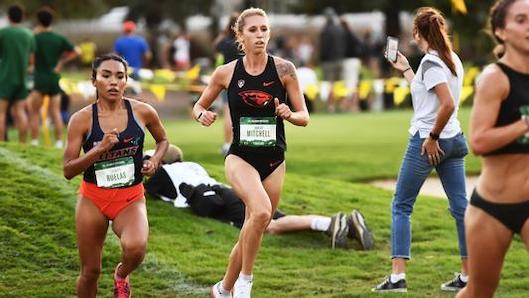 OSU junior Kaylee Mitchell led the way for the Beavers, as she was the individual winner in a time of 19:19.2 for the six-kilometer course.
After laying off the lead most of the race, Mitchell went to the front in the last 1200 meters and cranked up the pace. She would not be caught on her stretch run to take first, followed by Laura Pellicoro of the University of Portland two seconds back.
Stanford's Zofia Dudek and Oregon's Izzy Thornton-Bott were third and fourth, respectively.
In a story I wrote on Mitchell previously, I described her journey from a lightly recruited runner out of high school to a promising D2 runner before becoming an OSU All-American.

In her two previous trips to the NCAAs, Mitchell was 20th in March 2021 on the Stillwater course and 77th last year.
In a phone interview this week, Mitchell told me, "I like to focus on the process goals of racing so that I'm engaged in the present moment and not just thinking ahead to the outcome."
Part of that, she said, is to approach the race being "happy, calm and confident, ready to go out there and kick some butt. I want me and every one of my teammates to go out and give it everything we have, to completely empty the tank."
The individual NCAA favorites are Katelyn Tuohy of NC State and Parker Valby of Florida.
Along with Mitchell, Dudek, and Thornton-Bott, Pac-12 individual hopefuls include Pac-12 champ Bailey Hertenstein and Emily Covert of Colorado, and Utah senior Emily Venters.
The NCAA D1 Cross Country Championships will be televised live on ESPNU at 7 am PT on Saturday. Results can be found at live.pttiming.com.
---
—More from Steve Ritchie—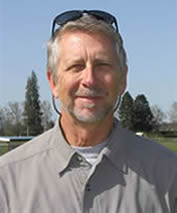 Latest posts by Steve Ritchie
(see all)