Posted on December 2, 2021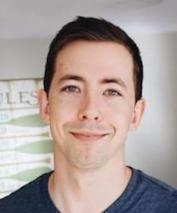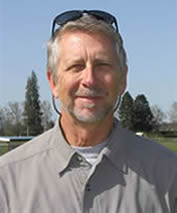 By Steve Ritchie and Eli Ritchie, SuperWest Sports
A
s Oregon prepares to face Utah in today's Pac-12 Championship, looking to atone for its miserable loss in Salt Lake City, it appears Joe Moorhead may be preparing to take the Akron head coach job once the season ends.
The respected Duck offensive coordinator has been mentioned in relation to several coaching positions, so his departure wouldn't be a big surprise. The question is, Why Akron? Why not wait for a bigger and better opportunity?
Asked about the news reports, Joe Moorhead refused to confirm or deny. In college football coachspeak, that means the reports are very likely true.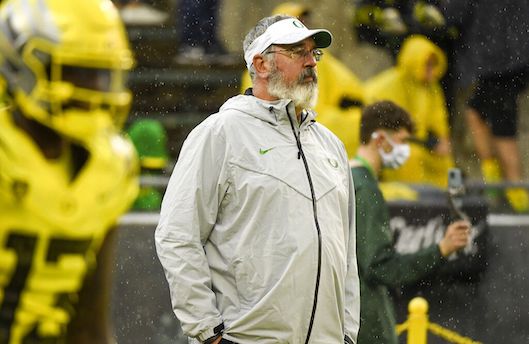 This news is interesting on several levels.
First, Moorhead's replacement will be Mario Cristobal's sixth coordinator at Oregon going into his fifth season as head coach.
While former Duck OC Andy Avalos left to take the head position at Boise State, and former OC Marcus Arroyo went to UNLV— much to the delight of many in the Oregon fanbase—that is still a lot of turnover in just four years.
Establishing more continuity at the coordinator positions should be a priority.
Second, Moorhead is making $900,000 annually at Oregon. Tom Arth, Akron's now former head coach was making $500,000, and Akron will have to pay him for the one year left on his contract.
It would seem at first glance that Moorhead will be taking a rather significant pay cut to become a head coach again.
Third, Akron has to be one of the worst jobs in the country, not just over the last few years, but over the last two decades.
The Zips have gone 3-27 over the past three seasons so it's easy to see why Arth, who had success at Tennessee-Chatanooga, was fired with one year remaining on his contract.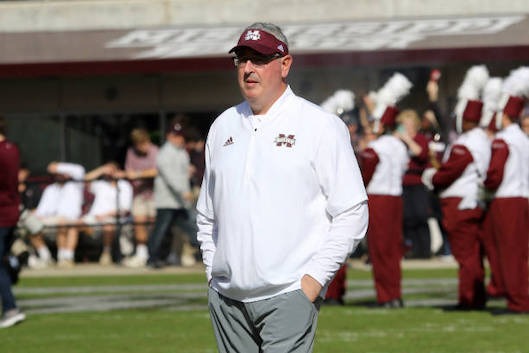 One has to think that Moorhead badly wants to become a head coach again. When you look at his two years at Mississippi State it's somewhat of a mystery why he was fired.
Moorhead had a 14-12 record as the Bulldogs head coach in 2018-19. He was 2-0 against rival Ole Miss and took his team to a bowl both seasons.
In 2019 he had the No. 1 offense in the SEC and, over his tenure, his teams recorded 16 200-yard games rushing. That such a record will get you fired in the SEC is amazing. (By the way, how is Mike Leach doing in Starkville? Not so great, we hear.)
Moorhead's bio on the UO's goducks.com website calls him "One of the nation's top offensive minds and an elite recruiter." In our opinion, that's not an exaggeration.
Statistically, his offenses at MSU were pretty good, and he was even better in his two years before as Penn State's OC. His offenses set school records in passing and scoring in both of Moorhead's seasons there.
In 2017, the Nittany Lions threw for 3,772 yards and averaged 40 points per game. He was named Offensive Coordinator of the Year in both seasons.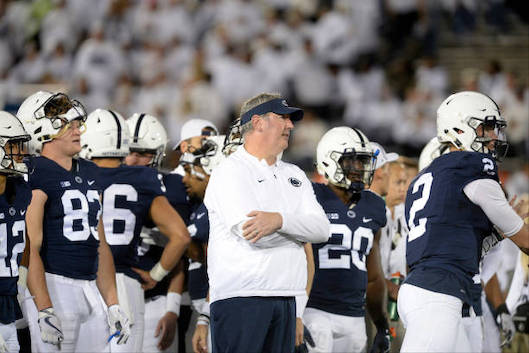 So then we have a very talented OC leaving a top ten program, which is killing it on the recruiting trail, to take over a program that has been a dumpster fire for quite a while. And take a big pay cut in the process—probably around a 50% pay cut in fact.
All to re-establish himself as a head coach with promise? Somehow we can't help but think there is more to the story here.
Here's one speculative scenario.
During Cristobal's first two seasons as Oregon's head coach, Marcus Arroyo was his offensive coordinator and Justin Herbert was his quarterback. Despite having a QB as talented as Herbert, Oregon's offense was a very conservative running-oriented attack.
Fans blamed Arroyo for wasting Herbert's considerable talents, which became more obvious when he became the starter for the LA Chargers in his first NFL season.
Fans cheered when Arroyo left, and cheered harder when Moorhead was hired. Surely now, the Ducks would open up the offense and it would become a little more like the Chip Kelly years.
But under Moorhead's direction, the offense hasn't seemed much different from what it was under Arroyo.
The quarterback play wasn't as good with Tyler Shough and Anthony Brown, but the Ducks somehow won the conference title in 2020 and will have a chance to win their third-straight tonight.
Could it be that part of the reason for Moorhead's impending departure is a difference in philosophy between Moorhead and Cristobal? One thing that Duck fans know about Cristobal is how much he values physical line play.
Cristobal clearly has a vision of how he wants his team to play, and it's not throwing the ball all over the field, whether the quarterback is Anthony Brown, Tyler Shough, or Justin Herbert.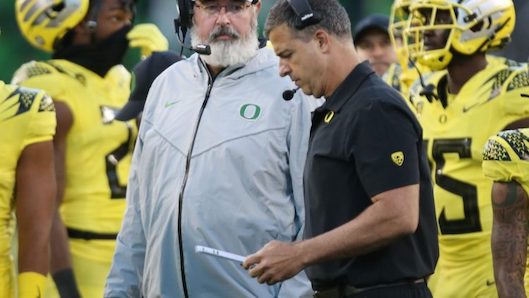 It's actually quite easy to believe that Moorhead is frustrated by this.
If the Utah contest is really Moorhead's last game with Oregon, what do we expect to see when the Ducks are on offense today?
Will Cristobal open things up and allow Moorhead to throw some surprises at Utah, or will it be more of the same—dive plays up the middle, screens, and short crossing routes over the middle?
Two years ago, Oregon was an underdog against the Utes in the championship game, and there were some major changes in the Oregon offensive game plan that clearly caught the Utes off guard.
One was Herbert keeping the ball often and gashing Utah with his running. There were also more downfield passes, some of which connected.
In a big surprise, Oregon blew the Utes out and went on to beat Wisconsin in the Rose Bowl, with Herbert again doing great damage with his feet.
The longer-term question, of course, is who will replace Moorhead? And will it make any difference in Oregon's offensive philosophy?
---
—More from Steve Ritchie—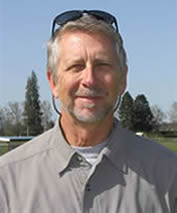 Latest posts by Steve Ritchie
(see all)