Posted on October 29, 2021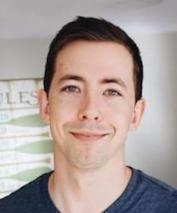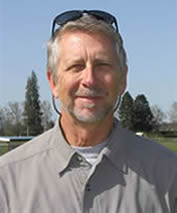 By Steve Ritchie and Eli Ritchie, SuperWest Sports
W
ith a home date against Colorado Saturday, No. 7 Oregon finally has the chance to win with style.
The Buffaloes started the season hanging tough with Texas A&M, but have not looked good outside of a shutout of Arizona two weeks ago. CU followed up that win with a blowout loss to Cal.

But All-American linebacker Nate Landman will likely miss the game, while it appears some of Oregon's key contributors on the line and on defense should return (with Forsyth still questionable.)
Now the question becomes whether Oregon (6-1, 3-1) will again play down to their opposition and start the game slowly.
One of the keys, as evidenced by Oregon's tight win over UCLA, will be the improved offensive play, which gave up just one sack and generally gave Anthony Brown enough time to throw.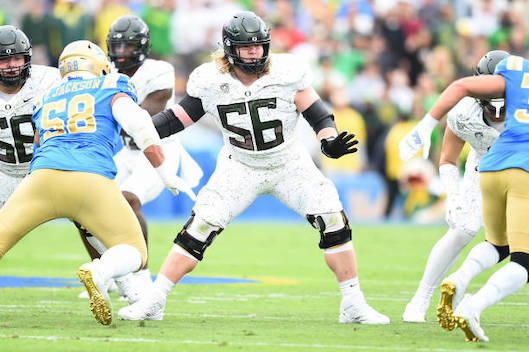 It was particularly impressive given the injuries which kept the O-line in flux throughout the game. Alex Forsyth was expected to return at center, but he tweaked something during pregame warm-ups and was held out.
Ryan Walk, who had filled in for Forsyth at center during the previous two games, was expecting to return to his normal guard position, but found out right before the game that he would be at center.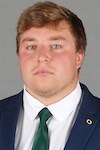 Jackson Powers-Johnson was tabbed to start for Walk at left guard, but left the game in the first half, and would not return. Enter sophomore Dawson Jarmillo at left guard.
But then right guard Steven Jones went down and Jarmillo shifted there, while George Moore came in at left tackle, allowing T.J. Bass to move over to guard.
It was a game of musical chairs on the line, but it worked out, due to the versatility of the guys in the trenches.
Asked about how many reps the revamped line had taken in practice that week, Walk said:
"Zero. That's kind of the reality of the game of football that you're going to have guys that need to step up in certain situations, and we have guys who have done that . . . That's what the five of us did."
Walk is (no pun intended) a walk-on from Eugene's Sheldon High School. His ability to excel as a backup center who has played three full games at that challenging position has certainly made him Oregon's O-line MVP to date this season.
Head coach Mario Cristobal, who was an outstanding lineman for the Miami Hurricanes, acknowledged that "Center is a really hard position to play," calling Walk "a smart and hard-nosed player."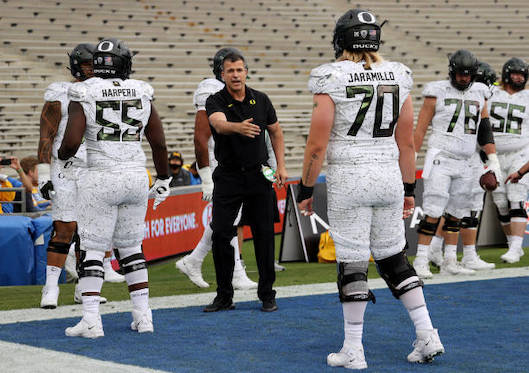 Cristobal also praised Jarmillo for his versatility, dubbing him the "swiss army knife" for the Ducks' line and likening him to Calvin Throckmorton, the former UO line standout now with the New Orleans Saints.
"He understands the game inside out," Cristobal said. "He's gotten snaps at all the positions."
Certainly, looking forward, one game can't answer all the questions about the Ducks.
The fact that a Top 10 team was an underdog against an unranked team in an away setting that no one would consider imposing was an indication of widespread doubts about Oregon's legitimacy.
Which brings us back to Saturday.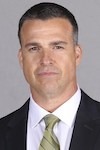 Cristobal was seen pleading with Oregon fans in LA to cut out the booing at Autzen. We agree that home fans shouldn't boo their own team, but having paid the privilege of sitting through bad losses in bad weather at Autzen before, we understand the urge.
Oregon fans should realize that this is a good team, not a great team. The Ducks are going to need fan support to be successful.
But UO fans do deserve to see a team that is well prepared and plays hard, in a style characteristic of Oregon's history and identity.
While Oregon hasn't displayed all of those attributes in many games this season, they did against UCLA. If the Ducks have turned a corner, their passionate fans will surely respond in kind.
---
—More from Eli Ritchie—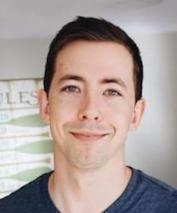 Latest posts by Eli Ritchie
(see all)