Posted on June 15, 2021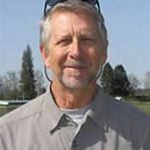 By Steve Ritchie, SuperWest Sports

There's a lot to unpack from the NCAA Outdoor Track & Field Championships at Hayward Field last weekend.
That unpacking better happen quickly, too, because the U.S. Olympic Track & Field Trials begin at the same venue in approximately 72 hours!
So here are my key takeaways from the action in Eugene.
Pac-12 Athletes of the Meet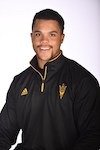 Turner Washington of Arizona State and Anna Cockrell of USC were both double winners at the meet.
Washington went in as the heavy favorite in the shot and discus and he did not disappoint.
His winning marks of 69-2¾ in the shot and 208-1 in the discus were not personal bests for Washington, but they were reasonably close to his outdoor season bests.
There was a very tight, spirited competition in the shot put . . . for second place. Washington won by more than a foot and was ahead by much more until the final throws.
Similarly, Washington spun the discus out 208-1 on his first throw and none of his competitors could come within five feet of his winning mark.
He may have been saving himself for the Trials next week.

Cockrell was expected to win the 400 hurdles—and she did with a strong stretch run to break open what had been a close race for 300 meters.
Her time of 54.68 was a personal best, and 1.02 seconds ahead of runner-up Shannon Meisberger of Arizona, who had a break-through race herself.
100 meter hurdle favorite Tonea Marshall of LSU withdrew from the finals, negating what could have been a classic matchup between her and Cockrell.
The USC senior was on her game, even without Marshall, winning by a relatively huge margin of .24 seconds in 12.58.
Cole Hocker Comes Close to Historic Double
No male athlete has ever won the 1500 and 5000 at the NCAAs.
Oregon freshman Cole Hocker gave it a serious go, first winning a very fast 1500 over collegiate record holder Yared Nuguse of Notre Dame with a thrilling stretch run.
Just an hour and 40 minutes later, Hocker was back on the track to race a bunch of guys who had two days rest after the 10K and a few—including his teammate Cooper Teare—who had not run at all yet.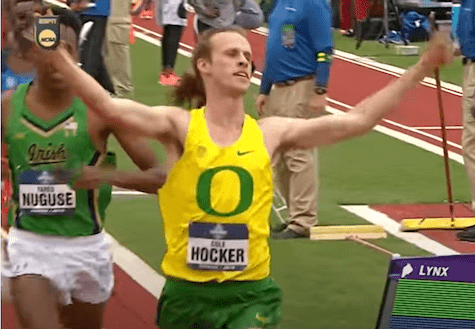 Hocker could not stay with the leaders when the pace quickened halfway through the race, and admitted after the race that he was really hurting through much of it.
But he still had something left for the finish, passing several runners on the last lap to finish in fourth place in a personal best 13:18.95, just seven seconds behind the winner, Teare.
An incredible effort for anyone, but especially a freshman in his first outdoor championships!
Best School Record Set at NCAAs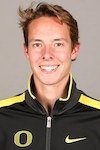 Speaking of Cooper Teare, the Oregon junior had the Hayward crowd roaring like in days of old when he kicked past Luis Grijalva of NAU and Athanas Kioko of Campbell to win a searing 5000 meters in 13:12.27.
His time made Teare the second-fastest collegiate ever in the event, behind the incomparable Henry Rono of WSU, and broke the 39-year-old school record set by Bill McChesney, Jr.
Amazingly, he did what a couple of generations of Oregon legends such as Galen Rupp, Edward Cheserek, and Matthew Centrowitz couldn't accomplish.
Clutch Performance of the Meet

Arizona State's Jorinde van Klinken was not having her best discus competition on Saturday afternoon. Going into her fifth throw, the Dutch collegian trailed Laulauga Tausaga of Iowa by seven feet, and had a best of 198-8, some 30+ feet short of her recent record throw of 230 feet.
She improved on her fifth throw, but still trailed by inches.
On her sixth and final throw, van Klinken finally surpassed Tausaga with a 213-3 effort to take the lead and she secured the victory when Tausaga fouled on her final attempt.
Tara Davis Livens Up the Long Jump
Collegiate record holder Tara Davis of Texas never approached her record of 23-5¼ from earlier this season, but boy did she entertain the crowd.

Whether her jump was a foul or a leap of nearly 22 feet, Davis let the crowd know exactly how she felt about it.
Her margin of victory was razor thin, just ¾-inch ahead of Tyra Gittens, but that didn't subdue the charismatic Davis at all.
If she makes the Olympic team as expected, you'll spot her in Tokyo in her cowgirl hat and Texas swagger. Track & field needs more expressive personalities like Davis.
The Newest Superstar of Track & Field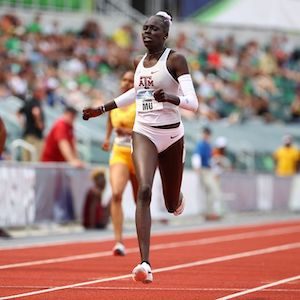 The only question about Athing Mu's stardom is what event she will star in! The freshman at Texas A&M is not likely to be a college runner much longer—she is just too good.
She is a lock to make the Olympic team at the Trials where she will apparently run the 800, an event in which she broke the college record this season.
At the NCAAs, Mu ran the 400 and broke her own college record in that event with a 49.57.
She also anchored Texas A&M's 4 x 400 relay to a new collegiate record with a 48.85, almost certainly the fastest ever relay leg ever run by a woman at the NCAAs.
Most Impressive Relay Leg by a Runner Not Named Athing Mu

A shout-out to Shae Anderson, who was the anchor leg, and to UCLA's third-place 4 x 400 relay. Anderson ran against Mu in the semifinals and again in the finals.
While not a threat to pass the superhuman Mu, Anderson got the baton 15 meters behind second-place USC and she made up all that ground before fading slightly near the line.
Anderson's leg was 49.9 and the Bruins' overall time was 3:25.01, a five-second PR. None of the the four women on UCLA's relay qualified individually for the meet, but collectively they gave it a great effort.
Biggest Heart in the Smallest Body
Mahala Norris, a senior at the Air Force Academy, had never run a steeplechase until April 30, 2021, at the West Coast Relays. Her first attempt was encouraging, as she clocked a 9:44.10, which qualified her for the NCAA Preliminary Rounds.
Coming to Eugene, she had three steeples under her belt and ranked seventh in the field. In her two NCAA races, she improved her by more than 12 seconds and pulled off a stunning upset in the finals.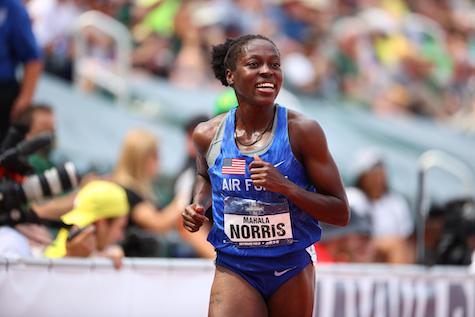 On the homestretch she was even with Katie Rainsberger of Washington and Joyce Kimeli of Auburn, but Norris chopped her steps before the last barrier and fell back of the leaders by several meters.
With Rainsberger and Kimeli in a full sprint, the diminutive Norris somehow closed the gap over the final 50 meters and out-leaned Kimeli at the line to take the win in 9:31.79, .05 seconds ahead of Kimeli.
Nothing about her progress in the event or her race, where she had to move to the outside lanes for every barrier, made sense at all.
Just sheer guts and grit—and that's why we love track and field.
---
—More from Steve Ritchie—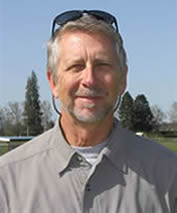 Latest posts by Steve Ritchie
(see all)