Posted on April 8, 2021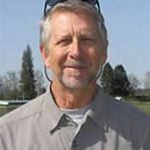 By Steve Ritchie, SuperWest Sports
Golf has Augusta National and Pebble Beach. Baseball has Fenway and Wrigley Field. Basketball has Cameron Indoor and Madison Square Garden. Football has the Rose Bowl and Lambeau Field.

Now track and field once again has its holy place, Hayward Field at the University of Oregon, definitely more futuristic than historic in its new incarnation, but with many echoes of tradition, special athletes, and moments.
Last weekend, Oregon unveiled the stadium by hosting more than a dozen collegiate squads at the Hayward Premiere Meet, including national powerhouses Arkansas and BYU, as well as Pac-12 rivals Oregon State and Washington State.
And even with just a few hundred fans allowed in the stadium, it was quickly apparent that the gleaming new venue will be something very special for fans when spectator restrictions are lifted.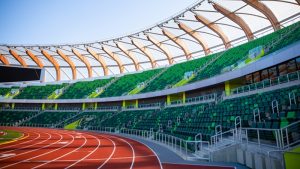 Before getting into what happened on the track and in the field—and the meet was definitely newsworthy—more needs to be said about the spectacular venue.
After the initial "WOW" reaction when walking into the stadium, my first thought was how intimate the setting is for both fans and athletes. Similar to the former stadium, the track-only facility brings fans close to the action. Even on the upper deck of seating, there aren't any bad seats.
And the seats themselves are amazing. Anyone who has sat for several hours on the former stadium's hard benches with virtually no leg room will gush over the 22-inch padded seats, cup holders and plenty of leg room.
In contrast to previously having two restrooms and a handful of porta-potties, Hayward Field now has a number of conveniently located and spacious restrooms which should prevent fans from missing the action while waiting in a restroom line.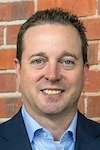 The two video boards are another great amenity for fans, helping one keep track of what is happening in field events while also allowing for seeing introduction close-ups, live races, and replays of both field and track action.
The sound system was, to my ears, state of the art, with both background music and the superb commentary of Paul Swangard, possibly the best track announcer anywhere.
Apart from the fan comfort and amenities, Hayward has a very pleasing aesthetic.
The incorporation of huge wooden beams—wood glue lams—connects with Oregon's history and forests. The partial roof, made with ETFE, not only provides shade and rain cover, it also provides light and at night turns completely transparent, giving off a warm glow.
As lead design principal and architect Jeff Yrazabal said, "The stadium feels light and bright," in contrast to many of the stadiums he visited in preparation for designing  Hayward.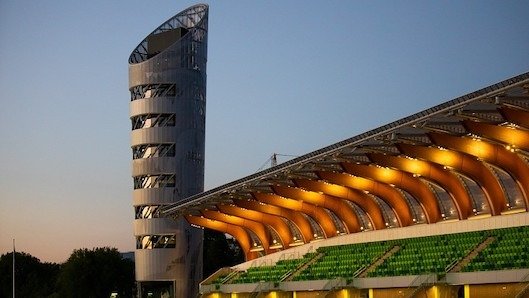 The nine-story tower, which graces the northeast corner of Hayward, is a striking landmark visible from quite a distance. The tower resembles a giant baton as well as the Olympic torch.
Yrazabal and Nike creative director Todd Van Horne describe it as symbolic of a brilliant Hayward past making the hand off to the next generation. Honoring and respecting the past while taking this legacy into the future.
Yrazabal said Hayward is unlike any other sporting venue in the world.

"It's the theatre of track and field. It's a big stadium but it doesn't feel like a big stadium . . . intimacy, proximity, being on top of the track all the way around. The continuous roof and the spatial enclosure is also a big deal in creating that intimacy and a sense of place. It's going to be loud when people can finally be there and cheer the athletes on. The roof plays a big role in creating that noise and energy for the athletes to feel as they are running around the track."
The big question is how soon can the fans finally be there? In time for the NCAAs in early June? Or the Olympic Trials in late June? Or the Pre Classic in August?
There are no answers yet, but Oregon Track & Field Director Robert Johnson offered some hope.
"From a meet perspective we're just missing the fans," Johnson said. "We wanted to get our feet wet this time, having friends and families (of the athletes) come. We did that. Next time we'll do something else and be a little more open. I don't know if we can get to that 50% capacity but that would be my hope."
Buoyed by near-perfect weather and some high-level competition, the Hayward Premiere Meet produced some strong early season performances.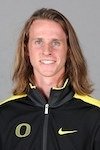 UO sophomore Cole Hocker was the highlight. Coming off two national titles in the mile and 3000 at the NCAA indoor meet, Hocker showed off his racing smarts with victories in the 800 and the 1500. His times of 1:46.60 (7th on Oregon's all time 800 list) and NCAA-leading 3:38.99 1500 earned him National Athlete of the Week honors.
Pac-12 Cross Country champion Eduardo Herrera of Colorado atoned for his lackluster showing at nationals by beating NCAA champ Connor Mantz in a terrific 5K race. Herrera outkicked Mantz and his BYU teammate Casey Clinger to win in 13:24.46, .32 seconds ahead of Mantz and .44 seconds in front of Clinger.
All three runners got their Olympic Trials qualifying time, just beating the standard of 13:25.
The women's 5K was another good distance race. BYU senior Whittni Orton won in 13:42.33, and was closely followed by four Pac-12 runners who also dipped under 16 minutes: Utah's Poppy Tank (2nd, 15:45.07); Colorado's Rachel McArthur (4th, 15:53.06) and Abby Nichols (6th, 15:54.90); and Oregon frosh Alessia Zarbo (5th, 15:54.05).

Oregon State's Kaylee Mitchell just missed breaking 16 minutes, but her 16:00.52 gave her the school record in her first race on the track as a Beaver.
Lindsay McShane of OSU also claimed a school record in winning the hammer with a mark of 208-03. Oregon freshman Jaida Ross's winning throw of 50-11.5 moved her into the UO all time top ten for the shot at number eight.
Besides Hocker, the only other double winner at the meet was Washington State sophomore Charisma Taylor, who looked great in winning the triple jump in 42-05.5 and the 100 hurdles in 13.52.
Not a bad start for a reimagined track and field venue on the verge of hosting several world-class events.
---
—More from Steve Ritchie—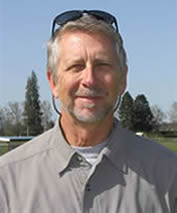 Latest posts by Steve Ritchie
(see all)