Posted on May 21, 2021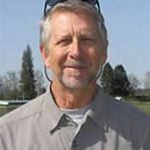 By Steve Ritchie, SuperWest Sports
The form charts held up for the most part at the 2021 Pac-12 Track & Field Championships last weekend, but one team title didn't come as easy as expected—and there were some individual surprises as well.
Here are my highlights and takeaways from the individual performances, followed by full coverage of the team competitions, with final point tallies for each school.
Break-Out Star of the Meet

USC junior sprinter Davonte Burnett upset Oregon's Micah Williams in the 100 meters with a time of 10.05. Burnett's win and time puts him among the top contenders in the NCAA Championships 100 in June.
Burnett also won the 200 meters in a time of 20.55. Williams did not run on the Duck 4 x 100, and appeared to be limping a bit after the 100.
Ready for the Pros

Hurdler Anna Cockrell, sprinter TeeTee Terry, and 800 specialist Isaiah Jewett all turned in fabulous performances on their home track.
Cockrell won both hurdle races, turning in a blazing 54.77 in 400 hurdles to hold off cross-town rival Shae Anderson of UCLA.
Terry dominated her showdown with Oregon's Kemba Nelson in the 100 and took the 200 for good measure.
Jewett ran away from an outstanding 800 field, which included NCAA indoor champ Charlie Hunter of Oregon as well as Oregon's stud freshman Cole Hocker.
The trio of Trojans have been so good for so long in the collegiate ranks that it will be very interesting to see how they fare on the professional level.
Biggest Disappointment
No Turner Washington in the shot and discus took some of the luster off of the throws at Pac-12s. He is listed in the entries for the NCAA Preliminary Round, however, and that's good news.
Field Event Coverage Subpar

There was zero television coverage of live or taped field events on the Pac-12 Network's Sunday broadcast.
The coverage of Sunday's track races was very good, and there were some short and interesting segments between events, including one on Hayward Field in which a story by yours truly was quoted.
But normally we would get at least a few taped highlights of field events and a short summary of how each competition went.
Pac-12.com did carry a live stream of all (I think) the field events, but I found it to be unwatchable—no commentary, no on-screen graphics of marks or standings, other than an occasional shot of the scoreboard.
It was hard to figure out who was throwing or jumping, and where they were in the competition. I tried watching twice but gave up quickly. This needs to be improved in the future.
Best Finishes
 Cole Hocker had to be disappointed with a third-place finish in the 800, but he rebounded in outstanding fashion in the 5000 meters. Hocker, who always seems to have a smile on his face when racing, was content to hang out mid-pack through most of the race.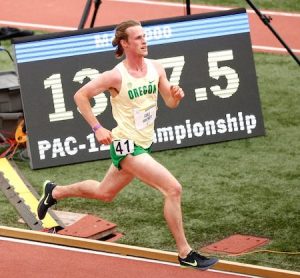 The Oregon freshman put it into high gear with 600 meters left and quickly moved into the lead, with teammate Cooper Teare right behind. With 200 to go, Hocker simply hit the jets and opened a startlingly large gap in seconds, winning in 13:32.68.
He seems ready for NCAAs.

Stanford junior Julia Heymach was second in the 800 despite a 1½ second PR. Like Hocker, she doubled back in the 5K, and ran in the pack through most of the race.
When she unleashed her kick late it was like an instant replay of the men's race. Heymach simply ran away from the leaders to win by four seconds in 15:40.74, with Abby Nichols of Colorado and Carmela Cardoma Baez of Oregon taking second and third, respectively.
Speaking of the 5000…
It looked like the start of a road race as 5K races lined up. There were 46 runners in the men's race and 40 in the women's race. This could be a foreshadowing of the Olympic Trials women's 10K which, to date, has over 50 qualifiers.
That's a lot of people to put in one track race.
Complete Team Coverage: Ducks and Trojans Win Again

The Duck men and Trojan women came away with team titles at Katherine B. Loker Track Stadium, just as predicted.
But, while the Oregon men cruised to a 48-point win over runner-up USC, the women of Troy had to survive a strong challenge from Oregon.
What looked like a cakewalk on paper before meet turned into a close team competition, with the USC women emerging with an 11.5 margin, 162.5 – 151, when the last race was run.
The men's title for Oregon was their 14th straight. Once again, the Ducks showed how tough it is to beat a team that not only peaks at the right time, but also is well-balanced, drawing points from every event group.

Oregon's dynamic distance crew out-performed expectations, claiming 71 points—nine more than I had them likely to score—in the five distance events. They scored 18 in the 1500, 19 in the 800, 18 in the 5K, and 14 in the steeplechase.
That kind of dominance is surprising when you are facing distance-oriented programs like Stanford, Colorado and Washington. Oregon's distance coach Ben Thomas deserves a lot of credit, along with his runners.

Additionally, Oregon's sprinters came up with 60 points of their own, including 34 in the 100 and 200 where they were up against sprint-oriented schools like USC, UCLA and ASU. Duck team scoring also included 32 points from the jumps, nine from the throws and 13 in the decathlon.
Head coach Robert Johnson deservedly earned his fifth Coach of the Year Award by assembling such a balanced squad.
"(185 points) is a big number at a conference meet and what it shows is that we're a complete team," Johnson said. "We do a good job of scoring in a multitude of events. I'm super proud to see their work pay off, and also excited to see them be able to continue to conference legacy of this program."

USC head coach Caryl Smith Gilbert's women's team is at the other end of the spectrum, proving there is more than one way to build a dynasty in the Pac-12. The USC women scored 119 of their 162.5 points in track events of 400 meters or less.
They scored 30 points in the 400, taking six of the top seven places, 29 points in the 200, and 24 points in the 100 meter hurdles.
The fact that they not only didn't score in any distance race, but also didn't even enter a runner in any event longer than 800, ultimately didn't matter at all. They still won.
Oregon got USC's attention right away on Sunday when the Duck quartet in the women's 4 x 100 relay upset the Trojans, who were national leaders in the event going into the weekend.

Duck anchor Danyel White had a 10-meter lead on USC's TeeTee Terry when she got the baton, thanks to sterling legs by Jadyn Mays and Kemba Nelson.  Pac-12 Athlete of the Year Terry quickly made up half the gap, but couldn't quite pull even, with Oregon winning in a season best 42.87, just .12 seconds ahead of USC.
While their lead didn't hold once USC's sprinters got going, Oregon stayed close, and pulled nine points out of the penultimate track event, the 5000 meters, which brought the Ducks to within five and a half points of the Trojans going into the 4 x 400 relay.
But as expected, the Trojans won that event and put the meet away. 
"Today is an exciting day, to win the Pac-12 Championship and be second on the men's side at Loker Stadium with our new building, is quite historic in my opinion," said Smith Gilbert.
"There were so many great performances, with 14 Pac-12 Titles . . . Both Twanisha ("Tee Tee" Terry) and Anna (Cockrell) won their third consecutive individual titles and going back-to-back-to-back is hard to do. It signals that we're more than just a team, but a viable program that can compete for Pac-12 titles and National Championships every year."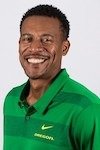 UO Coach Johnson also paid tribute to his women's team, saying, "I'm even more proud of the women because they turned this into a meet. Coming in . . . they probably weren't within 50 points, so to make it an 11-point meet is really outstanding."
Final Men's Team Scoring
1. Oregon, 185
2. USC, 137
3. Washington, 114
4. Arizona State, 72
5. Arizona, 67
6. Washington State, 61.5
7. Stanford, 59
8. UCLA, 46.5
9. Colorado, 42
10. California, 31
Final Women's Team Scoring
1. USC, 162.5
2. Oregon, 151
3. Arizona State, 77
3. Washington, 77
5. Colorado, 74.5
6. UCLA, 70
7. Stanford, 64
8. Arizona, 51.5
9. California, 48
10. Oregon State, 21
11. Washington State, 16.5
12. Utah, 6
Next Up
Pac-12 athletes head to College Station, Texas, next weekend to compete in the western part of the NCAA Preliminary Round. The top 12 from both the west and east sites will qualify for the NCAA Championships at Hayward Field in Eugene on June 9-12.
---
—More from Steve Ritchie—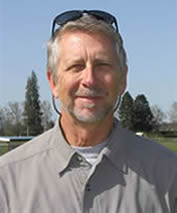 Latest posts by Steve Ritchie
(see all)