Posted on April 15, 2020


  By Dane Miller, SuperWest Sports
This is the first installment of a new question-and-answer series with Pac-12 executives, designed to help readers get to know key Conference professionals and their roles while also addressing important issues facing the League. 
Jesse Hooker, 
the Director of Communications, 
graciously agreed to take part in our debut interview. 
esse Hooker has more than 15 years of experience in athletics communications at both the conference and university level, focusing on external relations and internal operations. As the Conference's Director of Communications, he performs the lead communications services for the Pac-12 and its members in Men's Basketball in addition to Cross Country and Track & Field. 

Hooker joined the Conference in 2015 and has been instrumental in helping develop the Men's Basketball's strategic framework for non-conference scheduling. His data-focused framework, along with his adept media relations, played a substantial role in the Pac-12's rekindled image in the 2019-20 season. Encouragingly, that framework has set the stage for continued success in the 2020s. 
Prior to joining the Conference of Champions, he spent more than three years as the Director of Athletics Communications for George Washington University, and five years as GW's Assistant Sports Information Director in our nation's capital. 
Dane Miller: You began your career in sports information on the East Coast, with Hamilton, Saint Francis, and George Washington. Have you noticed any significant differences in the way college sports are covered in that region vs. on the West Coast?
Jesse Hooker: That's a tough question for me to answer because each stage of my career has been so different in terms of level, location, and media market.
In some respects, I would say that the landscape between GW and the Pac-12 offers an apt, albeit indirect, comparison. D.C. has significant sports media competition between all the pro and high-major college teams—many with large alumni bases and histories of athletics success—in its metro area, so it was very challenging to cut through the noise. 
Our focus at the time was to cover ourselves via our own platforms as best as possible because it's not reliant on convincing external parties of the coverage value, and then to be opportunistic with pitches to external outlets.

I would say this bears strong comparison to the Pac-12, which competes for coverage against other major conferences and pro leagues, areas of the country with larger general populations (approximately 1/4 of U.S. population is in the West), many more collegiate athletics programs (approximately 1/5 of NCAA Division I programs are in the West), larger numbers of media members and outlets, and—candidly—more recent and consistent track records of success in football and men's basketball. 

I think this partially explains why the Pac-12 Networks was created—to be an internal vehicle to consistently cover our schools and league as best as possible to an external audience—while keeping an eye on worthwhile stories that may resonate with national media and sports fans.
In regards to the coverage, I don't believe there are fundamental differences between the East and West Coasts, there are just more media members and outlets—especially national—based on the East Coast. That in and of itself presents challenges in terms of access to, attention and distribution from media.
Dane Miller

: How do communications challenges differ at the university and conference levels?
Jesse Hooker

: 
The transition from campus to conference was and remains quite fascinating—after five years at the Pac-12 I'm constantly learning new things.
What I learned from about a dozen years on campus is that all communications staff serve a significant number of constituents—athletics administrators, coaches, student-athletes, university administration, fans, alumni, parents, faculty, donors, sponsors, media and media partners, plus some of these same groups from opponents to an extent.
At the conference level this number roughly gets multiplied by the membership in the league, so finding a realistic common ground to serve all of those constituents from all 12 members remains a constant juggling act.

Dane Miller: One of the Conference's biggest success stories this past year fell within your realm of responsibility: The transformation of Pac-12 men's basketball image and perception nationally. What positioning strategies did you employ in helping the Conference publicize and capitalize on its dramatic on-court improvement?

Jesse Hooker: There are generally two types of stories to tell: data-driven and emotion-driven. Those in the communications field ultimately need to operate in both, but personally I'm drawn to the more objective and data-centric.
When I arrived at the Pac-12, not only was I tasked with enhancing the media outreach for men's basketball, but to also dive into analytics and metrics with which we benchmark the Conference against its peers in an effort to develop historical trends and baseline targets.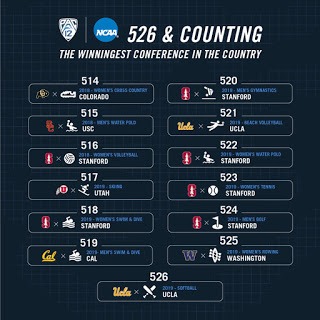 In this regard I'm always mindful of how the Pac-12 compares to other leagues in almost everything that can be counted—win %, NET rankings, awards winners and nominees, Draft picks, etc. When the league compares favorably or leads the way—the 2015-16 and 2019-20 seasons are the immediate standouts—then that drives what I do from a communications standpoint. 

That data specifically helped frame stories published by Jon Rothstein in the New York Times in November, and CBS Sports in February, but also helped frame how the Pac-12 story was told on essentially every game broadcast which largely informs all consumers of college basketball.
Dane Miller: Referees and game officials come under criticism at all conferences, but a narrative seems to have developed among Conference fans and media that problems of competence and fairness are worse in the Pac-12 than elsewhere. What is your perspective on this situation in general, and for men's basketball in particular, where you provide lead communications services? 

Jesse Hooker: This has been one of the biggest eye-openers and shifts in perspective for me coming from the campus to conference level—the process and scrutiny of officiating programs.

The first thing I always try to point out is that college basketball officiating is managed by a series of regional consortiums. The Western Officiating Consortium services six western leagues—Pac-12, Mountain West, Big Sky, Big West, WAC and WCC—with over 150 officials. Many of the officials in the WOC also work in consortiums covering other leagues like the Big 12, Big Ten and SEC. Therefore, many of the officials working Pac-12 games will work across other major conferences over the course of a season.

The WOC was established in 2013 and exists to offer a larger and more diverse pool of officials in the west and to provide consistent training, development and evaluation. All of the leagues collaborate and offer considerable feedback to WOC leadership to ensure the officiating program serves those purposes.
Bobby Dibler, who received the Naismith College Official of the Year award last fall, is the coordinator of the WOC and one of the most respected men in the officiating profession. He and his staff direct their officials with the utmost integrity, accountability, and professionalism.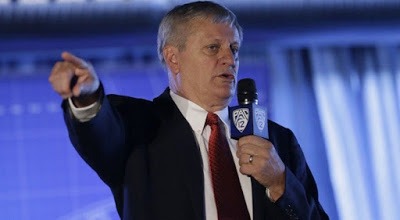 Bobby in turn works in concert with NCAA National Coordinator of Officiating J.D. Collins, who has done a tremendous job modernizing and linking all of the consortiums since his hire in 2015. We have entrusted and have confidence that these two will continue to grow the level of proficiency in college basketball officiating.
I would recommend readers check out clips from the most recent WOC Training Clinic and NCAA Weekly Whistles, as well as to download the NCAA Basketball Rule Book and Case Book to gain a deeper understanding of our consortium and the intricacies of officiating. They've all been valuable resources during my time in the Conference office.

Dane Miller: In the course of your schedule analysis in assisting with the development of a league-wide strategic plan, what were your key considerations going in, and how might your conclusions affect future scheduling?

Jesse Hooker: As referenced earlier my two main areas of focus upon arriving at the Pac-12 was media engagement and historical research and benchmarking. The latter helped frame some strategic elements to scheduling.

As our administrator for men's basketball Jamie Zaninovich has stated in a number of interviews, and based on historical research, we focus heavily on getting to 75 percent non-conference win percentage as a league. Granted that conclusion was drawn during the RPI era, but while the goalposts have slightly shifted with the transition to NET and now our move to a 20-game league schedule, we feel that benchmark remains critical.
I don't believe having that 75 percent goal changes much in terms of scheduling—there are local factors such as attendance, rivalries, recruiting and financial matters among others which programs have to weigh as well—but I think schools are more mindful as to how the outcomes from their individual non-conference schedules have a direct impact on the success level—both tangible and perceptual—of the league.
The recent adoption of non-conference scheduling standards will likely have the most noticeable impact as there is now a parameter precluding non-conference road games versus teams with five-year trailing average of 200 NET or worse.
Strategic depth is a very real thing in a college basketball world that decides its champion via a 68-team tournament and our goal is to help as many of our programs be as successful as possible.

Dane Miller: Thank you for your time and generosity.

Jesse Hooker: My pleasure. Thank you for the opportunity and your coverage of the Pac-12. I hope everyone stays well until it's safe to play and enjoy the sports we love again.
---
—More from Dane Miller—

Latest posts by Dane Miller
(see all)