Posted on June 8, 2021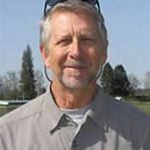 By Steve Ritchie, SuperWest Sports

The NCAA Outdoor Track & Field Championships get underway today at Hayward Field, with the first day of men's competition.
Women will take center stage on Thursday, back to men on Friday, and then women's competition will conclude the meet on Saturday.
Here's a link to television broadcast information and streaming for all four days.
Here are my predictions for all 21 winners in the men's competition are listed below, followed by a look at the athletes and events I expect to stand out over the two days of men's action.
Projected Individual Winners
(Pac-12 athletes in bold)
| Event | Athlete | School |
| --- | --- | --- |
| 100 | Micah Williams | Oregon |
| 200 | Terrance Laird | LSU |
| 400 | Noah Williams | LSU |
| 800 | Isaiah Jewett | USC |
| 1500 | Cole Hocker | Oregon |
| 5000 | Cooper Teare | Oregon |
| 10,000 | Conner Mantz | BYU |
| 3000 Steeple | Ahmed Jaziri | Eastern Kentucky |
| 110 Hurdles | Damian Thomas | LSU |
| 400 Hurdles | Moitalel Mpoke | Texas A&M |
| High Jump | Juvaughn Harrison | LSU |
| Long Jump | Juvaughn Harrison | LSU |
| Triple Jump | Chengetayi Mapaya | TCU |
| Pole Vault | Zach McWhorter | BYU |
| Shot Put | Turner Washington | ASU |
| Discus | Turner Washington | ASU |
| Hammer Throw | Thomas Mardal | Florida |
| Javelin | Sindri Gudmundsson | Miss State |
| Decathlon | Karel Tilga | Georgia |
| 4x100 Relay | Team LSU | LSU |
| 4x400 Relay | Team NC A&T | North Carolina A&T |
100 meters & 4×100 Relay
Pretty tough to predict either of these events with any degree of certainty.

In the 4×100, the top six teams are separated by just .30 seconds, the blink of an eye. I picked LSU, which is ranked fourth with a qualifying mark of 38.58, to win.
Unlike some of their competition, the Tigers have an experienced team used to the spotlight and with the confidence that comes from being the heavy favorite to win the team championship.

Houston (38.49) and North Carolina A&T (38.54) come in with slightly faster times and either could certainly win.
The short relay and the 100 meters will see Oregon and LSU go head-to-head. If Oregon is to make a run at LSU, they will need to out-perform the form chart in both these events.


LSU's Terrance Laird has the fastest time in the 100 at 9.80, but that was with a strong 3.2 meters per second tailwind.
Oregon freshman Micah Williams has a wind-legal 10.0, and is capable of getting out of the blocks ahead of everyone else.
On his home track with some extra juice from the fans, he might be able to steal this one.
800 meters
Oregon will also need to pick up some big points here from Luis Peralta and Charlie Hunter.
Peralta is an emerging star and Hunter is the NCAA indoor champ, but I don't see anyone beating USC's Isaiah Jewett. He has been on another level all season, and dusted Peralta and Hunter at the Pac-12s.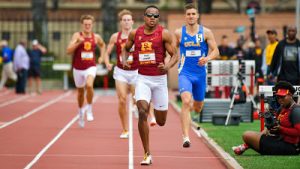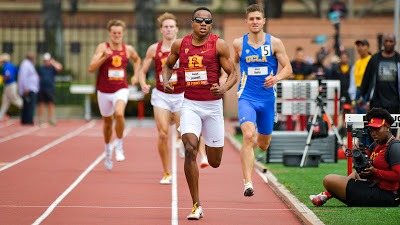 Brandon Miller of Texas A&M and Clemson's Kameron Jones have also run sub 1:46 this season, but I don't see Jewett losing this race.
Shot & Discus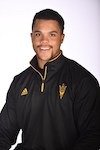 Arizona State sophomore Turner Washington has had sensational seasons—indoors and outdoors—in 2021.
He has consistently thrown over 68 feet in the shot and has had several throws over 70 feet, while setting the NCAA indoor record. No one else is close, though USC's Matthew Katnick has a best of 68-1.5.
The discus could be closer, but Washington, if healthy, should sweep both throws and give himself a huge boost of confidence going into the Olympic Trials.
High Jump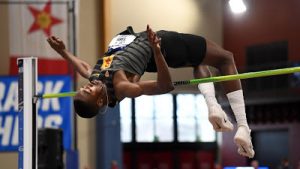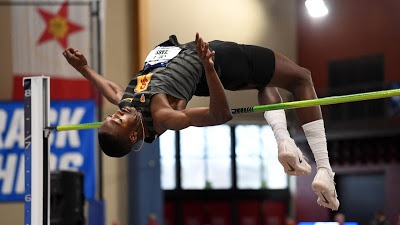 LSU's JuVaughn Harrison and Tennessee's Darryl Sullivan staged the best high jump battle of the season at the SEC Championships three weeks ago, with Harrison emerging as the victor with a collegiate best of 7-8¾, beating Sullivan by an inch.
It would be thrilling to see a repeat of that contest.
USC senior Earnie Sears cleared 7-6½ in 2020, but his best this year is 7-5 and he hasn't reached that height in his recent performances.
1500 Meters
Oregon freshman Cole Hocker is trying to become the first man in history to win the NCAA 1500 and 5000 in the same meet. This will not be an easy task.
Waiting for him in the 1500 is defending champion Yared Nuguse of Notre Dame.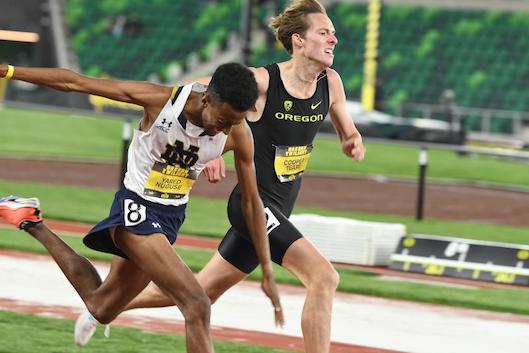 Nuguse beat Hocker at the Oregon Twilight Meet in early May, and then set the NCAA 1500 record the next weekend at the ACC Championships, clocking 3:34.68.
Hocker, though, ran a 3:50.55 mile indoors in February, which is equivalent to a 3:33 1500.
Both Nuguse and Hocker have awesome kicks and both can win off a fast pace or a slow pace. The 1500 final should be a classic.
TOMORROW: I'll pick the event winners in all 21 women's events and highlight a few of the standout athletes and events, with a special emphasis on the Pac-12 women.
---
—More from Steve Ritchie—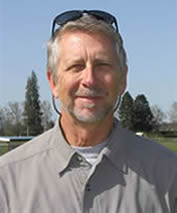 Latest posts by Steve Ritchie
(see all)