Posted on September 16, 2020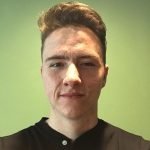 By Nathan Mathisen of Dash Sports TV for SuperWest Sports
Being the greatest isn't easy.
You aren't just given that coveted title. You have to earn it. Through hard work, dedication to your craft, and by simply being extremely good at your job. 
The topic of who should be called the greatest Washington Husky football player of all time, however, is not up for debate, as there is only one answer to that question:
Steve Emtman.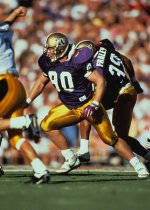 Emtman is the greatest Washington Husky football player of all time.
I can say that with the utmost confidence because he embodies everything a football player is supposed to be.
Someone who gives 100% effort on every play and doesn't stop until after the whistle blows.
He also was just a freak of nature on the football field, and absolutely unstoppable in a Husky uniform. 
Emtman worked his way to stardom. He was just a two-star prospect with only a handful of scholarship offers coming out of Cheney High School in Wasington. He grew up on a farm, and was a multi-sport athlete, playing football, basketball and track and field. 
He wasn't even the top defensive linemen in the Huskies 1988 recruiting class as they also signed All-American Mike Lustyk. Emtman would end up redshirting his freshman year, but his performance in practice did not go unnoticed.
"Watch that Kid," said former UW defensive line coach Randy Hart in 1988. "He's special. He thought he could make every tackle on every play, and he tried to do just that. Just watch him."
Emtman had all the building blocks to be the greatest Husky ever. He had the size, at 6-foot-4 and 293 pounds, and he had hustle. That's all a college player needs to be successful as everything else can be coached.
He was a perfect piece of clay, waiting to be molded by the Husky coaching staff—and boy, did they help mold a monster.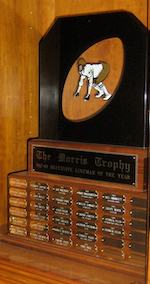 In 1990, Steve Emtman made his presence known in the Pac-10, winning the Morris Trophy, awarded to the Conference's best defensive linemen and offensive linemen. He also won the Pac-10 Defensive Player of the Year award. Emtman even garnered some national spotlight as a Second-Team All-American selection.
That season, Emtman was virtually unblockable one-on-one as he helped lead a dominant defense that ushered its team to a Rose Bowl victory, finishing with a 10-2 record.
However, 1991 was the year Emtman introduced himself to the entirety of college football. Voted a consensus All-American, he won the Outland Trophy for the best interior defensive lineman; the Lombardi Trophy for the best lineman or linebacker; and the Bill Willis Award for the top defensive lineman.
He was also named UPI Lineman of the Year, and Pac-10 Defensive Player of the Year.
Interior defensive linemen don't win the Heisman. They never have, with only three having placed in the top three. Emtman narrowly missed a top-three finish, placing fourth on the Heisman trophy ballot, behind two quarterbacks and Desmond Howard. 
"I was just overwhelmed by Emtman's tremendous ability," said Corky Simpson, a Heisman voter. "He is so dominant on the football field. I normally will not pick a lineman number one, but I had to."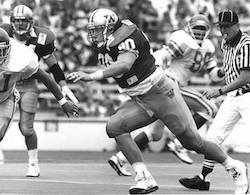 Analysts weren't the only ones overwhelmed. Emtman overwhelmed every team that the Huskies played during that 1991 season. He recorded 6.5 sacks and 19.5 tackles for a loss, despite being constantly double-teamed—and on some plays—even triple-teamed. 
Emtman led the dominant Husky defense, which only allowed 9.2 points per game on their way to an undefeated season and a shared National Championship. To cap off their 12-0 season, the Huskies shut down Michigan's offense, led by Heisman winner Desmond Howard, holding the Wolverines to only 14 points. 
Emtman finished his short two-year college career with 134 total tackles and 14 sacks. He capitalized on his amazing college career by leaving early and declaring for the NFL. The Indianapolis Colts selected him with the first overall pick.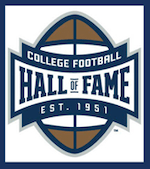 In 2006, Emtman was elected to the College Football Hall of Fame in recognition of his dominance on the college football field. 
His NFL career may have been a bust, with him retiring after six injury-riddled seasons, but that doesn't affect his standing as a Husky. 
Steve Emtman remains the Greatest Husky football player of all time.
You can watch the companion Husky Dash Sports Talk Show on Dash Sports TV, and read Mathisen's other sports stories and columns at The Daily.
---
—More from Nathan Mathisen—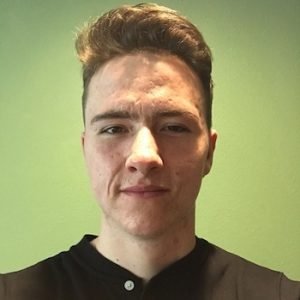 Latest posts by Nathan Mathisen
(see all)