Posted on April 30, 2023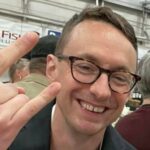 By Jack Follman, SuperWest Sports
T
he 2023 Draft has just dropped so what do we do now?
Look ahead to the 2024 Draft.
Sadly, UCLA and USC will be gone by the time the next Draft rolls around but we'll still get a full season of watching these players and there's an interesting crop of top NFL Draft prospects playing in the Pac-12 in 2023.
We all know who is going to be No. 1. What's up for debate is who is next.
It's a deep crop since a lot of players who probably would have declared early in years past stayed in school because of NIL deals and the chance to win a championship.
1.

Caleb Williams,

Junior,

QB,

USC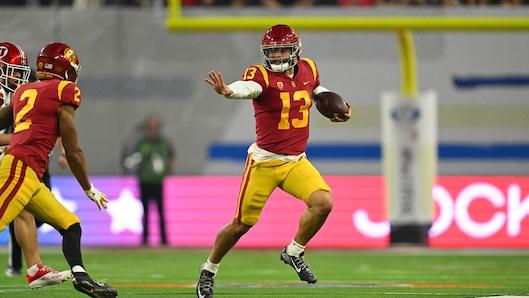 B
arring something shocking happening in 2023, Williams is going to be one of the top Pac-12 NFL prospects of all-time and the only choice to go No. 1  overall.
He could have gone first in 2022.
2.

Bralen Trice,

Junior,

DE,

Washington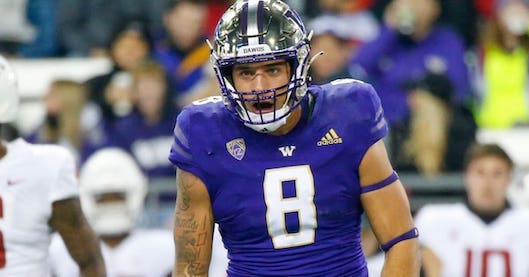 T
here's a big drop between No. 1 and No. 2 and it's a complete mystery overall after Williams.
There's no other player in the conference who appears a lock for the first round.
Trice led the nation in pressures last year and has a big-time NFL body, making him a very attractive prospect at the next level.
3.

Cole Bishop,

Junior,

S,

Utah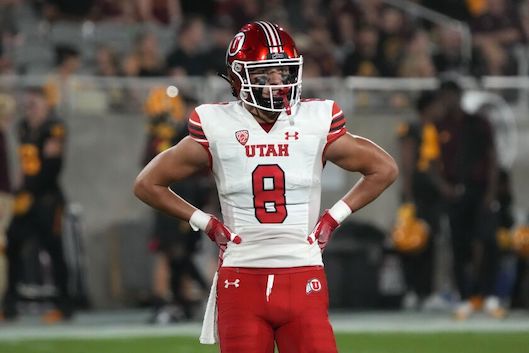 B
ishop is a balanced big-time playmaker who is getting First-Round buzz for 2024.
He can lock himself in if he has a great season in 2023, building on his freshman and sophomore years.
4.

Michael Penix,

Senior,

QB,

Washington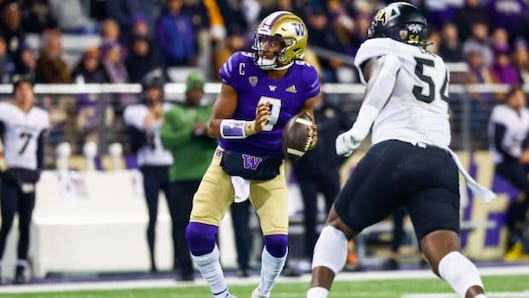 P
enix is a really hard player to peg.
As a simple QB. and based on his play, he looks like a First-Round pick—his arm strength and vision are among the best you'll see in college football.
The only problem was last year was the first time he hasn't been seriously injured in a season, and that makes his draft stock and future a big question mark.
5.

Bo Nix,

Senior,

QB,

Oregon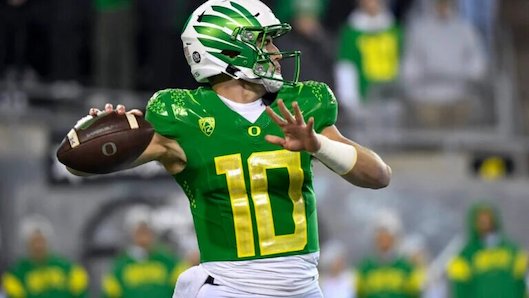 N
ix is a lot like Penix—there's a lot that makes him a First-Round candidate, but also major questions.
He exploded in Oregon's offense last year and was really dangerous when he showed he could be a scary threat as a pure runner.
The question which remains is if NFL teams believe he's a First-Round or a Third-Round QB, is whether his age and history of ankle injuries will also be factored into.
6.

Troy Franklin,

Junior,

WR,

Oregon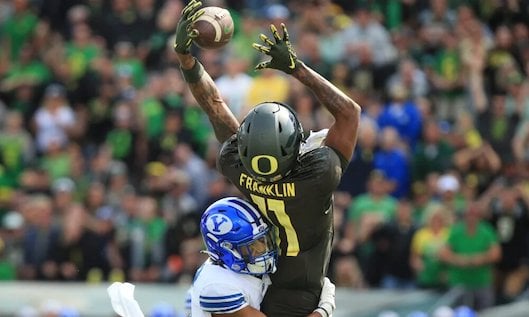 Y
ou'll see Franklin in some first round mocks already for 2024 given his production, catch radius, and flat-out ability to get open and make the catch.
The only question is that, at 6-foot-3 and 178 pounds last year, he was one of the skinniest players you'll ever see playing college football. So will be interesting to see how that applies to his draft stock.
7.

Troy Fautanu,

Junior,

T,

Washington
H
e was showing up on draft boards before he declared he was returning for the 2023 season.
Fautanu probably actually projects at guard at the next level and his experience excelling at left tackle, as well as his size and athleticism, could make him one of the top interior linemen in the 2024 draft.
8.

Joshua Gray,

Junior,

T,

Oregon State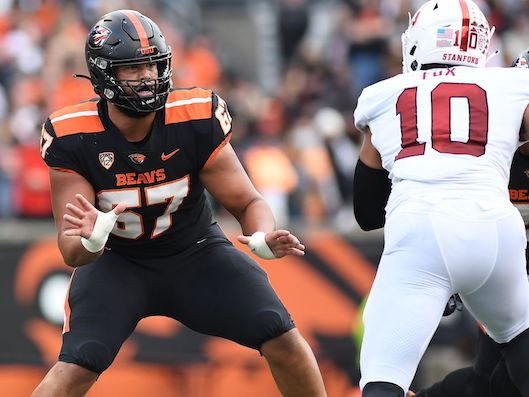 G
ray has been one of the Pac-12's best linemen for three years now.
This should be the year he competes for All-American honors and shoots up draft boards.
9.

Rome Odunze,

Junior,

WR,

Washington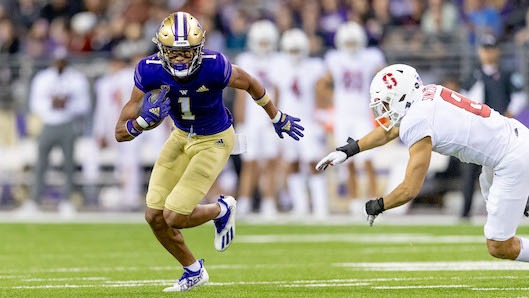 O
dunze is 6-foot-3, 200 pounds and had more than 1,000 yards receiving.
He's long, fast, and has soft hands—basically, everything you want in a receiver—and he could climb very high in the draft.
10.

Laitu Latu,

Senior,

DE,

UCLA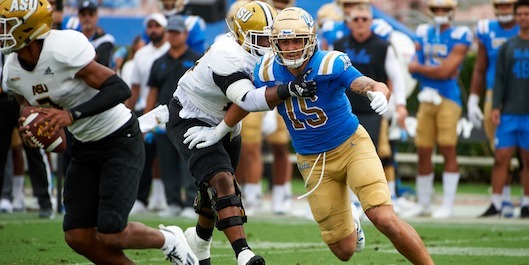 H
e was the Pac-12's best sack master last year and is coming back for another year.
Latu has good size and strength but the question is his health as he had to leave Washington, where he started because UW's medical team failed him for a neck injury.
If he is passed medically, he could climb very very high in the draft.
11.

Brant Kuithe,

Senior,

TE,

Utah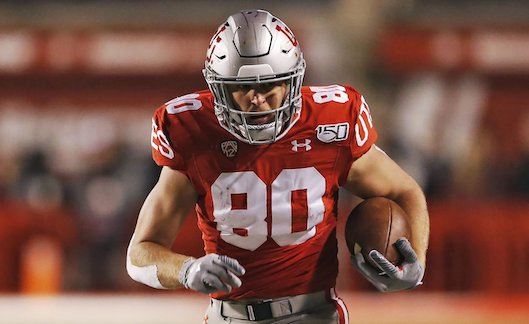 K
uithe is one of the best pure players at tight end in Pac-12 history.
He's had injury issues and is small, though, so it will be interesting to see how that affects his draft stock and where he ends up.
12.

Jonah Monheim,

Junior,

T,

USC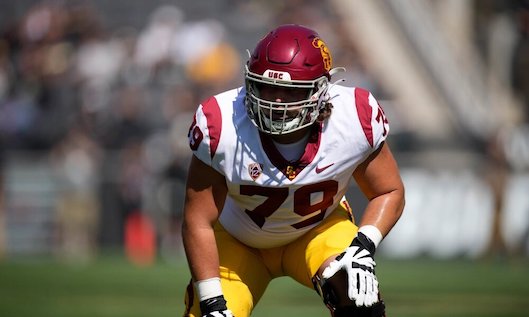 M
onheim was one of the best underclassmen linemen in the Conference last year and a great pass blocker.
His ability to protect the quarterback makes him an excellent prospect for the next level.
Other Top Prospects
Brandon Dorlus, Senior, DT, Oregon
Jalen McMillan, Junior, WR, Washington
Dorian Singer, Junior, WR, USC
Jacob Cowing, Senior, WR, Arizona
Kitan Oladapo, Senior, S, Oregon State
---
—More from Jack Follman—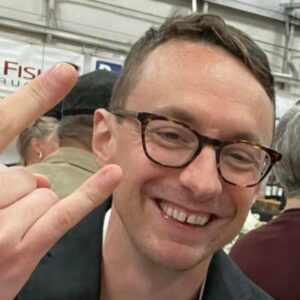 Latest posts by Jack Follman
(see all)