Posted on September 17, 2021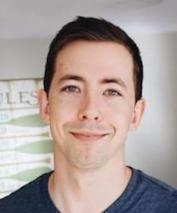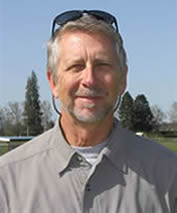 By Steve Ritchie and Eli Ritchie, SuperWest Sports
F
ollowing Oregon's road win at No. 3 Ohio State last Saturday, analysts and fans alike wondered if this was the biggest regular season win in Duck football history.
Certainly, it is difficult to find a better win against a nonconference opponent on the road.
But just how good these two teams are remains to be seen.
Especially after both Oregon and Ohio State struggled with their first opponents, it is too early to know if the Ducks' win is a harbinger of an historic season, or a false high built on misguided preseason rankings.
Some past early-season games give us a glimpse of how the season could go from here.
1998 — Oregon 48, No. 23 Michigan State 14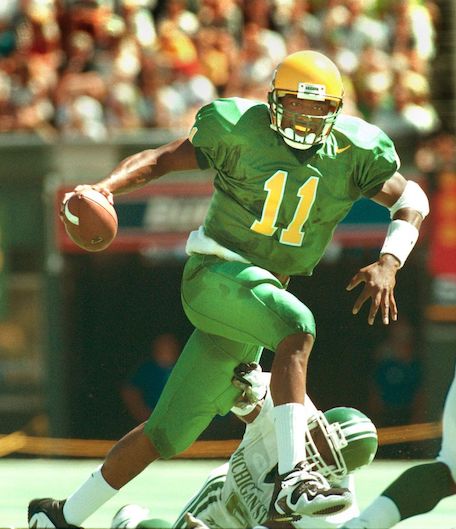 T
he unranked Ducks dominated the No. 23 Spartans, powered by 202 yards from new starting running back Reuben Droughns.
But hindsight shows the result shouldn't have been a surprise, as MSU went on to a 6-6 season and missed a bowl game, while Oregon showed positive signs in an 8-4 season that laid the foundation for double-digit win seasons in 2000 and 20001.
2003 — No. 22 Oregon 31, No. 3 Michigan 27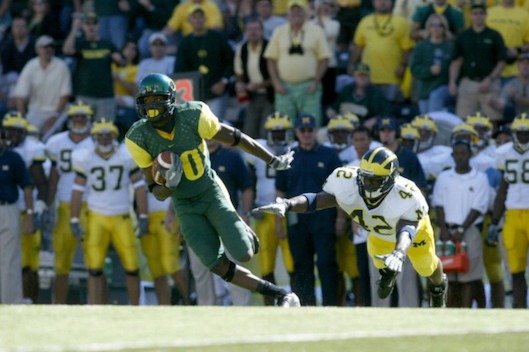 A
utzen may never have been louder than when No. 22 Oregon scored on a blocked punt to extend their fourth-quarter lead over No. 3 Michigan.
The 4-0 Ducks were the talk of college football after that upset, just like last week, with quarterback Jason Fife gracing the cover of Sports Illustrated.
But the very next week, Oregon turned the ball over nine times, including a combined seven interceptions from Fife and Kellen Clemens, in a shocking 55-16 loss to Washington State.
At Autzen, no less.
Oregon went 4-5 in their remaining games to finish 8-5 on the season. Michigan, however, rebounded and won the Big Ten title.
2006 — No. 18 Oregon 34, No. 15 Oklahoma 33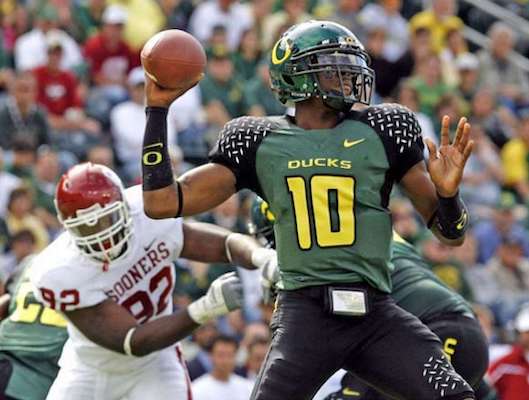 T
he thrilling and controversial home win over Adrian Peterson and No. 15 Oklahoma was not an indication the No. 18 Ducks were on the rise.
Oregon slumped to 7-6, closing the season with four straight losses, including an embarrassing 38-8 beat down by BYU in the Las Vegas Bowl.
Oklahoma, meanwhile, showed their preseason ranking was justified by earning a berth in the Fiesta Bowl.
2009 — No. 16 Oregon 8, No. 14 Boise State 19
T
he first Oregon loss on this list is notable not just for the score and the performance—both dismal—but also the postgame fracas which led to the indefinite suspension of star running back LeGarrette Blount.
At the time, fans openly questioned the hiring of new head coach Chip Kelly, and the forecast for the season was bleak.
But Blount's suspension opened the door for future Duck greats LaMichael James and Kenyon Barner, who led the Ducks to wins in 10 of the next 11 games.
A conference title and Rose Bowl berth were signs of things to come over the next few seasons.
Looking back, it's clear why No. 16 Oregon struggled with a No. 14 Boise State team that went a perfect 14-0 in the '09 season.
2011 — No. 3 Oregon 27,  No. 4 LSU 40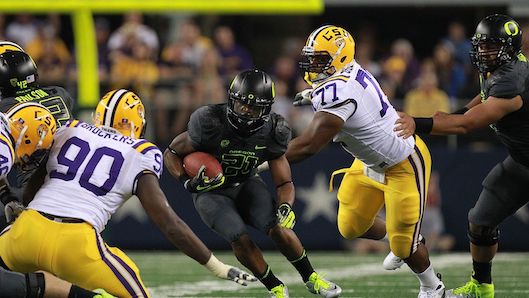 T
yrann Mathieu started an unlikely Heisman campaign with his performance as No. 4 LSU won convincingly over the No. 3 Ducks in Dallas.
While technically on a neutral field, it was essentially an away game for Oregon, and likely the highest profile game away from home until the Ohio State win last week.
Both teams lived up to the preseason hype, as LSU went undefeated until a loss in the title game to Alabama; Oregon lost just once more before capturing its first Rose Bowl title since 1917.
I
n Columbus, Oregon certainly looked like a team that belonged in the national title picture.
The Ducks overcame injuries to its best player and several starters. Their defensive depth was tested so much that tight end DJ Johnson was inserted on defense late in the game.
QB Anthony Brown showed marked improvement in his accuracy and decision-making, and the offensive line which struggled against Fresno State, did not allow a sack to an Ohio State defense loaded with future NFL draft picks.
Still, we may not know the weight of Oregon's victory for weeks.
With upcoming games against Tulsa, Akron, and Indiana, Ohio State likely won't be challenged until October 30th against Penn State. Depending on how the Big 10 shakes out, Ohio State may not play another ranked team—after Penn State—this season.
Oregon will likely face several tough tests, including Stanford, UCLA and Utah, all on the road.
Anyone who remembers the highs and lows of these notable early-season wins and losses, as well as the disappointing or uplifting seasons that followed, will likely keep expectations for this Oregon team in check, at least for now.
---
—More from Eli Ritchie—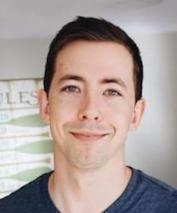 Latest posts by Eli Ritchie
(see all)