Posted on February 22, 2021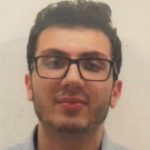 By Anthony Gharib, SuperWest Sports
F
or weeks now the Trojans have been seemingly unbeatable. Their defense was smothering teams and their offense was slowly catching up. All looked well for the men at Galen Center until a visitor crashed the party.
That visitor being Arizona, which upset USC in bizarre fashion Saturday, by outrebounding and outworking the Trojans.

It's common knowledge that a team that is winning more than expected can get complacent. We saw exactly that Saturday, and the Wildcats capitalized on it.
USC has faced very little adversity this season.
The Trojans started off the season with an early loss to UConn in a winnable game. Then their season was suspended for two weeks due to a COVID-19 outbreak. They then managed to win 14 of their next 17 games once it resumed.

It's safe to say that Arizona was their first big test of the year. The loss highlights some disparities the Trojans must address if they want to defeat Oregon tonight (see my preview below) as well as win the Pac-12 and play deep into March.
In the first place—and I'll only say this once—please, please, please fix the free-throw shooting. At this point, it's getting completely out of hand. Against Arizona, USC was gifted four straight free-throws after a flagrant foul by sophomore center Chris Koloko.
The Trojans had a chance to cut the deficit to four points with nine minutes left—a huge momentum shift. What happened next was depressing.
Sophomore forward Isaiah Mobley, who's shooting an abysmal 47.6% from the free-throw line, made both free-throws. Great start, right?
But then, junior guard Noah Baumann, who is a solid shooter, missed both of the technical foul ones.
The momentum was gone and with that, the game was basically over.

On the other hand, freshman forward Evan Mobley and senior guard Tahj Eaddy need more consistent help. Obviously, it was only one game but against Arizona, they were the only two players who scored more than eight points.
Outside of Mobley and Eaddy, the rest of the team shot 34% from the field combined. Games in March will not be won with poor shooting like this.
Isaiah Mobley really stepped up huge against Arizona State with a career-high in points. After reading my column last week, he's really been the third-most aggressive player for the Trojans. Junior forward Drew Peterson is struggling to find a rhythm offensively which is a huge concern.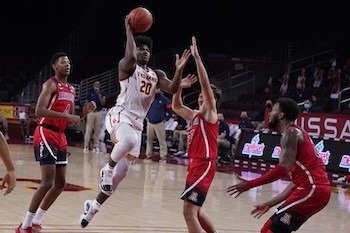 And after the huge game against UCLA, sophomore guard Ethan Anderson has not hit double-figures since.
The play must improve and head coach Andy Enfield needs to find a way to get more players involved. It can't be a two-man show all game if USC hopes to win the Pac-12 title.
The shots just did not fall for them and the rest of the team Saturday, but there must be fewer nights like that.
Arizona might have also found a recipe for success to beat the Trojans. There are not many schools that can size up against USC's bigs, but the Wildcats were able to do it.
Freshman forward Azoulas Tubelis and sophomore forward Jordan Brown dominated the paint combining for 35 points and 28 rebounds.
Arizona shot lights out from three—an insane 47.1% from the three-point line. Not to mention shooting 82% from the free-throw line, which for USC is less likely than Andy Enfield suiting up to play point guard.

They were shooting hot and suffocating the Trojans on the defensive end. They also won the rebounding battle, which has only happened four other times during the season.
Even though they are one of the best defensive teams in the country, defending the perimeter is a consistent challenge for them. It ultimately was the reason they failed to beat Arizona and they must improve until it is too late.
Against teams like Oregon and UCLA, this can be the difference between a Pac-12 title and a third-place finish.
Oregon at USC Preview
I
t won't be any easier tonight as the No. 19 Trojans (12-3, 18-4 ) face talented Oregon (9-3, 14-4). The Ducks are rolling, having won five in a row, and are capable of stealing a game at Galen Center.

They have an outstanding senior forward in Eugene Omoruyi, who can contain Evan Mobley. Omoruyi's averaging 17 points per game along with 5.4 rebounds. Pair him with senior guard Chris Duarte, who's averaging 17 points per game as well, and this is a team that can upset USC.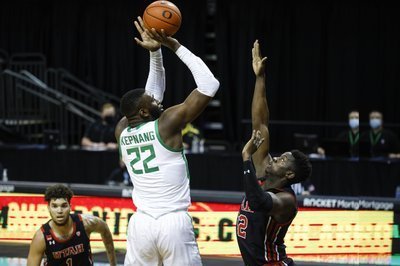 Oregon has the recipe for success in defeating the Trojans—great guards and enough size to outrebound them and make life difficult for Evan Mobley with 6-foot-11 Franck Kepnang and other long-armed players underneath.

USC finally faces a huge bounce-back test after a tough loss. If the Trojans lose again, the momentum will be gone, and a Pac-12 title will hang in the balance.
Now, it's only a matter of time before we see if they can pass it.
---
—More from Anthony Gharib—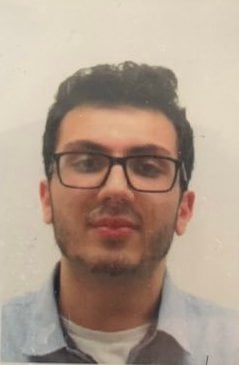 Latest posts by Anthony Gharib
(see all)