Posted on August 12, 2023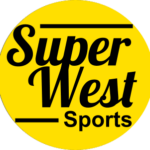 By SuperWest Sports Staff
W
ith Oregon, UCLA, USC, and Washington
joining the Big Ten in 2024
, we're highlighting the respective venues of the Conference's existing and new members.

We'll do the same for Arizona, Arizona State, Colorado, and Utah's move to the Big 12 in the coming days.
Among the noteworthy and historic Big Ten venues are the three largest stadiums in college football: Michigan's "Big House," Penn State's Beaver Stadium, and Ohio State's "Horseshoe."
The oldest Big Ten stadium is Wisconsin's Camp Randall Stadium, built in 1917. The newest is Minnesota's Huntington Bank Stadium, constructed in 2009. And the League's smallest is Northwestern's Ryan Field at 47,130.
USC's Los Angeles Memorial Stadium and UCLA's Rose Bowl are among the most prestigious and historic venues. Oregon's Autzen Stadium and Washington's Husky Stadium are among the nation's loudest.
Below you'll find a brief histories of all 18 with the year built, year of the latest renovation, capacity,  average 2022 attendance, biggest 2022 crowd, and record single-game attendance.*
*In some cases, due to stadium downsizing, the record crowd is larger than the current capacity.
Illinois – Memorial Stadium
Champaign, IL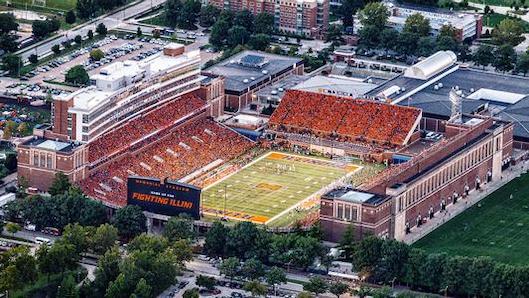 I
llinois Memorial Stadium is dedicated to the men of the University that gave their lives serving in World War I. In 2002, the stadium dedication was extended to those who died in World War II.

There are a total of 200 columns on the east and west sides of the stadium, with 183 columns displaying one name of a University of Illinois alum killed in the first war.
The stadium was officially dedicated on October 18, 1924, on which the university football team played a homecoming game against Michigan.
According to an archival "campus tours" website, heavy rain during the construction resulted in a bulldozer sinking into the field.
It was decided that the expense of removing the bulldozer would have been greater than leaving it buried under the field, and it remains there today. However, this has since been disputed as a campus urban legend.
Year Built: 1923
Latest Renovation: 2013
Capacity: 60,670
Average 2022 Attendance: 43,048
Largest 2022 Attendance: 44,910 vs Iowa
Attendance Record: 78,297 (1984 vs Missouri)
Indiana – Memorial Stadium
Blooomington, IN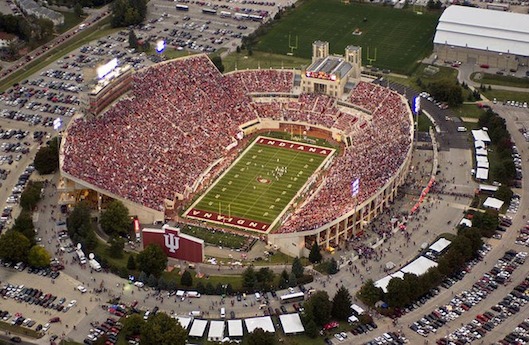 I
ndiana's Memorial Stadium officially opened in 1960 as part of a new athletics area at the university and replaced the original Memorial Stadium built in 1925.

In 2005, head football coach Terry Hoeppner had a southern Indiana limestone boulder, nicknamed "The Rock," installed in the north end zone as a new campus tradition.
The Hoosiers and coach Hoeppner walked out and touched the Rock before running onto the field at every home game during Hoeppner's time as head coach—a tradition that continues today.
Terry Hoeppner died of brain cancer on June 19, 2007, and The Rock was renamed "Hep's Rock."
The prow, mainmast, and two guns of the USS Indiana are erected at the western entrance of the stadium.
Year Built: 1960
Latest Renovation: 2016
Capacity: 52,626
Average 2022 Attendance: 46,904
Largest 2022 Attendance: 51,148 vs Purdue
Attendance Record: 56,223 (1969 vs Purdue)
Iowa – Kinnick Stadium
Iowa City, IA

K
innick Stadium is named for Nile Kinnick, the Iowa player who won the 1939 Heisman Trophy and died in service during World War II.

The venue is the only college football stadium named after a Heisman Trophy winner. Originally named Iowa Stadium, the facility was constructed in only seven months between 1928 and 1929.
The first game was played on October 5, 1929, against Monmouth College.
The University of Iowa Children's Hospital's new building overlooks the East stands. The opening of the new hospital in 2017 led to the creation of what ESPN called "college football's coolest new tradition."
The new facility includes a top-floor lounge area known as the Press Box Cafe that has a view of the entire field, allowing patients and their families to see all Iowa home games live.
It also includes big-screen TVs to allow them to watch Hawkeyes road games.
Year Built: 1929
Latest Renovation: 2019
Capacity: 69,250
Average 2022 Attendance: 69,250
Largest 2022 Attendance: Not reported
Attendance Record: 70,585 (2016 vs Michigan)
Maryland – SECU Stadium
College Park, MD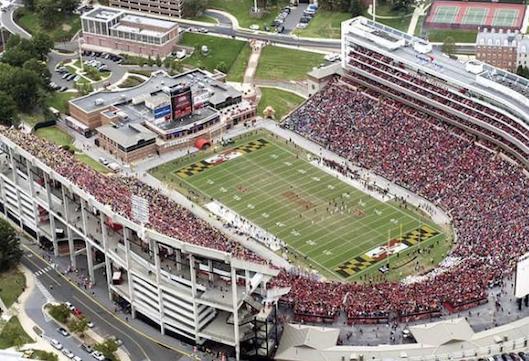 S
ECU Stadium opened on September 30, 1950, as Byrd Stadium, after construction at a cost of $1 million.
It replaced the much smaller Old Byrd Stadium on the site currently used for the university's Fraternity Row.

The stadium's original namesake was Harry C. "Curley" Byrd, a former Maryland football player who later taught English and History.
He also served as athletic director before rising to University president, serving from 1935 until 1954.
During his tenure, the campus grew significantly, and Byrd is credited with transforming UMD from "an undistinguished agricultural college to something resembling a modern university."
On September 16, 2022, the university announced that the stadium would be renamed SECU Stadium as part of a 10-year deal between the credit union and the university.
The deal is worth $11 million and includes $2.5 million that will go towards athletic facility improvements.
Year Built: 1950
Latest Renovation: 2008
Capacity: 54,000
Avg. Attendance 2022: 31,934
Largest 2022 Attendance: 41,969 vs Ohio State
Attendance Record: 58,973 (1975 vs Penn State)
Michigan – Michigan Stadium
Ann Arbor, MI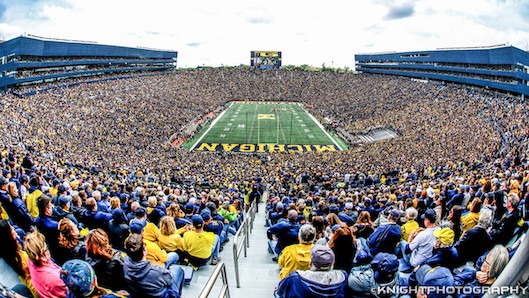 M
ichigan Stadium, nicknamed "The Big House," is the largest stadium in the United States and the Western Hemisphere, the third largest stadium in the world, and the 34th largest sports venue in the world.

Prior to playing at Michigan Stadium, the Wolverines played its games at Ferry Field, which at its peak could seat 40,000 people.
Fielding Yost recognized the need for a larger stadium after original expansions to Ferry Field proved to be too small, and persuaded the regents to build a permanent stadium in 1926.
Michigan Stadium was built in 1927 at a cost of $950,000 (equivalent to $12 million in 2021) and had an original capacity of 72,000.
By the mid-1980s, the stadium had famously become known as "The Big House." Every home game since November 8, 1975, has drawn a crowd in excess of 100,000, an active streak of more than 300 contests.
Year Built: 1927
Latest Renovation: 2010
Capacity: 107,601
Average 2022 Attendance: 110,246
Largest 2022 Attendance: 111,083 vs Michigan State
Attendance Record: 115,109 (2013 vs Notre Dame)
Michigan State – Spartan Stadium
East Lansing, MI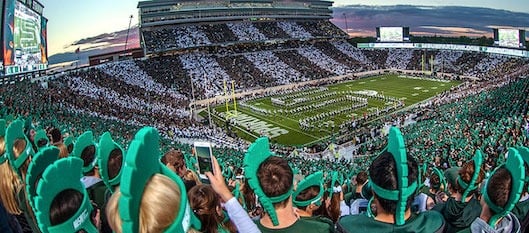 S
partan Stadium is celebrating its 100th anniversary in 2023 as the home of Michigan State football.

Since its opening in 1923, Michigan State has won nearly 70 percent of its games played in Spartan Stadium, compiling an all-time record of 383-166-13, good for a .693 winning percentage.
In the early 1920s, school officials decided to construct a new stadium to replace Old College Field.
The facility was dedicated as Macklin Field, named in honor of former coach John Macklin, who put Michigan State football on the map with a 29–5 record from 1911 to 1915.
His record includes victories over big-name programs such as Michigan, Notre Dame, Ohio State, Penn State, and Wisconsin.
After admittance into the Big Ten in 1948, Michigan State increased its stadium capacity to 51,000 and the field was renamed Macklin Stadium. The stadium received its current name—Spartan Stadium—in 1957.
Year Built: 1923
Latest Renovation: 2014
Capacity: 74,866
Average 2022 Attendance: 69,047
Largest 2022 Attendance: 74,587 vs Minnesota
Attendance Record: 80,401 (1990 vs Notre Dame)
Minnesota – Huntington Bank Stadium
Minneapolis, MN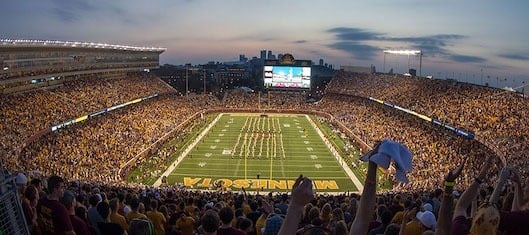 I
untington Bank Stadium is the third on-campus stadium and fourth stadium used for U of M football.

Previous venues have been Northrop Field, Memorial Stadium, and the Hubert H. Humphrey Metrodome. The push for a new on-campus stadium for Golden Gopher football began in the fall of 2000.
The university cited poor revenue and lack of a college football atmosphere at the off-campus Metrodome as their main reasons for wanting to move back on campus.
When it opened, Huntington Bank Stadium boasted the largest home locker room in both college and professional football and one of the largest video boards in the nation
The Gophers played their first game there on September 12, 2009. It was the first football game played on-campus since November 21, 1981, the last game in Memorial Stadium.
The cost to build the stadium was $303 million.
Year Built: 2009
Latest Renovation: 2009
Capacity: 50,805
Average 2022 Attendance: 45,019
Largest 2022 Attendance: 49,368 vs Rutgers
Attendance Record: 54,147 (2015 vs TCU)
Nebraska – Memorial Stadium
Lincoln, NE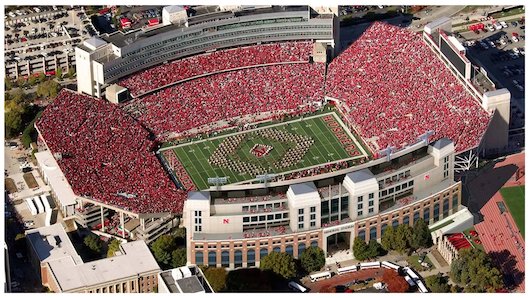 N
ebraska's Memorial Stadium project was initially conceived as a combination gymnasium-stadium-war museum complex to be called the "Nebraska Soldiers and Sailors Memorial."

Enthusiasm for the fundraising effort was high following the death of former Nebraska football captain Dusty Rhodes, who was killed in action in France during World War I.
Construction was completed on the 31,000-seat stadium in just over ninety days, in time for NU's first home game of the 1923 season, a 24–0 win over Oklahoma on October 13.
Memorial Stadium was dedicated the following week to honor Nebraskans who served in the American Civil War and the Spanish-American War, as well as the 751 Nebraskans who died in World War I.
Later, the dedication was expanded to honor Nebraskans who died in World War II, the Korean War, and the Vietnam War.
Year Built: 1923
Latest Renovation: 2006
Capacity: 85.000
Average 2022 Attendance: 86,637
Largest 2022 Attendance: 87,161 vs Oklahoma
Attendance Record: 91,585 (2014 vs Miami)
Northwestern – Ryan Field
Evanston, IL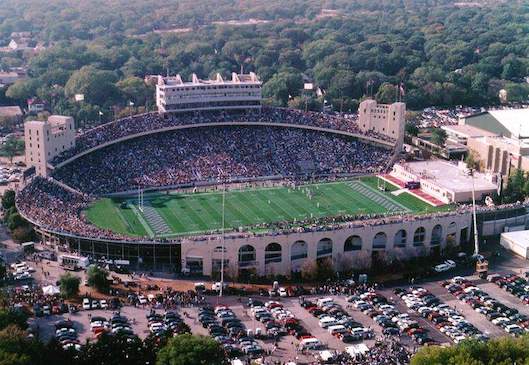 O
pened 97 years ago in 1926, the venue was named Dyche Stadium for William Dyche, class of 1882, the Evanston mayor from 1895 to 1899 and overseer of the building project.

The stadium was renamed Ryan Field in 1997 in honor of the family of Aon Corporation founder Patrick G. Ryan, who was then the chairman of Northwestern's board of trustees.
On September 22, 2021, Northwestern announced that the Ryan family had donated $480 million to the University, the largest donation in its history.
The donation supported several academic initiatives and provide initial funding for the replacement of Ryan Field with a new stadium at the current site.
The new Ryan Field will seat 35,000, more than 12,000 less than the current stadium.
Year Built: 1926
Latest Renovation: 1996
Capacity: 47,130
Average 2022 Attendance: 28,697
Largest 2022 Attendance: 42,774 vs Ohio State
Attendance Record: 55,752 (1962 vs Notre Dame)
Ohio State – Ohio Stadium
Columbus, OH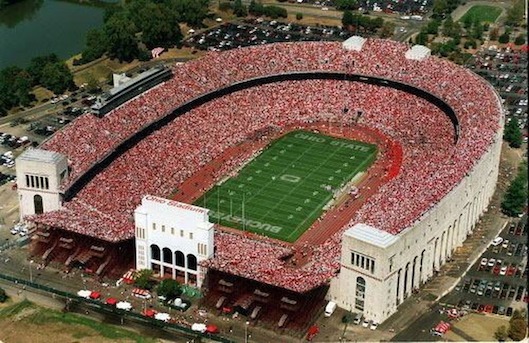 C
ommon nicknames for Ohio Stadium include "The Horseshoe," "The Shoe," and "The House That Harley Built."
The stadium opened in 1922 as a replacement for Ohio Field and had a seating capacity of 66,210.

The first game in the stadium featured opponent Ohio Wesleyan University on October 7, 1922, and brought a crowd of around 25,000, which left people concerned because the stadium was half empty.
This concern was put to rest at the stadium's formal dedication against Michigan on October 21 with a crowd of 72,000, but no one is really sure how many people made it into the stadium.
This attendance mark was broken in a game against Michigan in 1926 when 90,411 came out to support the Buckeyes. That was also the last time standing-room-only tickets were sold for a game.
The rotunda at the north end of the stadium, which is now adorned with stained glass murals of the offensive and defensive squads that comprise the Buckeye football team, was designed to look like the Pantheon dome in Rome.
Year Built: 1922
Latest Renovation: 2001
Capacity: 102,780
Average 2022 Attendance: 104,663
Largest 2022 Attendance: 106,594 vs Notre Dame
Attendance Record: 110,045 (2016 vs Michigan)
Oregon – Autzen Stadium
Eugene, OR
P
rior to 1967, Oregon played football at Hayward Field, an on-campus facility they shared with the track and field team.
The stadium was in such poor condition that coaches deliberately kept prospective recruits from seeing it.

Consequently, the Ducks only played three home games per season on campus in most years, with the exception of the annual rivalry game with Oregon State.
Games that were likely to draw big crowds were played 110 miles north in Portland.
The new stadium was dug into an artificial landfill to eliminate the need for multilevel ramps. The sunken bowl, coupled with a cantilevered roof, resulted in a remarkably loud venue.
Following Oregon's upset of No. 3 Michigan in 2003, then-Wolverine coach Lloyd Carr called Autzen the loudest stadium he had ever been in.
Partial funding for the stadium came from the Autzen Foundation, headed by Thomas E. Autzen, a 1943 graduate and the son of Portland lumberman and philanthropist Thomas J. Autzen, an alumnus of archrival Oregon State.
Year Built: 1967
Latest Renovation: 2002
Capacity: 54,000
Average 2022 Attendance: 54,950
Largest 2022 Attendance: 59,962 vs UCLA
Attendance Record: 60,055 (2011 vs ASU)
Penn State – Beaver Stadium
University Park, PA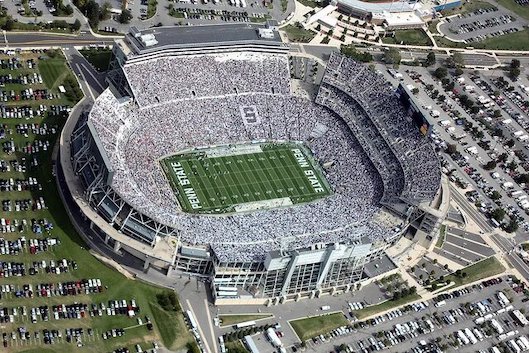 B
eaver Stadium and its predecessors were named after James A. Beaver.
A governor of Pennsylvania from 1887–91, he was also president of the university's board of trustees and a native of nearby Millerstown.

Beaver Stadium has an official seating capacity of 106,572, making it currently the second-largest stadium in the Western Hemisphere and the fourth-largest in the world.
Until 1893, Penn State teams participated in sporting events on Old Main Lawn, a large grassy area in front of the primary classroom building of the time.
Beaver Field, a 500-seat structure located behind the current site of the Osmond Building, was the first permanent home for Penn State's football team.
In 2002, Penn State set an NCAA record for most fans to ever watch a college football team over the course of a single season at home.
Year Built: 1960
Latest Renovation: 2014
Capacity: 106,572
Average 2022 Attendance: 107,379
Largest 2022 Attendance: 109,813 vs Minnesota
Attendance Record: 110,889 (2018 vs Ohio State)
Purdue – Ross-Ade Stadium
West Lafayette, IN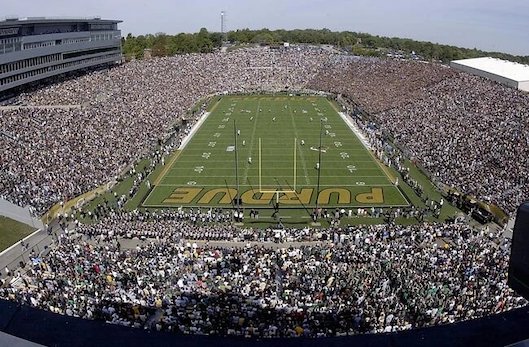 R
oss-Ade Stadium is named for its two principal benefactors, alumni David E. Ross, former president of the Board of Trustees, and George Ade, a playwright and humorist.

Ross conceived the idea for the stadium and selected the site. He and Ade purchased and presented to the University the 65-acre tract on which the stadium is located.
The Stadium opened on November 22, 1924, with a seating capacity of 13,500. The first game and first win came in the 1924 Homecoming dismantling of the Indiana Hoosiers.
In March 2019 it was announced that a memorial for Superfan Tyler Trent, who died on January 1, 2019, at the age of 20 from osteosarcoma, a type of bone cancer, would be placed at Student Section Gate entrance in his honor.
Year Built: 1924
Latest Renovation: 2023
Capacity: 57,282
Average 2022 Attendance: 57,129
Largest 2022 Attendance: 61,320 vs Nebraska and Iowa
Attendance Record: 71,629 (1980 vs Indiana)
Rutgers – SHI Stadium
Piscataway, NJ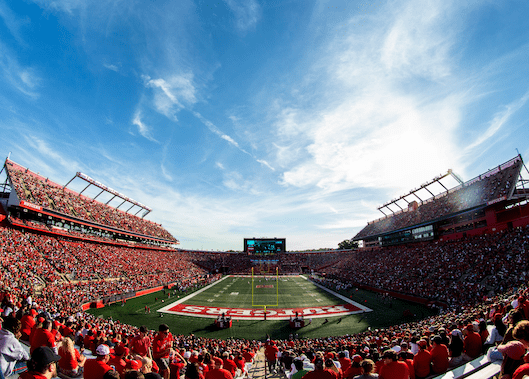 R
utgers is known as the "birthplace of college football" and the first intercollegiate football game, in which Rutgers College beat Princeton 6–4 on November 6, 1869, was at "College Field."

After three years of construction, the original Rutgers Stadium was completed in 1938.
The current stadium was built on the site of the original old Rutgers Stadium and was officially opened on September 3, 1994.
The original design of the stadium replicated the shape of a horseshoe, with the "open" end located near the south end zone. For decades, Rutgers Stadium had been the name of the school's football facility.
However, in June 2010, Rutgers University put up for sale the naming rights to the stadium (which were purchased by SHI) in order to bring in much-needed revenue.
Year Built: 1994
Latest Renovation: 1994
Capacity: 52,454
Average 2022 Attendance: 50,756
Largest 2022 Attendance: 55,676 vs Penn State
Attendance Record: 55,676 (2022 vs Penn State)
UCLA – Rose Bowl Stadium
Pasadena, CA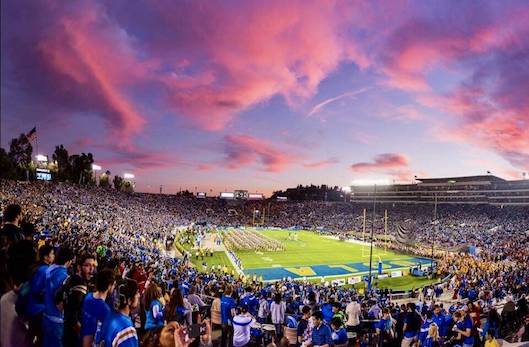 T
he Rose Bowl has been the home of UCLA football since 1982.
Opened in October 1922, the stadium is recognized as a National Historic Landmark and a California Historic Civil Engineering landmark.

The spectacular venue is the 16th-largest stadium in the world, the 11th-largest stadium in the United States, and the 10th-largest NCAA stadium.
Originally built as a horseshoe, the stadium was expanded several times. The southern stands were completed in 1928, enclosing the stadium into a complete bowl.
The stadium's name was alternatively "Tournament of Roses Stadium" or "Tournament of Roses Bowl," until being settled as "Rose Bowl" before the 1923 Rose Bowl game.
The Rose Bowl is widely regarded as one of the most famous venues in sporting history.
Year Built: 1922
Latest Renovation: 2013
Capacity: 88,565
Average 2022 Attendance: 41,593
Largest 2022 Attendance: 70,865 vs USC
Attendance Record: 100,741 (1988 vs USC)
USC – LA Memorial Coliseum
Los Angeles, CA
C
onceived as a hallmark of civic pride, the Los Angeles Memorial Coliseum was commissioned in 1921 as a memorial to Los Angeles veterans of World War I and was completed in 1923.

It will become the first stadium to have hosted the Summer Olympics three times when it hosts the 2028 Summer Olympics.
The structure was designated a National Historic Landmark on July 27, 1984, a day before the opening ceremony of the 1984 Summer Olympics.
The Olympic cauldron torch remains above the peristyle at the east end of the stadium as a reminder of this, as do the Olympic rings symbols over one of the main entrances.
USC has played football in the Coliseum since the grand stadium was built in 1923. The Trojans played in the first varsity football game ever held there, defeating Pomona College, 23-7, on Oct. 6, 1923.
That game was preceded that day by the USC freshman team's 30-0 win over Santa Ana High.
Year Built: 1923
Latest Renovation: 2019
Capacity: 77,500
Average 2022 Attendance: 64,487
Largest 2022 Attendance: 72,613 vs Notre Dame
Attendance Record: 104,953 (1947 vs Notre Dame)
Washington – Husky Stadium
Seattle, WA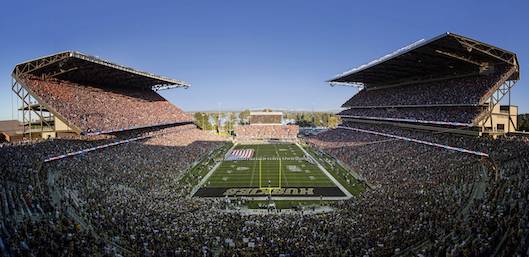 H
usky Stadium was originally built in 1920 by Puget Sound Bridge and Dredging Company with a seating capacity of 30,000.
 It replaced Denny Field, located at the north end of campus.
The Stadium's first game was the concluding game of the 1920 season, a 28–7 loss to Dartmouth on November 27.
On July 27, 1923, the stadium was the site of President Warren Harding's final public address. In 1968, Washington became one of the first major college teams to play on AstroTurf at home.
Many claim that the first audience wave originated in Husky Stadium on Halloween 1981, at the prompting of Husky band trumpeter Dave Hunter.
Husky Stadium has long been recognized as one of the loudest stadiums in the nation.
This is due in part to the stadium's design: Almost 70% of the seats are located between the end zones, covered by cantilevered metal roofs that trap the sound.
Year Built: 1920
Latest Renovation: 2013
Capacity: 70,138
Average 2022 Attendance: 62,933
Largest 2022 Attendance: 68,161 vs Michigan State
Attendance Record: 76,125 (1995 vs Army)
Wisconsin – Camp Randall Stadium
Madison, WI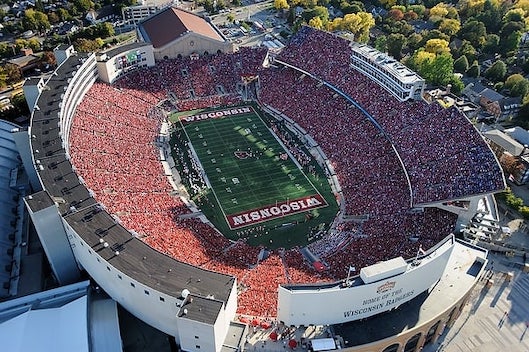 C
amp Randall Stadium lies on the grounds of Camp Randall, a Union Army training camp during the Civil War.
The camp was named after then-Governor Alexander Randall, who later became Postmaster General of the United States.
After an outcry from veterans over plans to turn the site into building lots, the state bought it in 1893 and presented it to the university.
Soon afterward, it was pressed into service as an athletic ground. The new stadium opened for the first time on October 6, 1917.
In 2002, the visiting team locker rooms were initially painted a bright pink but the athletic department decided that the color may irritate the opposing team.
Consequently, it had the room painted a pale shade of blue, dubbed "prison blue," which was intended to have a "calming effect."
Since this change, the Badgers have compiled a 43–4 record at home.
Year Built: 1917
Latest Renovation: 2022
Capacity: 80,321
Average 2022 Attendance: 74,159
Largest 2022 Attendance: 75,728 vs Minnesota
Attendance Record: 83,184 (2005 vs Iowa)
---
—More from Staff—