Posted on August 20, 2023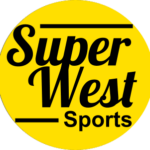 By SuperWest Sports Staff
W
ith Arizona, Arizona State, Colorado, and Utah joining the Big 12 in 2024, we're highlighting the respective venues of the Conference's existing and new members.

(Earlier, we did the same for Oregon, UCLA, USC, and Washington's move to the Big Ten.)
Among the new Big 12 venues, the biggest is BYU's LaVell Edwards Stadium at 63,470.
The oldest Big 12 stadium is Cincinnati's Nippert Stadium, built in 1915. The Bearcats also have the smallest venue at 38,088. The newest stadiums, both built in 2014, are Baylor's McLane and Houston's TDECU.
Colorado's Folsom Field offers one of the most scenic backdrops in the Flat Irons range of the Rocky Mountains. Utah's Rice-Eccles has one of the best student sections, known as "The MUSS."
Arizona Stadium and ASU's Mountain America Stadium are among the most intimidating night-time desert environments.
Below you'll find brief histories of all 16 with the year built, year of the latest renovation, capacity,  average 2022 attendance, biggest 2022 crowd, and record single-game attendance.*
*In some cases, due to stadium downsizing, the record crowd is larger than the current capacity.
Arizona – Arizona Stadium
Tucson, AZ
F
irst constructed in 1929 to hold 7,000 spectators, the stadium's seating capacity has been expanded numerous times since.
The facility includes two dormitories, Pinal and Navajo, under the south stands. The Steward Observatory Mirror Lab, a mirror fabrication facility for large telescopes, sits under the east wing.
Because of the extreme sun and temperatures in Tucson, the athletic department chose Revolution CoolPlay FieldTurf, designed to keep the surface temperatures cooler than with other artificial turf.
Since December 2015, the stadium has hosted the Arizona Bowl, in a matchup between teams from the Mountain West and Sun Belt conferences.
Year Built: 1929
Latest Renovation: 2018
Capacity: 50,800
Average 2022 Attendance: 44,209
Largest 2022 Attendance: 50,800 vs Oregon
Attendance Record: 59,920 (1996 vs Arizona St)
Arizona State – Mountain America Stadium
Tempe, AZ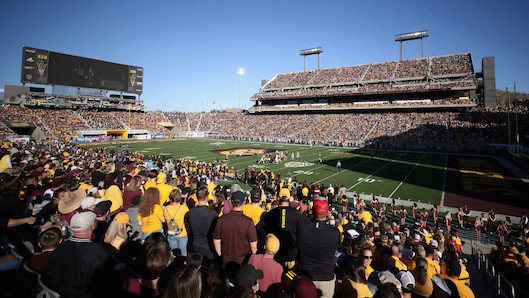 O
riginally called Sun Devil Stadium, it was opened in 1958 against West Texas State.
The field was named Frank Kush Field on Sept. 21, 1996, in one of the greatest nights in college football history, as for the first time since 1977 the top-ranked team was shut out when ASU defeated Nebraska 19-0.
In 2007, engineers realized the stadium's concrete base was buckling due to the rusting of structural steel supporting the foundation because designers assumed it would always be dry in the desert, fixing the problem.
The stadium was the home of the Fiesta Bowl for 35 years and of the NFL's Arizona Cardinals for 18 seasons.
On August 2, 2023, the university announced that Mountain America Credit Union had secured a 15-year naming rights deal for the stadium.
Year Built: 1958
Latest Renovation: 2018
Capacity: 53,599
Average 2022 Attendance: 43,081
Largest 2022 Attendance: 51,265 vs UCLA
Attendance Record: 74,963 (1996 vs Cal)
Baylor – McLane Stadium
Waco, TX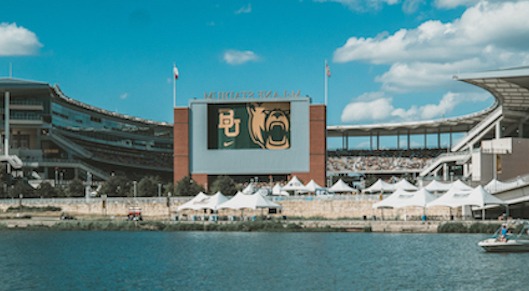 I
nitially named "Baylor Stadium," the facility's name was changed to "McLane Stadium" in December 2013 to honor Baylor alumnus and business magnate and construction donor Drayton McLane, Jr.
Baylor's first game at McLane was played on August 31, 2014, with the Bears defeating SMU 45–0.
The stadium is located on the north bank of the Brazos River, one of a few major college football stadiums (along with Neyland Stadium and Husky Stadium) where fans can arrive at the stadium by boat.
Fans are able to "sailgate" in the Baylor Basin, a cove that adjoins the stadium.
Year Built: 2014
Latest Renovation: 2014
Capacity: 45,140
Average 2022 Attendance: 45,463
Largest 2022 Attendance: 47, 979 vs Oklahoma St
Attendance Record: 50,223 (2019 vs Oklahoma)
BYU – LaVell Edwards Stadium
Provo, UT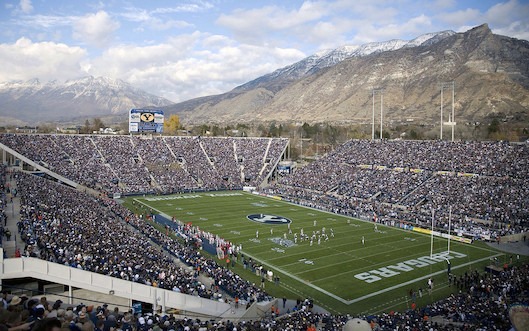 T
he stadium opened 59 years ago in 1964 as Cougar Stadium. The first game was on Friday night, October 2, and was attended by 33,610, then a state record.
At the conclusion of the 2000 season, the stadium was renamed with the retirement of legendary head football coach LaVell Edwards.
LaVell Edwards (1930–2016) served as the head coach at BYU for 29 seasons, preceded by ten years as an assistant. The stadium was officially renamed in his honor immediately before his last home game as head coach.
Part of the largest collection of Jurassic-period fossils in North America was stored underneath the east bleachers of the stadium until 2005.
The fossils have since been prepared and are on display in the BYU Museum of Paleontology's collection room.
Year Built: 1964
Latest Renovation: 2011
Capacity: 63,470
Average 2022 Attendance: 59,674
Largest 2022 Attendance: 63,470 vs Baylor & Arkansas
Attendance Record: 66,247 (1993 vs Notre Dame)
UCF – FBC Mortgage Stadium
Orlando, FL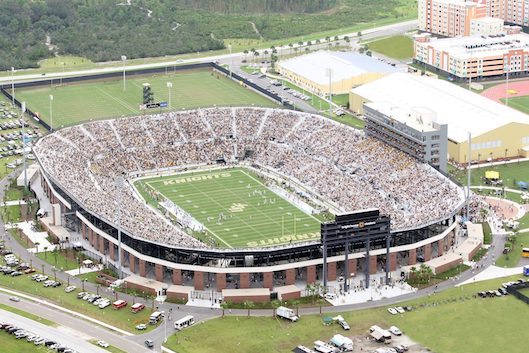 F
BC Mortgage Stadium was formerly known as Bright House Networks Stadium and Spectrum Stadium.
The facility has a longtime nickname of The Bounce House, as it was found to be susceptible to considerable shaking when its crowd jumps in unison.
Measures were undertaken following the stadium's inaugural season to reduce these effects.
From 1979 to 2006, the Knights played their home games at the Citrus Bowl in downtown Orlando. In December 2005, the UCF Board of Trustees approved the construction of the new on-campus stadium.
The first game in the new stadium was held on September 15, 2007, against Texas in front of a sell-out crowd of 45,622.
Year Built: 2007
Latest Renovation: 2017
Capacity: 45,301
Average 2022 Attendance: 41,542
Largest 2022 Attendance: 44,813 vs Navy
Attendance Record: 48,453 (2009 vs Miami)
Cincinnati – Nippert Stadium
Cincinnati, OH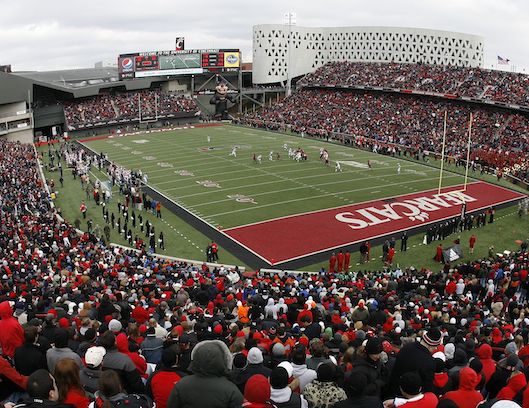 N
ippert Stadium began in 1901 with a field surface, permanent concrete stands built along each sideline for the 1915 season,
Its horseshoe shape was completed in 1924, making it the fourth-oldest playing site and fifth-oldest stadium in college football, respectively.
During the final game of the 1923 season UC player James Gamble "Jimmy" Nippert sustained a spike wound injury. He died a month later of blood poisoning.
Nippert's grandfather, James N. Gamble of Procter & Gamble, donated the required funds to complete the stadium with a medical training facility added for the safety of players. 
Year Built: 1915
Latest Renovation: 2017
Capacity: 38,088
Average 2022 Attendance: 38,117
Largest 2022 Attendance: 39,014 vs Kennesaw St
Attendance Record: 40,124 (2015 vs UConn)
Colorado – Folsom Field
Boulder, CO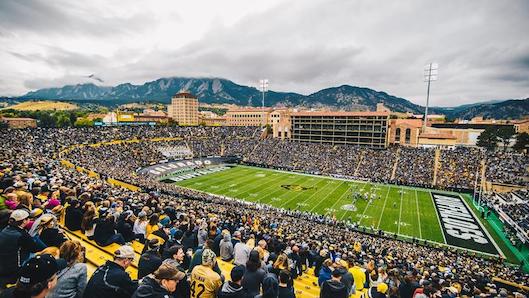 O
pened as Colorado Stadium on October 11, 1924, it was renamed Folsom Field in 1944, following the death of former head coach Fred Folsom.
Set against the backdrop of the Flat Irons of the Rocky Mountains, it is one of the most spectacular venues in all of college football.
It is also home to one of the top pregame rituals in the country with the running of Ralphie VI, Colorado's live buffalo mascot.
The south end zone was featured in the opening and closing credits of the late 1970s television show Mork and Mindy, which was set in Boulder.
Year Built: 1924
Latest Renovation: 2003
Capacity: 50,183
Average 2022 Attendance: 42,847
Largest 2022 Attendance: 50,471 vs Cal
Attendance Record: 54,972 (2005 vs Colorado St)
Houston – TDECU Stadium
Houston, TX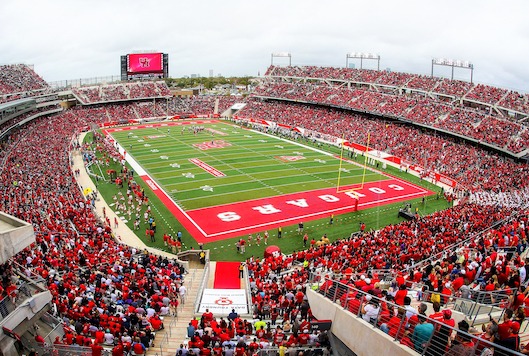 T
DECU Stadium was built on the former site of Robertson Stadium, which was the intermittent home of the school's football program since 1946.
In 1994 the Houston Cougars football team began splitting their home schedule with the Astrodome and Robertson Stadium.
The final game at Robertson Stadium was the 2011 Conference USA Championship game in which Houston was defeated by Southern Miss.  It was also the first time ESPN came to Houston to host College GameDay.
Builders broke ground on the new stadium in 2013. The orientation was designed to be in an "East-West" configuration, allowing for a maximized view of the Houston skyline.
In 2015, TDECU Stadium received several accolades for its design and construction.
Year Built: 2o14
Latest Renovation: 2014
Capacity: 40,000
Average 2022 Attendance: 25,394
Largest 2022 Attendance: 30,317 vs Kansas
Attendance Record: 42,922 (2016 vs Louisville)
Iowa State – Jack Trice Stadium
Ames, IA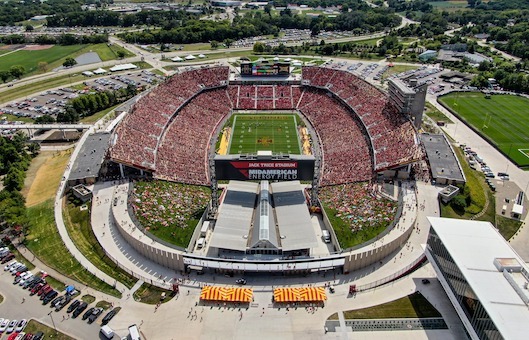 J
ack Trice Stadium replaced Clyde Williams Field, which had been in use from 1914 through 1974.
Originally called Cyclone Stadium, in 1997 it was renamed in honor of Jack Trice, Iowa State's first African American athlete, who died of injuries sustained during a 1923 game against Minnesota.
Many of his teammates claimed the Gophers targeted him throughout the first two quarters because of his skin color. As a result of his death, ISU did not renew its contract to play against Minnesota after the 1924 game.
The two teams would not play again until 1989.
Jack Trice is the only stadium in Division I FBS named for an African American individual.
Year Built: 1975
Latest Renovation: 2015
Capacity: 61,500
Average 2022 Attendance: 57,344
Largest 2022 Attendance: 60,561  vs Kansas State
Attendance Record: 61,500 (2015 vs Northern Iowa)
Kansas – David Booth Kansas Memorial Stadium
Lawrence, KS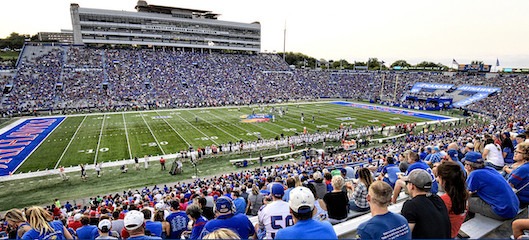 D
avid Booth Kansas Memorial Stadium is the seventh-oldest collegiate stadium in the nation and is widely recognized as the oldest west of the Mississippi River.
The stadium is dedicated as a memorial to Kansas students who died in World War I and is one of seven major veterans' memorials on the campus.
Originally, the stadium had only east and west bleachers, which were expanded southward in 1925. The north bowl seating section was added in 1927 to give the stadium its horseshoe shape which it retains today.
Originally named Memorial Stadium, in 2018 it was renamed in honor of KU alumnus and donor David G. Booth, who pledged a donation of $50 million to overhaul the facility.
Year Built: 1921
Latest Renovation: 2015
Capacity: 47,233
Average 2022 Attendance: 43,076
Largest 2022 Attendance: 47,233  vs TCU
Attendance Record: 52,530 (2009 vs Northern Colorado)
Kansas State – Bill Snyder Family Stadium
Manhattan, KS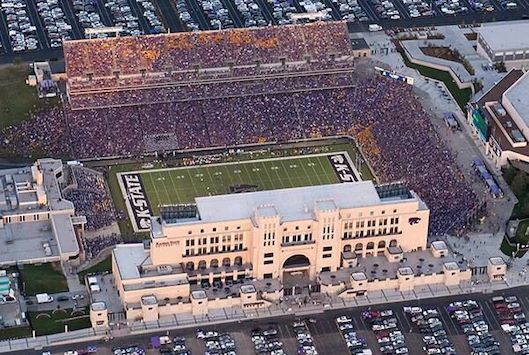 B
ill Snyder Family Football Stadium opened as KSU Stadium in 1968 and was the replacement for the on-campus Memorial Stadium, which hosted Kansas State football games since 1922 (and is still standing today).
Before the final game of the 2005 season, Kansas State offered to name the stadium Bill Snyder Stadium in honor of retiring head coach Bill Snyder.
The stadium hosts a number of Gameday themes.
They include Harley Day, unique to the college football landscape, which features a parade of over 100 motorcycles inside the stadium around the field during the pre-game show as the teams enter the stadium before kickoff.
Year Built: 1968
Latest Renovation: 2021
Capacity: 50,000
Average 2022 Attendance: 51,165
Largest 2022 Attendance: 51,861 vs Kansas
Attendance Record: 53,811 (2000 vs Nebraska)
Oklahoma State – Boone Pickens Stadium
Stillwater, OK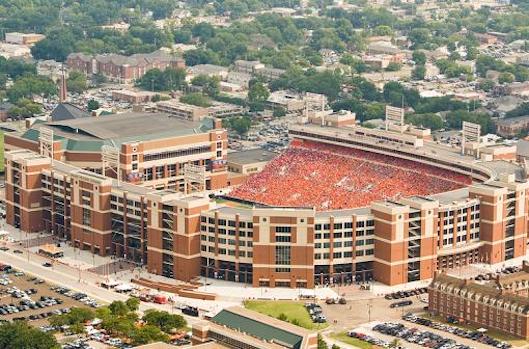 O
pened in 1920 as Lewis Field, the orientation is an east-west direction to mitigate the impact of strong prevailing winds.
It stands as one of only a few major stadiums in the United States with goals positioned at both the east and west ends.
As a result, the sun provides a strategic advantage to the team defending the west end zone during sunny afternoon games, while the team defending the east goal must contend with direct and intense sunlight glare.
Lewis Field was officially renamed Boone Pickens Stadium during a halftime ceremony in 2003 to honor OSU alumnus T. Boone Pickens, a Texas oilman and entrepreneur who donated $165 million
It is the largest single donation ever to an athletics department.
Year Built: 1920
Latest Renovation: 2009
Capacity: 55,509
Average 2022 Attendance: 54,735
Largest 2022 Attendance: 55,509 vs Iowa State
Attendance Record: 60,218 (2013 vs Baylor)
TCU – Amon G. Carter Stadium
Fort Worth, TX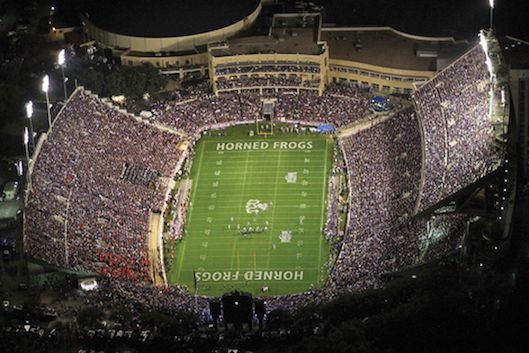 I
n 1928, the school received a private financial donation from Amon G. Carter, publisher of the 
Fort Worth Star-Telegram.
The stadium hosted its first football game on October 11, 1930, when TCU defeated the University of Arkansas.
Amon G. Carter stadium has several popular nicknames, the most popular being "The Carter" and "Hell's Half Acre" (a reference to the site in Fort Worth's Wild West past, which was located near the stadium).
Year Built: 1930
Latest Renovation: 2012
Capacity: 47,000
Average 2022 Attendance: 46,562
Largest 2022 Attendance: 55,509 vs Iowa State
Attendance Record: 50,307 (2009 vs Utah)
Texas Tech – Jones AT&T Stadium
Lubbock, TX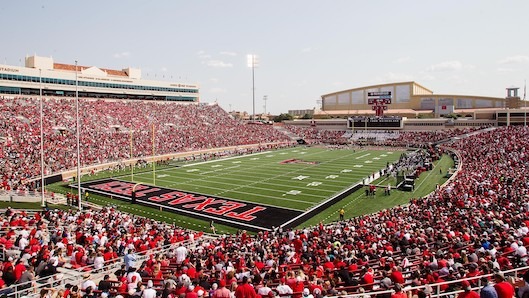 O
fficially known as Jones AT&T Stadium and Cody Campbell Field, the stadium opened as Clifford B. and Audrey Jones Stadium in 1947.
It was named after Texas Tech's third president and his wife, who donated $100,000 towards its construction.
The stadium name was changed to Jones SBC Stadium in 2000 due to a naming rights agreement with SBC Communications, then being led by Texas Tech alumnus and CEO Edward Whitacre, Jr..
The name was changed again in 2006 when SBC purchased AT&T Corporation. The Cody Campbell Field name was added in 2021 when former player Cody Campbell donated $25 million.
The stadium boasted one of the most iconic scoreboards in football, the Double T scoreboard in the shape of the Texas Tech logo until 2022 when it was removed.
Year Built: 1947
Latest Renovation: 2010
Capacity: 60,454
Average 2022 Attendance: 56,870
Largest 2022 Attendance: 60,975 vs Texas
Attendance Record: 61,836 (2013 vs Oklahoma State)
Utah – Rice-Eccles Stadium
Salt Lake City, UT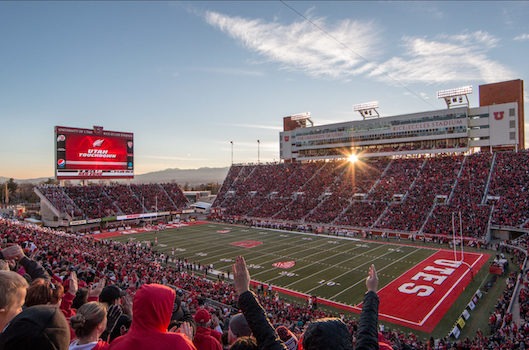 T
he original stadium, Ute Stadium, opened in 1927 and was renamed Rice Stadium in 1972 when Robert L. Rice funded the original renovation project.
When Salt Lake City was awarded the 2002 Winter Olympics in June 1995, it was obvious that Rice Stadium was not suitable to serve as the main stadium.
Immediately after the 1997 season's final home game on November 15, Rice Stadium was almost completely demolished and replaced with a modern steel, concrete-and-glass facility.
The stadium was named Rice-Eccles Stadium keeping the original honor for Rice and adding George Eccles whose family foundation donated $10 million towards the project.
The 2002 Olympic Cauldron is located just west of the South Endzone.
Year Built: 1997
Latest Renovation: 2021
Capacity: 51,444
Average 2022 Attendance: 52,057
Largest 2022 Attendance: 53,609 vs USC
Attendance Record: 53,609 (2022 vs USC)
West Virginia – Milan Puskar Stadium
Morgantown, WV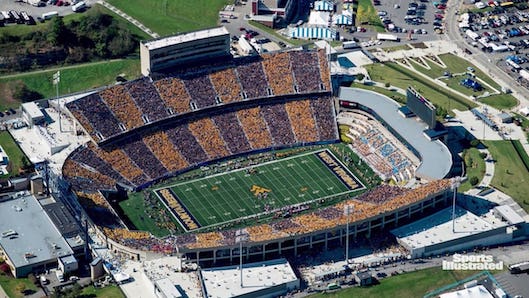 O
fficially Mountaineer Field at Milan Puskar Stadium, the stadium was opened in 1980 to replace the old Mountaineer Field on campus.
The "New" Mountaineer Field facility was named for Milan Puskar, a Morgantown resident and founder of Mylan Pharmaceuticals, Inc. who donated $20 million to the university in 2004.
On game day, football players touch a piece of coal, paying respect to the hard-working, blue-collar people who travel down to the mine to begin their work day.
At the north end entrance to the stadium is Mountain Legends Park showcasing each legend who helped build and shape the history and tradition of WVU football.
Year Built: 1980
Latest Renovation: 2016
Capacity: 60,000
Average 2022 Attendance: 47,658
Largest 2022 Attendance: 50,703 vs Towson
Attendance Record: 70,222 (1993 vs Miami)
---
—More from Staff—