Posted on August 19, 2023


  By Dane Miller, SuperWest Sports
T
his Washington preseason football preview is the 11th of 12 to appear over as many weeks as we count down the days to the start of the Pac-12 season on August 26th.

Each preview consists of nine sections: Overview, Best-Case Scenario, Worst-Case Scenario, What Should Happen, What Must Happen, Greatest Strength, Biggest Concern, Deciding Factors, and Schedule Analysis.
Nothing is set in stone, however, as rosters and depth charts continue to evolve over the summer.
Washington Huskies Fast Facts
• 2022 Record: 11-2
• Head Coach: Kalen DeBoer (11-2 at Washington)
• Offensive Coordinator: Ryan Grubb
• Defensive Coordinators: William Inge, Chuck Morrell
• Home Stadium: Husky Stadium (70,083), Seattle, WA
• Last Conference Title: 2018, Pac-12
Overview
K
alen DeBoer turned the Husky program around in a single season. The 180-degree change from the Jimmy Lake era was impressive, to say the least.

Reborn on the back of what might be the most elite offensive scheme in College Football, Washington Football has returned to relevancy.
Entering the season No. 10 in the AP Top 25 poll, and loaded with talent, the Huskies are expected to contend for the College Football Playoff.
The Dawgs return all four of their top receivers from a team that was No. 1 in the nation in passing offense.
Quarterback Michael Penix Jr. enters the 2023 season as a Heisman candidate and executes DeBoer's offense to a tee.
But, UW must replace three starters from an offensive line that was No. 1 in the country in tackles for loss allowed per game and No. 2 in sacks allowed per game.
At the same time, Washington must improve its Red Zone offense after ending last year a disappointing 42nd in the FBS despite touting the No. 2 total offense.
And on "D," the Huskies have to be better than the No. 58 scoring defense they produced last season, primarily by improving their pass defense, which was No. 100 in the NCAA.
Best-Case Scenario
T
he defense takes steps forward while the offense doesn't miss a beat.
The result is a 10-2 season with the defeats coming to USC on the road and a stumble against either Michigan State, Utah, or Oregon State.
The Dawgs had the No. 7 scoring offense in the land last year, averaging 39.7 points per game. All of the skill position players return, minus leading running back Wayne Taulapapa.
But DeBoer hit the transfer portal to shore up his departure.
Mississippi State transfer Dillon Johnson has been brought in after rushing for 488 yards and three touchdowns with the Bulldogs last season. The running back also caught 48 passes for 285 receiving yards.
His addition to the backfield is pivotal for a RB unit that was only 69th in rushing offense at just 146.0 yards per game.
DeBoer reeled in Arizona State's Daniyel Ngata, too. The power back averaged 5.0 yards per carry last season while putting up 272 yards rushing.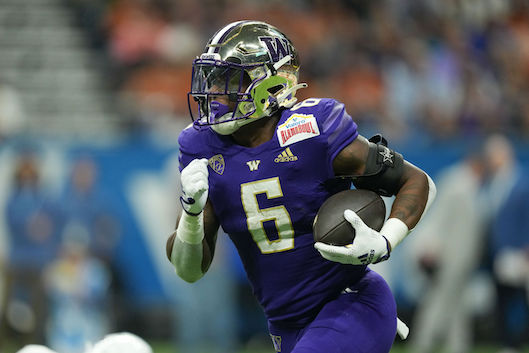 The two transfer additions hope to turn UW's running back unit from a question into a strength. Both players figure to contribute and impact the team, particularly in the Red Zone.
Running backs Cameron Davis and Richard Newton return, as well, after combining for 735 yards rushing and 15 total touchdowns.
The result should be an improved ground game that leads to greater efficiency in the Red Zone.
At the same time, all four leading receivers are back to form what might be the top wide receiver unit in the nation. The leading tight ends return, too.
All told, Washington's offense could be even stronger in 2023.
But, it's defensive improvement that will push the program to its peak. USC linebacker transfer Ralen Goforth has been brought in along with Oklahoma State cornerback transfer Jabbar Muhammad.
And with the return of three of their four leading sack men and five of their six leading tacklers for loss, the Husky defense should show improvement in Year Two of DeBoer.
Worst Case Scenario
T
he issues in the secondary are not fixed.
The Huskies were just plain bad at defending the pass last season. The defensive backs allowed 251.6 yards per game, which was 67 percent of the team's yards allowed per contest.
The program lost its top defensive back, too, in Alex Cook, who led the team in tackles.
Asa Turner, Mishael Powell, Dominque Hampton, and Kamren Fabiculanan do return. But the quartet combined for just eight passes defended and two interceptions last season.
As a comparison, Oklahoma State transfer cornerback Jabbar Muhammad posted nine passes defended on his own last year.
There are high expectations for Muhammad to contribute significantly in Seattle; otherwise, the Dawgs could once again struggle to defend the pass.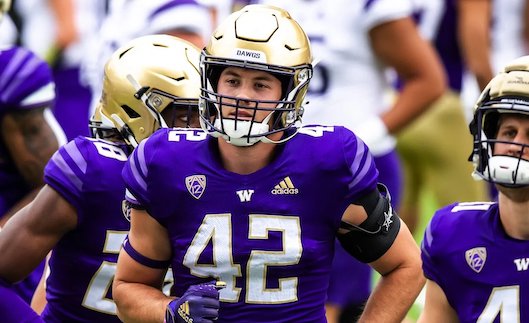 Washington also lost its No. 2 linebacker in Cam Bright. He was third on the team in tackles and could prove difficult to replace. DeBoer did bring in Goforth from USC, who posted 43 tackles and an interception last year.
Alphonzo Tuputala and Carson Bruener return at linebacker, too, after combining for 116 tackles, 9.5 tackles for loss, and three sacks. Edefuan Ulofoshio is also back at linebacker after missing eight games last year.
Up front, UW returns one of the nation's top defensive lines despite losing its second-leading sack man in Jeremiah Martin.
But the strength up front and the adequacy at linebacker are squandered if the secondary doesn't step up.
If the defensive backs struggle again, the Dawgs could stumble to an 8-4 season with defeats to USC, Utah, Oregon State, and some combination of either Oregon, Michigan State, or Arizona.
What Should Happen
T
he Husky defensive line should thrive.
Highlighted by Bralen Trice, Washington has one of the top D-Lines in the Pac-12. Trice, Tuli Letuligasenoa, Zion Tupuola-Fetui, and Voi Tunuufi all return up front.
The four players helped produce the nation's No. 26 rushing defense and No. 21 sack defense.
Only Martin is gone from the group, with the four returning players combining for 27 TFLs and 18.5 sacks in 2022.
Suffice it to say that the defensive line was not Washington's problem last year and it will remain a great strength for it this season.
What Must Happen
A
part from the obvious improvement required on defense, particularly in the secondary, the Dawgs must accomplish two primary tasks: improve their Red Zone offense and rebuild their offensive line.
Despite boasting the country's No. 1 passing offense, No. 2 total offense, and No. 7 scoring offense, the Huskies were a disappointing No. 42 in red zone offense.
To fix that issue, Washington must get more out of its running backs. Its ground game was mired all the way back in 69th nationally, posting just 146.0 yards per game.
It has to get more production out of its running backs, particularly within the 20-yard line.
Only 31.9 percent of UW's first downs were achieved on the ground, or just 8.7 per game. When the field gets bunched up in the red zone, the issues running the ball become magnified.
But DeBoer was astute to bring transfers into his backfield. Both Johnson and Ngata averaged more yards per rush than Davis and Newton, while Ngata is a proven power back.
With four RBs to cycle through in order to find the right matchups, the Dawgs must be better on the ground this season.
Going hand in hand with improvement running the ball is the rebuilding of the offensive line.
The Husky O-Line was among the best in the nation last year, coming in No. 1 in TFLs allowed per game and No. 2 in sacks allowed per game.
Yet, three starters from that unit are gone and DeBoer is in substantial rebuild mode. Troy Fautanu and Roger Rosengarten are the primary returning starters. Each started all 13 games last season and have combined for 29 career starts.
Nate Kalepo returns, as well, after starting in three games last year. Senior Matteo Mele has started one game during his career but didn't start any last season.
That's the extent of Washington's O-Line experience when it comes to starting. The group must develop chemistry quickly and could have some growing pains early in the season.
It's not easy to replace three starters from one of the top offensive lines in College Football, and it might show for the Huskies this season.
Greatest Strength
T
here are many strengths within Washington's program for 2023.
The Dawgs have one of top quarterbacks in the nation with Penix, and arguably the top wide receiver unit in the country with Jalen McMillan, Rome Odunze, and Ja'Lynn Polk.
Giles Jackson, who injured his thumb in fall camp, will be unavailable this season and is expected to redshirt.
Another clear strength is what could be the top defensive line in the Pac-12.
But the team's greatest strength is arguably DeBoer's offensive system. The scheme itself is highly innovative and dangerously potent.
Incorporating plenty of pre-snap movement, its plays are designed to get its playmakers into open space.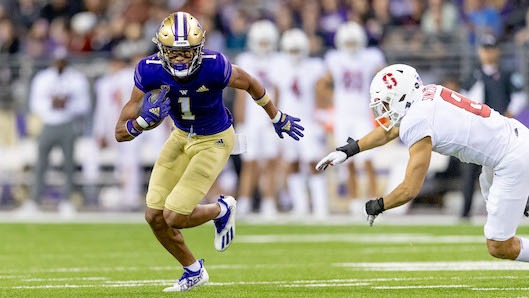 Operating with a roughly 60/40 run-pass split in favor of the pass, the spread scheme is almost impossible to defend when the quarterback executes it efficiently.
The system is perfect for the options at wide receiver that Washington has at its disposal. Odunze and McMillan both had more than 1,000 yards receiving last season.
The up-tempo nature of the offense resulted in 44.2 pass attempts per game and ended with Penix passing for 4,641 yards in 2022.
With a quarterback who understands exactly how to operate it, the Washington offensive scheme is undoubtedly one of the best in modern college football.
Biggest Concern
W
e aren't going to beat a dead horse here.

The primary, and perhaps only, concern when it comes to Washington Football this season is its secondary.
The unit was so bad last year that the passing defense numbers are a statistical outlier in the team's defensive analytics.
But, just to reinforce the point, the Dawgs ranked 101st nationally in interceptions generated and 111th in passing efficiency defense (a stat that measures yards allowed, touchdowns allowed, and interceptions created, based on the number of passing attempts).
At the same time, replacing three starters along the offensive line is concerning. The players vying for those three open spots have limited starting experience, which is not ideal for a team with Playoff aspirations.
Deciding Factors
T
he recipe for success in the Pac-12 is clear: strong line play on both sides of the ball.

The Huskies are stellar on the defensive line and should have no problems upfront.
Yet, the lack of starting experience along the rebuilt offensive line figures to have an overweighted impact on the season.
If the O-Line doesn't perform up to expectations, the Dawgs' season is artificially limited.
One way to help out a newer offensive line, though, is a go-to option at tight end. Able to sneak off the line of scrimmage and into open space, an elite tight end can make a substantial difference.
DeBoer brought in one of the top FCS tight end transfers in Josh Cuevas out of Cal Poly. The sophomore posted 58 receptions for 678 yards receiving and six touchdowns last season.

Combined with Devin Culp and Jack Westover, who combined for 608 yards receiving and two touchdowns last year, the Washington tight end group has the potential to make a difference.
A true freshman emerging from DeBoer's recruiting class that was ranked No. 29 nationally, per 247Sports, would be impactful, too.
Four-star defensive backs Vincent Holmes, Curley Reed, and Caleb Presley figure to be some of the players that could contribute.
Yet, at the end of the day, the Huskies need greater efficiency in the red zone from a stronger run game, a much improved secondary, and a rebuilt offensive line.
If Washington gets all three, a Playoff appearance is a realistic possibility.
Schedule Analysis
2023 Washington Huskies Schedule
• Sept. 2 vs Boise State
• Sept. 9 vs Tulsa
• Sept. 16 at Michigan State
• Sept. 23 vs California
• Sept. 30 at Arizona
• Oct. 14 vs Oregon
• Oct. 21 vs Arizona State
• Oct. 28 at Stanford
• Nov. 4 at USC
• Nov. 11 vs Utah
• Nov. 18 at Oregon State
• Nov. 24 vs Washington State
W
ith a schedule like that ahead of them, a 9-3 result is a reasonable expectation.

The road game against USC is likely a loss under any objective scenario. The matchups with Oregon, Oregon State, and Utah are the other games with the highest possibility of defeat.
The game against Boise State won't be easy and the matchup with Michigan State on the road will be a challenge.
Going to Arizona is a pitfall for the Pacific Northwest schools, too, and Jedd Fisch will have the Wildcats believing an upset is possible.
Yet, the Dawgs should win all of their home games including the matchups against Oregon and Utah.

If Washington can get to the Pac-12 Championship Game with wins over Boise State, Michigan State, Oregon, and Utah, the Playoff Committee would be hard-pressed to find a team with a more complete resume.
The Conference of Champions is the deepest league in the nation this season. If the Huskies emerge as the champion, a Playoff invitation would likely be in the cards.
---
—More from Dane Miller—

Latest posts by Dane Miller
(see all)