Posted on March 15, 2022


  By Dane Miller, SuperWest Sports

The NIT begins tonight as 32 teams fight for the opportunity to make it to the finals at Madison Square Garden.
Three programs from the Pac-12 were invited to the invitational, with Colorado and Washington State receiving the right to host the First-Round matchup.
The path to New York is never easy, and the motivation of each team inevitably varies.
But the Conference has an opportunity to showcase some of its top schools that didn't make the Big Dance, and gain some respect in the process.
I preview all three games here, and my picks along with Stephen Vilardo's appear at the bottom.


Oregon at No. 4 Utah State
Dee Glen Smith Spectrum, Logan, UT
Tuesday, March 15
6:00 pm PT, ESPN
T
he Ducks travel to Logan, Utah to face a poor man's version of Arizona.
Utah State is fifth in the country in assists per game (17.9) and 21st in field goal percentage (47.9 percent), but 322nd in blocked shots (2.1) and 178th in rebounds per night (35.1).
The Aggies have respectable height and utilize a consistent seven-man rotation, scoring points primarily through its wings.
At 6-foot-7, senior forward Justin Bean leads the way with 17.7 points per game, while fellow 6-foot-10 senior forward Brandon Horvath puts up 13.9 per night.
And sitting third on the team in points per contest, 6-foot-8 guard Sean Bairstow tacks on 9.5 per game.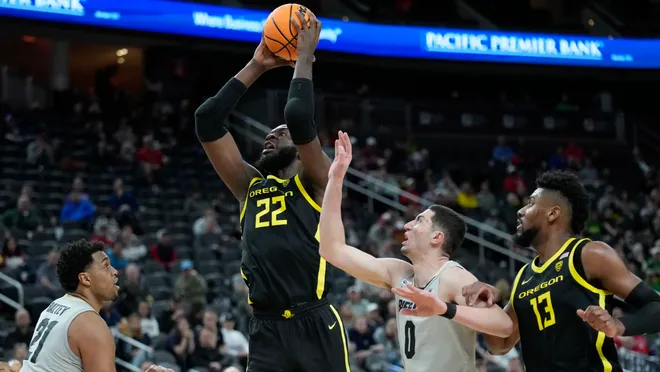 The trio all shoot over 50 percent from the field, accounting for 55.9 percent of Utah State's scoring.
The Aggies are a tough matchup for the struggling Ducks. Analytically outmatched almost across the board, there are two key areas for Dana Altman to exploit: turnovers and blocked shots.
Despite the problems UO has dealt with this year, it continues to take care of the ball better than most teams in the NCAA.
With just 11.9 TO's per night, Oregon might need to keep its mistakes in the single digits to topple Utah State at home.
And on the other end of the court, aggressively defending shooters could hamper the Aggies' offense. The 4-seed knocks down 7.8 threes per game, which would land it second in the Pac-12 and tied with Arizona.
But with the height and athleticism to match up against USU's scorers, Quincy Guerrier, Eric Williams Jr., and Rivaldo Soares will need to step up on defense to keep the Aggies in check.
St. Bonaventure at No. 4 Colorado
CU Events Center, Boulder, CO
Tuesday, March 15
8:00 pm PT, ESPN2
T
ad Boyle and the Buffs begin their journey to Madison Square Garden with a matchup against an odd St. Bonaventure squad.
Out of the A-10, St. Bonaventure runs a slow-paced offense that shares the ball and limits turnovers.
Almost entirely reliant on a five-man rotation, the Bonnies' starters rarely come out of the game.
Four average less than three minutes on the bench per night, while its center sits around 10 per contest to stay fresh. Making matters worse, none of its top four scorers are taller than 6-foot-5.
It's 70.1 points per game are nothing to write home about (201st in the country), but its 10.6 turnovers per game (33rd in Division I) and 4.9 blocked shots per game (29th in the nation) are among college basketball's best.
Yet, without the depth or height to give Boyle any pause, his game plan could be to increase the tempo.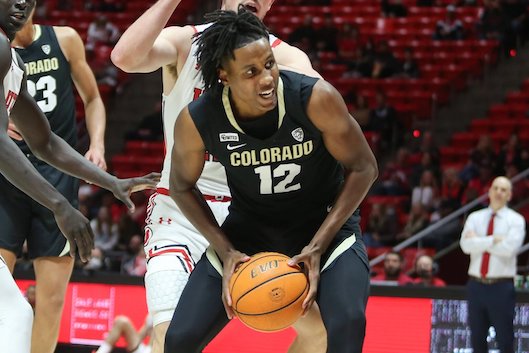 The altitude at the CU Events Center could have an oversized role in the matchup, as St. Bonaventure just doesn't have the rotation to keep up.
Transition opportunities figure to be emphasized, along with offensive rebounding, which should lead to more turnovers and poor shots as the Bonnies wither down the stretch.
But the starkest difference between the two teams is three-point shooting.
The Buffs are 36th in the country, hitting 36.9 percent of their perimeter shots, while St. Bonaventure is 270th and only hits 31.8 percent of its looks.
And fresh off a Pac-12 Tournament single-game record of 16 made threes, Colorado figures to let it fly from the opening tip.
Look for Jabari Walker, Tristan da Silva, and Evan Battey to have strong games against the Bonnies' under-sized roster.
Santa Clara at No. 4 Washington State
Friel Court at Beasley Coliseum, Pullman, WA
Tuesday, March 15
8:00 pm PT, ESPNU
W
ashington State may be hosting Santa Clara, but the Cougs are arguably the higher seed in name only.
Finishing third in the regular season standings of the West Coast Conference, Santa Clara is 31st in the country in points per game, seventh in field goal percentage, and seventh in three-point percentage.
If that doesn't scare the bejeezus out of Smith's staff, nothing will.
Santa Clara is an NCAA Tournament-caliber team that missed out on the Big Dance due to a string of losses when it didn't have one of its star players, Josip Vrankic.
The Canadian missed eight games this season, but averages 15.1 points per night on 55.3 percent shooting in his fifth year in the program.
The Broncos score more points per game than the Cougars, have a higher field goal percentage, a superior three-point percentage, and post more assists per matchup.
Add in the roughly equal numbers in turnovers per game, rebounds per night, and free throw percentage, and WSU is in for a hard-fought game.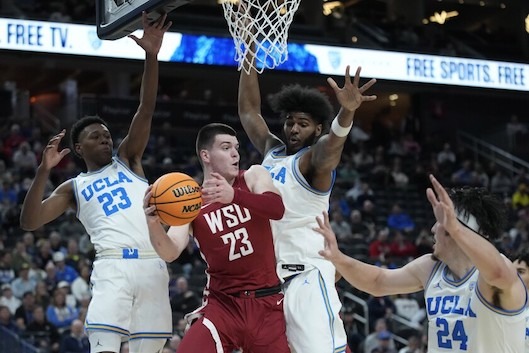 Compounding the concerns, Vrankic isn't SCU's main scorer.
Jalen Williams averages 17.9 points per night and 4.0 assists per game, while knocking down 52.0 percent of his shots.
The efficiency numbers are off the charts for the junior from Arizona, although he went 6-for-17 in the Broncos' Semifinal loss in the WCC Tournament.
To advance into the Second Round, Smith's team must take care of the ball and hit their outside shots.
Overly reliant on the three and fractured by one-on-one offense, Washington State must have strong nights from its guards.
Michael Flowers, Tyrell Roberts, and Noah Williams are the only Cougs averaging in double-figures, and all three might need to combine for 50 points or more.
If WSU isn't at its best, its NIT run could be over before it even begins.
Tuesday NIT Game Picks
---
—More from Dane Miller—

Latest posts by Dane Miller
(see all)