Posted on March 19, 2022


  By Dane Miller, SuperWest Sports
T
he NIT rolls on to the Second Round with two Pac-12 schools still alive.
Oregon pulled off an upset over Utah State without N'Faly Dante and Will Richardson, while Washington State posted an impressive win against a solid Santa Clara team.
The victories kept the league in contention for the coveted final rounds held in New York City, but the competition only gets tougher from here on out.
I preview the two Second Round games below, and my picks along with Stephen Vilardo's appear at the bottom.
Oregon at No. 1 Texas A&M
Reed Arena, College Station, TX
Saturday, March 19
9:00am PT, ESPN
T
wo victories away from reaching the Semifinals at Madison Square Garden, Oregon once again takes the show on the road.
But to get to New York City, the Ducks must handle a Texas A&M team that fell just short of the NCAA Tournament.
Fortunately, the matchup with the Aggies is more favorable on paper than UO's tilt against Utah State, and Dana Altman's team is playing like they want to be here.
With roughly equal field goal percentages, 3-point percentages, blocked shots per game, and rebounds per night, this matchup figures to come down to the final minutes.
But one significant analytical advantage favors Oregon: turnovers per game.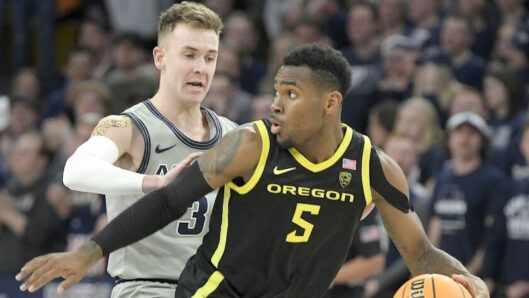 The Aggies are sloppy with the ball, checking in at 247th in the country in the key metric, while the Ducks are head and shoulders above at 96th in the nation.
In UO's victory in Round One, Altman's team committed just eight, while Texas A&M got away with 13 in their win over Alcorn State.
Those mistakes won't fly against Oregon's defense, which figures to turn TO's into transition buckets and fastbreak points.
Jacob Young continues to embrace his role as the primary point guard in Will Richardson's absence, while De'Vion Harmon picked up the scoring slack that N'Faly Dante left.
With positive momentum and a chance to end another opponent's season, the Ducks have a realistic shot to move one step closer to the Big Apple.
No. 4 Washington State at No. 1 SMU
Moody Coliseum, Dallas, TX
Sunday, March 20
Noon PT, ESPN+
K
yle Smith and the Cougars handled Santa Clara with relative ease, holding the Broncos' potent offense in check all game.
The victory moved the needle in the perception of Washington State's season, setting up a showdown with the second-place team in the American Athletic Conference.
SMU is 17-0 at home this year and boasts four players that average in double-figures. Kendric Davis leads the way with 19.5 points per game and 4.5 assists per night.
But the Mustangs are not particularly efficient from the field.
At 160th in field goal percentage, SMU could be susceptible to WSU's defense, which ranks 28th in the KenPom metrics.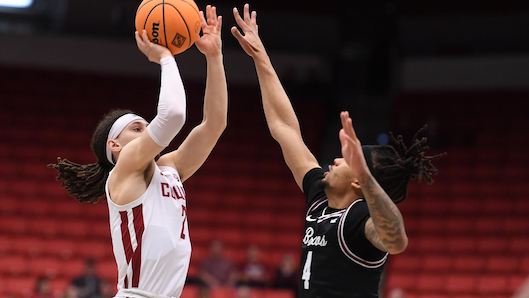 Smith will likely emphasize the Mustang's turnover propensity as a weakness in their offense, highlighting the 15 TO's they committed in Round One.
But those giveaways can be counteracted with rebounding, and Wazzu gave up 10 offensive boards against Santa Clara.
Cleaning up the second-chance opportunities is probably one of Smith's priorities, along with keeping Efe Abogidi out of foul trouble.
And without much scoring outside of Tyrell Roberts and Abogidi in the opening round, the Washington State staff figures to focus most of its attention on defense.
SMU shares the ball well and is a strong three-point shooting team, requiring WSU to stay compact in the paint and contest shots along the perimeter.
The Cougar defense forced 20 missed threes on Tuesday night, and Smith might need more of the same for his team to advance to the Quarterfinals.
Second-Round NIT Tournament Game Picks
---
—More from Dane Miller—

Latest posts by Dane Miller
(see all)