Posted on July 29, 2022


  By Dane Miller, SuperWest Sports
LOS ANGELES — There was high drama at Pac-12 Media Day on Friday at The Novo in L.A.
The anticipation before the event was palpable, as everyone was ripe with anticipation for Commissioner George Kliavkoff's speech.
And the day didn't disappoint.
Here are my quick initial takeaways.
Kliavkoff, the Big 12, and Expansion
P
ac-12 Media Day began with fireworks as Commissioner George Kliavkoff took several shots at the Big 12.
The Commissioner said the Great Plains conference is trying to destabilize the Pac-12, and at one point Kliavkoff stated that he hasn't decided yet if he is going to "go shopping" in that league.
Those are bold and aggressive comments that were well-taken and appreciated by the remaining schools in the league.
Kliavkoff wouldn't talk about specific schools, but the first-year commissioner confirmed that the Conference of Champions is actively exploring expansion.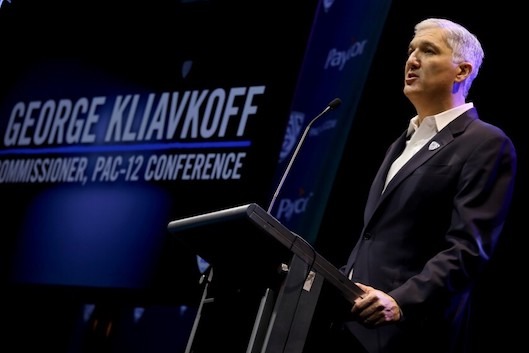 His body language changed dramatically when San Diego State was brought up, transitioning from defensive and angry to bright and cheery, hardly holding back a smile.
The drastic change in tone and demeanor likely indicates that the Pac-12 is in deep discussions with SDSU, and the school probably receives an offer to join at some point down the road.
Kliavkoff then took a clear stance on NIL. As opposed to a liberal and wild-west approach to the issue, he expounded a position that regulations need to be in place to limit some of the "pay for play" deals that appear to be occurring.
It's a stance that might ring true with some, but it's arguably a dangerous position to take in the evolving world of Name, Image, and Likeness.
The viewpoint on the issues was mostly echoed by coaches later in the day, although UW's Kalen DeBoer appeared to have a slightly softer stance on NIL in general.
Here are a few of my main initial takeaways from the coaching and player Q&A's that occurred over the remainder of the day.
Colorado and Media Expectations
T
he two Buffs players, Casey Roddick and Robert Barnes, were visibly frustrated with the media projections of Colorado's season.
Both pointed to transfers that have joined the roster as one of the main reasons the media will be wrong, and Roddick mentioned the improvement of quarterback Brendon Lewis.
Barnes, in particular, seemed particularly agitated over CU's projected last place finish.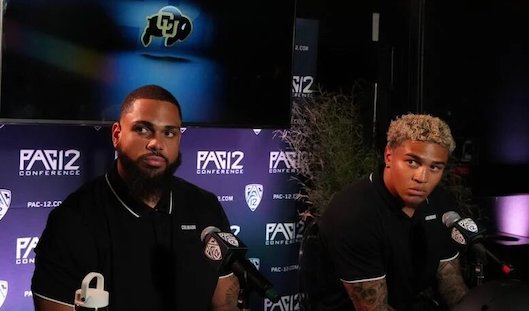 Both players handled themselves well in the Q&A, and their demeanor during the session indicates that the Buffs could surprise this season.
Motivation from outside sources is sometimes hard to come by, but the media expectations around the program have clearly struck a tone.
Look for Colorado to play with an edge this season that many might not be expecting: The Buffs are highly motivated to prove everyone wrong.
The Coug Raid
W
ashington State was represented by quarterback Cameron Ward and defensive lineman Ron Stone Jr. Both players spoke very positively of Jake Dickert and the coaching staff.
Dickert himself appeared to be the coach most excited to be at Media Day.
The statements from Ward and Stone Jr. indicate a high degree of trust within the roster and with the coaching staff.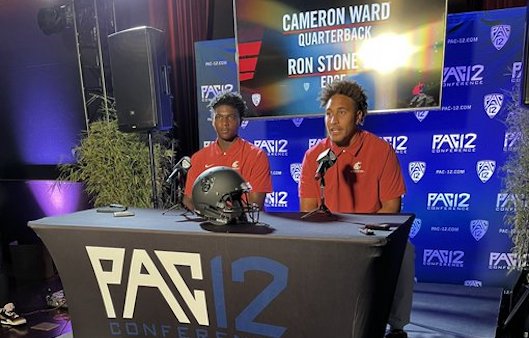 Stone Jr. mentioned that Dickert trusts the defense and indicated that the offense should be better this season.
Many of the questions were directed at Ward and the new WSU offense. Ward explained that the new system is called "Coug Raid" and shares many characteristics with the Air Raid.
However, the star transfer quarterback mentioned the use of tight ends as one of the distinguishing aspects of the offense.
The statements and tone from the players indicate that Wazzu could have a substantially stronger season than some project.
Impressive Players
O
ften lost in the mix of collegiate sports is the human element.
UCLA coach Chip Kelly mentioned the quality of persons he spoke with today, pointing to Stone Jr. among others. We often focus solely on wins/losses and stats, with the quality of an individual as a person often overlooked.
Six players jumped out in that respect at media day.
Cam Rising and Clark Phillips III were impressive in their Q&A session. The leadership both displayed in their answers and demeanor shined through, and they represented Utah extremely well.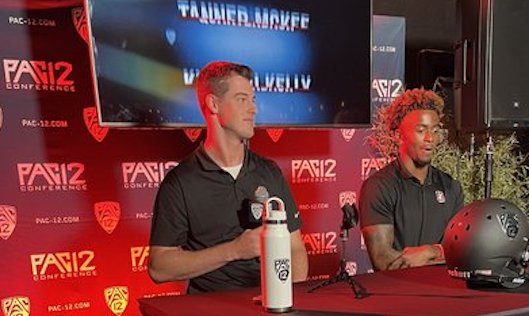 Stanford's Tanner McKee and Kyu Blu Kelly also made waves. It's arguably expected from players coming out of Stanford and David Shaw's program, but the duo represented their university with class and respect.
And lastly, Cameron Ward and Ron Stone Jr. gave great interviews. Both came off as highly respectful individuals and leaders on and off the field.
Ward gave off the impression that he leads by example, shrugging off a question about the Heisman, saying he is focused on getting better, and disclosing that he has always had a chip on his shoulder due to not receiving many offers out of high school.
Ward came off as somewhat of a quiet individual, but if his interview indicates success on the field, WSU is going to have a great year.
NIL as a theme throughout the day
N
ame, Image, and Likeness (NIL) was a consistent topic throughout the day.
From commissioner Kliavkoff to nearly every coach and player, the topic seemed to dominate discussions.
Rising said he credited Utah for providing him with the opportunities, while Phillips III stated UU's business classes have helped him with the management of his NIL money.
Herm Edwards admitted that NIL directly contributed to transfers out of his program, and coined the new college model as "free agency."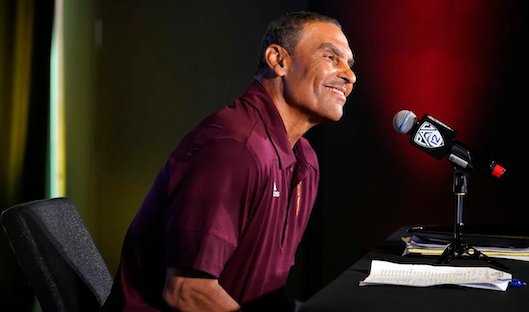 Edwards also stated he (and presumably every college football coach) now has to re-recruit his roster at the end of every season, or they will leave for other opportunities.
CU's Barnes admitted that NIL would probably have impacted his choice of college had it been around when he was in high school, and Roddick mentioned that it was important to him to invest the money he has received.
Washington's Kalen DeBoer described NIL as a positive, and Arizona's Jedd Fisch touted his school's NIL programs.
Big Takeaway
T
he conference projected a degree of stability that was somewhat surprising.
Stanford Athletic Director Bernard Muir stated that his program had not had any formal discussions with the Big 10, and Kliavkoff said the Pac-12 will continue to support USC and UCLA until they leave.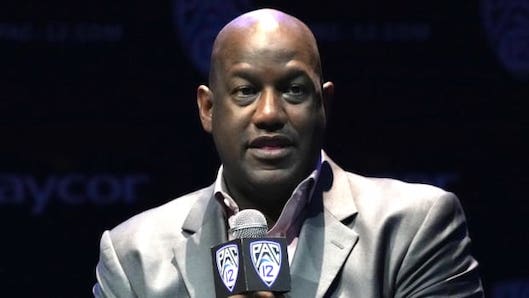 When asked about the move, almost every player brushed it aside as not affecting them.
The coming days, weeks, and months could change the perception. But until additional schools leave, the Pac-12 remains united.
---
—More from Dane Miller—

Latest posts by Dane Miller
(see all)