Posted on December 17, 2021


  By Dane Miller, SuperWest Sports
F
or the first time since 2013, Oregon State has a chance to bring a bowl trophy back to Corvallis. But they face a stout opponent in Utah State, a program seeking its 11th win of the year.
History will be made in the first rendition of the LA Bowl at SoFi Stadium, where the Beavs can jumpstart a strong postseason for the Pac-12.
I preview the matchup here, and the picks of our football writers appear at the bottom.
Utah State (10-3) vs. Oregon State (7-5)
LA Bowl
SoFi Stadium, Inglewood, CA
Saturday, December 18
4:30pm PT, ABC
T
he first Pac-12 game of Bowl Season kicks off at the new SoFi Stadium in Inglewood, California.
The LA Bowl appears destined for greatness over the next few decades, and the Beavs have the honor of representing the Pac-12 in the inaugural event.
Facing the champions of the Mountain West, Oregon State must slow down the Aggies' passing attack. Utah State puts up 305.3 yards per game through the air, generating offense through quarterback Logan Bonner.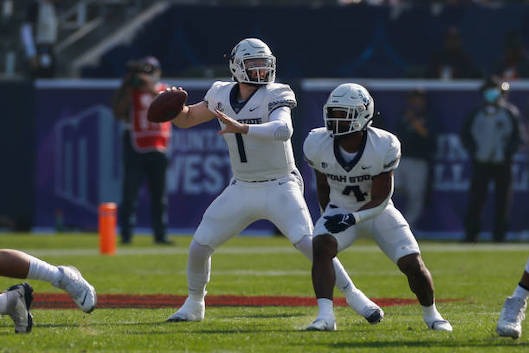 The fifth-year junior has passed for 3,554 yards and 36 touchdowns this season. Tellingly, Bonner has attempted 30 passes or more in eight of the 10 games he has played in, while throwing just 11 interceptions on the year.
His favorite target is Deven Thompkins, an undersized senior in his fourth year in the program. Thompkins has 1,589 yards receiving with 96 receptions and nine touchdowns.
But it's not an offensive system that entirely relies on the pass. Utah State utilizes a two-pronged backfield, with Calvin Tyler Jr. and Elelyon Noa sharing the duties. The duo have combined for 1,345 yards rushing and 10 touchdowns.
Still, the ticket to an Oregon State victory begins and ends with getting pressure on Bonner. Jonathan Smith might study the tape from USU's matchup with Colorado State, where the Rams posted 8 sacks on the quarterback.
Disguised packages with heavy blitzing could be the main feature of Oregon State's game plan, as Bonner isn't mobile or a threat to run.
On offense, Oregon State's identity all year long has been moving the ball on the ground. When the run game struggles, the Beavs face an uphill battle to win games.
The number of passing attempts from Chance Nolan figures to be the tell-tale sign of the final score. If the OSU rushing attack is successful enough to keep Nolan's attempts to around 25 or less, the Beavers should come out on top.
But if Baylor is stymied by Utah State's front seven and Nolan is forced to pass the ball 30+ times, Utah State could win the first-ever LA Bowl.
SportsPac12 Bowl Game Picks
Up Next

Dec 28, Holiday Bowl: UCLA vs. North Carolina State
Dec 29, Alamo Bowl: Oregon vs. Oklahoma
Dec 30, Las Vegas Bowl: ASU vs. Wisconsin
Dec 31, Sun Bowl: Washington State vs. Miami
Jan 1, Rose Bowl: Utah vs. Ohio State
---
—More from Dane Miller—

Latest posts by Dane Miller
(see all)