Posted on January 5, 2023


  By Dane Miller, SuperWest Sports
C
onference play is in its early stages but there are several key games this evening.
No. 10 UCLA hosts USC at Pauley Pavilion while Oregon travels to Boulder to face Colorado.
I preview all six games across the league below and my picks for each appear in the table at the bottom.
Washington State at Arizona State
Thursday, January 5
5:00 pm PT, Pac-12 Network
S
eeking their fourth win in Tempe since 2017, the Cougars head to The Bank with momentum.
Kyle Smith's team is almost entirely healthy and fresh off a double-digit victory over USC. Four Cougs average in double figures while Smith's rotation is tighter than it's been in recent years.
In seasons past, the Wazzu coach would spread playing time around, which would arguably hinder chemistry and result in a jumbled offense. This year, four Cougars average 30 minutes or more, and most of the scoring production is from those high-minute players.
But the lack of emphasis on passing remains. WSU enters the matchup 301st in the nation in assists per game and could struggle against Arizona State's elite defense.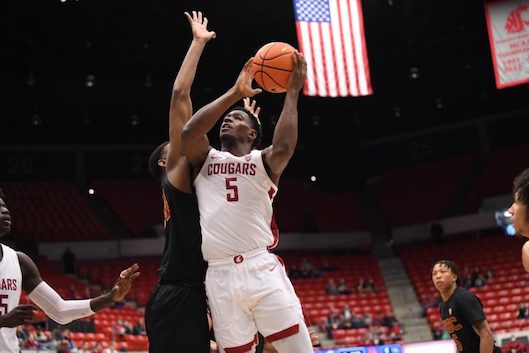 Bobby Hurley's team is 23rd in KenPom's defensive efficiency metric and they get it done as a unit.
The Sun Devils swarm to the ball when it's moved inside and regularly jump passing lanes. Their chemistry on that side of the court is among the nation's best and presents a substantial challenge for Washington State.
The X-Factor, though, is Wazzu's outside shooting.
If the Cougars are hitting their shots from deep, Smith's team has a stronger chance of winning. But if ASU is defending the perimeter well, it should score just enough points to get the victory.
Oregon at Colorado
Thursday, January 5
6:00pm PT, ESPN2
T
he Ducks beat Colorado in Boulder for the first time in program history last season and look to get the job done again.
But with personnel limitations due to various injuries, Oregon's short bench could struggle in the altitude.
Colorado, on the other hand, has a 10-deep rotation with all 10 players averaging 12 minutes or more. KJ Simpson and Tristan da Silva remain the primary workhorses, but the key to CU's success arguably rests with Lawson Lovering.
The sophomore big continues to develop in Tad Boyle's system, yet the 7-footer has games where he's almost non-existent. Matched up with N'Faly Dante, Lovering could struggle on both ends of the floor.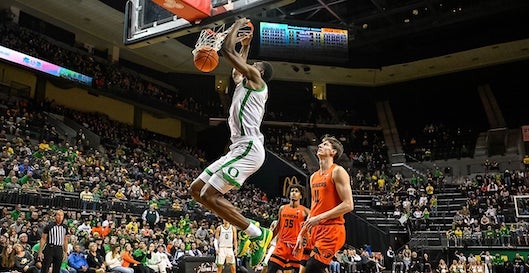 But Simpson can single-handedly win the game for Colorado and is shooting 21-for-43 from the field over the last two games. The Buffs' offense begins and ends with the sophomore guard and his efficiency will probably determine the outcome.
Oregon has a similar weapon, though, in point guard Will Richardson. The senior is averaging 24 points per game over the last two contests and has a knack for securing rebounds.
If Richardson stays out of foul trouble and has another strong night from the field, the Ducks should be in a position to secure the win.
And without a clear player to defend Dante, UO's game plan could be to feed the big from the opening possession. At the end of the day, if Dante and Richardson aren't being hampered by Boyle's defense, the Ducks should like their chances.
USC at No. 10 UCLA
Thursday, January 5
6:30pm PT, ESPN
T
he seal was broken in the Crosstown Rivalry last year when UCLA secured its first two victories over the Trojans during the Mick Cronin era.
Riding a two-game winning streak in the series, the Bruins host USC at a sold-out Pauley Pavilion on ESPN. Andy Enfield's team might not be as strong as they've been in recent seasons, but his players always rise to the occasion when facing the Bruins.
There are two primary matchups to watch in the game: UCLA's defense on Boogie Ellis and USC's ability to slow down Adem Bona.
Ellis is the heart and soul of the Trojans' offense and the team lives and dies by his play. He went 0-for-4 from deep against Washington State over the weekend while fouling out with only 12 points.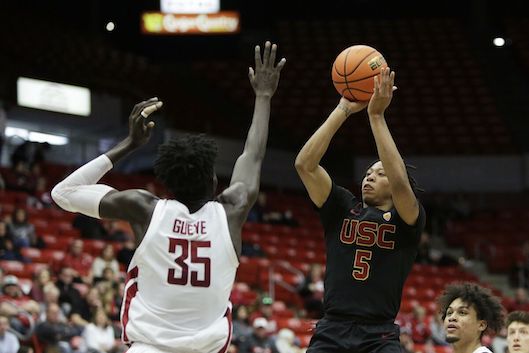 Containing USC's leading scorer on the perimeter figures to be high on Cronin's defensive game plan. If Ellis is knocking his shots down from three, UCLA could be in trouble.
On the other end of the floor, the Trojans have a matchup problem with Bona.
The 6-foot-10, 235-pound big is shooting 64.8 percent from the floor and leads the team in blocks. Joshua Morgan is too lanky to go toe-to-toe with Bona and Kijani Wright isn't ready to play big minutes.
That leaves USC exposed in the paint with Bona primed to explode.
The result could be UCLA getting whatever it wants inside while its guards and wings knock down open looks from outside.
Oregon State at Utah
Thursday, January 5
7:00pm PT, Pac-12 Network
T
he Beavers head to the Huntsman Center where they are 2-2 over the last four seasons.
But they face what might be Utah's best team since its 2015 Sweet 16 squad. With a win over Arizona in Salt Lake City and a road sweep of the Bay Area schools, UU is positioned to make the NCAA Tournament.
Led by Branden Carlson, the Runnin' Utes get the job done with strong defense. Ranked 17th in KenPom's defensive efficiency ratings, Craig Smith's team is among the nation's elite in rebounding and shot-blocking.
Efficient from deep on offense and willing to share the ball, Utah is a formidable challenge for Wayne Tinkle in a rebuilding year.
The Beavers are scrappy, though, and are led by two rising stars. True freshman Jordan Pope averages 13.1 points per game and sophomore Glenn Taylor Jr. is putting up 12.1 per night.
The duo is bolstered by junior guard Dexter Akanno, who rounds out the three OSU players averaging in double-digits. The remainder of Tinkle's squad is comprised of role players, highlighted by forwards Dzmitry Ryuny, Michael Rataj, and Rodrigue Andela.
Oregon State won't be intimidated by Utah's strong start and figures to come into the game with nothing to lose.
That's a dangerous combination for a Utah team that could be looking forward to the matchup with Oregon on Saturday.
But as long as Smith's team plays with the defensive intensity that's become their calling card, Utah should pull away in the second half.
Washington at No. 5 Arizona
Thursday, January 5
8:00pm PT, FS1
W
ashington faces a matchup nightmare for its zone defense.
Tommy Lloyd's team is No. 2 in the nation in assists per game and has the recipe for breaking down Mike Hopkins' scheme. Quick ball movement around the perimeter gets the Husky defenders out of position and sharp passes into the interior produce clean looks.
Azuolas Tubelis can consistently knock down mid-range shots, too, while Courtney Ramey and Kerr Kriisa can thrive on the uncontested opportunities from three that the zone consistently gives up.
It's a perfect storm for a blowout.
Braxton Meah is a respectable matchup for Oumar Ballo, but the UW scheme gives up far too many offensive rebounds. And outside of Meah, the Dawgs don't have a skilled big that can compete with Tubelis on the defensive end.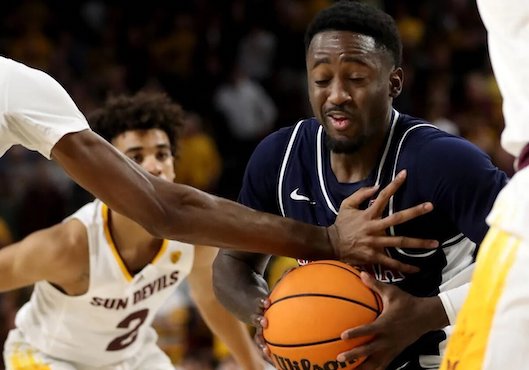 Add in the late tipoff time and the Huskies could be in for a long game.
One of the few hopes for Washington to remain competitive is the play of Keion Brooks Jr.
Tubelis isn't suited to defend Brooks, likely forcing Lloyd to put Pelle Larsson or Cedric Henderson Jr. on UW's leading scorer. The result could be some unusual lineups from Lloyd.
Ballo and Tubelis might not play together as often as normal and the Cats could have three or four wings on the floor at once.
But the Huskies will still need efficient nights from Cole Bajema, Koren Johnson, and Keyon Menifield to stay within striking distance.
When it comes down to it, Arizona figures to go on deadly runs that put the game out of reach.
Stanford at California
Friday, January 6
6:00pm PT, ESPN
M
ark Fox's team is slowly but surely finding itself.
Coming off the victory over Colorado without leading scorer Devin Askew, the Bears are identifying ways to get points outside of their main threat.
Kuany Kuany is in contention for the Pac-12's Most Improved Player award and Lars Thiemann consistency is pivotal. True freshman Grant Newell is up and down at times but will continue to play an important role moving forward.
Combined with Joel Brown's production over the last four games, California appears to have taken a step or two in the right direction.
Stanford, on the other hand, is nothing short of a disappointment. Every year the Cardinal have the talent to make the NCAA Tournament, but invariably underperform in the nonconference season and tread water in conference play.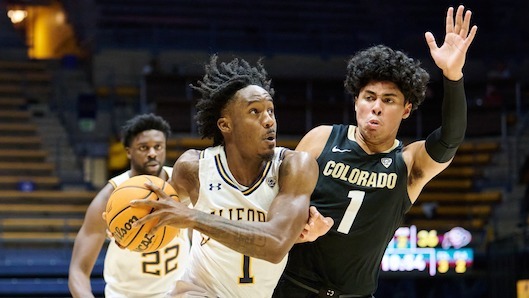 Jerod Haase doesn't keep a short bench, arguably contributing to his team's struggles. Michael O'Connell arguably doesn't get enough minutes to run the show and high-potential players like Maxime Raynaud aren't able to get into a rhythm.
Mixed with Harrison Ingram struggling in the midst of a sophomore slump, Stanford is falling far short of its potential.
But matched up with a California team that might not have Askew, the Tree shouldn't lose.
Taking care of the ball has been a perpetual problem under Haase. But as long as the turnovers are kept reasonably limited and the Stanford shooters aren't ice cold from three, Spencer Jones and Company should secure the win on the road.
Our Senior Writers' Game Picks
---
—More from Dane Miller—

Latest posts by Dane Miller
(see all)