Posted on February 24, 2022


  By Dane Miller, SuperWest Sports

The Pac-12 receives a healthy dose of ESPN coverage on the second-to-last Thursday of the regular season.
Two of the league's four games are featured on the network, while a third tips off on FS1.
But the night starts off with a game on the Pac-12 Network, when Arizona State takes on Colorado in Boulder.
I preview all four matchups here, and my picks along with Stephen Vilardo's appear at the bottom.
Arizona State at Colorado
CU Events Center, Boulder, CO
Thursday, February 24
6:00 pm PT, Pac-12 Network
T
he Buffs have regained momentum.
After dropping six of eight games, Tad Boyle has rallied his team to a five-game winning streak. The victories were mostly against the Conference's bottom-of-the-barrel teams, but three of the wins came on the road.
And returning to the CU Events Center, Colorado is back in its element.
The looming matchup with No. 2 Arizona on Saturday may be the focus this week, yet Boyle and his staff must have his roster prepared for Arizona State.
The Sun Devils are on a roll after taking down Washington State, Oregon, and UCLA during the month of February.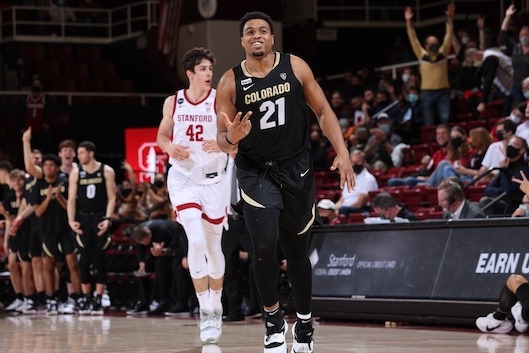 Marreon Jackson is a driving force behind the upswing, scoring in double-figures in all but one game since February 5th.
But it's the ASU defense that posits the largest threat.
Ranked fourth in the Pac-12 according to KenPom, Arizona State blocks 4.3 shots per game and forces 13.62 turnovers per night.
That's a potential problem for the Buffs who are 290th in the nation at coughing it up (14.1 TO's per game).
Still, with a superior offense and a distinct home-court advantage, CU should take care of business if it wins the turnover battle and score more points off TO's than ASU.
No. 12 UCLA at Oregon
Matthew Knight Arena, Eugene, OR
Thursday, February 24
6:30 pm PT, ESPN
I
n one of the top games in the nation on Thursday night, Oregon looks to salvage its At-Large chances.
A win over No. 12 UCLA might not move the Ducks to the right side of the bubble, but it would put them back into the Last-Four-In discussion.
The Bruins, on the other hand, are dealing with injuries to Tyger Campbell, Jaime Jaquez Jr., and Peyton Watson.
Yet, Jaylen Clark has stepped up during their troubles.
The sophomore is averaging 19.6 points per game over the last three contests, shooting 26-of-43 (60.4 percent) and snagging 25 rebounds.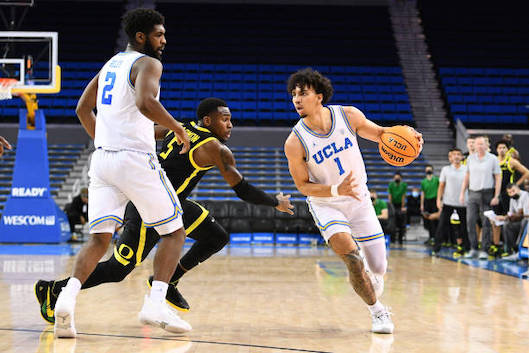 Bumped to a starting role, Clark has posted eight steals, six assists, and just one turnover over that stretch.
Mick Cronin will need his production at Matthew Knight Arena, where UCLA is 4-4 since the Pac-12 expanded in 2011.
Without many advantages on paper, Oregon must rely on its shooting to secure the regular-season sweep. The Ducks shoot 45.7 percent from the field and are 13-2 when scoring more than 70 points.
Conversely, UCLA is 47-4 when it holds opponents under 70 during the Cronin era.
It doesn't always come down to a magic number, but the analytics don't lie. If Oregon can navigate UCLA's defense and eclipse 70 points, it should like its chances in Eugene.
No. 2 Arizona at Utah
Jon M. Huntsman Center, Salt Lake City, UT
Thursday, February 24
8:00 pm PT, FS1
S
alt Lake City has been a problem for the Wildcats since 2016.
After rattling off four-straight wins at the Huntsman Center from 2012 to 2015, Arizona has lost three of its last four. And the games haven't been nail-biters, either, with Utah owning an average margin of victory of 9.3.
But this isn't Sean Miller's Wildcats.
Tommy Lloyd has implemented his free-flowing offensive scheme and capitalized on the defensive discipline Miller drilled into his roster.
The result is a Top 10 offense and defense that's on track for a 1-seed in the NCAA Tournament.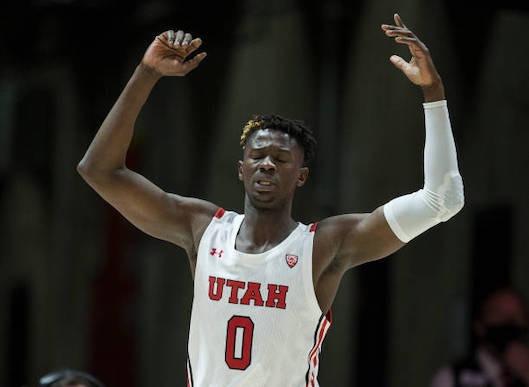 Bennedict Mathurin turns it up whenever UA goes on the road, often crediting the weather during road trips, stating that the cold reminds him of home in Montreal, Canada.
The front runner for the Pac-12's Player of the Year award could have a strong night against Utah, but it's Arizona's bigs that figure to dominate.
After dismissing Dusan Mahorcic, Craig Smith and the Utes don't have the horses inside to stop the Wildcat frontcourt.
Branden Carlson is listed as day-to-day, leaving Lahat Thioune and Riley Battin as the only inside presence.
Facing such a depleted interior, Lloyd's game plan figures to be focused on getting the ball in the paint to take advantage of the mismatch.
No. 16 USC at Oregon State
Gill Coliseum, Corvallis, OR
Thursday, February 24
8:00 pm PT, ESPN2
T
he status of Boogie Ellis was thrown into question after reports surfaced on Wednesday that the junior guard suffered an injury in practice.
It wouldn't be surprising if Andy Enfield decided to hold him out of this matchup, with the rematch with Oregon looming on Saturday.
If Ellis can't go, the door opens for Ethan Anderson and the pressure grows on Max Agbonkpolo. Both will need to increase their production to make up for the 12.4 points per game that could be missing.
Fortunately for USC, the Trojans face an Oregon State roster that has injury issues of its own.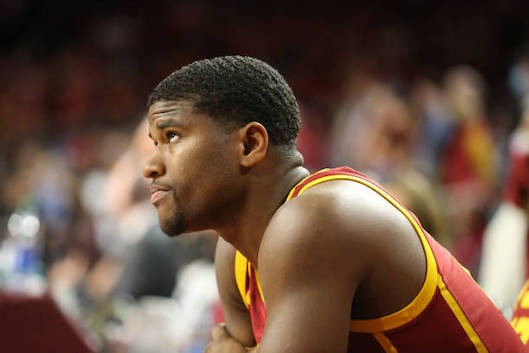 Wayne Tinkle has been limited to just seven scholarship players over the past few games and is forced to play guys that are fighting through issues.
Yet, true freshman Glenn Taylor Jr. has emerged as a scoring threat due to the increased playing time.
The Las Vegas-native is shooting 23-of-50 (46 percent) during the month of February, while hitting 21 of his 25 free throw attempts.
In a year where nothing has gone right for OSU, the development of the freshman is a welcomed sight.
Still, the Beavs just don't have the depth to go toe-to-toe with the Trojans for 40 minutes.
February 24 Game Picks
---
—More from Dane Miller—

Latest posts by Dane Miller
(see all)