Posted on November 19, 2022


  By Dane Miller, SuperWest Sports
A
s the College Football season winds down, the matchups become more meaningful.
The Pac-12 features two marquee games on Saturday night, while Fresno State and Boise State can punch their tickets to the Mountain West Championship Game with victories.
I preview all 10 SuperWest games here, and the picks of our writers and broadcasters appear at the bottom.
San Diego State at New Mexico
Friday, November 11
6:45 pm PT, FS1
T
he action in the SuperWest kicks off on Friday night in the Duke City.
With bowl eligibility locked up, the Aztecs look to continue their momentum through the end of the regular season.
Jalen Mayden should have no trouble moving the ball against New Mexico's defense, although the Lobos are respectably 41st in the FBS in total yards allowed per game.
But the group is 66th in the nation in points allowed per contest and has allowed 34.3 points per night over the last three games. Still, New Mexico's strength is its "D" and Mayden may struggle at times to operate the system.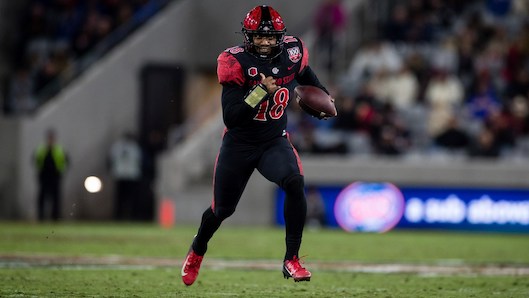 The Lobo offense, on the other hand, is a liability.
Employing a run-based, option-style system, New Mexico has scored just one touchdown over the last four games. And facing one of the top defenses in the MWC, it wouldn't be surprising if they failed to find the end zone.
Look for San Diego State to play a somewhat closer-than-expected first half and then blow the game open in the final two quarters.
Washington State at Arizona
Saturday, November 19
11:00 am PT, Pac-12 Network
I
n a rare day game at Arizona Stadium, the Wildcats face Washington State with bowl eligibility on the line.
The Cougar offense has been Jekyll and Hyde all season, shifting from flashes of brilliance to pure ineffectiveness. The version that shows up in the desert remains to be seen.
Arizona's defense, however, might have turned a corner.
After several back-to-back ugly performances, Johnny Nansen started playing his freshmen heavily. Those players, such as linebacker Jacob Manu and corner Ephesians Prysock, now have experience and have taken several steps forward.
As a result, the rotation is healthier and Arizona's production is up.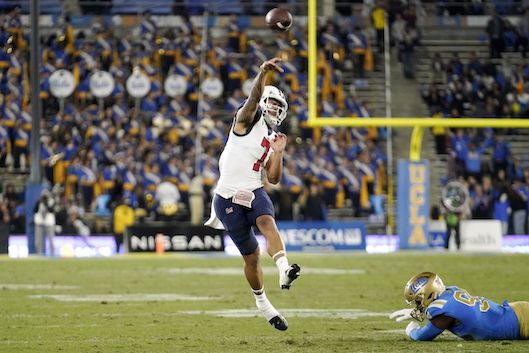 And in front of what will be a dedicated fan base itching to affect the game, the UA defense could have its top performance of the season.
The deciding battle might then come down to Jake Dickert's defense against Jedd Fisch's offense.
Jayden de Laura has been playing lights-out for the second year head coach, extending plays with his legs and accurately connecting with his receivers.
Loaded with arguably the top wide receiver corps in the Pac-12, the Arizona offense figures to be tough to beat during a noon kickoff in the desert sun.
But if WSU forces de Laura into interceptions while shutting down the Wildcat running backs, the Cougs could walk away with their first win in Tucson since 2015.
No. 23 Oregon State at Arizona State
Saturday, November 19
11:15 am PT, ESPN2
W
inless in Tempe since 2009, the Beavers face a Litmus Test in the development of their program.
The Sun Devils are on track for one of their worst seasons since the early 1990s, and opposing coordinators have set forth the blueprint to stopping quarterback Trenton Bourguet.
Heavy pressure designed to get hits on the quarterback is the key; otherwise, the first-year starter will carve up secondaries with relative ease.
With obvious kryptonite, there are no excuses for Oregon State failing to get the job done.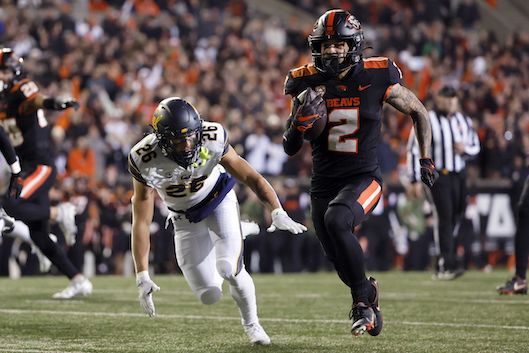 On top of ASU's offensive flaws, its defense is painfully porous. Allowing 413.5 yards per game, the group is 105th in the nation in points allowed per contest at 30.8.
Snapping winless streaks is a hallmark of a changed program, and the Beavs have the chance to show just how far they've come.
If Jonathan Smith's run-heavy offense can't score points against a downtrodden Arizona State team, the hype surrounding OSU's revitalization will be quickly cut down.
But if Oregon State suffocates the Sun Devil offense like it should, the final score could be a lopsided result and a substantially improved bowl destination.
Utah Tech at BYU
Saturday, November 19
12:30 pm PT, ESPN3
F
acing the FCS school formerly known as Dixie State, the Cougars are primed to reach bowl eligibility.
A loss to Utah Tech would be unfathomable at this point of the year and would destroy the small remaining portion of regional respect that BYU holds.
The Trailblazers operate a pass-first offense that is capable of putting up points. Led by quarterback Victor Gabalis and running back Quali Conley, UTU scores a respectable 28.6 points per game.
Wide receivers Joey Hobert and Rickie Johnson do most of the damage themselves, combining for 20 receiving touchdowns on the year.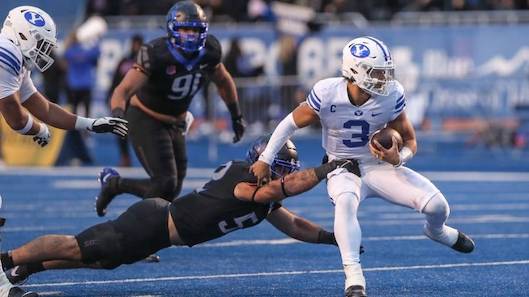 Containing the four-headed dragon of Gabalis, Conley, Hobert, and Johnson might be a challenge for BYU's struggling defense.
In that sense, a higher-scoring affair wouldn't be a surprise.
But with an undoubtedly superior offense, the Cougars should win the firefight. Jaren Hall has a decision to make regarding his future and this might be the final time he plays at LaVell Edwards Stadium.
If this is his last one, the junior will give full effort to make it memorable.
Look for BYU to come out swinging and score 40 points or more on the Trailblazers.
Stanford at California
Saturday, November 19
2:30 pm PT, Pac-12 Network
T
here aren't many rivalries more iconic than The Big Game.
Laden with history, the matchup this year pits two 3-7 programs against each other. The Bears have recently fired their offensive coordinator while the Cardinal are dealing with injuries at nearly every position group.
Fighting for nothing more than pride, the primary matchup to watch is Cal's defense against Stanford quarterback Tanner McKee.
The Tree haven't score more than 16 points in a game since October 8th, a five-game stretch of embarrassing incompetency.
There are zero reasons the Bears should allow Stanford to put up more than two touchdowns, regardless of the increased motivation in the rivalry setting.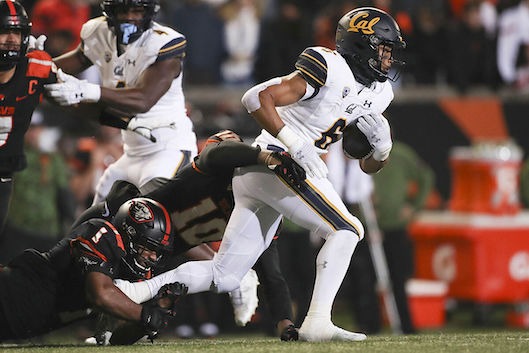 But if the Cardinal find offensive success, particularly on the ground, California could find itself in trouble.
Assuming Justin Wilcox's defense plays as expected, Cal quarterback Jack Plummer should have himself a historic Big Game performance.
The Tree have given up 94 points over the last two games and have allowed every conference opponent except for one to score 28 points or more.
Cal running back Jaydn Ott should play well against a group that's the fourth-worst run defense in the nation.
The result should be a California offense that hits on all cylinders and turns the final score into a convincing win.
No. 7 USC at No. 16 UCLA
Saturday, November 19
5:00 pm PT, Pac-12 Network
W
ith their College Football Playoff hopes on the line, the Trojans head to the Rose Bowl to try and reclaim the Victory Bell.
Yet to post a signature win this season, many still doubt the strength of USC's team. Having dodged Oregon and Washington on this year's schedule, Lincoln Riley's lone quality victory was a nail-biter on the road over Oregon State.
A statement win over UCLA would go far in changing the split perception of the Trojans.
To get the job done, Alex Grinch's defense must contain Dorian Thompson-Robinson and the UCLA rushing attack.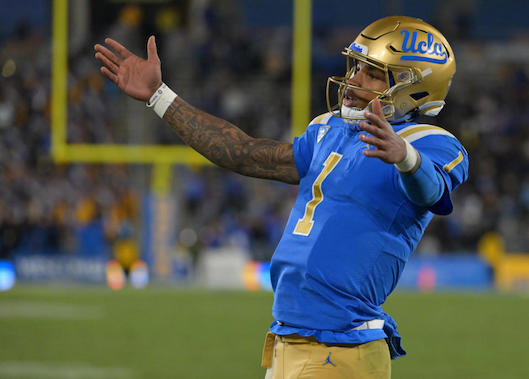 Securing tackles for loss and limiting the Bruin passing attack to short gains is the key. Tackling in open space could prove pivotal, too, otherwise, Zach Charbonnet and DTR might have field days.
To counteract UCLA's projected offensive strength, Caleb Williams and the Trojan offense can't have empty possessions. Field goals probably won't be enough to win the game, either, and any turnovers would be tough to overcome.
The absence of Travis Dye will hurt, but Austin Jones and Raleek Brown should make up for the production.
The result might be a tightly contested game that comes down to the final possession.
Boise State at Wyoming
Saturday, November 19
4:00 pm PT, CBS Sports Network
I
n the top matchup in the Mountain West this weekend, Boise State looks to lock up the Mountain Division with a victory in Laramie.
The Broncos have an elite defense, but Taylen Green continues to evolve.
The redshirt freshman has been sacked just once over the last three games while posting seven touchdowns and zero interceptions.
The growth has pushed BSU to a 6-0 conference mark and the brink of a divisional championship.
The Cowboys, though, have a respectable ground-based offense and an above-average defense. Fifth in the MWC in points allowed per game, Wyoming figures to present a formidable challenge on their home field.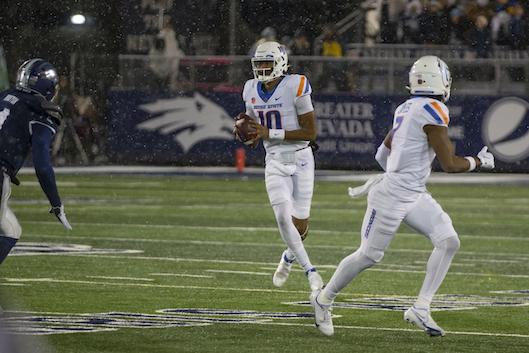 Green might have to run the ball more than he has been over the last few games, returning to the "old" version of a run-heavy quarterback that passes as an afterthought.
Whichever playcalling route Dirk Koetter decides on, taking care of the ball will remain key.
Wyoming is 11th in the nation and top in the Mountain West in Red Zone Efficiency and will take full advantage of any Boise State mistakes.
Field position could play an oversized role, too, with special teams tipping the scales in either team's favor.
It might be a much closer matchup than some are expecting, and a Wyoming upset is a realistic possibility.
Colorado at No. 17 Washington
Saturday, November 19
6:00 pm PT, Pac-12 Network
T
he Pac-12 Championship Game remains a statistical possibility for Washington, but the chances of getting to Las Vegas are slim.
The matchup with Colorado, then, turns into a mixture of a bridge game to the Apple Cup and a chance to show bowl game representatives why they should invite the Huskies to their event.
If the Buffs were a relatively capable opponent, this contest might even be labeled a Trap Game.
But with CU in the current state that it's in, the showdown is more of a Stat Night for the Dawgs.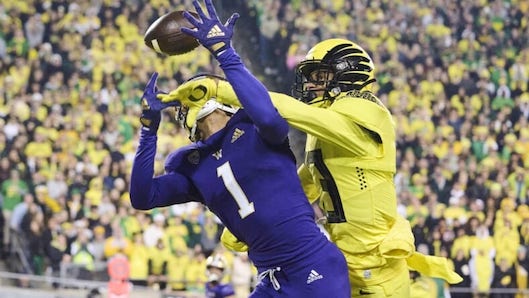 Staying healthy is key, but Kalen DeBoer could throw some wrinkles into his offense with the intent of forcing Wazzu to prepare for new looks before the Apple Cup.
It's a bit of a mind game, yet coaches play checkers, not chess. And the game is on.
Realistically, Colorado might be able to hang around if its run offense is effective and its defense forces turnovers. Even still, the Buffaloes don't have enough firepower to out-gun UW's scheme.
With several other noteworthy games on, this matchup figures to be relegated to a box-score result that few actually watch.
No. 10 Utah at No. 12 Oregon
Saturday, November 19
7:30 pm PT, ESPN
S
everal interesting comments were made to the media by Oregon wide receiver Kris Hutson on Wednesday, the most noteworthy implying that Bo Nix would be out for Saturday's matchup.
However, Dan Lanning stated during his coach's show Wednesday evening that Nix has been practicing this week and "preparing as if he can go" on Saturday.
Nonetheless, the transfer QB's status remains up in the air. Ty Thompson has not proven to be a capable backup and probably is not ready for a matchup like this.
Utah has a strong defense and an offense capable of scoring 40 points or more. UO's defense has been questionable all season, doubling the pressure on Thompson if he is forced to play.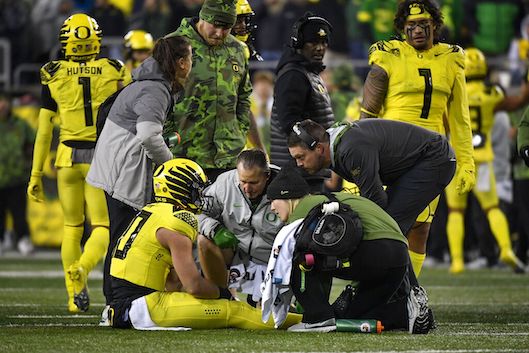 The result could be an ugly day for Oregon and a third-straight Utah win in the rivalry.
But regardless of who plays at quarterback, Kenny Dillingham figures to utilize a balanced mix of runs and passes.
The Utes have the No. 1 pass defense in the Pac-12 and No. 3 run defense, arguably requiring Oregon to stay multi-pronged and avoid overly relying on their rushing attack.
Shots will need to be taken over the top to get Morgan Scalley out of run-stop sets, and quarterback runs will likely need to be employed with reasonable regularity. It's a difficult challenge that is a tight balancing act, and one that requires a veteran quarterback.
If Nix is unable to play, Utah figures to take full advantage.
Fresno State at Nevada
Saturday, November 19
7:30 pm PT, CBS Sports Network
O
ne win away from the West Division championship, Fresno State heads to Reno to finish the job.
Dead in the water at one point in the year, the Bulldogs have saved their season. Jake Haener is back to full health and the FSU defense has remained steady.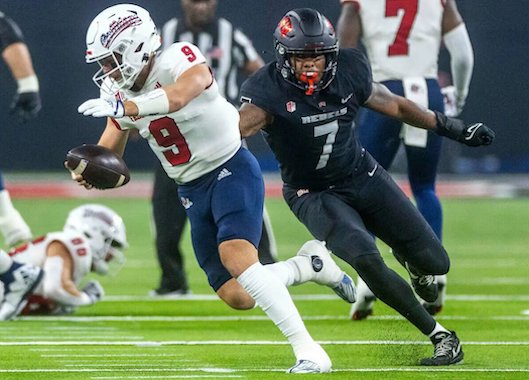 The Wolf Pack don't pose much of a challenge, but the weather—expected to be around freezing—could play a role. A slow start from Fresno State wouldn't be much of a shock.
Yet, Nevada's offense is inadequate and doesn't project to score many points. With Fresno State capable of scoring 40 or more, the game could turn into a blowout.
Look for the Bulldogs to run away by the second half and secure their first trip to MWC Championship since 2017.
Game Picks from our Senior Writers and Broadcasters
---
—More from Dane Miller—

Latest posts by Dane Miller
(see all)