Posted on November 11, 2020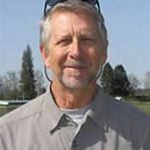 By Steve Ritchie, SuperWest Sports
Several months ago I offered the opinion that the 2020 Pac-12 cross country season was lost.
I was wrong.

The NCAA announced in September that the Division 1 national championship meet would be moved from its traditional mid-November date to March 15, 2021, and would be held in Stillwater, Oklahoma.
The date change poses a very unusual predicament for the Pac-12 and other conferences, since the NCAA Indoor Track & Field Championships are scheduled for March 12-13 in Fayetteville, Arkansas.
Questions abound.
• How will top distance programs like Colorado, Stanford and Oregon approach this obvious conflict?
• Will they have their distance runners focus on one championship and write off the other?
• Would it be feasible to attempt to have their athletes qualify and compete in both championships with just one day in between? (Probably not.)
• And will there even be an indoor track season if the Covid-19 virus continues its rampage through the winter months?

Unfortunately, there are a lot more questions than answers at this stage of the game. Pac-12 team websites appear to have updated cross country rosters, but no cross country schedules have been posted yet.
The Pac-12 championship meet has been tentatively scheduled for Friday, March 5 in Tacoma, Washington, and will be hosted by Washington. Indoor schedules don't appear on any of the school athletic sites.
There is a major change in qualifying for nationals, however. The NCAA announced this week that there will be no regional qualifying meets. Teams will be selected primarily on how they performed at their conference meets, and secondarily on how they performed in other competitions.
The NCAA also specified that the top individual finishers in each conference who are not on a team qualifying for nationals would also be selected to compete in Stillwater.  There will also be a handful of at-large individual qualifiers invited to compete.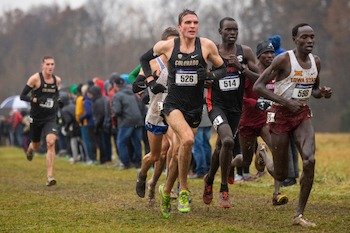 Adding to the general confusion is the fact that three Power 5 conferences—the SEC, ACC and Big 12—have already held their cross country seasons, including conference championships on the last weekend of October.
Will those schools decide to accept invites to nationals, or simply conclude the season and move on with indoor and outdoor track (assuming those seasons proceed)?

Arkansas women's coach Lance Harter recently told WholeHogSports, "Ultimately the No. 1 priority is our indoor season. But if we have people that are willing and able to run cross country we'll take them and give them the experience."
Given that the Arkansas women are the top-ranked D1 cross country squad and the defending NCAA champs in both cross and indoor track, their decision to prioritize indoor over cross, yet compete in both is significant. 
But not many schools have the quality depth that could allow them to compete in both championships.
So far no Pac-12 coaches have publicly stated what their priorities would be or how they would approach this. My hunch is that, unless they feel their team has a chance to compete for an indoor title, their distance runners will focus on cross and try to qualify for nationals.
The second coaches cross country poll was released this week by the USTFCCCA. Pac-12 and Big Ten teams were included in the poll, even though neither conference has had a cross country season yet.


The men's poll included four Pac-12 schools: Stanford, fifth (tied with Tulsa); Colorado, ninth; Oregon, 13th; and Washington, 18th. WSU received one vote. The top three teams in the rankings were unchanged from the first week's poll. Northern Arizona was first, followed by BYU and Arkansas.
On the women's side, six Pac-12 teams were ranked: Stanford, fifth; Colorado, seventh; Washington, eighth; Utah, 18th; Oregon State, 20th; and Oregon, 26th. The top three teams are Arkansas, New Mexico, and NC State.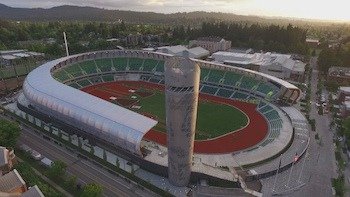 In early October the Oregon track and cross country teams got their "Christmas Day" moment, a tour of the brand new Hayward Field and all its special features. The team posted a short video of the unveiling, complete with plenty of ooohs and aaahs and lots of whooping and hollering. Looked like fun.
No announcement yet of when the public might get a look at the stadium.
---
—More from Steve Ritchie—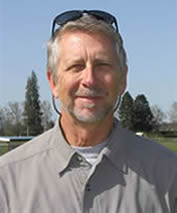 Latest posts by Steve Ritchie
(see all)