Posted on October 15, 2020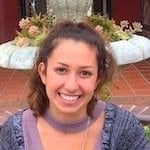 By Gianna Cefalu of Dash Sports TV for SuperWest Sports
Pac-12 football in 2020 will be far from traditional, with empty stadiums and a shortened season. However, it's better than no football at all, with the Conference finally kicking off in the first week of November.
With Utah finishing third in the preseason media poll, it's time to break down this six game Utah season. 
Week one: Arizona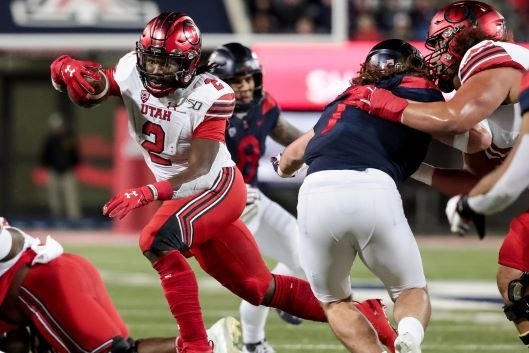 Arizona has consistently finished at the bottom of the South Division, so I don't see Utah having a problem winning this game. Sure, there will be some first game jitters starting the first half. After all, Utah has suffered the decimating losses of quarterback Tyler Huntely and running back Zack Moss.
Not only do those positions have different faces this year, but also the defense, as six players on that side of the ball have departed to the NFL. Utah will continue to rely on their running game with Devin Brumfield and Jordan Willfore set to open up the season. Utah will get into a groove in the second half, and will come out on top 24-10. 
Week two: at UCLA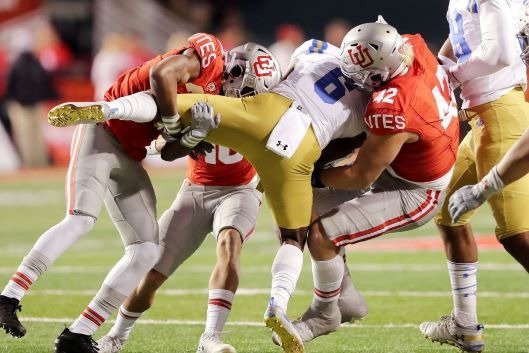 There obviously won't be any fans in attendance in an attempt to rattle Utah, but this won't be as big of a blowout this year as it was last year. In the 2019 matchup, the Utes never let quarterback Darius Thompson-Robinson see the end zone, as they destroyed the Bruins 49-3.
The return of DTR and head coach Chip Kelly's run-first offense could throw off the young and inexperienced Utah defense. After being down to the Bruins 14-10, Utah will make the necessary adjustments in the second half, like they usually do, beating UCLA 30-17.
Week three: vs. USC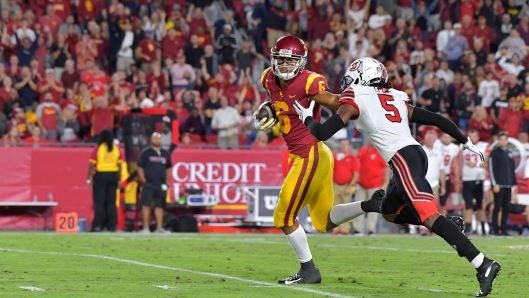 This is the one game that I definitely don't see Utah winning. Last season, Utah dropped it's only regular season loss in a showdown, losing 30-23. The loss came with USC's third-string Matt Fink throwing the air raid ball, and the Utah secondary having no answer to USC's speedy wide receivers.
Just imagine what could happen this year with Kedon Slovis under center, as he showed what he was capable of in a monstrous campaign last season, throwing for 3,502 yards. Slovis is only going to get better this year, and so is his surrounding corps of offensive players. Utah's defense still won't have an answer, as they drop this one 37-13 to USC. 
Week four: at Arizona State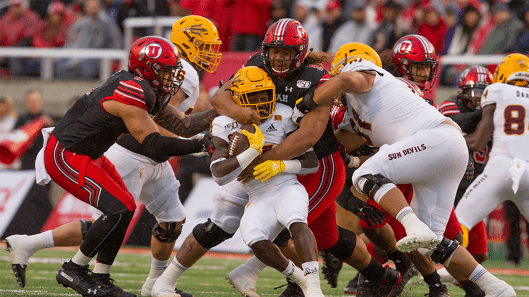 This next contest is easily a tossup for Utah. Arizona State represents another big test for the Utes, with the Sun Devils positioned as a dark horse in the South this season. Quarterback Jayden Daniels will almost certainly put up a fight after being shut down last year, with Utah's defense allowing ASU just three points.
Arizona State will crave a win like the one they enjoyed in 2018, when Moss and Huntley both went down with injuries. Quarterback Jake Bentley will have to stay healthy for the Utes to stay close to the Sun Devils this year. It figures to be a chippy, close dog fight, but Utah won't be able to bounce back. The Utes drop their second straight game in heartbreaking fashion, 27-24. 
Week five: vs. Oregon State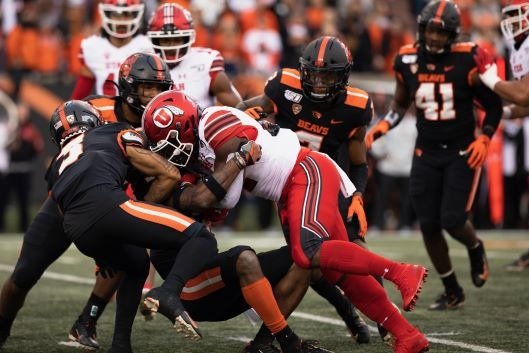 Utah got lucky with this crossover matchup in facing the Beavers instead of the heavily favored North Division champion Oregon Ducks. Last year, the Utes once again showed their dominance on both ends of the ball against the Beavers, dominating 52-7.
Similar to Utah, Oregon State also lost their starting quarterback, Jake Luton, to the NFL. Although it won't be a lopsided game like last year, the Utes will come away with a solid win. Bentley and the Utah offense will get into a rhythm and never let the Beavers see the light of day, running away 31-14.
Week six: at Colorado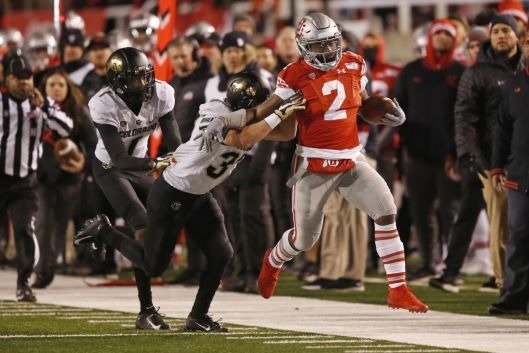 Utah's final game against the Buffs will be a repeat of its dominating performance last year. In 2019, Colorado went up 7-0 in the first quarter, but the Utes came roaring back and put up 45, never letting the Buffs back in the game.
The Utah defense will finally click and show some resilience, allowing just one touchdown like they did a year ago against the Buffs. Utah beats Colorado in their final game of the regular season 21-7.  
This Utah team won't look the same as its 2019 counterpart after the loss of key offensive and defensive players. However, Kyle Whittingham and his staff won't use that as an excuse to have an "off" year. If the Utes stay consistent and healthy, they'll notch at least a solid four wins.
Perhaps the Arizona State game could be the coin flip in deciding if Utah will be a 5-1 team. In order for Utah to achieve a three-peat of the Pac 12 South title, USC would have to lose at least 2 games, which is hard to imagine should the Trojans remain healthy all season. 
You can read Cefalu's other sports stories and columns at the Daily Utah Chronicle.

---
—More from Gianna Cefalu—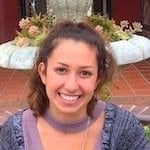 Latest posts by Gianna Cefalu
(see all)