Posted on October 9, 2019


  By Dane Miller, SuperWest Sports
S
ince the 2011 expansion of the Conference, several outstanding quarterbacks have graced their respective schools with uncommon talent and commitment, creating lasting legacies. This list selects and ranks the seven best signal callers of the last eight years, excluding those players still competing in the Pac-12.
Each have provided their fans with indelible memories. Each has brought something special to their team's football history. And all have shared certain exceptional traits in common: leadership, skill, and the willingness to put themselves on the line for their teams. 

This ranking takes into account each quarterback's accomplishments in both college and the NFL, using a balanced analysis to assess their accomplishments as they stand today. Some achieved their NFL dreams, some did not. But the impact they made on their universities and fans is undeniable.   
No. 1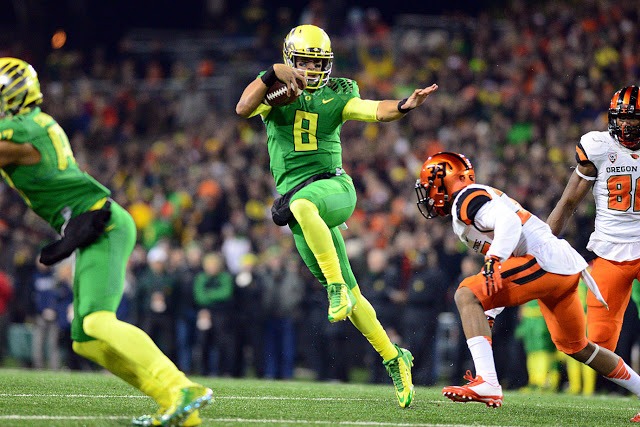 Marcus Mariota, Oregon
Marcus Mariota stands alone as the best quarterback of the Pac-12 Era, and arguably one of the best the Conference has ever seen. With 105 career passing touchdowns, 29 career rushing touchdowns, and a Heisman Trophy to his name, his resume is unmatched. 
In his three years at Oregon, Mariota compiled a 36-5 record that includes a Rose Bowl victory, a College Football Playoff win, and a National Championship Game appearance. Mariota finished his college career with more than 10,000 yards passing, just 14 interceptions, and more than 2,000 yards rushing. 

In 2014, Mariota was selected second overall in the NFL draft by the Tennessee Titans, where he has passed for more than 13,000 yards. The highlight of his pro career to date was a 2017 come-from-behind victory over the Kansas City Chiefs in the Wild Card game, the Titans' first playoff win since 2003. At just 25 years old, his best days as an NFL quarterback may still be ahead of him.
Whatever the future holds for Mariota, his three years at Oregon will forever be enshrined in the annals of the Conference's most touted players. And in the hearts of Duck fans, his accomplishments are nothing short of legendary, an astronomical success that will never be forgotten.

No. 2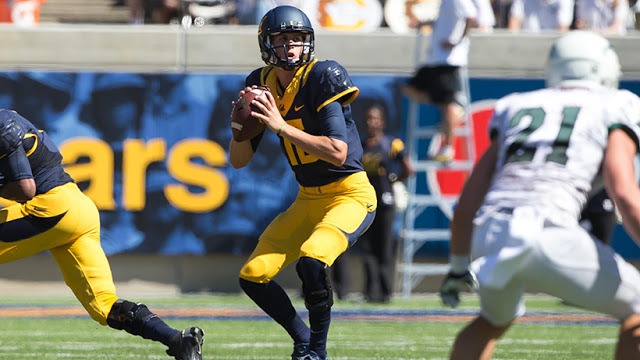 Jared Goff, California
An immortalized figure at Cal, Jared Goff's post-collegiate legacy is just beginning. Starting every game in his three-year Bear career, Goff compiled 12,200 yards passing and 96 passing touchdowns, breaking Cal's all-time records, and claiming fifth place on the all-time Pac-12 career passing yards list. The first true freshman to start a season opener for the Bears, he ultimately broke 26 school records, engineering a football resurgence in Berkeley that continues today. 

In 2016, Goff became the second Cal player to be picked No. 1 overall in the NFL draft, signing with the Los Angeles Rams. In his fourth season as the starter, he already has a Super Bowl appearance to his name, and has thrown for over 10,000 yards. At just 24 years old, he could have a decade or more left in his pro career, plenty of time to bring a Lombardi Trophy to L.A. 

With a break here or there, Goff might even surpass Aaron Rogers as the best all-time Cal quarterback in the NFL ranks. Though his college accomplishments are not quite as historic as some of the other quarterbacks on this list, his pro career sets him apart as the second-best quarterback of the Pac-12 Era.

No. 3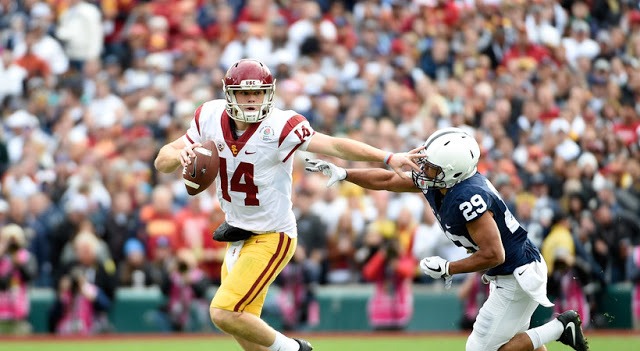 Sam Darnold, USC
(2016-2017)
Sam Darnold accomplished more in two years at USC than most quarterbacks accomplish in four, including a Rose Bowl victory and a Pac-12 Championship appearance. His victory over Penn State in the crown jewel bowl game of the Conference of Champions his freshman year cemented Darnold in Trojan mythology. And while the sophomore-year loss to Stanford in the Conference championship game was a tough pill to swallow, it didn't diminish his legacy. 
In his two seasons as a Trojan, Darnold threw for more than 7,000 yards, setting the USC record for most passing yards in a single season en route to the first Trojan Rose Bowl victory since 2009. While his sophomore season may have fallen short of expectations, his freshman year remains nothing short of iconic, a promulgation of everything USC fans had been craving after the sanction-marred end of the Pete Carroll Era. 

In 2018, Darnold was selected third overall in the NFL draft by the New York Jets. To date, he has passed for more than 3,000 yards, and while he has not yet made a playoff appearance, his development is on course to keep that dream alive. Darnold's accomplishments in college combined with his burgeoning professional career ensure his place in the Top 3 of this list.

No. 4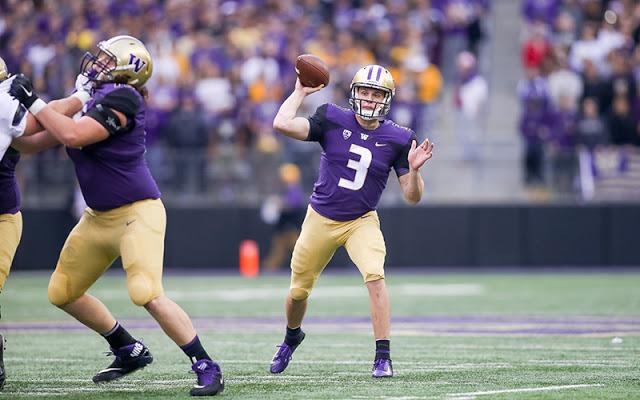 Jake Browning, Washington
(2015-2018)
There may not be another Pac-12 quarterback who has taken as much criticism while accomplishing as much as Jake Browning. A four-year Husky starter who led his team to a College Football Playoff appearance, two Conference championships, and a Rose Bowl appearance, Browning's reputation is likely to be resuscitated over time. 
On paper, his resume arguably ranks among the best the Conference has ever seen. In reality, Browning never quite got over the hump; never quite shocked the college football world the way some thought he would. In many ways, the criticism has been unfounded, but with great success comes high expectations, and he never reached the heights of Mariota or Darnold. 
Yet Browning's incredible accomplishments at Washington cannot easily be dismissed. His treasure trove of Conference records include the most career wins by a quarterback, the fourth-most career passing yards, and the sixth-most career touchdown passes. Appreciated or not, his legacy remains firmly entrenched. 

Browning went undrafted in the 2019 NFL draft, and has yet to play a snap in a professional game. Though his pro career may never take off, his accomplishments at Washington figures to garner more respect among Husky fans with the passage of time.

No. 5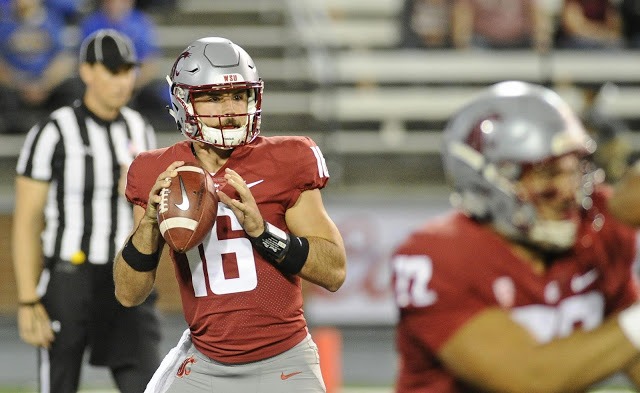 Pac-12 Conference
Gardner Minshew, Washington State
(2018)
Gardner Minshew led Washington State for one season as a graduate transfer, setting a single-season Conference record for yards passing with 4,779. Though he did not play in the Pac-12 long enough to leave as lasting an impact as the others on this list, his short time at Wazzu will go down as the stuff of legends in Pullman and beyond. 

Minshew took the college football world by storm with his quick release and famous mustache, generating Heisman buzz while leading the Cougars to an Alamo Bowl victory. Although WSU's defeat in the Apple Cup hurt his legacy a bit, the leadership and moxie he showed throughout the 2018 season will live on for years to come. 
As successful as Minshew was in his one year in the Conference, his most lasting impact is likely to come in the NFL. Drafted in the sixth round by the Jacksonville Jaguars in 2019, he was pressed into the starting job when Nick Foles went down with an injury. The former Cougar has taken full advantage, and everything considered, Minshew could end up being among the most successful quarterbacks on this list.

No. 6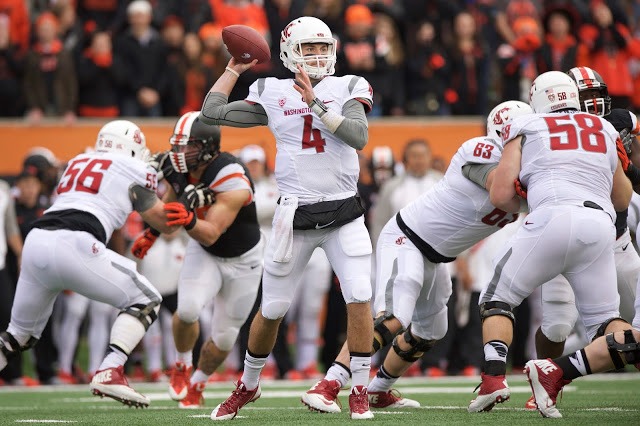 Pac-12 Conference
Luke Falk, Washington State
As the all-time career passing leader in the Conference of Champions with 14,481 yards, Luke Falk is hands down one of the best gunslingers of the Era. In his three full years as a starter, he led Wazzu to three eight-plus-win seasons, including two Holiday Bowls and a Sun Bowl appearance.  
His ability to make all the throws required of him was instrumental in the rebirth of the Cougar program, setting the standard for what Mike Leach looks for and expects in a system-defining quarterback. 

In 2018, Falk was drafted in the sixth round of the NFL draft by the Tennessee Titans. Now with the New York Jets, he didn't appear in a game until this year. While some have labeled him a "system quarterback," he has a chance to break out of that mold and prove himself in the professional ranks. 

Even if his NFL career doesn't turn out the way he hoped it might, his status among the other great quarterbacks in the Conference is untouchable. Falk's career passing record may not be broken for a long time, if ever. 
No. 7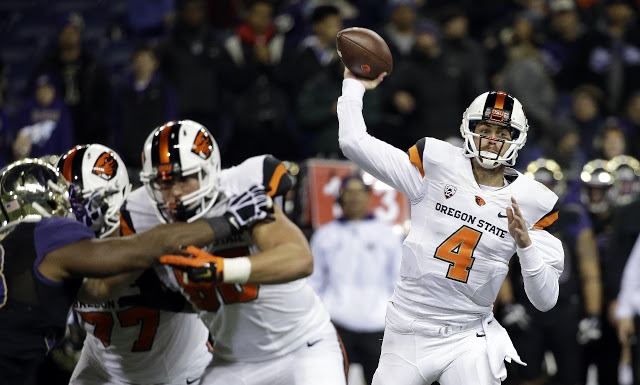 Pac-12 Conference
Sean Mannion, Oregon State
A legend at Oregon State, Sean Mannion is arguably one of the best Beaver quarterbacks of all-time. Setting the then-Conference record for most career yards passing with 13,600, Mannion's place among the greatest quarterbacks in the Pac-12 Era is assured. 

Mannion also holds the Oregon State career record for passing touchdowns with 83, and leads all Beaver signal callers with a career completion percentage at 64.6. By most accounts, he surpassed all expectations in his four year tenure, leading OSU to two bowl games, including the 2012 Alamo Bowl. 
In 2015, Mannion was selected in the third round of the NFL draft by the Los Angeles Rams, but has seen limited action. Currently a back-up with the Minnesota Vikings, the 27-year-old hasn't yet had his shot as a starter. Perhaps he just needs one break-out game to turn his career around. Either way, his accomplishments in Corvallis will never be forgotten, and his school records may never be broken.
---
—More from Dane Miller—

Latest posts by Dane Miller
(see all)