Posted on November 4, 2023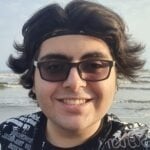 By Aidin Ebrahimi, SuperWest Sports
N
BA basketball is about to change forever.
The inaugural NBA in-season tournament tipped off last Friday and culminates with the Championship on Saturday, Dec. 9, at T-Mobile Arena in Las Vegas.
It's the first time teams are looking to win a trophy other than the Larry O'Brien Trophy.
As always, here is my preview of this upcoming week's NBA action, as well as a look at the previous week's best team and MVP.
The Return of the Beard
J
ames Harden is back in the West. The Beard is now on his fourth team in just as many seasons after officially being traded to the Clippers.
(You can read about how we got to this point in my summer article on the Harden/Daryl Morey saga.)
The dynamic quartet of Kawhi Leonard, Paul George, James Harden, and Russell Westbrook might just be the most talented four-man combo in NBA history.
However, when constructing rosters, you have to consider the player fit and availability. The Clippers are infamous for their injuries but even if they don't get hurt, we need to see how Harden can fit in with this group.
Obviously, he has the experience of playing with Russell Westbrook for three seasons in OKC and a season in Houston, but this is no longer the same Russell Westbrook who was a top player in the NBA.
This Russell Westbrook now knows his role as a high-energy player who can make big plays when needed.
Westbrook might be moved to the bench just like last season with the Lakers, and it could be a good thing as he will look to lead the second unit.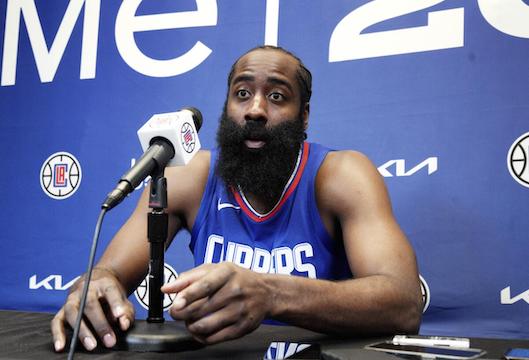 Speaking of which, the Clippers somehow managed to land James Harden without giving up Bones Hyland, Terance Mann, and Norman Powell, which is insane considering all three have contracts for next season as well.
Mason Plumlee and PJ Tucker will also bring some much-needed veteran presence, and all in all, their bench unit is one of the best in the NBA.
We know that Kawhi and PG are selfless enough to sacrifice touches for Harden, but is Harden fully committed to the cause?
This team is on paper, the best in the NBA, but the Clippers know better than everyone else that games and championships aren't won on paper.
They have suffered so many injuries that another big injury pretty much sounds impossible to fathom.
Tyronn Lue is a good head coach, but he will be tested by keeping the egos in check while using multiple combinations throughout the regular season to ensure his stars don't get hurt again.
It's now or never for James Harden and the Clippers.
Wemby's Arrival
W
emby is now 2-0 against Kevin Durant. It seems like we are watching the passing of the torch in real time.
The French phenom dropped 18 points, eight rebounds, and four blocks on 50% shooting in their first matchup.
KD "froze" after Wemby dunked the ball with six seconds left, turning it over to Keldon Johnson who scored to give San Antonio a one-point lead with just two seconds left.
Durant missed at the buzzer to give San Antonio the shocking win, but Gregg Popovich's men weren't done yet.
Many expected Phoenix to come back and dominate with Devin Booker back in the lineup, but Wembanyama responded to the doubters in a big way.
His 38 points and 10 boards on 15-26 shooting from the floor and 3-6 shooting from deep was more than enough to give the Spurs yet another win, but what really stood out was Wemby's clutch play near the end.
San Antonio led by as much as 27 points at one point but the Suns somehow managed to tie things up with a little over four minutes left in the fourth quarter.
Apart from the opening tipoff, it was the first time in that game that the Spurs weren't leading, but Wembanyama told everyone to calm down and did what he does best.
He scored 10 points over the next three minutes while the Suns didn't score a single point. You only see this type of domination in all-time greats, and Wembanyama certainly has that killer instinct.
The Worst Start Possible
The Memphis Grizzlies (0-5, 0-2)
T
he Grizzlies should be contending right now. They should be going toe-to-toe with the Nuggets in the battle for the first seed, but instead, they're sitting at 0-5.
This is not the fault of GM Zach Kleiman, who has made some incredible moves ever since getting the job in 2019.
He got the job when Memphis had officially moved on from the "Grit and Grind" era, but he got them back in the playoffs after just one season.
This is also not the fault of HC Taylor Jenkins, who has also done a fantastic job so far.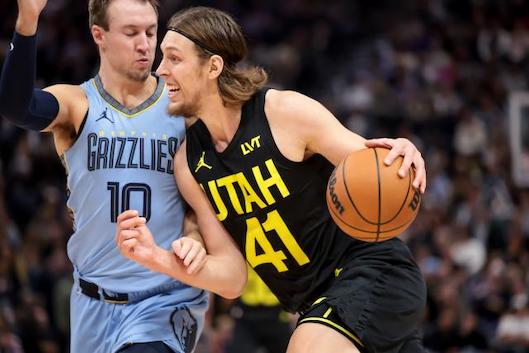 Obviously, most fingers will be pointed toward Ja Morant, and while I have been critical of Ja's antics in the past, you have to realize that putting the blame solely on him is unfair.
Apart from Morant, Memphis is currently missing two key players from last season in Steven Adams and Brandon Clarke, neither of whom is expected to return this season.
So even if they had Morant, they wouldn't have been as good as last season.
Unless they can learn from the Lakers' midseason turnaround last season, this year is essentially a lost season for Memphis, which is a shame as they could have really won big this year.
On the Rise
Shaedon Sharpe
W
henever the Blazers are brought up, NBA fans will quickly point toward the struggles of Scoot Henderson. While it's true that Scoot is struggling, we should be patient, as not everyone can adjust to the NBA so quickly.
It's also very hard to grow in a roster where almost every player has a chip on their shoulders and has no clear-cut leader.
Apart from Scoot, the rise of Shaedon Sharpe has been very interesting, as he is taking the leap that I expected him to take heading into the season.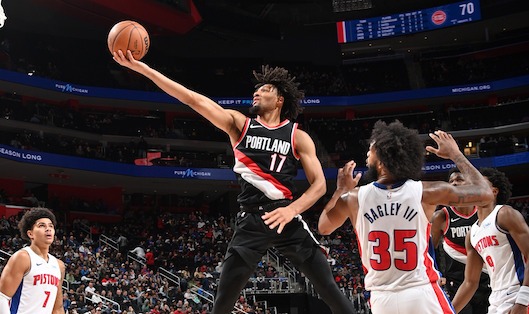 In the summer, I talked about how similar Sharpe is to Anfernee Simons and how he could take a similar leap to 2021-22 Simons.
Now that Simons is out for a while due to a thumb injury, Sharpe has blossomed into the go-to guy on this team. He is averaging 20.2 points a night while shooting 46.1% from the field and 37.5% from three.
While he probably won't average these numbers once Simons comes back and Scoot figures things out, he certainly has the potential to put up these numbers over the course of a season in the future as his career progresses.
Best Team of the Previous Week
The Dallas Mavericks (4-0, 2-0)
T
he Mavericks are now the last undefeated team in the Western Conference, and they've won their last two games without Kyrie Irving.

Luka Doncic is still doing Luka Doncic things, as his 35-point triple-double gave the Mavs the boost they needed to beat the Grizzlies.
The trio of Tim Hardaway Jr., Grant Williams, and Derrick Jones Jr. averaged a combined 62 PPG last week while Derek Lively II is looking like this season's Walker Kessler, as he has shot 15-19 so far this season.
But even when Kyrie returns, this team will face some difficulties throughout the season. Josh Green and Jaden Hardy still haven't taken the leap that many have expected, which will hinder their chances of contention.
Still, Mavs fans should enjoy this good run of form for now.
MVP of the Previous Week
Stephen Curry (Golden State Warriors)
"T
he Chef" is still cooking. Despite just playing 94 minutes last week, Steph scored 87 points (29 points a night) while keeping his excellent efficiency, shooting 52.8% from the floor and 45.9% from deep.

After dropping 42 points on the Pelicans' heads, Curry recorded his 34th 40-point game since turning 30. Only Michael Jordan has more, with 44, meaning that Curry needs just 10 more 40-point games to match MJ.
Now that Chris Paul has arrived at Golden State, Curry is now focusing on scoring, averaging the least assists of his career (3.8).
But even when he's not passing, he is still one of the best playmakers in the NBA purely due to his gravity and the attention that the defenses pay to him. Even with all that attention, he still can't be stopped.
---
—More from Aidin Ebrahimi—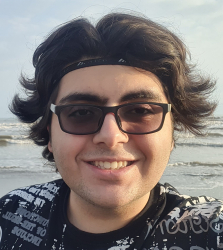 Latest posts by Aidin Ebrahimi
(see all)