Posted on June 20, 2022


  By Dane Miller, SuperWest Sports
T
his Arizona preseason football preview is the third of 12 to appear over as many weeks as we count down the days to the start of the Pac-12 season on September 1st.

Each preview consists of nine sections: Overview, Best-Case Scenario, Worst-Case Scenario, What Should Happen, What Must Happen, Greatest Strength, Biggest Concern, Deciding Factors, and Schedule Analysis.
Nothing is set in stone, however, as rosters and depth charts continue to evolve over the summer.
Arizona Wildcats Fast Facts
• 2021 Record: 1-11
• Head Coach: Jedd Fisch (1-11 in 1 year at Arizona)
• Offensive Coordinator: Brennan Carroll
• Defensive Coordinator: Johnny Nansen
• Home Stadium: Arizona Stadium (50,782) Tucson, AZ
• Last Conference Title: 1993, Pac-10 co-champions
Overview
A
rizona's first season under Jedd Fisch was an unmitigated disaster.
The Wildcats lost to Northern Arizona, a team out of the FCS that hadn't beat UA since 1932, and finished the year 1-11.
The 11 defeats were the most Arizona has had in a single season in program history, while its single victory was its fewest in a full season since 1957.
Combined with the 0-5 mark during the 2020 Covid year and the seven-straight defeats to close out the 2019 campaign, the Cats had lost 20 games in a row before beating California 10-3 in early November.
But over the offseason, as if by magic, everything has changed.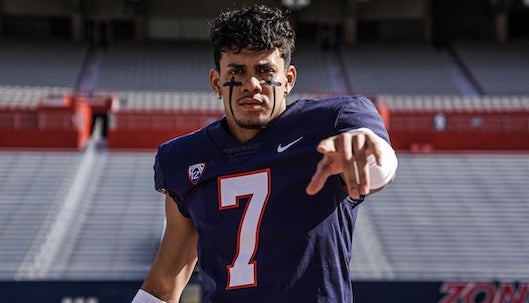 Recruiting has hit heights that are arguably unmatched during any other coach's tenure in Tucson.
Fisch has secured a Top 25 class while convincing the Pac-12 Offensive Freshman of the Year, quarterback Jayden de Laura, to come to the desert.
A World-Class recruiting guru, the second-year coach landed the school's highest-rated recruit in program history in four-star receiver Tetairoa McMillan, and added 10 four-star players to the roster.
That's unheard of for a team that's 1-23 since the middle of 2019.
With upgraded personnel across the board, expectations are elevated for Fisch to put it together on the field.
Best-Case Scenario
D
e Laura leads an offense flush with talent at the skill positions, engineering a 6-6 season to secure Arizona's first bowl appearance since 2017.
The former Washington State QB executes UA's Pro Style system efficiently, finding open receivers and extending plays with his legs.
The sophomore's mobility and willingness to run changes the dynamic of the offense, with the Wildcat running backs taking advantage of defenses focused on de Laura.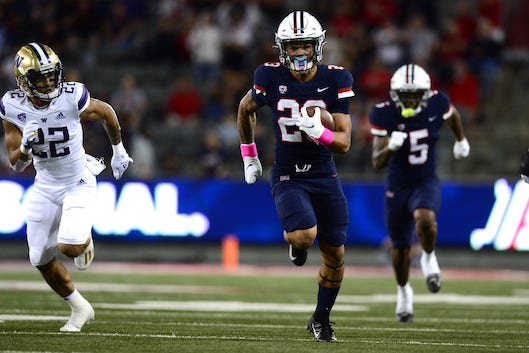 Despite the crowded room in the backfield, true freshman Rayshon Luke forces his way into a consistent role and sophomore Stevie Rocker Jr. emerges as the go-to back in goal-line situations.
Arizona's red zone efficiency skyrockets on the back of true freshman tight end Keyan Burnett, while McMillan breaks several freshmen receiving records, and UTEP transfer WR Jacob Cowing leads the team in both receptions and yards.
The result is a well-oiled offense that puts up enough points to win games.
Worst Case Scenario
T
he loss of defensive coordinator Don Brown and the open question along the offensive line combine for a disappointing two-win season.
The press-man blitzing scheme that Brown ran during his single season in the desert becomes a thing of the past under new first-year coordinator Johnny Nansen.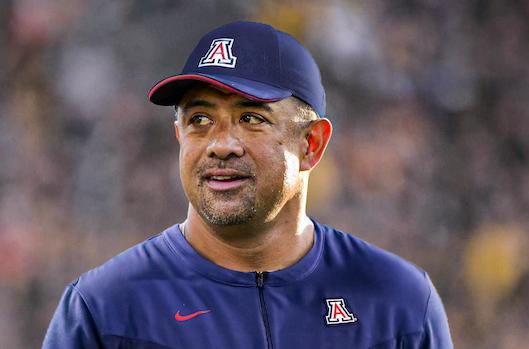 The new coordinator gets out-coached by opposing offensive masterminds and his unit gives up more points per game than the year prior, despite having improved personnel.
But the defensive issues pale in comparison to the offensive line problems. The O-Line isn't able to slow down pass pressure, resulting in another year of numerous injuries to Arizona's quarterback room.
De Laura, Jordan McCloud, and true freshman Noah Fifita all get injured at various points in the season, as UA's offense becomes one-dimensional and predictable.
Unable to run the ball and without time to effectively pass, Fisch relies on ineffective gadget plays to generate offense.
The result is one of the worst scoring offenses in the country for the second year in a row, with legitimate questions surrounding Fisch's play-calling and scheme moving forward.
What Should Happen
A
rizona's freshmen class and transfers should hit the ground running.
Tight-end Burnett is arguably in the top position among the true freshmen to contribute from Day One. The 6-foot-5, 225-pound four-star recruit is a mismatch in the middle of the field and particularly deadly in the red zone.
His ability to find open space within the 20-yard line was noticeable in the Wildcats' Spring Game and should lead to numerous touchdowns in his freshman campaign.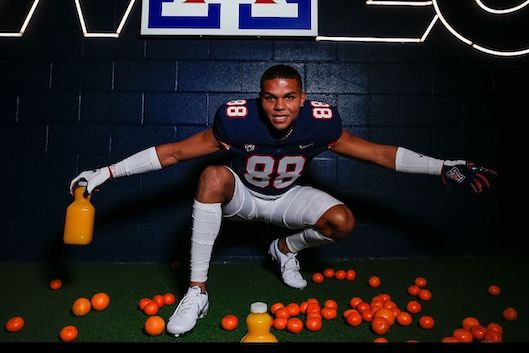 McMillan should start every game and figures to be among the top freshmen receivers in the Pac-12. His natural talent and speed should make him a go-to target for de Laura.
In the backfield, a clear No.1 RB should emerge by conference play. Fisch appears more inclined to name starters in his second year, and probably makes a decisive decision at running back.
Michael Wiley and Drake Anderson have experience in the offense, yet Florida State transfer D.J. Williams could end up as the starter.
And with speed that can't be ignored, Luke should emerge as a consistent option.
On defense, corner Christian Roland-Wallace and safety Christian Young should lead the secondary, while Jerry Roberts anchors the linebacker corps.
Up front, UCLA transfer Tiaoalii Savea should mesh well with returning stalwarts Kyon Barrs and Jalen Harris to form one of the more under-rated D-Lines in the league.
What Must Happen
F
isch's offense must score points.
The 17.2 points per game set in 2021 were Arizona's fewest since 2006, and with a rebuilt offense that paltry number can't be repeated.
Increasing red zone efficiency is arguably Task No. 1, but UA's third-down conversion rate must improve as well.
The Pro-Style offense was last in the Pac-12 in third-down conversion percentage (32.1 percent) and last in the Conference in red zone offense with only 12 touchdowns in 39 red zone trips.
Rocker Jr. and Burnett must be fed the ball in short-yardage and red zone situations, with both able to get first downs if given the opportunity.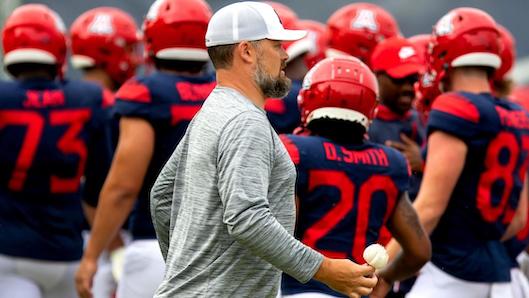 But play-calling on first and second down must improve.
De Laura's athleticism and an upgraded receiving corps should help Fisch feel comfortable opening the playbook, along with a deep running back stable with plenty of horses to choose from.
Yet, if Arizona remains predictable like it did last season, the upgraded personnel on offense might not matter.
Greatest Strength
F
isch's revamped roster has produced improvement in every position group.
The quarterback room is legitimately two-deep with de Laura and McCloud, while Fifita is not far off as a realistic third option.
The running backs go five-deep and might be the deepest RB unit in the former South Division, and Burnett highlights the tight end group.
But the strongest unit on the team is arguably the wide receivers. Cowing and McMillan appear to be the clear starters, yet sophomore Dorian Singer could give both a run for their money.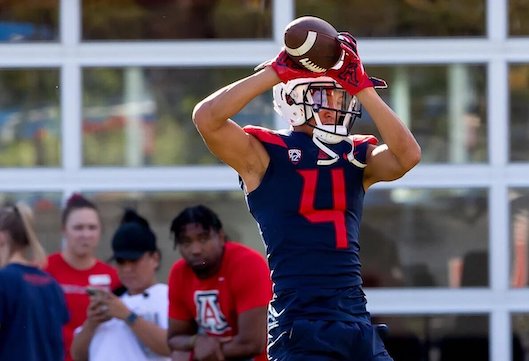 Singer led the team last season in yards per catch and was second in yards per game, despite only seeing playing time in the last five games of the season.
Add in the experience of Jamarye Joiner, the height of Jalen Johnson, and the potential of sophomore Anthony Simpson, and Fisch has himself one of the stronger wide receiver groups in the Pac-12.
On defense, Roland-Wallace is one of the top corners in the league while Young is arguably one of the hardest-hitting safeties in the Conference.
Not to be overlooked, Arizona's defensive line has the potential to be better than many expect. UCLA transfer Savea should continue to thrive under Nansen, with Barrs and Harris making jumps under Nansen's tutelage.
Biggest Concern
T
he absence of proven options at linebacker is one of UA's glaring issues, but the offensive line is clearly the biggest concern.
The line was dead-last in the Pac-12 in sacks allowed per game, giving up 2.92 per night despite Fisch's roughly balanced play calling.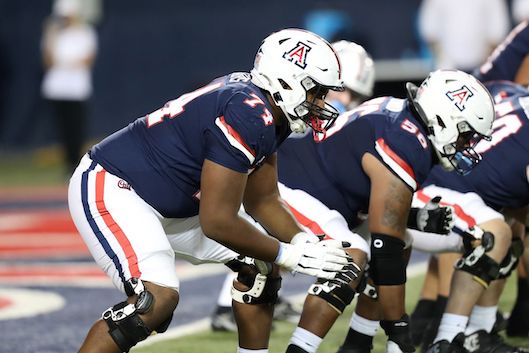 The 35 sacks allowed arguably contributed to the rash of injuries at quarterback, forcing Arizona to use its third-string QB and utilize a wide receiver in the Wildcat formation numerous times a game.
Junior college transfer Wendell Moe and true freshman Jonah Savaiinaea have been added to the mix, but the open question remains.
Deciding Factors
D
e Laura's execution of the Pro-Style offense and Nansen's coordination of the defense figure to be the deciding factors in Arizona's season.
The Wildcats have the offensive pieces to improve, but the quarterback's execution of the system is pivotal. McCloud proved he could do it last year, and Fisch is likely willing to give him the job if de Laura struggles.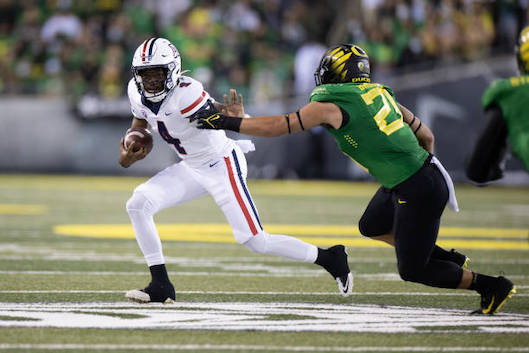 As for the defense, Nansen has never been a defensive coordinator and may go through some growing pains.
But his focus on teaching offensive schemes is an interesting approach that could result in his unit playing off instinct and film recognition.
Nansen's hiring was a gamble, but it could pay off.
Schedule Analysis
2022 Arizona Wildcats Schedule
• Sept. 3 at San Diego State
• Sept. 1o vs Mississippi State
• Sept. 17 vs North Dakota State
• Sept. 24 at California
• Oct. 1 vs Colorado
• Oct. 8 vs Oregon
• Oct. 15 at Washington
• Oct. 29 vs USC
• Nov. 5 at Utah
• Nov. 12 at UCLA
• Nov. 19 vs Washington State
• Nov. 26 vs Arizona State
T
he Wildcats have one of the tougher nonconference schedules in the country with games against San Diego State, Mississippi State, and FCS powerhouse North Dakota State.
An 0-3 start to the year would not be a shock.
The slate gets easier with games against California and Colorado, which Arizona should find a way to split.
The next five matchups promise to be brutal. Losses are expected against Oregon, USC, UCLA, and Utah. But the game against Washington is an interesting showdown that could result in a surprise UA victory.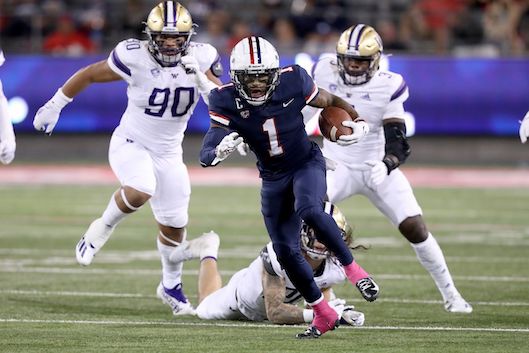 The year ends with arguably winnable games in Tucson against Washington State and Arizona State.
Another one-win season seems unlikely, although not out of the question. Considering the tough nonconference schedule, four wins is probably the ceiling and two wins appear to be the safest bet.
---
—More from Dane Miller—

Latest posts by Dane Miller
(see all)