Posted on June 27, 2022


  By Dane Miller, SuperWest Sports
T
his Arizona State preseason football preview is the fourth of 12 to appear over as many weeks as we count down the days to the start of the Pac-12 season on September 1st.

Each preview consists of nine sections: Overview, Best-Case Scenario, Worst-Case Scenario, What Should Happen, What Must Happen, Greatest Strength, Biggest Concern, Deciding Factors, and Schedule Analysis.
Nothing is set in stone, however, as rosters and depth charts continue to evolve over the summer.
Arizona State Sun Devils Fast Facts
• 2021 Record: 8-5, 6-3
• Head Coach: Herm Edwards (25-18 in 4 years at ASU)
• Offensive Coordinator: Glenn Thomas
• Defensive Coordinator: Donnie Henderson
• Home Stadium: Sun Devil Stadium (53,634) Tempe, AZ
• Last Conference Title: 2007, Pac-10 co-champions
Overview
T
he ongoing NCAA investigation into alleged recruiting violations during the COVID dead period has destroyed Arizona State's traditional recruiting.
ASU's incoming Class of 2022 is ranked eighth in the Pac-12 and features just one four-star prospect, while its 2023 class is last in the Conference with only two players currently committed.
In the wake of the investigation, DC Antonio Pierce, OC Zak Hill, and tight end coach Adam Brenemanwide, as well as the receivers coach and DB coach resigned under pressure or were fired by Herm Edwards.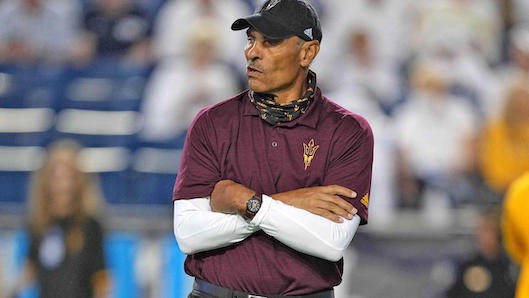 That's five coaches who were either fired or voluntarily left the program after allegations surfaced of coordinated on-campus recruiting visits during the onset of the pandemic.
The alleged violations could carry a postseason ban, which has wrought a devastating effect on the program.
Eighteen players have transferred out, including several key contributors on both sides of the ball.
QB Jayden Daniels, RB Chip Trayanum, WR Ricky Pearsall, DL Jermayne Lole, LB Eric Gentry, and CB Tommi Hill all left, while starting RB Rachaad White and three other starters were selected in the NFL Draft.
All in all, ASU lost over two-thirds of its starters to the portal, Draft, or graduation.
But, while the Sun Devils' traditional recruiting may be dead, Arizona State has secured the nation's 17th-best transfer class, according to 247Sports.
Highlighted by Florida quarterback Emory Jones, Wyoming running back Xazavian Valladay, and Miami defensive lineman Nesta Jade Silvera, the transfers bring enough talent to push ASU to its 10th bowl game since the Pac-12 expanded in 2011.
Best-Case Scenario
J
ones and Alabama transfer Paul Tyson generate a healthy quarterback competition during fall camp, pushing each other to get better every practice.
A clear winner emerges before the Week One matchup against Northern Arizona, and never looks back.
Jones' mobility and willingness to run arguably solidifies him as the early favorite, but Tyson might hold an edge with superior decision-making and accuracy.
Yet, Arizona State's bread and butter under Edwards has been its ground game. And that doesn't figure to change in 2022.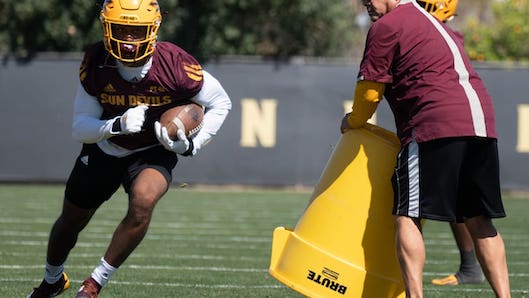 Valladay should thrive under the system, with Daniyel Ngata serving as a deadly second punch.
And with the addition of Vanderbilt wide receiver transfer Cam Johnson, the Sun Devils' offense might be better than some expect.
At the end of the season, the transfers at the offensive skill positions push the program to seven wins with a realistic chance of a bowl victory to cap the year.
Worst-Case Scenario
J
ones struggles to execute the offense without multiple proven options at wide receiver, leading to a predictable one-dimensional attack.
Opponents are able to game plan around Johnson and Bryan Thompson, forcing Edwards to become overly dependent on running the ball.
The lack of a go-to tight end is apparent all season, eliminating a reliable check-down throw that the program has enjoyed for several years.
Jones commits too many turnovers by trying to force passes that aren't there, while Tyson's reduced threat to run gums up the ground game.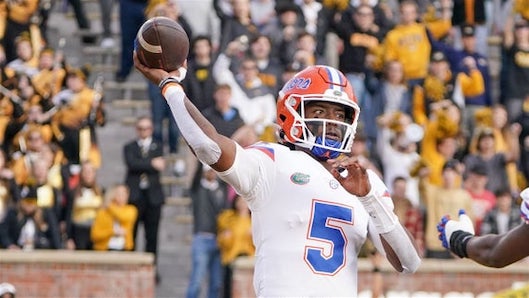 The result is an ugly offense that has trouble scoring and gets shut down by above-average defenses.
The problems snowball into losses against Oklahoma State, USC, Stanford, and Washington State on the road, while Utah and UCLA beat the Sun Devils at home.
But the dire state of the program is cemented when Oregon State beats the Sun Devils in Tempe for the first time since 2009.
Although the season ends with a sixth-straight victory over Arizona, the 5-7 mark turns the 2023 offseason into a Dark Age for the ASU fan base.
What Should Happen
V
alladay should pick up where White left off. Edwards' system has always featured a heavy emphasis on the run game and Valladay should fit right in.
Outside of the Wyoming transfer, Ngata should contribute as a consistent and reliable option, doing particular damage in short-yardage and goal-line situations.
With several transfers on offense ready to step in for the talent that left, the offense shouldn't be that far off from the 28.4 points per game it put up in 2021.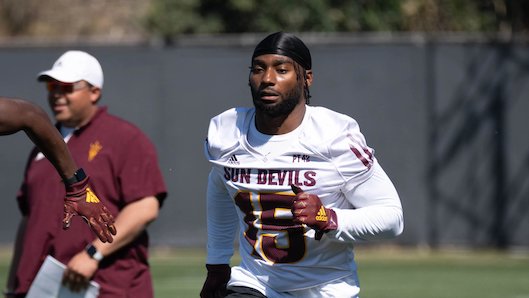 On defense, Miami defensive lineman transfer Silvera should anchor the line while Hawaii safety transfer Khoury Bethley leads the secondary.
At linebacker, Kyle Soelle and Merlin Robertson should act as the heart and soul of the defense with their combined 10 years of experience.
With enough talent at the right positions, ASU should find a way to reach bowl eligibility.
What Must Happen
A
part from Jones or Tyson executing the offense effectively, contributors along the defensive line and in the secondary must emerge.
Both units have substantial questions heading into the season, while Arizona State has built its program on the back of strong defenses.
Any regression on that side of the ball could expose the recent struggles on offense, putting more pressure on its quarterback to deliver early in the game.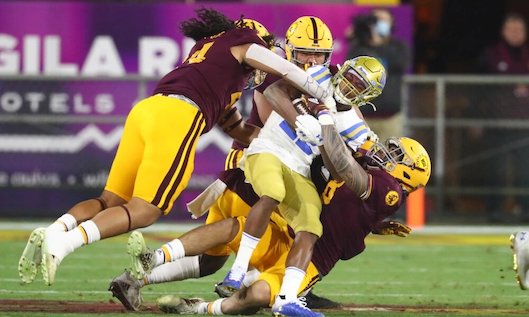 A weaker defense could result in playing from behind too often, leading to a higher number of turnovers as the offense attempts to compensate.
To avoid the dangerous spiral, players must breakout along the line and in the defensive backfield. Silvera and Bethley can't do it on their own.
Greatest Strength
A
n Arizona State football preview would be incomplete without a focus on its rushing attack.
Edwards has engineered a run-based offense that has generated a 1,000-plus yard rusher in each full season that he has been at the helm.
The ground game was fifth in the Pac-12 last season, averaging 191.4 yards per game while putting up 34 touchdowns.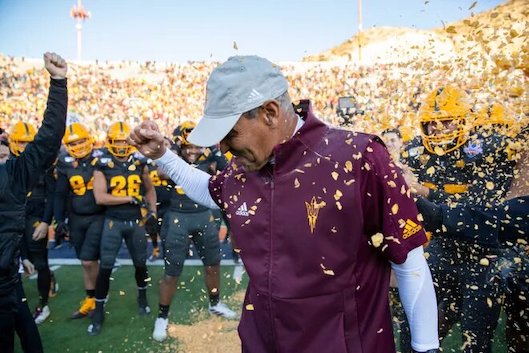 Eno Benjamin and White have been the featured backs of the Edwards era, but there has always been a pivotal second option.
Trayanum was the second threat over the past two seasons, while Daniels and Manny Wilkins played the part from under center in 2018 and 2019.
The use of mobile quarterbacks that are willing to run has been integral to the system.
And when combined with the talent in the backfield, the Edwards' offenses have produced an average of 191.6 yards rushing per game over the four years of his tenure in Tempe.
There's no denying his system has proven effective in the Pac-12 and that figures to continue in 2022.
On the other side of the ball, Arizona State's linebacker corps is one of the best in the league.
Biggest Concern
T
he lack of proven players on the defensive line and in the secondary are the primary worries heading into the season.
Defensive issues are a problem Arizona State hasn't had to deal with in several seasons, casting an ominous cloud over the upcoming campaign.
Defensive lineman Michael Matus posted 5.5 tackles for loss last year and could have a breakout season, while B.J Green II led the team with five sacks and could emerge as an All-Conference player in his sophomore year.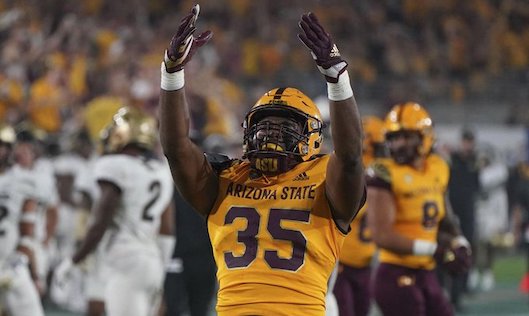 Anthonie Cooper is another option along the line who could breakout.
Yet, the pressure is on Omarr Norman-Lott and Tautala Pesefea Jr. to hold down the fort. The duo should combine well with Silvera, but the Sun Devils need additional threats to emerge.
And in the secondary, the roster is comprised of players without the levels of experience that ASU has been accustomed to over the last few years.
Jack Jones, Chase Lucas, and Deandre Pierce all moved on, leaving a gaping hole that must be filled quickly.
Timarcus Davis and Jordan Clark could be primed to take over along with Bethley, yet the open question in the secondary looms as fall camp approaches.
Deciding Factors
Q
uarterback play invariably has an over-weighted impact on each team's success. But for Arizona State in 2022, its QB may make or break its season.
If Jones turns the ball over too often and Edwards is forced to go with Tyson, the entire offense could stall against quality defenses.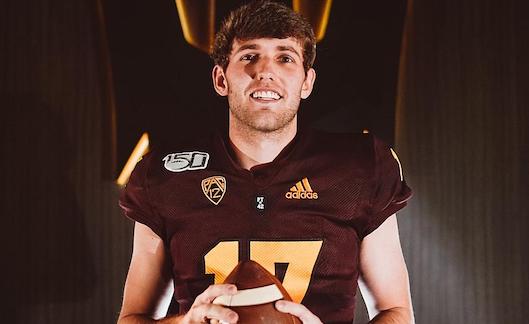 On the other hand, if Jones hits the ground running and operates the offense with efficiency, ASU won't miss a beat.
And with one of the better linebacker corps in the Pac-12, any issues on defense figure to be covered up by the experience of Soelle and Robertson.
Schedule Analysis
2022 Arizona State Sun Devils Schedule
• Sept. 1 vs Northern Arizona
• Sept. 1o at Oklahoma State
• Sept. 17 vs Eastern Michigan
• Sept. 24 vs Utah
• Oct. 1 at USC
• Oct. 8 vs Washington
• Oct. 22 at Stanford
• Oct. 29 at Colorado
• Nov. 5 vs UCLA
• Nov. 12 at Washington State
• Nov. 19 vs Oregon State
• Nov. 25 at Arizona
T
he Sun Devils have two buy-games against Northern Arizona and Eastern Michigan during September.
The real test comes against Oklahoma State on the road in Week Two. While a win in Stillwater isn't out of the question, a 2-1 start is probably the most that can be expected.
Conference play opens with a brutal back-to-back slate of Utah and USC. Each game likely ends in defeat.
The next three contests get easier with matchups against Washington, Stanford, and Colorado. A 3-0 steak over this stretch is a reasonable expectation.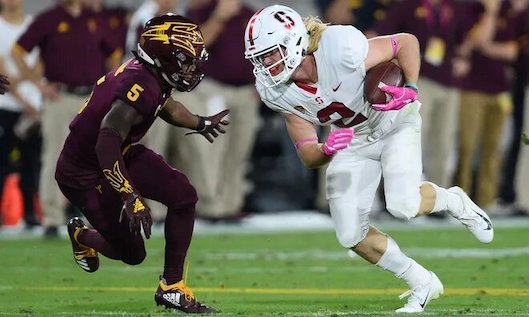 But the following three weeks feature the matchups that could define the year.
UCLA promises to be strong and is likely favored for the showdown in Tempe, while the games against Washington State and Oregon State are toss-ups.
A 2-1 mark during those three games in November is possible, yet a 1-2 record wouldn't be shocking.
The season ends with the Territorial Cup in Tucson, a series Arizona State has dominated since 2018.
With a relatively soft nonconference schedule, eight wins appear to be the ceiling, while five wins might be the floor. At the end of the day, a 6-6 or 7-5 record seems like the safest bet.
---
—More from Dane Miller—

Latest posts by Dane Miller
(see all)