T
he recent announcement of a partnership with Quidel Corporation for rapid testing has given Pac-12 fans hope that football might return sooner than expected, though a start date has not yet been set.
Had COVID-19 not ravished the 2020 season, we would be talking and writing about the 12 games scheduled for Week 1:
– Portland State at Arizona
– Northern Arizona at Arizona State
– TCU at Cal
– Colorado at Colorado State
– North Dakota State at Oregon
– Oregon State at Oklahoma State
– William & Mary at Stanford
– UCLA at Hawaii
– USC vs. Alabama (Arlington, TX)
– BYU at Utah
– Michigan at Washington
– Washington State at Utah State
(You can read Jack Follman's simulation of what might have happened here.)
Instead, we bring you this rewind of the 2019 season, with the highlights of the biggest games, and summaries of the others.
Week 1 saw four Power Five matchups: No. 14 Utah faced BYU in the Holy War in Provo, UT; Oklahoma State visited Oregon State in an offensive-fest in Corvallis; No. 25 Stanford hosted Northwestern in Palo Alto; and No. 11 Oregon traveled to Arlington, TX, to face No. 16 Auburn.
The Conference went 8-4 in the span, and WSU's Anthony Gordon, Utah's Francis Bernard, and ASU's Michael Turk were named the Pac-12 Players of the Week. You'll find a list of those teams that were ranked at the beginning of the season, and a table of the week's complete results at the bottom of the page.
Utah 30, BYU 12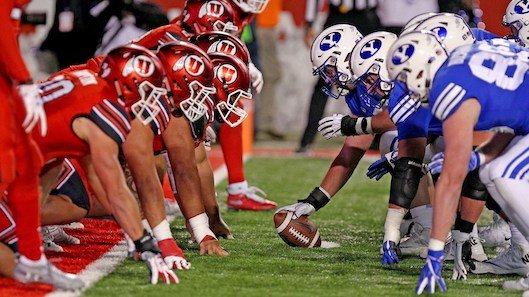 The Utes won with defense, playing in their typical grind-it-out fashion, wearing down BYU over four quarters. It was impressive to see Zack Moss run the ball with so much authority, showing why he would become one the best running backs in the Pac-12.
Utah quarterback Tyler Huntley didn't have to do much, but what he did, he did right. In short, the Utes took their first step in making their case to play for the College Football Playoff.
Oklahoma State 52, Oregon State 36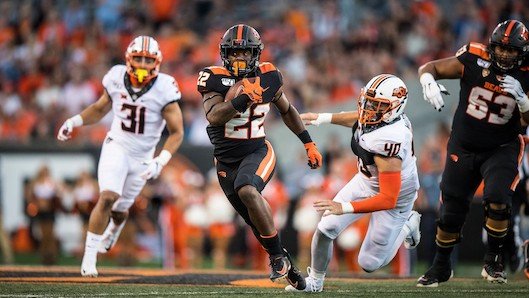 For the first twenty minutes or so, the Beavers appeared as though they just might pull off an incredible upset, with a beautiful nine-play, 70-yard drive to take an early 7-0 lead. Then Oklahoma State ran off three straight touchdowns.
But while the upset bubble burst, bright spots remained. Jake Luton looked like a quarterback poised to make some big plays, and running back Jermar Jefferson showed off his elusiveness. Unfortunately, the Oregon State defense wasn't as impressive.
Stanford 17, Northwestern 7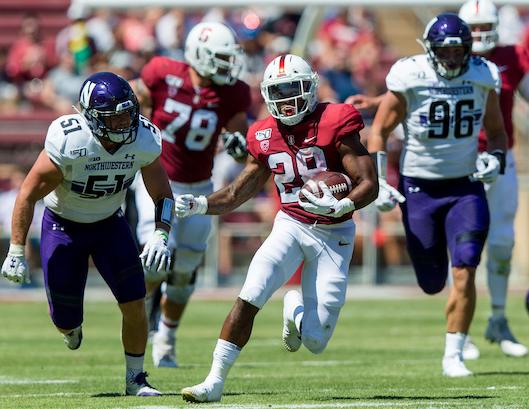 The Cardinal looked like Stanford of old, running the ball with dominence and controlling the tempo with their defense. Exactly the Game Plan they need to execute to win big matchups this season. Ordinarily, opening the campaign with a victory over a tough Big XII opponent would be an indication of their readiness to start Conference play.
However, this win came at a tremendous cost. At the end of the first half, Stanford quarterback K.J. Costello took a vicious hit and did not return for the rest of the game. His loss signaled the beginning of a string of injuries destined to derail the Cardinal's season.
Auburn 27, Oregon 21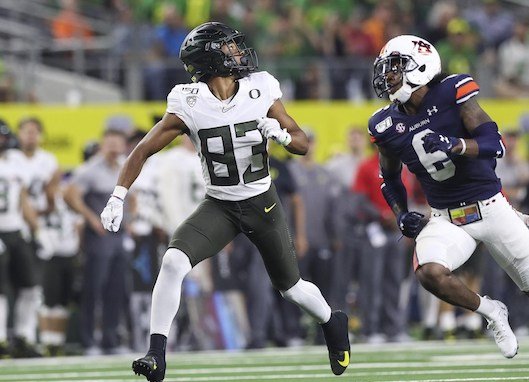 The Ducks played well enough to beat Auburn until the last two drives, when they couldn't gain a yard on fourth down, and couldn't keep the Tigers out of the end zone with time running out. In fact, Oregon led for all but nine seconds, showing plenty of heart and toughness in the process.
Unlike previous meetings with SEC foes, the Ducks matched up well in the trenches, especially in the first half—a clear dividend of Mario Cristobal's Top 10 recruiting classes. However, Auburn did a much better job of clamping down Oregon's running game in the last 30 minutes.
Arizona State 30, Kent State 7
Everything seemingly went right for the Sun Devils in their season-opening win against Kent State. Eno Benjamin looked like the premier back he is, making big plays through the air and on the ground. Freshman quarterback Jayden Daniels appeared ready for the challenge, making good decisions and living up to his billing throughout.
USC 31, Fresno State 23
Out of all the Pac-12 performances this week USC's had to be the most confusing. The Trojans beat a talented Fresno State team that finished 12-2 last season—no easy task, especially without their starting quarterback. The season-ending ACL injury to JT Daniels might have rattled another team, but the Trojans appeared to pick up their intensity, making plays they had to make to win.
Colorado 52, Colorado State 31
There was a lot to like in Colorado's 51-32 victory over the Rams, with the Buffs putting up 475 yards of total offense and not committing a single turnover. Much of that came from Steven Montez's 232 passing yards and two touchdowns. But running back Alex Fontenot shined the brightest in CU's retooled offense.
Cal 27, UC Davis 13
The rumored growth of Chase Garbers had many fans excited to see a revamped offense against UC Davis in Week 1. But Cal's lack of production left them wondering if the sophomore quarterback would perform at a similar level as the previous year. The emergence of Christopher Brown Jr. as a workhorse was the key takeaway.
Cincinnati 24, UCLA 14
Not much went right for the Bruins in their 24-14 season-opening loss at Cincinnati. The game started off well enough, with UCLA forcing a Bearcats punt, and then driving into the red zone. But then things began to fall apart. Quarterback Dorian Thompson-Robinson fumbled the ball at the 5, and Cincinnati answered with two straight scores.
Washington 47, Eastern Washington 14
New Husky Jacob Eason played within the Game Plan, made smart throws and put up big stats. As a collective unit, the Dawgs were great against an Eastern Washington team that didn't measure up. Chris Petersen's teams were always well prepared.
Washington State 58, New Mexico 7
Washington State was clicking on all cylinders on the offensive side against New Mexico. Quarterback Anthony Gordon looked like a seasoned veteran in his first career start, throwing for 420 yards and five touchdowns. Not only was the Air Raid at full force, but sophomore running back Max Borghi also put up 128 yards.
Hawaii 45, Arizona 38 (Week 0)
With a bye in Week 1, the Arizona coaches had a chance to address some of the glaring issues from the Week 0 disaster against Hawaii. The defense looked to find a way to improve on third-down after letting Hawaii convert 50% of the time, while forcing them to punt the ball only once.
Pac-12 in AP Rankings Heading into Week 1
| | |
| --- | --- |
| Team | Rank |
| Oregon | 11 |
| Washington | 13 |
| Utah | 14 |
| WSU | 23 |
| Stanford | 25 |
Complete Week 0/1 Pac-12 Football Results
| | | | | |
| --- | --- | --- | --- | --- |
| Date | Time | Visitor | Home team | Result |
| 8/24 | 7:30 PM | Arizona | Hawaii | L 38–45 |
| 8/29 | 4:00 PM | UCLA | Cincinnati | L 14–24 |
| 8/29 | 7:00 PM | Kent State | Arizona State | W 30–7 |
| 8/29 | 7:15 PM | No. 14 Utah | BYU | W 30–12 |
| 8/30 | 7:00 PM | Colorado | Colorado State | W 52–31 |
| 8/30 | 7:30 PM | Oklahoma State | Oregon State | L 36–52 |
| 8/31 | 12:00 PM | Eastern Washington | No. 13 Washington | W 47–14 |
| 8/31 | 1:00 PM | Northwestern | No. 25 Stanford | W 17–7 |
| 8/31 | 3:30 PM | UC Davis | California | W 27–13 |
| 8/31 | 4:30 PM | No. 11 Oregon | No. 16 Auburn | L 21–27 |
| 8/31 | 7:00 PM | New Mexico State | No. 23 Washington State | W 58–7 |
| 8/31 | 7:30 PM | Fresno State | USC | W 31–23 |
—Staff
---
—More from Staff—