Posted on September 10, 2021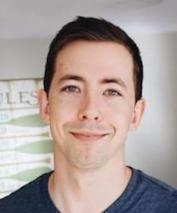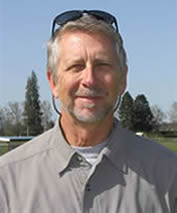 By Steve Ritchie and Eli Ritchie, SuperWest Sports
F
or Oregon to have a chance against Ohio State on Saturday, linebackers Justin Flowe and Noah Sewell will have to help the defensive line plug holes and limit the Buckeye running attack.
Their role in pass defense will be equally important, both as blitzes and in coverage.
Given Ryan Day's creativity in crafting an offensive game plan, Oregon's young linebacking crew is likely to have its hands full, both inside and outside, throughout the game.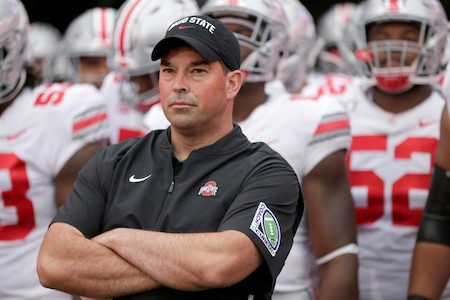 Flowe and Sewell were relied on more heavily than expected last week after the injuries to Kayvon Thibodeaux and Dru Mathis, and their talents will be taxed even further in the unfriendly confines of the "Horseshoe" in Columbus.
To get a sense of how the pair will hold up, let's take a quick look back at how they fared last week against Fresno State.
Oregon escaped with a narrow victory over the Bulldogs largely due to the play of its defense, which forced two fumbles in Fresno territory early on, resulting in short-field touchdown drives that put the Ducks in front.
Three critical defensive stops closed the deal in the fourth quarter, allowing the offense to finally find its footing enough to overcome Fresno State's narrow lead.
The key to the game-saving effort was the play of Flowe, inserted for Mathis at one of the inside linebacker spots in the first quarter.
Flowe rose to the occasion, recording 14 tackles (including one for a loss) and forcing the fourth-quarter fumble that led to Oregon's game-tying field goal.
For his heroics, Flowe was rightly named Pac-12 Defensive Freshman of the Week.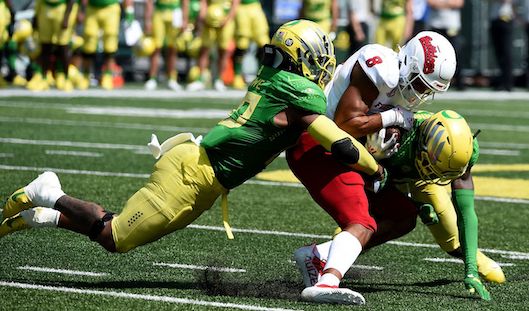 But that's not the whole story.
Flowe also was called for a late hit on Bulldog QB Jake Haener, which helped extend the Fresno touchdown drive late in the first half.
And at times, he looked lost in zone pass coverage—though obviously Flowe wasn't the only Duck struggling against the pass, with Fresno State gaining 220 first-half yards in the air.
It was more a factor of his youth. And a question of depth.
Oregon's defense fielded only one senior starter on the day: Mathis, a sixth-year super senior, who came to the Ducks as a highly-regarded JC transfer. (Senior Jordan Happle played much of the game in secondary, but did not start.)
Even without Mathis, the defensive unit is dominated by players with one or two years of experience. Flowe has even less, as he tore his meniscus in the first game of 2020, and the injury kept him out the remainder of the season.
Just a few months ago, the inside linebacking group figured to be Oregon's defensive strength going into the 2021 season.
Our Dane Miller highlighted its depth and talent in his Preseason Oregon Preview, and while much of the talent remains, the unit's depth has taken some hits.
The first blow came when Isaac Slade-Matautia—an excellent pass defender who led the nation's linebackers in pass breakups in 2019—transferred to SMU after spring practice, looking to rejoin former Duck DC Jim Leavitt.
Mathis stepped into that spot, despite never having started before, and his work and experience, both at the JC and D1 levels, had him primed for a strong season.
His potential return this season following surgery has not yet been ruled out, but his status remains uncertain.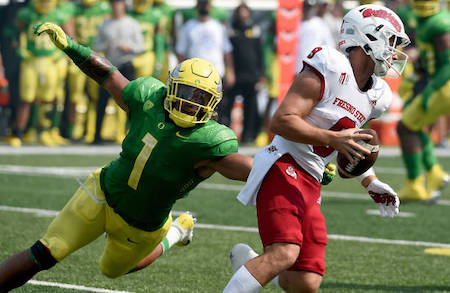 Sewell, the other starter, had a standout freshman season in 2020. Like Flowe, he's a hard-hitting athlete with  superstar potential. But as Sewell demonstrated in the wake of Thibodeaux's departure, he's a proven leader.
Oregon's depth at the inside LB spots is sure to be tested, and one more injury could spell big trouble for the Duck defense.
Behind Flowe and Sewell are Nate Heaukulani, another super senior; true freshman Keith Brown, who missed the Fresno game due to a minor injury; and Jackson LaDuke, who has also been out with an injury.
True freshmen Jabril McNeill and Jonathan Flowe (Justin's brother) are waiting in the wings.
There is no question that Flowe, a former 5-star recruit, is capable of competing against an elite team like Ohio State, having already lived up to his recruiting hype as one of the top high school linebackers in the country.
In fact, Flowe's ceiling as a football player is undoubtedly higher than that of Mathis. But winning on the road against the No. 3 team in the country will require him to minimize mistakes while reacting to the Buckeye's innovative passing schemes.
That won't be easy for a first-year player with just one college game under his belt.
But with the experience and confidence he gained against Fresno State, the young man wearing No. 10 seems capable of building on last week's breakout performance.
---
—More from Steve Ritchie—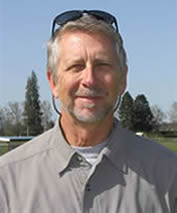 Latest posts by Steve Ritchie
(see all)