Posted on October 1, 2021

  By Matt Weiner, SuperWest Sports
F
rom the start of the second half against Washington State up to the minute before the opening kickoff against Washington State, I was ready to sacrifice myself for Donte Williams.

If Williams decided to round up a group of people, move them to a remote part of Guyana and claim the area as Williamstown; I'm offering to pay for TSA precheck for the both of us. Anyone who opposed him and refused to drink his Kool-Aid was a fool.
Turns out the fool was me because, just like Jim Jones, he gave us a cyanide infused cocktail of death instead.
Last Saturday's slaughter by Oregon State offered many reasons why Trojan fans should want USC to look outward to fill the current head coaching vacancy.
One moment in particular stuck out to me. With six minutes left in the game, USC was able to go from their own 31 to OSU's 15 in two plays.
The first was a 25 yard strike from Slovis to Tahj Washington and the next was Drake London hurling in a 29 yard pass that would be one of his final catches before ending up with 10 catches for 165 yards on the day.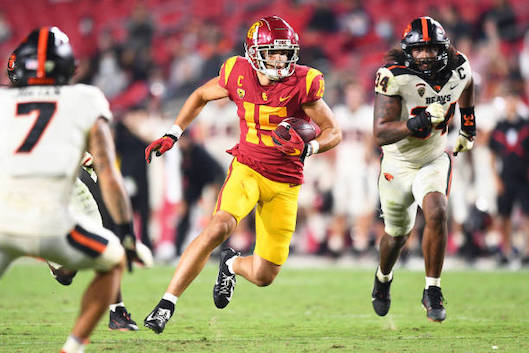 The Trojans were down 42-24 and 10 people—not including the student section—were in attendance, but a touchdown would have been suitable enough for a moral victory. What followed was an agonizing revelation about Williams.
On first-and-10 from the OSU 15, the Trojans moved back 26 yards on a sack and penalty in just two plays—an impressive feat.
While they were able to get 12 yards back, Williams made a decision that led me to believe all of the camaraderie on the sidelines a week before was mere fools gold.
Williams committed the cardinal sin of kicking a field goal at the end of the game, despite being down three scores. An offensive move on par with excessive flatulence in an elevator, or dining and dashing at Nobu.
Three points does nothing in that scenario. While it does bring you within two possessions, chances are your putrid defense will allow more points before you get the ball back, and it's highly unlikely to score 15 points in six minutes.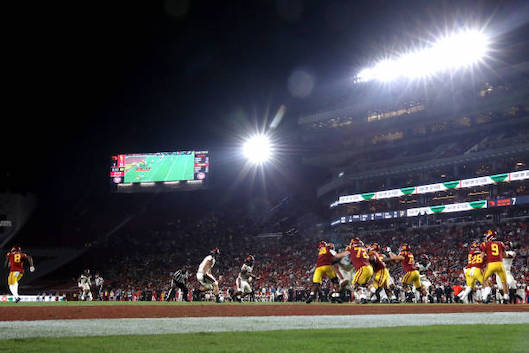 Empty gestures like that are the fastest way to take my allegiance away.
The second fastest way is to repeat the same sins of the man who you were chosen to replace, namely, a lack of miscommunication on defense, and an inability or unwillingness to make adjustments.
Offensively speaking, the only adjustment made was to find new ways to help Drake London draw penalties. It's a good thing they aren't included in the box score because it might've ranked as the second highest receiving yards from a Trojan on the day.
Anyone who caught wind of the game is aware of how bad the front seven was. I'm still not sure what's worse, giving up 322 rushing yards or not registering a single tackle for loss.

Oregon State wasn't heaving deep balls down the sideline and ripping off huge runs within that same minute they received the kickoff. Take away the longest rush of the day and USC still gives up 282 yards.
As the Beavers chugged along from quarter to quarter, they didn't have any huge scoring spikes. In the first they had 7 points, in the second they had 14, in the third they had 14, and the fourth they had 10.
They pounded their fastball down the plate, and the Trojans couldn't catch up to it all night.
What makes this defeat even worse is Oregon State having 14 penalties for 154 yards. This is twofold and then some of the 76 rushing yards the Trojans put on the ground.
Not taking advantage of a football field and a half of penalties, a plethora of blown coverages turned touchdowns and seemingly no adjustments on defense was all I needed to realize how foolish I was for drinking the Kool-Aid.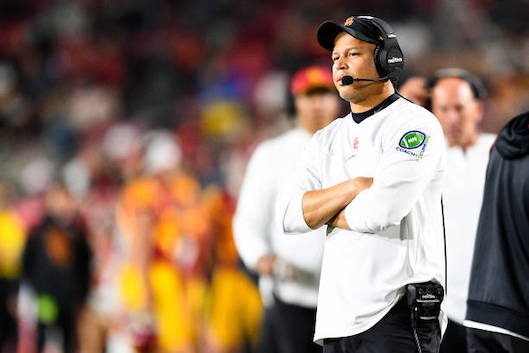 But can you blame me?
After the Stanford game I was desperate and looking for any piece of hope I could cling to. Given Williams' SoCal roots and familiarity with the west coast, as well as the energy on the sidelines against Washington State, I was convinced he was the answer.

I realize now that his peak as a USC head coach came with the big smooch he laid on Jaxson Dart after the true freshman tossed a touchdown.
With all that said, by no means am I advocating for Williams to not be a part of the staff. He's someone that can serve as a solid recruiter and leader for the defensive backs, but I think that's all he will be during his tenure.
I'm still enamored with the energy he brings. Williams is a valuable asset, but at this point in his coaching career, he makes for a better Scottie Pippen than a Michael Jordan.
For those who are still swept off  their feet as members of Williamstown, take the first plane out of Guyana, before it's too late…
---
—More from Matt Weiner—
Latest posts by Matt Weiner
(see all)