Posted on December 21, 2019


  By Dane Miller, SuperWest Sports
Upshot from Last Week: Conference Perception Improving
The Pac-12 turned heads around the country, beating highly respected programs on national TV, and significantly improving the perception of the league. Though it wasn't a perfect week, the impact it will have on Selection Sunday, and on the various ongoing media rights negotiations, could be deep and widespread.

Oregon went into Ann Arbor and beat Michigan, a powerhouse Big Ten team ranked No. 5 at the time. And the Ducks did it without now-eligible five-star center N'Faly Dante. Not only was it an historic accomplishment for Dana Altman's squad; it came early in the day on national TV. The victory showcased UO point guard Payton Pritchard, earning him Oscar Robertson National Player of the Week honors. More importantly, it put the rest of the nation on notice: The Pac-12 is a legitimate contender. 
A handful of days later, nobody was giving the Utah Utes a chance against the No. 6 Kentucky Wildcats. For Larry Krystkowiak's young team, that didn't matter. They knew if they played to their full capability they could knock off UK. The Utes played with confidence, controlling most of the game, and holding on for one of their best non-conference victories of the last decade.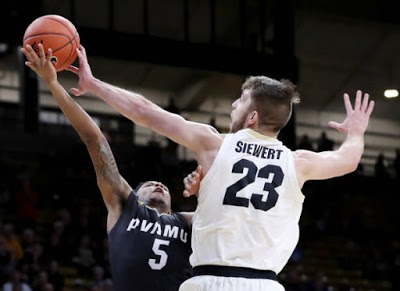 Needing a bounce back result after consecutive losses, the Colorado Buffaloes strode into a hostile environment in Fort Collins for a showdown with rival Colorado State. The Buffs got the job done, though it wasn't pretty. Tad Boyle received welcome performances from his bench, including Shane Gatling's 20 points and Lucas Siewert's 12. Colorado must continue to get production from players who are not the focus of opposing defenses, like Gatling and Siewert. CU followed up that performance with a 19-point beat down of Prairie View A&M.

With star Stanford freshman Tyrell Terry unable to play due to an upper body injury, the Cardinal needed someone to provide an offensive spark against San Francisco. In stepped Daejon Davis, a former five-star recruit who has maturely accepted a secondary role while Terry runs the point. The selfless junior engineered a run that propelled the Tree to the lead, and ultimately a victory over the Dons. 

The Huskies were looking for a rebound victory after their Gonzaga defeat, and only needed one game to exercise their demons. The Dawgs struggled early against Seattle University, but eventually secured a 21-point win in a game that was closer than the final score. Isaiah Stewart had a monster night, posting a career-high 27 points to go along with 13 rebounds. Unfortunately, Washington's lack of bench production is turning into a serious flaw.
USC did what it needed to do against Long Beach State, though the margin of victory could have been higher. Onyeka Okongwu scored 28 points to go along with 12 rebounds, solidifying himself as the mid-season front runner for Freshman of the Year.
Tres Tinkle and the Beavers returned after a two-week break, notching an easy win over Arkansas Pine Bluff, and a 10-point victory over UTSA. Apart from their early November games against Iowa State and Oklahoma, Wayne Tinkle's team hasn't played anyone noteworthy. The consequences of their scheduling could be dramatic when Oregon State faces battle-tested teams in conference.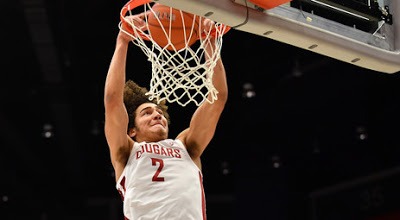 Somewhat under the radar, the Washington State Cougars put together their third and fourth wins in a row, posting victories over UC Riverside and Florida A&M. Granted, the Cougs have faced mostly lower-tier programs during their win streak, but that shouldn't detract from the culture that Kyle Smith is building. His early turnaround could be a sign of success to come.

The Arizona State Sun Devils had a roller coaster week, beating Georgia by 20 and then getting blown out by 40 to St. Mary's. The result was a wash, but the margin of defeat to a non-Power 6 program is concerning. The Gaels shot an astounding 61.5% from three on 26 attempts, while Bobby Hurley's team put up a measly 13.6% from deep on 22 attempts. 

In a comparatively up and down week, California took down Fresno State, but lost to St. Mary's at Haas Pavilion. The jury is still out on the Bears' non-conference season, and Mark Fox has arguably guided his team to better-than-expected results.

Sean Miller and the Arizona Wildcats had an opportunity to become the only Pac-12 school to take down Gonzaga, but fell short on their home court. Nico Mannion had the worst game of his young career, going 3-20 from the field while putting up just seven points. The Cats have yet to beat a Top 25 team, but their two losses to ranked programs will likely make them more dangerous in conference play.

UCLA had a similarly disappointing result, losing by 14 to Notre Dame on national TV. The Mick Cronin Era has not gotten off to a good start, but he likely needs two full recruiting cycles to get the right players for his system. 
General Outlook: Nine Teams Look Dance-Worthy
The Pac-12's performance in non-conference has set itself apart from most of the Power 6. The teams at the top are viewed favorably while the middle tier has a strong reputation. The effect will largely be felt on Selection Sunday, and should result in respectable seeds for the teams that get in.  

While the immediate future is bright, the revived perception is dependent on winning, and there are still noteworthy games which could move the dial either direction. 
As it stands right now, nine of the Conference's teams have legitimate arguments to make the Big Dance. The results in conference play will separate the over-performers from the contenders.
Noteworthy Upcoming Games (December21-January 1)
UCLA vs. North Carolina
Saturday, December 21
Noon, CBS

In a battle between two of the most historic college basketball programs in the country, the Bruins head to Las Vegas to take part in the CBS Sports Classic against North Carolina. The Tar Heels have struggled this year, potentially setting the stage for a UCLA victory. A win would do wonders for the Bruins' confidence heading into Pac-12 play.

 
---
 Boston College vs. Cal
Saturday, December 21
2:30 p.m., Pac-12 Network
California squares off with Boston College as part of the Al Attles Classic in San Francisco. The Eagles must travel all the way across the country, while the Bears get to play in their backyard in a tournament consisting of several other Pac-12 schools. Consequently, the crowd should be favorable to Mark Fox's team, and the X-factors are in his favor. In some ways, this is the biggest game of the year for Cal, and the result likely makes or breaks the perception of their non-conference season.

 
---
Colorado vs. No. 13 Dayton
Saturday, December 21
3:30 p.m., CBS Sports Network
The Buffs head to Chicago for a showdown with No. 13 Dayton at the United Center. Colorado can launch themselves back into the Top 25 with a victory, though the Fliers pose a significant challenge. To pull off the win, Tad Boyle needs strong performances from his bench, particularly Shane Gatling and Lucas Siewert. In the end, the power combination of McKinley Wright IV, Tyler Bey, and Evan Battey may be just enough to pull off the upset. 
---
Utah vs. No. 20 San Diego State
Saturday, December 21
3:30 p.m., Pac-12 Network
Coming off their shocking upset over Kentucky, the Utes travel to Los Angeles for another matchup against a ranked opponent. This time they face undefeated No. 20 San Diego State as part of the Air Force Reserve Basketball Hall of Fame Classic at the Staples Center. The Aztecs have a handful of noteworthy wins, but haven't faced a Pac-12 team this season. With the way Larry Krystkowiak's season has gone, it would not be a surprise to see him lead his young team to back-to-back wins over Top 25 programs. 
---
Creighton vs. Arizona State
Saturday, December 21
5:30 p.m., Pac-12 Network

Bobby Hurley's Sun Devils need to burn the tape of the St. Mary's game, and they can start by defending the Bank against Creighton. It's rare for a Big East team to play a true road game against a Pac-12 opponent, providing an opportunity for ASU to make them regret scheduling this game. The Bluejays might be distracted by the mild Arizona weather, as well as Arizona State's infamous "Curtain of Distraction." Either way, the Sun Devils can help their Tournament resume, and the Conference's reputation, with a resounding victory. 

---
Oregon State vs. Texas A&M
Saturday, December 21
5:30 p.m., SEC Network
In their first significant test in over a month, the Beavers head to College Station for a true road game against Texas A&M. The Aggies have struggled mightily this year, turning this game into a must-win for OSU's at-large bid hopes. Fortunately, Wayne Tinkle has the firepower to fly home with the victory, even if they dig themselves an early hole. Tres Tinkle and Ethan Thompson must perform well, otherwise Oregon State could be on the wrong side of the bubble come Selection Sunday. 
---
USC vs. LSU
Saturday, December 21
6:00 p.m., Fox Sports 1

The Pac-12 and SEC do battle in another clash, this time at the Staples Center as part of the Air Force Reserve Basketball Hall of Fame Classic. The Trojans have put together a nice winning streak which will be tested against an LSU team coming off an embarrassing defeat to Eastern Tennessee State. The performance of Andy Enfield's guards could be the difference in the game. USC will rely on Jonah Matthews and Elijah Weaver to step up and hit big shots. 
---
No. 16 Arizona vs. St. John's
Saturday, December 21
7:00pm, ESPN2

The Wildcats play their last game of the non-conference season against St. John's at the Al Attles Classic in San Francisco. If Arizona is a legitimate contender to win the Conference, it should beat the Red Storm by double digits. Sean Miller's team has struggled against ranked opponents, but have handled lesser teams with consistency.  St. John's doesn't present nearly the same type of challenge as Baylor or Gonzaga, and the Cats should win comfortably.
---
No. 22 Washington vs. Ball State
Sunday, December 22
6:30 p.m., ESPN2
Christmas in Hawaii may seem like paradise, but if the Huskies don't come prepared for a battle they may head home with a bad loss. The Dawgs are competing in the Diamond Head Classic, opening it up with a game against Ball State. Depending on how things go, they will play either Hawaii or UTEP, with a final game against Boise State, Georgia Tech, Portland, or Houston. Anything less than a first-place trophy will be considered a disappointment. 
---
No 1. Kansas at Stanford
Sunday, December 29
Noon, ABC

In the biggest game at Maples Center in several years, No. 1 Kansas comes to town for a shootout with Stanford. The Tree have looked good so far this season, but haven't faced an opponent as good as the Jayhawks. The Cardinal need Tyrell Terry to be fully healthy, and must get big games out of Oscar de Silva and Daejon Davis. Pulling off the upset will not be an easy task, but Stanford can get it done with a strong defensive performance.    
---
Harvard at Cal
Sunday, December 29
3:00 p.m., Pac-12 Network
Two of the best universities in the world take their rivalry to the hardwood when Harvard comes to Berkeley for a matchup with California. The Bears are trying to rebuild their basketball program, and a victory would put a better spin on Mark Fox's first non-conference season. This game goes deeper than athletics, and hopefully the home crowd produces an exciting atmosphere for what should be a competitive game.
---
—More from Dane Miller—

Latest posts by Dane Miller
(see all)