Posted on December 4, 2019


  By Dane Miller, SuperWest Sports
Upshot from Last Week
The Pac-12 came down to Earth after an astronomical start to the 2019-20 campaign. A stark fall, but not a fatal one. Fortunately, the teams at the top mostly handled their business. However, the middle to bottom tier programs suffered some bad losses.
Utah notched a fantastic win over Minnesota, but followed it up with a shocking 22-point defeat to Coastal Carolina. The Utes faced the Chanticleers on the road as part of the first round of the Myrtle Beach Classic, a tough draw, but a game they were expected to win. The loss is arguably the most shocking upset in the conference so far this season. Larry Krystkowiak's team bounced back, though, with a victory over Ohio, but then suffered another surprising loss to Tulane, finishing a shocking sixth in the east coast tournament.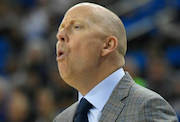 UCLA had a nice win over UNLV, but then dropped the ball in a terrible loss against Hofstra in Westwood. Nobody expected the Bruins to lose this game on their home court, and the defeat shows the enormous task Mick Cronin faces to rebuild the storied program. The Bruins have a long way to go, but the shocking upset proved to the rest of the conference where UCLA currently stands in the pecking order. 
Washington State beat Idaho State, but suffered a defeat to Nebraska Omaha in a game the Cougars were favored to win. Kyle Smith's team allowed the Mavericks to score 50 points in the second half in a come-from-behind victory. The debacle was certainly a bad loss.
Washington lost a tournament-level game to Tennessee on a neutral court. While the defeat is not a bad loss, it is a very noteworthy game that the Selection Committee will use as a gauge when determining seeding come March. The Huskies are a young team who are still learning their roles, but the margin of defeat is significant. The Dawgs followed it up with convincing victories over Maine, Montana, and San Diego. 
USC recorded a solid road win against Nevada, struggled in a victory over Pepperdine, and lost to Temple. The defeat at home is significant, though it's debatable whether it's a bad loss. Andy Enfield's team appears to be over-reliant on Nick Rakocevic playing well, and Enfield needs to find ways to compensate when he is having an off night.
California escaped with a four-point victory over Prairie View A&M, and were blown out by Duke in the first game of the Empire Classic. The Bears were then defeated handily by Texas in the second game of the tournament.  However, the two games against quality opponents helped Mark Fox prepare his team for what will be a grueling conference season.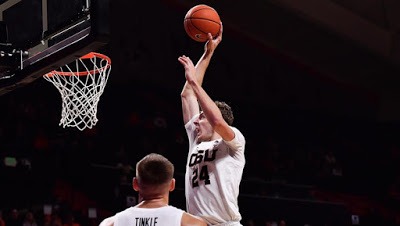 Oregon State demolished Wyoming in a true road game, following it up with victories over UC Santa Barbara and Grambling State in Corvallis. Wayne Tinkle's team has yet to suffer a bad loss, and controls their own destiny for an at-large NCAA Tournament bid. 
Colorado took care of business with comfortable wins over San Diego, UC Irvine, and Wyoming to remain undefeated. Tad Boyle and the Buffs look like a threat to win the Conference behind the one-two punch of McKinley Wright IV and Tyler Bey. CU is shooting lights out from three, but has yet to be truly tested.
Stanford looked good in blowout wins over Santa Clara, Maryland Eastern Shores, and William and Mary. The Cardinal remain undefeated, winning games by an average of 20.8 points.

Arizona blew out New Mexico State, struggled against South Dakota State, and crushed Long Beach State. The Cats struggles against South Dakota State were noteworthy and indicative of the importance Zeke Nnaji has to their success. Sean Miller dismissed sophomore guard Devonaire Doutrive for violation of team rules. 

Arizona State handled Rider, beat St. John's comfortably, and battled No. 7 Virginia to the bitter end in a three-point loss in the championship game of the Air Force Reserve Tip Off Tournament. The second-place finish was respectable, going a long way in covering up some of the bad losses the Conference suffered, but the Sun Devils still lack a signature win. On the other hand Bobby Hurley's squad has yet to suffer a bad loss.
Oregon remained the shining beacon of the conference, convincingly defeating University of Texas-Arlington and Houston in Eugene. Dana Altman and the Ducks remain undefeated with quality victories, despite not having N'Faly Dante who is expected to play in December. UO's performance has exceeded expectations so far this season
General Outlook: Cracks Beginning to Show
The Conference of Champions took a step back. The various head-scratching defeats last week give justified pause to the praise that was heaped on the Pac-12. The result is a damaged perception, though not a destroyed image. 


The Conference is 51-11 against teams outside of the Conference, and the strong start is undeniable. But cracks in the foundation are beginning to show, and the flaws of certain teams are beginning to be exposed.
The reputation of the league is now dependent on strong Thanksgiving week performances in the various tournaments, as well as several high-level games looming in December. 
A strong week will go a long way in re-energizing the momentum, but another poor week will be very damaging.
Noteworthy Upcoming Games (November 25 – December 2)





Monday, November 25, 4:30 p.m., FloSports
Washington State plays in the Cayman Islands Classic with a first-round match-up against Nebraska. The Cougs will then face either George Mason or Old Dominion, followed by a final game against Colorado State, New Mexico State, Loyola Chicago, or South Florida. Kyle Smith needs to find a way to win at least one of these games. 

Monday, November 25, 6:30 p.m., ESPN2
Stanford heads to Kansas City to take part in the Hall of Fame Classic. The Cardinal take on Oklahoma in the opening game, followed by either Butler or Missouri. This tournament is Stanford's first real test, and arguably will make-or-break their NCAA Tournament dreams. A strong performance will go a long way towards an at-large bid.  




 

Monday, November 25, 8:30 p.m., ESPN2
UCLA travels to Maui for the prestigious Maui Jim Maui Invitational. The Bruins battle BYU first, followed by either Kansas or Chaminade. Depending on how things go, UCLA will play their final game against Michigan State, Virginia Tech, Dayton, or Georgia. After the Hofstra loss, the Bruins must avoid embarrassing defeats, and need to at least keep these games close. 


Tuesday, November 26, 4:00 p.m., ESPN+
Arizona State squares off against Princeton in what may be a trap game. The Sun Devils need to take care of business to avoid a bad loss. Remy Martin must guide his team to a comfortable victory to avoid further scrutiny of the league's quality. 
Tuesday, November 26, 7:00 p.m., Pac-12 Network
California faces a bounce back test against UC Davis, a game the Bears should win if they have truly turned the corner this season. 
Tuesday, November 26, 8:30 p.m., ESPN2
Colorado plays in the championship game of the MGM Main Event against Clemson. A win would reinforce the perception of Colorado's quality, and boost their potential seed in the NCAA Tournament. 

Wednesday, November 27, 6:30 p.m., ESPN2
Oregon goes to the Bahamas for the Battle 4 Atlantis in what is by far the most important Thanksgiving week tournament for the Pac-12. The Ducks have a chance to solidify their argument for a No.1 seed, and generate discussions of their chances of reaching No.1 in the AP poll, if they come out of Nassau with a trophy. UO begins by playing No.13 Seton Hall, followed by either No. 8 Gonzaga or Southern Miss. Depending on what happens, they will finish out against either Alabama, No. 6 North Carolina, Iowa State, or Michigan. All the eyes of the nation will be on this tournament. 






Wednesday, November 27, 8:00 p.m., FS1

Oregon State travels to Las Vegas to take part in the Continental Tire Las Vegas Classic against San Jose State. The Beavers should win this game in a blowout. Any hint of struggles will be concerning. 
Thursday, November 28, 1:00 p.m., ESPNU
USC heads to Orlando to take part in the ESPN Orlando Invitational with their first game against Fairfield. The Trojans then battle either Davidson or Marquette, followed by a final game against Maryland, Texas A&M, Temple, or Harvard. Winning the first two games will allow them to face a quality opponent, and present an opportunity to secure a coveted Quad 1 victory. Andy Enfield needs a strong performance to recover from their home loss to Temple.
Thursday, November 28, 8:00 p.m., ESPN2
Arizona participates in the Wooden Legacy with an opening game against Pepperdine. The Cats then play either UCF or Pennsylvania. The final game will pit Sean Miller's team against Providence, Wake Forest, Long Beach State, or Charleston. Anything less than a first-place trophy will be a massive disappointment, and damage the Pac-12's image. 



 

Friday, November 29, 6:00 p.m., Pac-12 Network
Utah takes on UC Davis in a game the Utes should win comfortably. Coach Krystkowiak needs large margins of victories to overcome the damage sustained from the Coastal Carolina and Tulane disasters.    
Monday, December 2, 7:30 p.m., Pac-12 Network
Washington plays South Dakota in what should be an easy victory. The biggest takeaway is likely the margin of victory, which is important for the NET rankings. The freshmen's continued development in Mike Hopkins' system is key. 
---
—More from Dane Miller—

Latest posts by Dane Miller
(see all)