In this series of updates on the history of SuperWest men's hoops program, we provide a brief coaching summary and a list of the current coaches, along with postseason results, conference titles, award winners, and all-time coaching records.
W
ashington State began varsity intercollegiate competition in men's basketball in 1902.

Fifteen years later, the Cougars were retroactively awarded the 1917 National Championship by the Helms Athletic Foundation and the Premo-Porretta Power Poll after finishing with an overall record of 25-1.
WSU basketball commanded large crowds in the late-1970s when the charismatic George Raveling became the Conference's first black head coach.
His tenure capped a run of nearly seven decades in which the Cougars were a consistent contender in the Pac-10 and its predecessors, dating back to the Pacific Coast Conference.
An unsuccessful period followed in the late 1990s and early 2000s, until Dick Bennett, who had led Wisconsin to the Final Four two years earlier, spearheaded a resurgence.
In the 2004–05 season, the Cougars finished within a few wins of a .500 record, highlighted by an upset win over an eventual Elite Eight Arizona team.
Bennett retired at the end of the 2005–06 season and was replaced by his son Tony.
Tony Bennett tied the all-time WSU record for wins (26) twice in three seasons as head coach before leaving to coach the Virginia Cavaliers in 2009.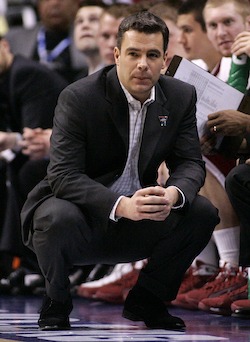 On March 27, 2019, Kyle Smith was hired as the 19th head coach of Washington State, agreeing to a six-year contract worth $1.4 million annually.
In his first season in Pullman, Smith led the Cougars to a 6-12 conference record (16-16 overall), their best since 2011-12.
In the First Round of the Pac-12 Tournament, the Cougars defeated Colorado, logging their first win in the conference tournament in more than 10 years.
In September 2021, Smith signed a contract extension through the 2026-27 season.
In the 2021-22 season, Smith led the Cougars to their first winning record in conference play (11-9) in 14 years (since 2007-08).
The Cougars followed up their regular-season success with a win in the Pac-12 Tournament before losing to eventual runner-up UCLA.
An NIT berth followed, with the No. 4 seed Cougs making their first postseason appearance in 11 years. Their First-Round win against Santa Clara (63-50) guaranteed their first 20-win season since 2010-11.
The 2021-22 season ended after an impressive run that landed the Cougs in the Semifinals of the NIT for the second time in program history.
Smith's 2022-23 team posted a 17-17 record, making their second-straight NIT appearance, losing in the First Round.
Washington State University (Pullman, WA)
Friel Court at Beasley Coliseum
Current Coaching Staff
Current head coach:
Kyle Smith
(2019-present)
Associate head coach:
Jim Shaw
(2019-present)
Assistant:
Wayne Hunter
(2022-present)
Assistant:
John Andrzejek
(2019-present)
Recruiting Coordinator:
Derrick Wrobel
(2021-present)
Postseason Results
NCAA National Championships:
0
(Runner-up in 1941)
Final Four Appearances:
1
(1941)
Sweet Sixteen Appearances:
1
(2008)
NCAA Tournament Appearances:
6
(1941, 1980, 1983, 1994, 2007, 2008)
NCAA Tournament Overall Record:
6-6
NIT Championships:
0
NIT Appearances:
7
(1992, 1995, 1996, 2009, 2011, 2022, 2023)
NIT Overall Record:
10-7
CBI Championships:
0
(Runner-up in 2012)
CBI Appearances:
1
(2012)
CBI Overall Record:
4-2
Premo-Porretta National Championships:
1
(1917)
Helms Foundation National Championships:
1
(1917)
Conference Titles (PCC through Pac-12)
Pac-12 Regular Season Championships:
2
(1917, 1941)
Pac-12 Tournament Championships:
0
Annual Award Winners
Naismith Player of the Year:
0
John R. Wooden Award:
0
Oscar Robertson Trophy:
0
AP All-Americans:
1
(Don Collins, 1980)
Pac-12 Player of the Year:
1
(Don Collins, 1980)
Washington State Head Coaching Records
Coach
Tenure
Record
Conf
Titles
NCAA
Trips
NCAA
Titles
Kyle Smith
2019 - Pres
69-61
0
0
0
Ernie Kent
2014-2019
58-98
0
0
0
Ken Bone
2009-2014
80-86
0
0
0
Tony Bennett
2006-2009
69-33
0
2
0
Dick Bennett
2003-2006
36-49
0
0
0
Paul Graham
1999-2003
31-79
0
0
0
Kevin Eastman
1994-1999
69-78
0
0
0
Kelvin Sampson
1987-1994
103-103
0
1
0
Len Stevens
1983-1987
48-67
0
0
0
George Raveling
1972-1983
167-136
0
2
0
Bob Greenwood
1971-1972
11-15
0
0
0
Marv Harshman
1958-1971
155-181
0
0
0
Jack Friel
1928-1951
495-377
1
1
0
Karl Schlademan
1926-1928
18-27
0
0
0
J. Fred Bohler
1908-1926
226-177
1
—
—
John Bender
1907-1908
12-3
—
—
—
Everett Sweeley
1905-1907
10-9
—
—
—
Jimmy Ashmore
1903-1905
5-3
—
—
—
John Evans
1901-1903
2-4
—
—
—
---
—More from Staff—