In this series of updates on the history of each Pac-12 men's hops program, we provide a brief coaching summary, list the current coaches, along with postseason results, conference titles, award winners, and all-time coaching records.
U
tah began playing men's basketball in 1908, finishing with a record of 3–8. But by 1916, the Utes had won their first national championship, capturing the National AAU Tournament title.

The school has made the NCAA Tournament 29 times, 20th-most in NCAA history, and tied for third-most appearances behind only UCLA and Arizona on the West Coast.
In 1927 Utah began laying the foundation for what would become one of the winningest programs in college basketball with the hiring of Vadal Peterson.
He and the Utes reached the ultimate prize in 1944, winning national championship, with Arnie Ferrin named the tournament's Most Outstanding Player after scoring 28 points in the final two games.
Three years later, Peterson would lead Utah to the then-more prestigious NIT championship, with a victory over Kentucky.
Peterson retired with a 385–230 record, ending his tenure as the only coach in Utah history to have won a national championship.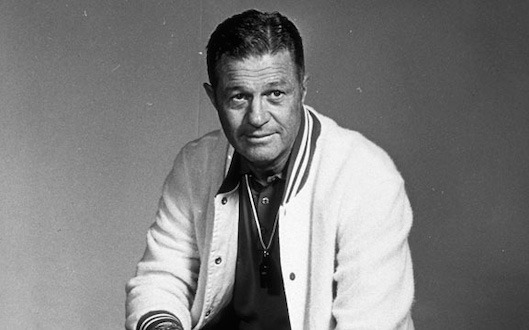 Jack Gardner, who coached Utah from 1953 to 1971, led the Utes to seven conference titles, making six NCAA Tournament appearances, including two Final Fours.
Known for his fast-break style, Gardner earned Utah the nickname Runnin' Utes. He remains one of only three coaches to twice lead two different programs to the Final Four, along with Roy Williams and Rick Pitino.
The kingpin of Utah's recent basketball success is Rick Majerus, who coached Utah to nine conference titles, making 11 trips to the NCAA Tournament, including a Final Four appearance in 1998.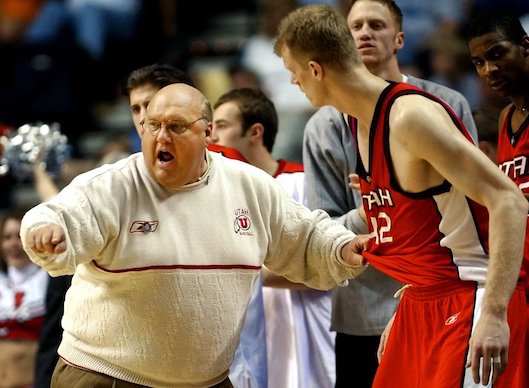 His 323-95 career record is the best overall winning percentage among Utah coaches, with only one losing season in 25 years, setting the standard for all subsequent Ute headmen.
In 2011, Larry Krystkowiak took the reins in Salt Lake City, transitioning the Utes into the newly expanded Pac-12 Conference. His teams made two NCAA Tournament appearances but never won a conference title.
Craig Smith was hired away from Utah State in 2021, signing a six-year contract worth $12.6 million. His Utah team went 11-20 in his initial rebuilding year.
University of Utah (Salt Lake City, UT)
Jon M. Huntsman Center
Current Coaching Staff
Current head coach: 
Craig Smith
(2021-present)
Assistant:
DeMarlo Slocum
(2011-19, 2021-present)
Assistant:
Tim Morris
(2021-present)
Director Basketball Operations:
Curran Walsh
(2021-present)
Scouting:
Brandon Ubel
(2021-present)
Director Player Personnel:
Tramel Barnes
(2021-present)
Special Assistant to the head coach:
Justin Johnson
(2021-present)
Postseason Results
National Championships:
1 
(1944)
Final Four Appearances: 
4
(1944, 1961, 1966, 1998)
Sweet Sixteen Appearances: 
16
(1955, 1956, 1959, 1960, 1961, 1966, 1977, 1978, 1981, 1983, 1991, 1996, 1997, 1998, 2005, 2015)
NCAA Tournament Appearances: 
29
(1944, 1945, 1955, 1956, 1959, 1960, 1961, 1966, 1977, 1978, 1979, 1981, 1983, 1986, 1991, 1993, 1995, 1996, 1997, 1998, 1999, 2000, 2002, 2003, 2004, 2005, 2009, 2015, 2016)
NCAA Tournament Overall Record: 
38-32
NIT Championships:
1 
(1947)
NIT Appearances:
14 
(1944, 1947, 1949, 1957, 1958, 1970, 1974, 1987, 1988, 1992, 2001, 2014, 2017, 2018)
NIT Overall Record: 
15-13
CBI Appearances: 
1 
(2008)
CBI Overall Record: 
1-1
Conference Titles (MSC/Skyline, WAC, Mountain West, Pac-12)
Pac-12 Regular Season Championships: 
0
Mountain West Regular Season Championships:
5
(2000, 2001, 2003, 2005, 2009)
WAC Regular Season Championships:
12 
(1966, 1977, 1981, 1983, 1986, 1991, 1993, 1995, 1996, 1997, 1998, 1999)
MSC/Skyline Regular Season Championships: 
13
(1926, 1931, 1932, 1933, 1937, 1938, 1945, 1955, 1956, 1959, 1960, 1961, 1962)
Pac-12 Tournament Championships:
0
Mountain West Tournament Championships:
2
(2004, 2009)
WAC Tournament Championships:
3
(1995, 1997, 1999)
Annual Award Winners
Naismith Player of the Year:
1 
(Andrew Bogut, 2005)
John R. Wooden Award:
1 
(Andrew Bogut, 2005)
Oscar Robertson Trophy: 
1 
(Andrew Bogut, 2005)
AP Player of the Year: 
1 
(Andrew Bogut, 2005)
NABC Player of the Year: 
1
(Andrew Bogut, 2005)
AP All-Americans: 
13
(last = Jakob Pöltl-2016; Delon Wright-2015; Andrew Bogut-2005; Andre Miller-1999; Keith Van Horn-1997 & 1996; Danny Vranes-1981; Luther Burden-1974; Bill McGill-1962, 1961 & 1960; Vern Gardner-1949; Arnie Ferrin-1948)
Pac-12 Player of the Year:
1
(Jakob Pöltl, 2016)
Mountain West Player of the Year:
4
(Luke Nevill-2009; Andrew Bogut-2005; Britton Johnsen-2002; Alex Jensen-2000)
WAC Player of the Year: 
7
(Andre Miller-1999; Keith Van Horn-1997, 1996 & 1995; Josh Grant-1993 & 1991; Pace Mannion-1983)
Utah Head Coaching Records
Coach
Tenure
Record
Conf
Titles
NCAA
Trips
NCAA
Titles
Craig Smith
2021-Pres
11-20
0
0
0
Larry Krystkowiak
2011-2021
183-139
0
2
0
Jim Boylen
2007-2011
69-60
1
1
0
Ray Giacoletti
2004-2007
54-40
1
1
0
Kerry Rupp (int)
2004
9-4
0
0
0
Rick Majerus
1989-2004
323-95
9
11
0
Dick Hunsaker (int)
2000-2001
18-12
1
0
0
Joe Cravens
1989-1990
12-12
0
0
0
Lynn Archibald
1983-1989
98-86
1
1
0
Jerry Pimm
1974-1983
173-86
3
5
0
Bill E. Foster
1971-1974
43-39
0
0
0
Jack Gardner
1953-1971
339-154
7
6
0
Vadal Peterson
1927-1953
385-230
6
2
1
Ike Armstrong
1925-1927
9-18
1
—
—
Thomas Fitzpatrick
1917-1925
42-30
0
—
—
Nelson Nordgren
1914-1917
26-7
—
—
—
Fred Bennion
1910-1914
44-9
—
—
—
Robert Richardson
1909-1910
17-3
—
—
—
Erastus Milne
1908-1909
3-8
—
—
—
Previously in Series:
Washington Men's Hoops Status Update
---
—More from Staff—