Posted on January 17, 2020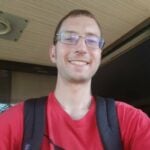 By Nick Bartlett, SuperWest Sports
The Conference of Champions is loaded with impressive football venues. I won't attempt to rank them all, but I have chosen what I believe to be the best three. That means some great Pac-12 stadiums have been left out. 

I based my selections on a handful of considerations, including noise, beauty, tradition, style, and overall feel. Yes, they're subjective criteria, and many will disagree. But that's half the fun: If you're one of the dissenters, let me know why on Twitter. I'm always up for a good debate.

---
—No. 3— 
Autzen Stadium
Oregon Ducks
Eugene, Oregon
Person-for-person, there may not be a louder stadium in the nation than Autzen, where Oregon fans are always relentless and intimidating. It doesn't take long for opposing teams to realize the stadium is nothing like the laid-back town of Eugene that surrounds the sunken bowl. Set against a backdrop of the beautiful Coburg Hills, the atmosphere inside Autzen is anything but pretty. 
The earth-shattering noise is a product of a program that has risen from the dregs of college football in the 1970s to the pinnacle of the sport, just a few years ago. From 2009 to 2014, the Ducks won four Pac-12 titles, played in four BCS bowl games, made two National Championship Game appearances, and posted a 48-6 Conference record.
The playing field itself is striking and unique, with 5-yard alternations of dark-green and light-green turf. The mesmerizing pattern seems to make the players look faster. Or maybe it's just all those speedy athletes Oregon brings in. Either way, the players enter the overflowing 54,000-seat stadium in style, behind the Duck mascot riding on a roaring Harley-Davidson.
By most accounts, Autzen provides an enjoyable experience for visitors, despite some myths to the contrary. Home fans enjoy pregame tailgating along the slow-flowing Mill Race, embrace their post-third-quarter rendition of "Shout," and offer plenty of postgame hospitality at nearby establishments.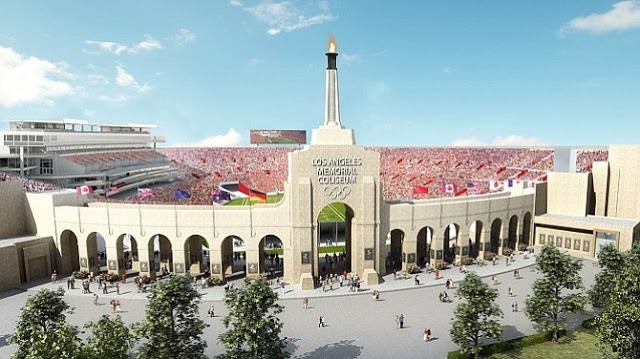 —No. 2— 
Los Angeles Memorial Coliseum 
USC Trojans
Los Angeles, California
Few venues in college football can match the prestige and history of the L.A. Memorial Coliseum. Since opening in 1923, the facility has been home to two Olympics, the NFL's Los Angeles Rams, Chargers, and Raiders, the L.A. Dodgers, the UCLA Bruins, and most importantly, the USC Trojans.
The storied venue upholds USC's incomparable West Coast football dominance, a culmination of 11 national titles, seven Heisman Trophy winners, and 521 NFL players. The National Historic Monument that is the Coliseum perfectly reflects the Trojans' winning tradition with its colossal elliptical bowl, grand peristyle, and iconic Olympic cauldron. 

Add to that USC's classic cardinal and gold uniforms; a regal fight song that was once used to inspire combat-bound troops in World War II; a sword-wielding Trojan warrior riding the white horse Traveler; and a sideline full of celebrities, and you have a spine-tingling atmosphere that strikes awe into the hearts of opponents. 
The current renovation of the Coliseum, which reduces capacity by 16,000 seats to 78,500, will create a more intimate environment. That's sure to make the Coliseum a tougher place for visitors to win. And the improved seating, modernized concourses, and other amenities should make it an even more enjoyable place to watch the always-talented Trojans play.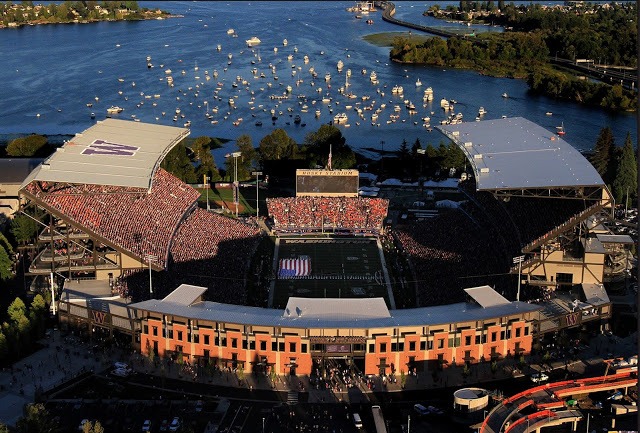 —No. 1—
Husky Stadium
Washington Huskies
Seattle, Washington
Husky Stadium has been called the "Greatest Setting in College Football," and it's easy to see why. It's beautifully remodeled architecture overlooks majestic Union Bay on Lake Washington, offering sweeping vistas of the Seattle skyline and the Cascade Mountain range, including the crown gem snow-capped Mount Rainer. 
Those elegant boats dotting the Bay may well offer still more eye candy, but they're a big part of the uncommon game day routine. As many as 12,000 fans travel to and from the stadium by watercraft, enabling them to enjoy their onboard pregame and postgame food and beverages, in a uniquely Montlake ritual known as "sailgating."
But lest visitors think the 70,083-seat venue is all pleasantries and aesthetics, be forewarned: With 70 percent of its seats between the end zones, and cantilevered metal roofs that trap the noise, Husky Stadium is mind-numbingly loud. The stadium's decibel level was once measured at 133.6, the highest ever recorded for a college football game.

If the setting and noise don't get your attention, the atmosphere will. Husky crowds, credited with inventing "the Wave," are known to shake television cameras during the blaring sirens that signal a Washington score. Going to watch the Dawgs, who have won two of the last three Pac-12 titles, and haven't lost at home in two years, is an unforgettable experience.
---
—More from Nick Bartlett—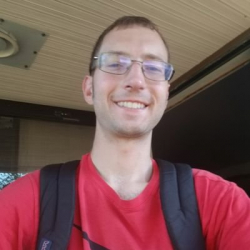 Latest posts by Nick Bartlett
(see all)