Editor's Note: Subjective rankings are sure to draw criticism. Rarely does a sportswriter get to take it and dish it out in a single sitting, but that's what our Nick Bartlett and Jack Follman do here. We call it Serious Fun. Let's listen in as the two debate their respective rankings of all-time Pac-12 non-conference opponents and have some fun along the way. 
Nick's Opponent List
1. Michigan
2. Notre Dame
3. Ohio State
4. LSU
5. Oklahoma
6. Texas
7. Wisconsin
8. Boise State
9. BYU
10. Nebraska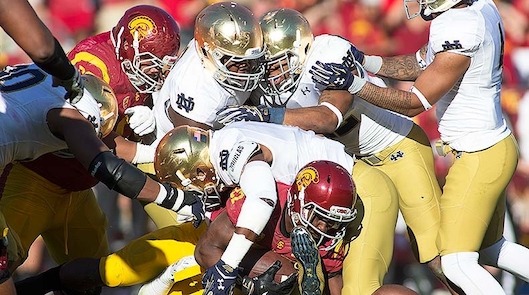 Jack: It probably makes a lot more sense than my ranking of them, but why specifically do you have Notre Dame so high?
Nick: There is something about Notre Dame prestige that aligns well with the Pac-12. Even though they're obviously not Alabama, Clemson, or Ohio State, they are a reputable program whose name holds the molasses.
I also like the aspect that they are historically winning the all-time series against both USC and Stanford, albeit by a slim margin. This creates a slight underdog feel where our teams still actually have a chance of winning.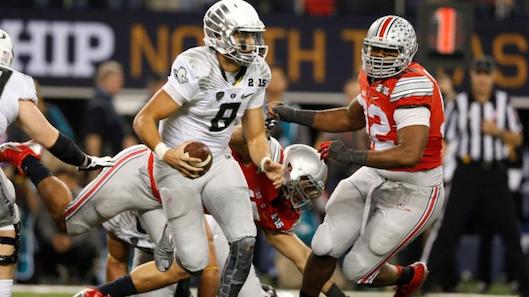 Jack: Does how well Pac-12 teams do in recent history against programs affect your rankings? For example Ohio State?
Nick: No this doesn't play into my rankings.
If our conference wants to be considered a true Power 5 League, we need to start beating teams like Ohio State from time-to-time.
Would I prefer to see the Pac-12 improve on our 0-3 record since 2017 against Brutus, absolutely! However, the fact that the Buckeyes continuously beat us doesn't make their games any less meaningful.
I'll put it this way, if Oregon beats Ohio State this year it would likely change the Ducks reputation over night.
Jack: It seems like the Big 10 is by far the closest non-conference connection for the Pac-12 conference wise. Do you think that's all just from the Rose Bowl or is anything else at play there?
Nick: Well, here's my theory that has no scientific evidence, proof, or logic.
Both of my parents are originally from the Big 10 area before moving into Pac-12 territory, and it feels to me that there is some sort of unspoken connection between the midwest and west coast.
Maybe the down-home loving nature of Big 10 folk meshes well with the chill vibe of the Pac-12. It just feels like a bunch of people from the midwest now live on the west coast, and probably vice versa.
Or, you know, it could just be money, power, and greed.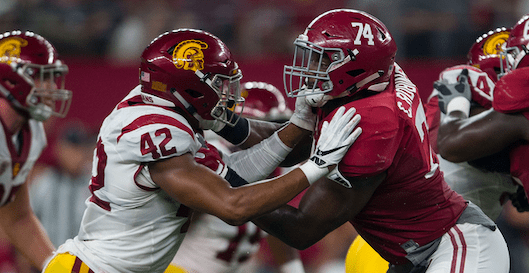 Jack: What is a non-conference program you would like to see the Pac-12 establish more of a rivalry with? For me it's Alabama or Clemson. Would that have to include not getting blown out by those programs all the time, though?
Nick: Alabama and Clemson would absolutely throttle any Pac-12 opponent. And I don't know, how about not Alabama or Clemson?
Jack's Opponent List
1. Michigan
2. Texas
3. Wisconsin
4. Nebraska
5. Oklahoma
6. LSU
7. Ohio State
8. BYU
9. Miami
10. Notre Dame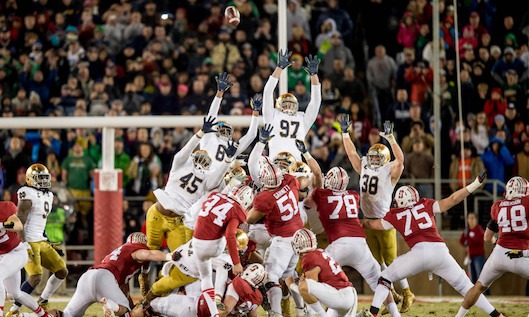 Nick: Let's get right into it, why do you have Notre Dame so low on your list when they have storied rivalries with Stanford and USC alike?
Jack: For whatever reason, I just never love those rivalries. Outside of the "Bush Push" game, which was an all-timer, I can't really think of much that's memorable about Notre Dame-USC and Notre Dame-Stanford.
They really just don't feel like a rivalry.
I also think having the game every year, especially USC, makes it actually less exciting than it would be if these teams played every 10 years or more, in a weird way.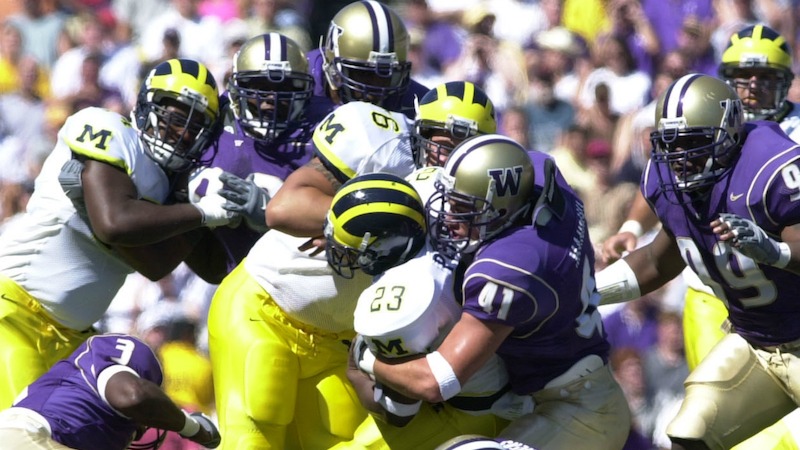 Nick: Shockingly we both agree on Michigan as the No. 1 Pac-12 non-conference opponent.  What's your reasoning? And do you think growing up in the Pacific Northwest influenced this selection?
Jack: I think growing up in the Northwest at a time when Washington had a handful of very big (and evenly matched) games with them makes a big difference. Especially with Michigan at their peak in the 90s.
But also, everything about Michigan is prime college football. Uniforms. Big House stadium. Huge fan base. Colors. Everything about Michigan is just glorious for the Pac-12 to take on.
I could say the same things about Ohio State, but I also just have memories of Ohio State wrecking Pac-12 teams other than USC during the Pete Carroll years.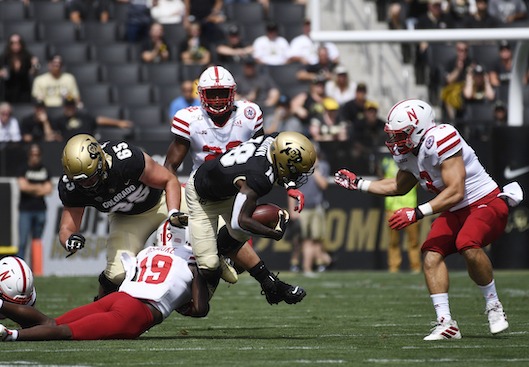 Nick: Our biggest discrepancy other than the Fighting Irish is Nebraska. Was their lack of recent success a factor in your decision? Or were you willing to overlook their modern day struggles due to the dominance of the Tom Osborne Cornhuskers Era?
Jack: I think it's that I'm a kid of the 90s and grew up in Western Washington where there were multiple big Washington vs. Nebraska games.
I would also throw in that I think there have been a lot of good games back and forth between Nebraska and Pac-12 teams, particularly with Colorado.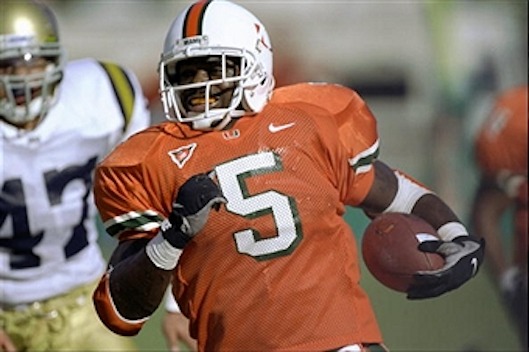 Nick: Which is one team you really wanted to put on this, but couldn't logically defend? For example, mine is Hawaii.
Jack: I don't have one I didn't put on there, so I will put one I actually put in there that I can't really logically defend—Miami.
I really think they're only in there because I grew up in the 1990s and 2000s and remember the 1998 game between the Canes and UCLA and Washington's games against Miami in 1994 and 2000.
Outside of that, they don't have much exposure at all against Pac-12 teams.
Look for past and future list rankings on the Great Pac-12 Debates page.
---
—More from Nick Bartlett—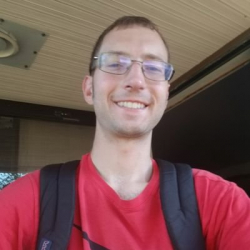 Latest posts by Nick Bartlett
(see all)