Posted on August 18, 2022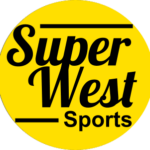 By SuperWest Sports Staff
S
everal SuperWest players have won individual NCAA yards championships and we've compiled lists of them over the last 65 years in four categories: Rushing, Passing, Receiving, and Total Yards.
Some highlights:
• The last rushing leader was San Diego State's Rashaad Penny with 2,248 yards in 2017.
• Washington State's Ryan Leaf was the most recent passing leader with 3,968 yards in 1997.
• The most recent receiving leader was Oregon State's Brandin Cooks with 1,730 yards in 2013.
• Oregon's Marcus Mariota was the last total yardage leader with 5,224 yards in 2014.
Tables with annual winners in all four lists appear below.
NCAA Rushing Yards Leaders by Year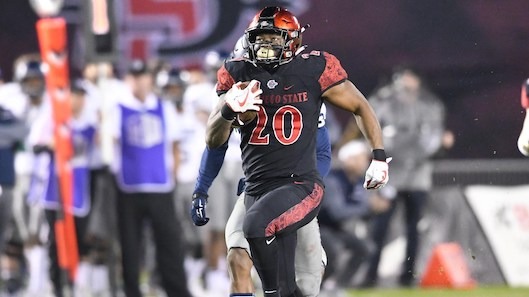 | Year | Player | Yards | Program |
| --- | --- | --- | --- |
| 2017 | Rashaad Penny | 2248 | SDSU |
| 2016 | Donnel Pumphrey | 2133 | SDSU |
| 2012 | Ka'Deem Carey | 1929 | Arizona |
| 2010 | LaMichael James | 1731 | Oregon |
| 2009 | Toby Gerhart | 1871 | Stanford |
| 2004 | J.J. Arrington | 2018 | Cal |
| 1994 | Rashaan Salaam | 2055 | Colorado |
| 1992 | Marshall Faulk | 1630 | SDSU |
| 1981 | Marcus Allen | 2427 | USC |
| 1979 | Charles White | 2050 | USC |
| 1978 | Charles White | 1859 | USC |
| 1975 | Ricky Bell | 1957 | USC |
| 1972 | Pete Van Valkenburg | 1386 | BYU |
| 1968 | O.J. Simpson | 1880 | USC |
| 1967 | O.J. Simpson | 1543 | USC |
| 1965 | Mike Garrett | 1440 | USC |
| 1957 | Leon Burton | 1126 | ASU |
NCAA Passing Yards Leaders by Year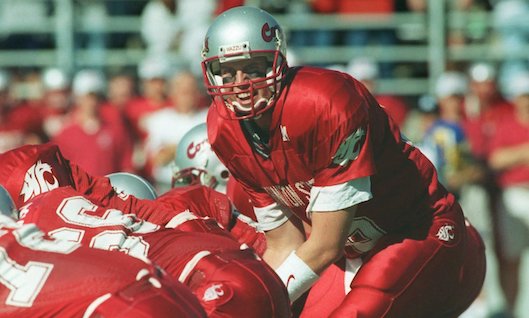 | Year | Player | Yards | Program |
| --- | --- | --- | --- |
| 1997 | Ryan Leaf | 3968 | WSU |
| 1994 | John Walsh | 3712 | BYU |
| 1991 | Ty Detmer | 4031 | BYU |
| 1990 | Ty Detmer | 5188 | BYU |
| 1988 | Scott Mitchell | 4322 | Utah |
| 1987 | Todd Santos | 3932 | SDSU |
| 1985 | Robbie Bosco | 4273 | BYU |
| 1984 | Robbie Bosco | 3875 | BYU |
| 1983 | Steve Young | 3902 | BYU |
| 1980 | Jim McMahon | 4571 | BYU |
| 1979 | Marc Wilson | 3720 | BYU |
| 1976 | Gifford Nielsen | 3401 | BYU |
| 1975 | Craig Penrose | 2660 | SDSU |
| 1974 | Steve Bartkowski | 2580 | Cal |
| 1973 | Jesse Freitas | 2993 | SDSU |
| 1970 | Jim Plunkett | 2980 | Stanford |
| 1969 | Dennis Shaw | 3185 | SDSU |
| 1966 | Mark Reed | 2368 | Arizona |
| 1959 | Dick Norman | 1963 | Stanford |
| 1957 | Lee Grosscup | 1398 | Utah |
NCAA Receiving Yards Leaders by Year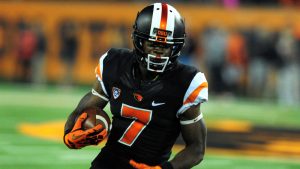 | Year | Player | Yards | School |
| --- | --- | --- | --- |
| 2013 | Brandin Cooks | 1730 | OSU |
| 2008 | Austin Collie | 1538 | BYU |
| 2005 | Mike Hass | 1532 | OSU |
| 2002 | J.R. Tolver | 1785 | SDSU |
| 1990 | Patrick Rowe | 1392 | SDSU |
| 1983 | Jim Sandusky | 1171 | SDSU |
| 1973 | Jay Miller | 1181 | BYU |
| 1962 | Vern Burke | 1007 | OSU |
| 1960 | Hugh Campbell | 881 | WSU |
| 1959 | Chris Burford | 757 | Stanford |
| 1957 | Stuart Vaughan | 756 | Utah |
NCAA Total Yards Leaders by Year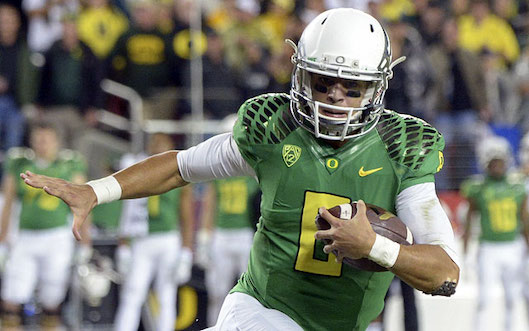 | Year | Player | Yards | School |
| --- | --- | --- | --- |
| 2014 | Marcus Mariota | 5224 | Oregon |
| 1991 | Ty Detmer | 4001 | BYU |
| 1988 | Scott Mitchell | 4299 | Utah |
| 1987 | Todd Santos | 3688 | SDSU |
| 1985 | Robbie Bosco | 4141 | BYU |
| 1984 | Robbie Bosco | 3932 | BYU |
| 1983 | Steve Young | 4346 | BYU |
| 1980 | Jim McMahon | 4627 | BYU |
| 1979 | Marc Wilson | 3580 | BYU |
| 1973 | Jesse Freitas | 2901 | SDSU |
| 1971 | Don Bunce | 2805 | Stanford |
| 1970 | Jim Plunkett | 3189 | Stanford |
| 1969 | Dennis Shaw | 3197 | SDSU |
| 1966 | Virgil Carter | 2545 | BYU |
| 1962 | Terry Baker | 2276 | OSU |
| 1960 | Billy Kilmer | 1889 | UCLA |
| 1959 | Dick Norman | 2018 | Stanford |
| 1957 | Bob Newman | 1444 | WSU |
---
—More from Staff—