Posted on October 16, 2022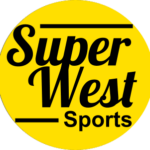 By SuperWest Sports Staff
C
ollege
GameDay
, the pregame show broadcast by ESPN as part of the network's coverage of college football, first aired in 1987.
Rece Davis serves as host along with Kirk Herbstreit, Lee Corso, Desmond Howard, and Pat McAfee. Other show personalities include David Pollack, Gene Wojciechowski, Chris "Bear" Fallica, and Jen Lada.
SuperWest teams made their first appearance on September 17, 1994, when No. 13 UCLA traveled to  Lincoln to face No. 2 Nebraska, losing 49-21.
Altogether, SuperWest schools have made 111 appearances on GameDay, winning 51 for a .468 percent average.
Oregon has been the most frequent participant, both in terms of appearances (28) and hosting opportunities (11), with USC close behind at 24 appearances while acting as host 10 times.
Below you'll find a summary of the appearances for all 16 schools in our coverage footprint, a table of the most frequent matchups, and a complete listing of all appearances by year with teams and venues.
Summary of College GameDay Appearances
| School | Appear | Hosted | Total Record | Hosted Record | Win Pct | Last hosted |
| --- | --- | --- | --- | --- | --- | --- |
| Oregon | 28 | 11 | 17–11 | 8-3 | .607 | October 22, 2022 |
| USC | 24 | 10 | 18–6 | 7-3 | .750 | November 16, 2013 |
| Stanford | 11 | 1 | 6–5 | 0-1 | .545 | November 12, 2011 |
| UCLA | 10 | 2 | 3–7 | 1-1 | .300 | October 23, 2021 |
| Washington | 7 | 2 | 1–6 | 0-2 | .143 | November 12, 2016 |
| Colorado | 6 | 3 | 2–4 | 1-2 | .333 | September 14, 1996 |
| Utah | 6 | 4 | 2–4 | 2-2 | .333 | October 29, 2016 |
| Arizona | 3 | 2 | 0–3 | 0-2 | .000 | September 26, 2015 |
| ASU | 3 | 1 | 0–3 | 0-1 | .000 | October 1, 2005 |
| BYU | 3 | 1 | 0–3 | 0-1 | .000 | October 24, 2009 |
| Cal | 3 | 0 | 1–2 | 0-0 | .333 | Has not hosted |
| Ore St | 3 | 1 | 0–3 | 0-1 | .000 | December 4, 2010 |
| WSU | 3 | 1 | 1–2 | 1-0 | .333 | October 20, 2018 |
| Boise State | 1 | 1 | 1–0 | 1-0 | 1.000 | September 25, 2010 |
| Totals | 111 | 40 | 52-59 | 21-19 | .468 | — |
*Cal is one of only seven Power 5 schools that have not hosted College GameDay
^Ohio State has the most all-time appearances with 54
Frequent GameDay Matchups involving SuperWest Teams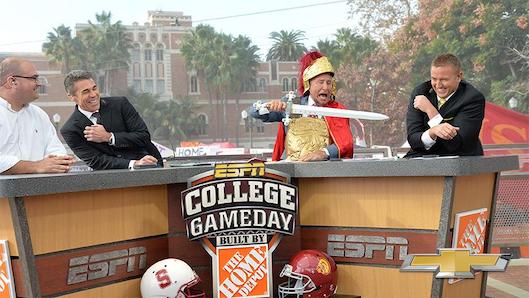 | Team One | Team Two | Games | Series Record | Last App | Most Recent Result | |
| --- | --- | --- | --- | --- | --- | --- |
| Oregon | UCLA | 5 | Oregon 4-1 | 2022 | Oregon 45-30 | |
| USC | Notre Dame | 5 | USC 3-2 | 2012 | Notre Dame 22-13 | |
| Oregon | Stanford | 4 | Tied 2-2 | 2018 | Stanford 38-31 OT | |
All SuperWest Appearances by Year with Teams and Venues
2022 Season
• October 22: UCLA at Oregon in Eugene, Oregon
2021 Season
• October 23: No. 10 Oregon at UCLA in Pasadena, California (the show was hosted from UCLA's campus in Los Angeles), Oregon 34–31
• January 1, 2022: No. 10 Utah vs. No. 7 Ohio State (Rose Bowl) in Pasadena, California, Ohio State 48–45
2019 Season
• August 31: No. 16 Auburn vs. No. 11 Oregon (Advocare Classic) in Arlington, Texas (show hosted from Sundance Square in Fort Worth, Texas),[23] Auburn 27–21
• January 1, 2020: No. 6 Oregon vs. No. 8 Wisconsin (Rose Bowl) in Pasadena, California, Oregon 28–27
2018 Season
• September 22: No. 7 Stanford at No. 20 Oregon in Eugene, Oregon, Stanford 38–31 OT
• October 20: No. 12 Oregon at No. 25 Washington State in Pullman, Washington, Washington State 34–20
• January 1, 2019: No. 9 Washington vs. No. 6 Ohio State (Rose Bowl) in Pasadena, California, Ohio State 28–23
2016 Season
• October 29: No. 4 Washington at No. 17 Utah in Salt Lake City, Utah, Washington 31–24
• November 12: USC at No. 4 Washington in Seattle, Washington, USC 26–13
• January 2, 2017: No. 9 USC vs No. 5 Penn State (Rose Bowl) in Pasadena, California, USC 52–49
2015 Season
• September 12: No. 7 Oregon at No. 5 Michigan State in East Lansing, Michigan, Michigan State 31–28
• September 26: No. 9 UCLA at No. 16 Arizona in Tucson, Arizona, UCLA 56–30
• October 10: No. 23 California at No. 5 Utah in Salt Lake City, Utah, Utah 30–24
• January 1, 2016: No. 5 Stanford vs. No. 6 Iowa (Rose Bowl) in Pasadena, California, Stanford 45–16
2014 Season
• September 6: No. 7 Michigan State at No. 3 Oregon in Eugene, Oregon, Oregon 46–27
• January 1, 2015: No. 3 Oregon vs. No. 2 Florida State (Rose Bowl – College Football Playoff Semifinal) in Pasadena, California, Oregon 59–20
• January 12, 2015: No. 4 Ohio State vs. No. 3 Oregon (College Football Playoff National Championship) in Arlington, Texas (show hosted from Sundance Square in Fort Worth, Texas), Ohio State 42–20
2013 Season
• October 12: No. 2 Oregon at No. 16 Washington (rivalry) in Seattle, Washington, Oregon 45–24
• October 26: No. 12 UCLA at No. 2 Oregon, in Eugene, Oregon, Oregon 42–14
• November 16: No. 5 Stanford at USC (rivalry) in Los Angeles, California, USC 20–17
• January 1, 2014: No. 5 Stanford vs. No. 4 Michigan State (Rose Bowl) in Pasadena, California, Michigan State 24–20
2012 Season
• October 13: No. 17 Stanford at No. 7 Notre Dame (Legends Trophy) in South Bend, Indiana, Notre Dame 20–13 OT
• November 17: No. 14 Stanford at No. 1 Oregon in Eugene, Oregon, Stanford 17–14 OT
• November 24: No. 1 Notre Dame at USC (Jeweled Shillelagh) in Los Angeles, California, Notre Dame 22–13
• January 1, 2013: No. 8 Stanford vs. No. 23 Wisconsin (Rose Bowl) in Pasadena, California, Stanford 20–14
2011 Season
• September 3: No. 3 Oregon vs. No. 4 LSU (Cowboys Classic) in Arlington, Texas, LSU 40–27
• October 15: No. 18 Arizona State at No. 9 Oregon in Eugene, Oregon, Oregon 41–27
• October 29: No. 4 Stanford at No. 20 USC (rivalry) in Los Angeles, California, Stanford 56–48 3OT
• November 12: No. 6 Oregon at No. 3 Stanford in Stanford, California, Oregon 53–30
• January 2, 2012: No. 9 Wisconsin vs. No. 6 Oregon (Rose Bowl) in Pasadena, California, Oregon 45–38
2010 Season
• September 25: No. 24 Oregon State at No. 3 Boise State in Boise, Idaho, Boise State 37–24
• October 2: No. 9 Stanford at No. 4 Oregon in Eugene, Oregon, Oregon 52–31
• October 30: No. 1 Oregon at No. 24 USC in Los Angeles, California, Oregon 53–32
• November 6: No. 4 TCU at No. 6 Utah in Salt Lake City, Utah, TCU 47–7
• December 4: No. 1 Oregon at Oregon State (rivalry) in Corvallis, Oregon, Oregon 37–20
• January 3, 2011: No. 12 Virginia Tech vs. No. 5 Stanford (Orange Bowl) in Miami Gardens, Florida, Stanford 40–12
• January 10, 2011: No. 2 Oregon vs. No. 1 Auburn (BCS National Championship) in Glendale, Arizona, Auburn 22–19
2009 Season
• September 12: No. 3 USC at No. 8 Ohio State in Columbus, Ohio, USC 18–15
• October 24: No. 7 TCU at No. 16 BYU in Provo, Utah, TCU 38–7
• October 31: No. 4 USC at No. 10 Oregon in Eugene, Oregon, Oregon 47–20
• November 14: No. 16 Utah at No. 4 TCU in Fort Worth, Texas, TCU 55–28
• November 21: No. 11 Oregon at Arizona in Tucson, Arizona, Oregon 44–41 2OT
• January 1, 2010: No. 8 Ohio State vs. No. 7 Oregon (Rose Bowl) in Pasadena, California, Ohio State 26–17
2008 Season
• September 13: No. 5 Ohio State at No. 1 USC in Los Angeles, California, USC 35–3
• January 1, 2009: No. 6 Penn State vs. No. 5 USC (Rose Bowl) in Pasadena, California, USC 38–24
2007 Season
• September 15: No. 1 USC at No. 14 Nebraska in Lincoln, Nebraska, USC 49–31
• September 29: No. 6 California at No. 11 Oregon in Eugene, Oregon, California 31–24
• November 3: No. 6 Arizona State at No. 4 Oregon in Eugene, Oregon, Oregon 35–23
• January 1, 2008: No. 13 Illinois vs. No. 6 USC (Rose Bowl) in Pasadena, California, USC 49–17
2006 Season
• September 16: No. 19 Nebraska at No. 4 USC in Los Angeles, California, USC 28–10
• November 25: No. 6 Notre Dame at No. 2 USC (Jeweled Shillelagh) in Los Angeles, California, USC 44–24
• January 1, 2007: No. 8 USC vs. No. 3 Michigan (Rose Bowl) in Pasadena, California, USC 32–18
2005 Season
• October 1: No. 1 USC at No. 14 Arizona State in Tempe, Arizona, USC 38–28
• October 15: No. 1 USC at No. 9 Notre Dame (Jeweled Shillelagh) in South Bend, Indiana, USC 34–31
• December 3: No. 11 UCLA at No. 1 USC (Victory Bell) in Los Angeles, California, USC 66–19
• January 4, 2006: No. 2 Texas vs. No. 1 USC (Rose Bowl – BCS National Championship) in Pasadena, California, Texas 41–38
2004 Season
• September 4: Oregon State at No. 4 LSU in Baton Rouge, Louisiana, LSU 22–21
• October 9: No. 7 California at No. 1 USC in Los Angeles, California, USC 23–17
• November 20: BYU at No. 6 Utah (Holy War) in Salt Lake City, Utah, Utah 52–21
• November 27: Notre Dame at No. 1 USC (Jeweled Shillelagh) in Los Angeles, California, USC 41–10
• January 4, 2005: No. 2 Oklahoma vs. No. 1 USC (Orange Bowl – BCS National Championship) in Miami Gardens, Florida, USC 55–19
2003 Season
• August 30: No. 17 Washington at No. 2 Ohio State in Columbus, Ohio, Ohio State 28–9
• January 1, 2004: No. 4 Michigan vs. No. 1 USC (Rose Bowl) in Pasadena, California, USC 28–14
2002 Season
• August 31: No. 11 Washington at No. 13 Michigan in Ann Arbor, Michigan, Michigan 31–29
• September 14: No. 10 Washington State at No. 6 Ohio State in Columbus, Ohio, Ohio State 25–7
2001 Season
• September 1: No. 17 UCLA at No. 25 Alabama in Tuscaloosa, Alabama, UCLA 20–17
2000 Season
• September 23: No. 6 UCLA at Oregon in Eugene, Oregon, Oregon 29–10
1999 Season
August 28: No. 4 Arizona at No. 3 Penn State (Pigskin Classic) in University Park, Pennsylvania, Penn State 41–7
1998 Season
• September 26: No. 9 Washington at No. 2 Nebraska in Lincoln, Nebraska, Nebraska 55–7
• October 17: No. 11 Oregon at No. 2 UCLA in Pasadena, California, UCLA 41–38 OT
• December 5: No. 3 UCLA at Miami in Miami, Florida, Miami 49–45
1997 Season
• September 13: No. 8 Colorado at No. 14 Michigan in Ann Arbor, Michigan, Michigan 27–3
• January 1, 1998: No. 8 Washington State vs. No. 1 Michigan (Rose Bowl) in Pasadena, California, Michigan 21–16
1996 Season
• September 14: No. 11 Michigan at No. 5 Colorado in Boulder, Colorado, Michigan 20–13
1995 Season
• September 23: No. 3 Texas A&M at No. 7 Colorado in Boulder, Colorado, Colorado 29–21
• September 30: No. 4 Colorado at No. 10 Oklahoma in Norman, Oklahoma, Colorado 38–17
• October 21: No. 5 USC at No. 17 Notre Dame (Jeweled Shillelagh) in South Bend, Indiana, Notre Dame 38–10
• October 28: No. 2 Nebraska at No. 7 Colorado (rivalry) in Boulder, Colorado, Nebraska 44–21
1994 Season
• September 17: No. 13 UCLA at No. 2 Nebraska in Lincoln, Nebraska, Nebraska 49–21
• October 29: No. 2 Colorado at No. 3 Nebraska (rivalry) in Lincoln, Nebraska, Nebraska 24–7
---
—More from Staff—