Posted on March 13, 2023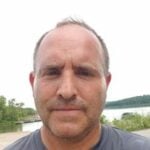 By Stephen Vilardo, SuperWest Sports
If you're a college basketball fan, March truly must be the greatest time of the year.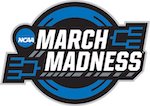 Regular-season titles are there for the taking and teams start to face the must-win scenarios in which NCAA at-large bids are on the line, if not conference crowns.
Then you get into the second week of the month and it is conference tournament time.
For the lower leagues, this is the only path to the NCAA Tournament. The third week of March belongs to the Big Dance.
The excitement throughout the month of March is unparalleled for players, coaches, fans, and media alike.
Conference tournament week is my favorite.
So many games and teams fighting for conference bragging rights, and players in many cases fighting just to put on the uniform one more time.
This year I embarked on a seven-day basketball journey covering two states, three cities, four conferences, and 17 games, trying to get the most I could out of the best week of the year.
Here's a day-by-day breakdown of my trip and coverage along with some lists I compiled along the way, ranking the 17 games I attended, the individual performances I witnessed, the halftime shows, and the mascots, all just for fun.
Sunday, March 5th
The week started in Bloomington, Indiana with a battle of two future conference foes for USC and UCLA.

Indiana played host to Michigan on Senior Day for the Hoosiers and it resulted in a double-overtime win for the home team, as well as a tough loss for a Michigan team that really needed a victory.
The Wolverines would follow that one up with a quick exit in the Big Ten tournament.

The regular season in college hoops drew to a close on this day.
From here on out it would be all elimination games. If you win the last game you play, it means you are cutting down the nets. A title is won, be it NCAA, NIT, or CBI.
Otherwise, you ended the season with an L.
Monday and Tuesday, March 6th and 7th.
The opening part of the week took us to Indianapolis, Indiana, and two days of Horizon League hoops. Both the No. 1 and No. 2 seeds fell in the semis. Not good news for some West Coast teams that were sweating out an NIT bid.

Regular season champ Youngstown State was destined to claim one of those NIT bids. Four-seed Northern Kentucky followed up its defeat of the top seed with an NCAA bid after winning the tournament Tuesday night.

Their reward was a 16 seed on Sunday in an underrated tournament and a very underrated arena.
Wednesday, March 8th
Not going to lie, setting the alarm to go off at 3:48 am (Eastern Time…12:48 Pacific) is never fun. But Las Vegas was the next destination, so the sting was eased a bit.
Now the hour and 20 minutes on the runway in Chicago due to a bird striking the wing kind of gets the sting back a bit….but better to wait on the ground than the alternative.  
Either way, my arrival in Vegas is delayed and so is my arrival at the Thomas & Mack Center to start the fourth day of this odyssey.
This was the longest day, both in time spent and the number of games that I saw, taking in five contests altogether.
I spent the first portion of the day at the Thomas & Mack Center watching three Mountain West games.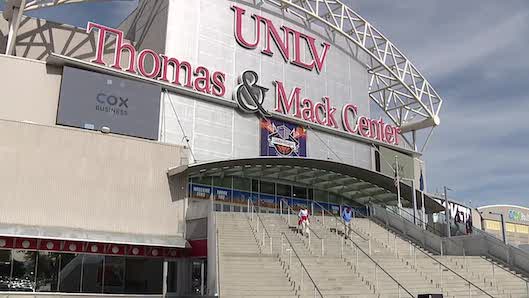 Colorado State knocked off Freson State in the opener. I missed the start of it,  getting in about midway through the first. It featured a comeback and gave me a glimpse of what was in store for the rest of MWC Tournament.
UNLV and Air Force played an overtime thriller in the second game. UNLV'S EJ Harkless and Air Force's Heidbreder—who hails from Floyds Knobs, Indiana—dueled it out with the Rebels getting the win.
In the third and final game of the day in the tournament, New Mexico took care of Wyoming, with Hunter Maldonado doing all he could to extend the Cowboys' season.
But Jalen House, Jamal Mashburn, and the Lobos were too tough.
The schedule took me to T-Mobile Arena next for a pair of Pac-12 games in the evening, and in the first one, Stanford defeated Utah.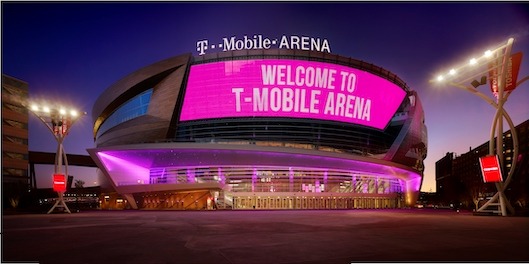 That game was not anything to write home about. But I'll write a tiny bit anyway. The Utes lost their sixth in a row as Brenden Carlson had a nice night for the Utes and Spencer Jones did the same for the Cardinal.
My last game of the day featured Arizona State and Oregon State. The Beavers would get it down to a couple of possessions late but never could get all the way there for the upset.
I have to tell you, by the time this one ended, I had been awake for nearly 23 hours. Things were getting blurry, and I still had a column to write.  "It's going to be short and sweet," I told my editor in an email.
Thursday, March 9th
Thursday started off with the Pac-12 Tournament and the Bruins dispatching Colorado in UCLA's first game of the week. Amari Bailey came up big for the men from Westwood in his first career conference tournament game.
Game Two at T-Mobile matched Oregon and Washington State, and the Ducks opened up a large first-half lead only to see the Cougars take it all back.
In the end, though, it was the Ducks moving on as Wazzu's season came to an end.
Then it was time to make the 1.9-mile walk from T-Mobile to the Thomas & Mack Center. Yes, I walked it….Was it a good idea?  Probably…..maybe……anyhow, Day Two of the Mountain West was upon us.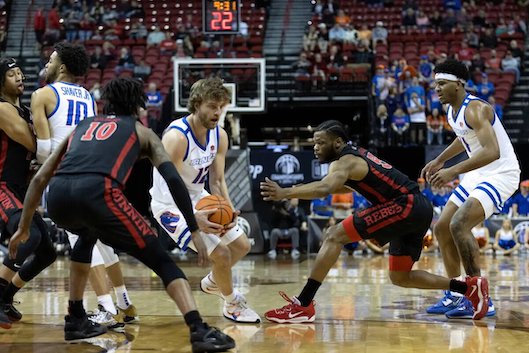 My first game was the second-best game I saw all week. UNLV and Boise State played a thriller in which the Broncos looked unstoppable for much of the first half. But the Rebels came all the way back, forcing overtime.
The game-tying shot was set up by a scramble for the ball that somehow made it back to the corner for a three. UNLV would play in overtime games on consecutive days, and the toll caught up to them. The Rebels were gassed in the extra period.
The final game on Thursday pitted New Mexico against Utah State. It brought out a big game from Taylor Funk, who went off for 32 points, connecting on six of 10 three-pointers for the Aggies.
Utah State looked really good, pulling away from the Lobos late.
Friday, March 10th

I spent Friday at T-Mobile for the Pac-12 semifinal, and Game One went to UCLA over Oregon.
The Bruins got a big game from Tyger Campbell, who had 28 points, six assists, three rebounds, and not a sing turnovers in 35 minutes of play.

The finale on Friday was the third meeting of the season for Arizona and Arizona State. The Wildcats pulled away for a 19-point win behind Azuolas Tubelis, who went for 17 points and 9 rebounds on eight of 11 from the field.
Saturday, March 11th
Championship Saturday began with San Diego State and Utah State. The Aztecs completed the Mountain West double, claiming both the regular-season and tournament titles.
The depth and talent of San Diego State proved too much for the Aggies in a budding rivalry based not on hatred and animosity but on mutual respect.
The teams have been at the peak of the Conference together for four of the last five years or so and are starting to build the competitive spirit that the Mountain West needs.
Next was the trek back to T-Mobile. I took an Uber this time.
I said earlier that the UNLV-Boise State was the second-best game I saw. Well, I was ready to write about it being the best game until something changed.
Little did I know that the week was saving its best for last. UCLA and Arizona fought it out in an instant classic.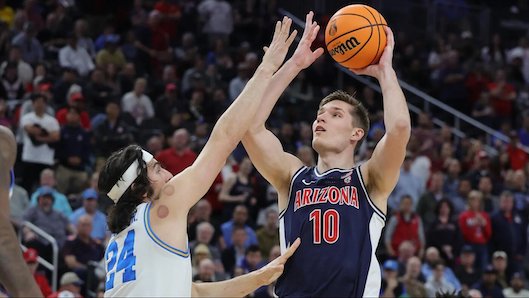 The Bruins were undermanned as they attempted to follow the Aztecs' suit and pull off the conference double. The lead changed 17 times with Arizona holding their largest lead of the game in the first half—a mere five points.
The Bruins would build a lead as high as eight points early in the second half before Arizona got a game-winning three-pointer from Courtney Ramey. It was the only one of his five shots he hit on the day.
UCLA came back with a clean look at a three from Dylan Andrews, but it did not go down, giving the Wildcats the championship.
As noted earlier, games played this time of year carry extra meaning. For some, the season is coming to an end. For others, it is the final time they will put on a basketball uniform in a competitive setting.
But if an NCAA Tournament bid is not in the cards, other tournaments might be, and several coaches emphasized the value of playing in the postseason at any level.
 Tim Miles said if his Spartans didn't get an NIT bid they would pay to play in the CBI, and that's exactly what ended up happening. His team certainly looked NIT-worthy to me.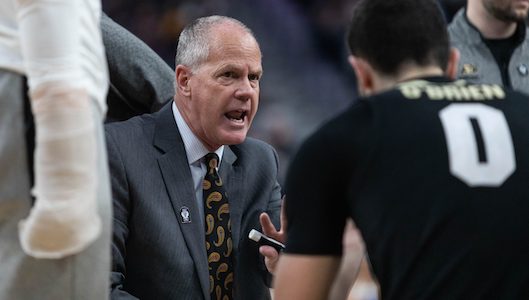 Following Colorado's loss to UCLA, Tad Boyle said that winning the NIT can be a springboard to success next season.
After New Mexico's loss to Utah State, Ricard Pitino also talked about how excited the Lobos were for the chance to continue to play basketball in the NIT.
Rivaldo Soares insisted that while the NIT was not the ultimate goal, he would be happy to play in it. Anytime he has a chance to put on the Oregon uniform, he said, it's a good thing.
As much as I love taking in the tournaments, it clearly takes its toll on the players.
Steven Ashworth said he would be in favor of a rest day to maximize the quality of the championship games and help the players recover.
That sentiment was echoed by Tommy Lloyd following his team's win over UCLA, noting that basketball isn't normally played on three or four consecutive days.
Having started in the east and worked my way west, just as the sun does every day, my weeklong basketball journey finally set.
Altogether, I watched 17 games over the course of seven days. I saw three teams cut down the nets.
It was quite an adventure, and I definitely look forward to taking in as many games as possible in a future Championship Week.
Ranking The 17 Games I Attended
1. UCLA vs Arizona (Pac-12 Championship)
2. UNLV vs Boise State
3. UNLV vs Air Force
4. San Diego State vs Utah State (Mountain West Championship)
5. Northern Kentucky vs Cleveland State (Horizon Championship)
6. Oregon vs Washington State
7. Michigan at Indiana
8. Colorado State vs Fresno State
9. Oregon State vs Arizona State
10. UCLA vs Colorado
11. Arizona vs Arizona State
12. New Mexico vs Wyoming
13. UCLA vs Oregon
14. Utah State vs New Mexico
15. Stanford vs Utah
16. Northern Kentucky vs Youngstown State
17. Cleveland State vs Milwaukee
The Top Individual Performances I witnessed
1. EJ Harkless UNLV vs Air Force 35 points, 6 rebounds, and 4 assists.
2. Taylor Funk Utah State vs New Mexico 32 points, 6 of 10 on threes.
3. Tyger Campbell UCLA vs Oregon 28 points, 6 assists, 3 rebounds, and 0 turnovers in 35 minutes
4. Amari Bailey UCLA vs Colorado 26 points, 3 rebounds, and 3 assists.  Went 8-12 from the floor and 8-9 at the line.
5. Hunter Maldonado Wyoming vs New Mexico 36 points, 5 rebounds, and 3 assists. He fouled out, but tried to will the Cowboys to the win.
6. Jake Heidbreder Air Force vs UNLV 24 points, 9 rebounds, and 1 assist
7. Branden Carlson Utah vs Stanford 27 points and 10 rebounds in 28 minutes as he was the only offense for the Utes.
8. Azuolas Tubelis Arizona vs ASU 17 points, 9 rebounds 8 of 11 from the field.
9. Steven Ashworth Utah State vs New Mexico 22 points, 4 rebounds, 5 assists, and 3 steals.
10. Jaedon LeDee San Diego State vs Utah State 15 points & 9 rebounds
11. Jalen House New Mexico vs Wyoming  28 points, 7 rebounds, and 6 assists went 10-10 FTs
12. Marques Warrick NKU vs CSU 18 points and 6 rebounds.
Best Halftime Shows Ranked
These are the best halftime shows I saw in the last week (solely subjective and the descriptions when given are very minimal)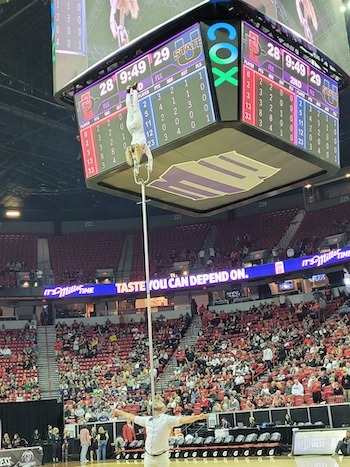 1. Rose City Circus (MW Championship)
    A guy balanced a long pole on his shoulder with a woman balancing upside down on top of the large pole!
2. OPM by Spiegelworld (UCLA vs Oregon—Pac-12 Semis)
    One person balanced themselves on another person's head!
3. Tyler's Amazing Balancing Act (Horizon Championship)
    Tyler, assuming his name is Tyler, balanced an 11-foot ladder in his mouth and danced with it!
4. Mascot Basketball (Pac-12–OSU vs ASU)
    I'm a sucker for mascots. What can I say? (Apparently, I'm also a sucker for balancing acts.)
5. The Dunk Team (Pac-12 Champ)
6. Pack Drum Line (Pac-12 UCLA vs CU)
7. Spiros Brothers (Pac-12 Stanford vs Cal)
8. Aluminate (Pac-12 Oregon vs WSU)
8. Culture Shock (Pac-12ASU vs UA)
Mascots ranked
1. Oregon
2. Washington
3. Arizona
4. UCLA
5. Oregon State
6. Washington State
7. Fresno St
8. Air Force
9. Milwaukee
10. Utah State
11. Boise State
12. Colorado
13. Arizona State
14. Utah
15. New Mexico
16. USC
17. Stanford
18. California
19. Colorado State
20. Youngstown State
21. Wyoming
22. Northern Kentucky
23. Cleveland State
Follow Stephen on Twitter @StephenVilardo and his organization @SERCenter.
Visit his website at sercstats.com.
---
—More from Stephen Vilardo—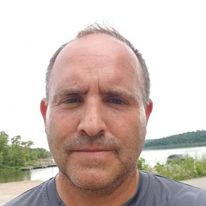 Latest posts by Stephen Vilardo
(see all)