Posted on May 13, 2020


  By Dane Miller, SuperWest Sports
I
t's not even summer yet, but it's never too early to analyze the upcoming basketball season. In this three-part series, we provide a status report on each Pac-12 program with an eye toward the 2020-21 campaign.
Things can, and likely will, change before the season starts in November. But the smoke has cleared enough to take a snapshot of each team with a focus on their offseason moves, upcoming projections, and recruiting classes.
Without further ado, we start with a look at the Southwest/Mountain region in these Way-Too-Early 2020-21 Men's Basketball updates.
---
Arizona Wildcats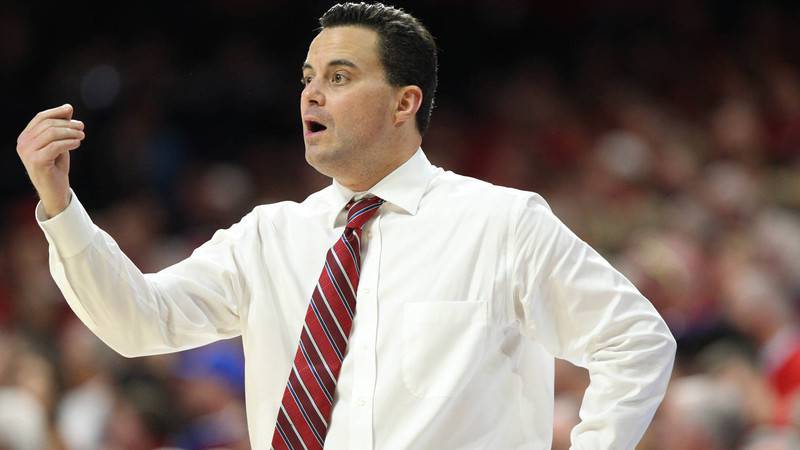 Key Departures: Nico Mannion, Josh Green, Zeke Nnaji
Strengths: Recruiting Class, Transfers
Weakness: Chemistry
One fortunate aspect of recruiting one-and-done players is the expected need to replace those stars each season. The constant roster turnover opens numerous spots annually, and many of those positions are starting roles. As a result, Sean Miller attracts professional-caliber talent year-in and year-out, regardless of how well his teams actually perform in March.
It's just the nature of the beast, and this year was no different.
With the expected departures of Nico Mannion, Josh Green, and Zeke Nnaji to the NBA Draft, Arizona once again focused entirely on recruiting. As sure as the sun rises, the Cats pulled in another Top 10 class. However, this group signals a potential shift in recruiting philosophy: None of the current signees are expected to be automatic one-and-done's.
Instead, the Wildcats' 2020 class is filled with international prospects that could be three or four-year players. Still, each of Miller's five commits are rated as four-stars, and all five have the potential to breakout in the upcoming season.
The lone American, Dalen Terry, was the first to pull the trigger. He was eventually followed by Canada's Ben Mathurin, Estonia's Kerr Kriisa, France's Daniel Batcho, and Turkey's Tibet Gorener. And Miller isn't finished. After hinting that another major European prospect could be coming to Tucson, it's clear that Miller's recruiting philosophy has shifted to the international game.
Putting that aside, Arizona is also bringing in three notable transfers, two of which are likely starters. Georgetown's James Akinjo may have to sit out until December, but he is expected to start once eligible. In addition, Nevada's Jordan Brown should play a heavy role and likely starts every game. Not to be overlooked, Seattle University's Terrell Brown could wind his way into a starting position, though he is likely to be the first man off the bench for most of the year.
The practical effect is that Arizona has reloaded, but the reality is there's a lack of chemistry to build on.
Worryingly, Akinjo and Brown are both high-volume shooters, and its unclear how they will adjust to their new roles. On top of that, there is the unknown factor of how the newcomers mesh with the returning players and the expectations of playing for Miller.
One thing is certain, though; Arizona will experiment with lineups throughout the non-conference season and will have the depth for a run at the Pac-12 title.
---
Arizona State Sun Devils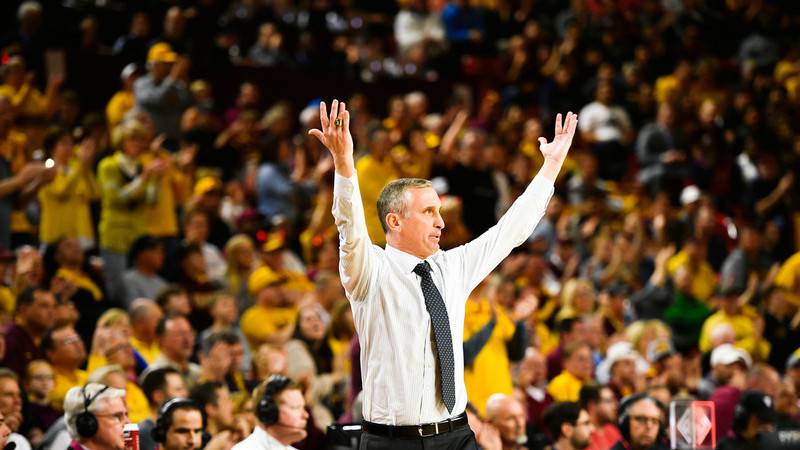 Key Potential Departures: Remy Martin, Alonzo Verge Jr., Romello White
Strength: Recruiting Class
Weakness: Upperclassmen Experience
The difference between a Sun Devil roster with Remy Martin and one without him is like night and day. As of now, it's unclear if Martin will remove his name from the NBA Draft and return to Tempe for his senior year. Objectively, his decision could be the difference between ASU being considered the favorite to win the Pac-12 and just another contender.
Something similar could be said of Alonzo Verge Jr.
The Pac-12's Sixth Man of the Year would play a pivotal role in the upcoming season. However, Verge's choice isn't as impactful—not due to his skill, but because of the outweighed importance of Martin's leadership and command of the team.
Assuming both forego their senior seasons, the primary concern for Bobby Hurley becomes a lack of experience and the absence of a defined leader.
Fortunately, five-star point guard Josh Christopher is an expected lottery pick who should lead the Sun Devils to a Top 4 finish in the Pac-12. As the highest rated prospect in ASU history, Christopher's commitment is a sign of strength of the Hurley Era. In the big picture, his pledge gives the Devils a reason to be optimistic, regardless of Martin's decision.
On the other hand, the unexpected departure of Romello White was a substantial blow. The big man entered his name into the transfer portal after declaring for the NBA, a decision that came as a surprise to Hurley. In addition, Rob Edwards and Mickey Mitchell graduated, while Khalid Thomas transferred.
The roster turnover puts a significant emphasis on Martin and Verge's decisions, but it also opens the door for Taeshon Cherry, Kimani Lawrence, Jalen Graham, and Jaelen House. The returning players each bring a unique skill-set that should make ASU a well-balanced team. On top of that, four-star Marvin Bagley should play a significant role and may end up starting.
However, until Martin and Verge make their decisions, there are as many questions as there are answers in Tempe.
If things go right, the Sun Devils may be the favorite to win the Pac-12.
---
Colorado Buffaloes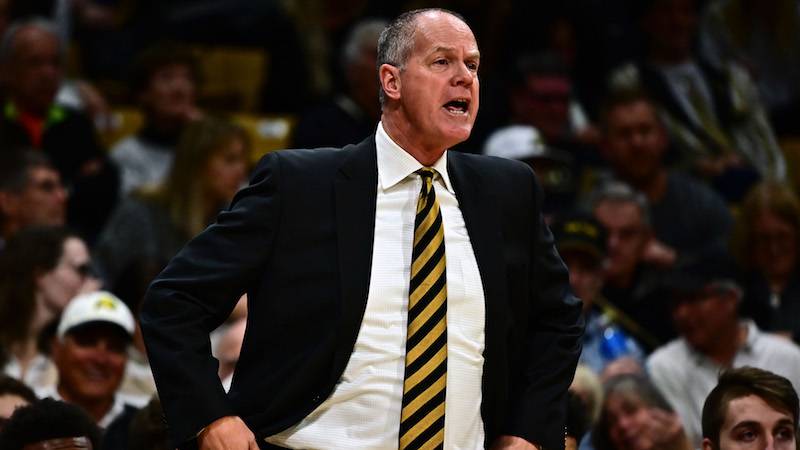 Key Potential Departures: McKinley Wright IV, Tyler Bey
Strengths: Experience, Skill
Weakness: Defense
With a major decision to make, both Tyler Bey and McKinley Wright IV hold Colorado's 2020-21 prospects in their hands. If both were to return, the Buffs would once again be among the favorites to win the conference. But if Bey and Wright were to stay in the NBA Draft, CU may find itself lost in the strong midfield of the Conference of Champions.
In all likelihood, Wright comes back for his senior season and Bey remains in the Draft. Currently, Bey is potentially an early-second round pick while Wright isn't likely to be chosen. That's about as much as Tad Boyle could ask for, especially because Wright would bring a significant level of poise, confidence, and leadership to Colorado in his final season.
To bolster CU's chances, Boyle pulled in a solid recruiting class highlighted by Jabari Walker, Tristan da Silva, Dominque Clifford, and Luke O'Brian. Each have the opportunity to see significant playing time, and Clifford and O'Brian both went to high school in Colorado, which gives them extra motivation to win games in Boulder.
On top of that, Evan Battey and D'Shawn Schwartz return. Their experience and understanding of Boyle's system are vital to CU's success, and their mentorship of the incoming freshmen will go far in ensuring the Buffs remain in the mix for a Top 4 finish in the Pac-12.
In addition, Nebraska grad transfer Jeriah Horne is an important piece who will likely see solid playing time next season.
All in all, Colorado has a solid mix of returning talent, incoming freshmen, and a grad transfer which should ensure an opportunity to secure an at-large bid to the Big Dance. But until the smoke clears on the NBA Draft process, it's not certain just how good of a year Boyle and the Buffs will have.
---
Utah Utes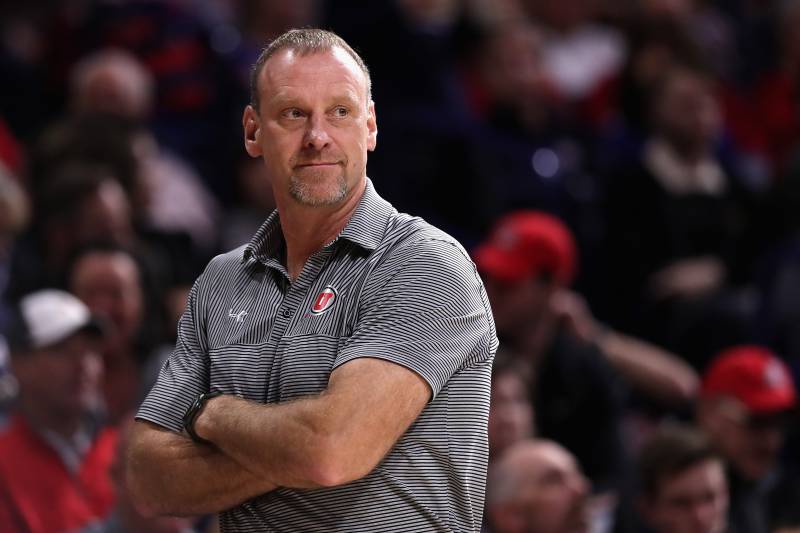 Key Potential Departures: Timmy Allen, Both Gach
Strengths: Returning starters, Depth
Weakness: Road games
As one of the best players in the Conference of Champions, Timmy Allen has NBA potential and the power to break the hearts of Utah fans if he were to remain in the Draft.
However, Allen's late decision to enter his name is an indication of his hesitancy to leave Salt Lake City. If he were to come back, Allen would be a preseason front runner for the Pac-12's Player of the Year, and the headliner of a team with significantly higher expectations than last year.
As such, it makes sense why Allen announced his decision with little fanfare. Similarly, Both Gach is likely just testing the waters. Realistically, both return to play another season for Larry Krystkowiak.
Fortunately, they will be greeted with one of the better recruiting classes in the conference.
The Utes' class is currently ranked third in the Pac-12 and is anchored by four-star shooting guard Ian Martinez. He is joined by three-stars Caleb Lohner, Pelle Larsson, and Mason Falslev. Of those three, all but Falslev is rated in the Top 200.
Optimistically, the incoming freshmen combined with Allen, Gach, Rylan Jones, Alfonso Plummer, Branden Carlson, Mikael Jantunen and Riley Battin make for a potent roster with talent, depth, and experience. Objectively, the Utes have plenty of weapons to make a legitimate run at the Conference title.
In fact, anything less than a Top 4 finish could be considered a disappointment if both Allen and Gach decide to return. Even if Allen decides to leave, the roster is filled with enough talent to get Krystkowiak back to the NCAA Tournament.
The only foreseeable X-Factor that could damage expectations in 2020-21 would be a serious injury to Jones.The scrappy guard was prone to bumps and bruises his freshman campaign, which held the Utes back. Pointedly, Jones is the heart of the offense and draws legitimate comparisons to Payton Prichard. Without him it's unclear how far Utah can go.
Still, even with all the incoming talent, depth, and skill, the elephant in the room remains winning on the road. Apart from the opening-game victory over Nevada, the Utes didn't win a single road game the rest of last season. That's a devastating problem that runs deeper than talent and luck. It became a psychological issue.
Until the Utes can overcome themselves, it's a bit premature to label them as a favorite to win the conference. Putting that aside, the 2020 iteration of Utah is certainly a contender to win the Pac-12.
---
—More from Dane Miller—

Latest posts by Dane Miller
(see all)