Posted on August 11, 2021



  By Dane Miller and Stephen Vilardo, SuperWest Sports
E
ach Pac-12 football venue has its unique characteristics, advantages, and disadvantages, ranging from capacity to the way it's structured and its history and tradition.
In this 12-part series, we look at what makes each facility unique, considering some of the key moments and stats (provided by SERCstats.com) in the Pac-12 Era.
In this seventh installment, we scout Cal's home turf, California Memorial Coliseum.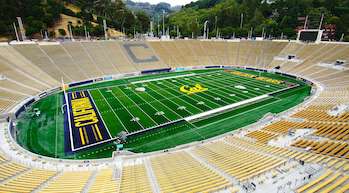 Built: 1923
Renovated: 2012
Capacity: 63,000
Elevation: 410 feet
Overall Record: 31-28
Nonconference record: 14-4
Conference Record: 17-24
O
ne of the oldest and most recognizable stadiums in the Pac-12, California Memorial Stadium has stood the test of time.
Built on top of a fault line, the view of the field from Tightwad Hill with downtown San Francisco in the distance is among the most spectacular in the Conference of Champions.
And although the Bears have a losing conference record in the venue, a closer look at the numbers shows Cal is a force to be reckoned with in Berkeley.
Against ranked Pac-12 opponents, Cal is .500 with five wins and five losses. And when ranked, the Bears are 1-1.
No. 11 Texas learned the hard way in 2016, and a year later No. 8 Washington State fell victim to the picturesque environment.
The 2018 season saw the program take the field as the No. 24 team in the country, and half of Cal's nonconference defeats have come to Top 25 opponents.
But the hallmark of the team's success at home since the Conference expanded in 2011 is arguably the Bears' 6-7 record against ranked teams.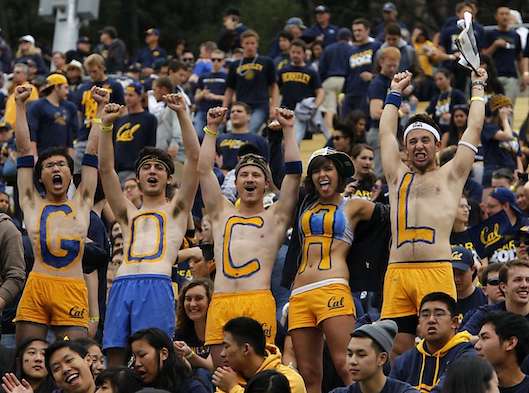 Yet, the Big Game is the overwhelming shortcoming. The Cardinal are 5-0 at the stadium since 2011 and haven't lost in Berkeley since 2008. The six-straight victories will continue to haunt the program until the streak is stopped.
The Trojans have had similar success, going 5-0 since Conference expansion. And Arizona hasn't lost in Berkeley either, posting a 2-0 mark since '11.
But the Bears are undefeated against Utah and Colorado, while holding a 4-1 record over Washington State. At the same time, Oregon State is below .500 and UCLA is 2-2.

The potential is there for Justin Wilcox to tap into, and the steady return of students over the past few years is a positive sign.
But in one of the nation's largest metropolitan areas with world-class public transit, a packed stadium should be commonplace. Until the environment is maximized, Cal could continue to bump up against the proverbial ceiling without breaking through.
Records vs. Top 25
Record v. Top 25: 6-7
Record v. Top 25 Conference Opponents: 5-5
Record v. Top 25 Nonconference Opponents: 1-2
Record v. Top 25 when Ranked: 0-1
Records When Ranked
Record when Ranked: 1-1
Record v. Conference Opponents when Ranked: 1-1
Record v. Nonconference Opponents when Ranked: 0-0
Ranked Opponents
Highest Ranking for Home Game: No. 24 (2018)
Victory over Highest Ranked Team: No. 8 Washington State (2017)
Loss to Highest Ranked Conference Opponent: No. 2 Oregon (2012)
Loss to Highest Ranked Opponent: No. 2 Oregon (2012)
Highest Ranked Opponent: No. 2 Oregon (2012)
Highest Ranked Nonconference Opponent: No. 4 Ohio State (2013)
Victory over Highest Ranked Nonconference Opponent: No. 11 Texas (2016)
Records at the California Memorial Stadium in the Pac-12 Era
Stanford: 5-0
USC: 5-0
Arizona: 2-0
Washington: 3-1
Arizona State: 2-1
Oregon: 3-2
UCLA: 2-2
Oregon State: 2-3
Washington State: 1-4
Colorado: 0-2
Utah: 0-2
Follow Stephen on Twitter @StephenVilardo, Dane @DaneMiller_SP12, and SERCstats.com @SERCenter. 
---
—More from Dane Miller—

Latest posts by Dane Miller
(see all)