Posted on October 28, 2022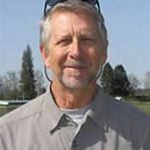 By Steve Ritchie, SuperWest Sports
T
roy Franklin was a Top 10 high school prospect at wide receiver when he attended Oregon football's "Saturday Night Live" recruiting summer camp in 2019.
Although he missed his senior season with Covid, Franklin's high school career at Menlo Atherton High in East Palo Alto was stellar.
As a consensus 4-star recruit and Top 70 player nationally, Franklin's three-year stats included 102 receptions for 1,790 yards and 34 touchdowns. He also averaged over 14 yards a carry as a running back.
His accomplishments and talent landed him on the radar of several top schools, and he narrowed his choice to a final four of Oregon, Alabama, UW, and ASU before deciding on Eugene.
What brought him to Oregon?
"Oregon was always my dream school. Cristobal did a great job recruiting me. I really liked him and Bryan McClendon, my old receiver coach. And then I think Oregon's the best team in the Pac-12. That helped. And the flashy jerseys and things like that."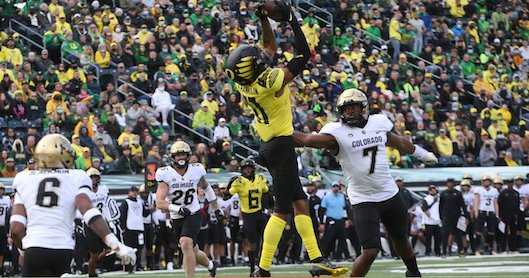 Oregon had gone through some disappointing misses in recruiting wide receivers over Cristobal's tenure.
That made Franklin's commitment that much sweeter for the coaching staff.
"Man, they were stoked," Franklin recalled. "They were very excited to have a receiver commit to them."
Oregon got their second Top 10 recruit that year when Dont'e Thornton committed to the Ducks in the fall. Both receivers showed glimpses of their potential during their freshman season.
Thornton had just nine catches, but in his final outing on the season, the Valero Alamo Bowl, he hauled in 4 passes for 90 yards and a touchdown.
Franklin matched that with four receptions for 65 yards and a score in the loss to Oklahoma.
And when they committed they formed the core of one of the best-ever wide receiver classes for the Ducks, with Franklin ranked third nationally, and Thornton seventh.
Both completed high school early, arriving in Eugene in February 2021, in time to participate in spring practice.
It didn't take long for them to make an impact.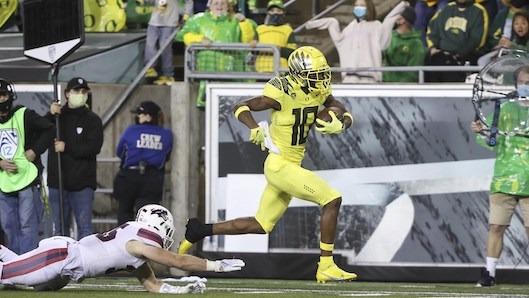 The two touted freshmen joined an already strong existing receiving corps, which returned 100% of the production from the previous year.
Seniors Johnny Johnson III and Jaylon Redd, along with underclassmen Devon Williams, Mycah Pittman, Kris Hutson and Josh Delgado, took Franklin and Thornton under their wings.
Johnson and Williams in particular helped tutor the freshmen duo in second-year offensive coordinator Joe Moorhead's offense.
"These guys brought us in and made sure they were doing their jobs, being leaders, helping us with everything we needed, and letting us know the ropes," Franklin said.
While everyone is different, Franklin said he had a fairly "easy transition" from high school to college ball, in part because of the help from the veterans.
After the first fall camp practice that season, then-head coach Mario Cristobal said he was impressed by Franklin and Thornton.
"Troy and Dont'e today looked like veterans," Cristobal said. "They're making a lot of plays."
As fall camp progressed, the young duo began to get a lot of time with the first and second-team offense, even with the number of veteran receivers on the team.
Johnny Johnson noticed the talent Franklin was showing off, too. "Troy's popped out a lot," Johnson said at the time. "His hands are second to none."
Fast forward to the 2022-23 season.
Johnson, Redd, Williams, and Pittman are all gone—the first three to graduation and Pittman to the transfer portal.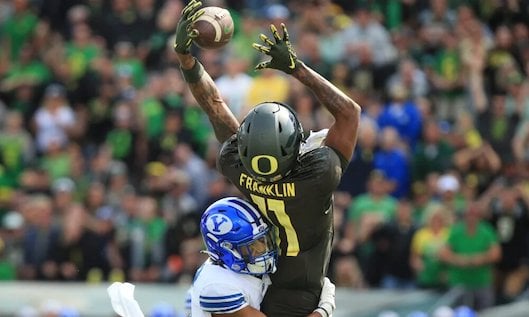 But the Oregon offense has risen to a new level with the arrival of head coach Dan Lanning, OC Kenny Dillingham, and former Auburn QB Bo Nix.
Franklin has become the leading wide receiver and deep threat for an offense that emphasizes the run and a short passing game.
After Franklin's eight catches for 132 yards and two touchdowns against UCLA, Lanning told the assembled media, "We like guys who catch the ball. Troy catches the ball. A lot of those catches out on the game field are the same ones you see in practice. I know we're just scratching the surface of what he can be."
While Thornton has had some outstanding games for the Ducks, he hasn't yet had the opportunities that Franklin has had.
Thornton's playing time will undoubtedly increase and he could be the logical successor to senior Chase Cota next season.
But Franklin's time is now, and he looks like he has the skills and the physical frame to be playing on Sundays after his college days are over.
At 6-foot-3 and 178 pounds, he is tall enough to bring down 50-50 balls over a defensive back, and has done so, making several circus catches this season.
But it is his ability on the long balls and his connection with Nix that has made the biggest difference in close games.
Against UCLA, Franklin helped break a tight game open in the second quarter when he sprinted past a Bruin defender with the game tied at 10-10 to catch an impossibly high spiral from Nix.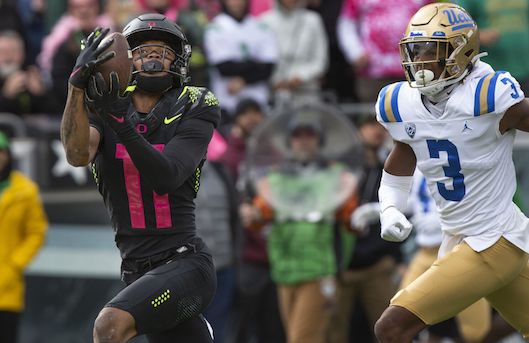 Franklin looked up for the ball at the perfect moment, letting the ball fall into his arms as he crossed the goal line. It was a stunning play, perfectly executed by Nix, the offensive line, and Franklin.
Franklin's best game of the season statistically came against WSU, in which he pulled in five catches for 136 yards, including a 50-yard touchdown catch-and-run with 1:21 left to put Oregon ahead.
Not one to praise his own accomplishments, Franklin credits Nix with "great decision making" and keeping Oregon's offense humming.
Currently, the Duck offense ranks fifth nationally with 517.1 yards per game and seventh in points per game at 42.4.
The ball control aspect of Coach Dillingham's offense has been effective this season, as Oregon ranks second in the nation in first downs per game at 28.
While Nix has appropriately drawn the most recognition for Oregon's offense, commentators and analysts are starting to give some love to Franklin.
This week Franklin will be going home to the Bay Area, as Oregon takes on Cal at 12:30 pm Saturday. He would love to shine in front of his family and friends.
Given Franklin's success so far this season, it would be shocking if he didn't.
Game Pick: Oregon 35, Cal 24
---
—More from Steve Ritchie—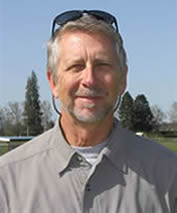 Latest posts by Steve Ritchie
(see all)