Posted on March 10, 2021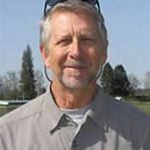 By Steve Ritchie, SuperWest Sports
T
his weekend will be the first national championship competition in track or cross country for NCAA D1 schools in 16 months.
That fact, in itself, is pretty exciting. But it's even better for competition-starved fans because the weekend will be a "double feature." (Remember those relics?)
NCAA Indoor Track and Cross Country Championships

NCAA men's and women's indoor track and field will be held from Thursday to Saturday at the University of Arkansas in Fayetteville, and NCAA men's and women's cross country on Monday at Oklahoma State University in Stillwater.
Both championship events will be televised. Track will be on ESPN3, with a replay Sunday evening, March 14 on ESPNU, while cross country will be broadcast live on ESPNU beginning at 9:30 am Pacific time.

Pac-12 teams will be in the hunt for national titles at both competitions. The Oregon men are the overwhelming favorite in the men's team race at Fayetteville, and Stanford is definitely in the mix for a podium spot in Stillwater.
The USC and UO women will take strong squads to the indoor nationals, while Stanford and Colorado will do the same in cross country. But the Arkansas women will pose a major challenge, potentially at both championships, as the Razorback women are just loaded.
Here's an overview of both championships, along with a short recap of the Pac-12 cross country championships last Friday.
NCAA Indoor T&F Championships
Men

A lot of media attention was given to the fact that the Oregon men did not get a bid to the NCAA Cross Country Championships after finishing fourth at Pac-12's.
According to Head Coach Robert Johnson, the Ducks' goal was to put their distance runners in a position where they could be most successful, and that is certainly what they have done in prioritizing indoor over cross in this dual season.
Oregon has been ranked No. 1 in every Coaches Poll for indoor track this season. They will take 10 individual athletes in seven events and a relay team to Fayetteville, and nearly all of them are likely to score.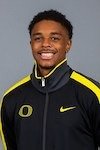 The Ducks own the top marks in the 60 (Micah Williams, 6.53, #7 all time for a collegian), 800 (Charlie Hunter, 1:45.59), Mile (Cole Hocker, 3:50.5, #2 all-time for a collegian), 3000 (Cooper Teare, 7:46.10), and the distance medley relay (9:19.42, collegiate record).
Oregon has multiple athletes in the 60, 800, Mile, and 3000, as well as potential scorers in the triple jump and heptathlon.
Of course, having the fastest times or the best marks going into a meet guarantees nothing. You have to perform at your best on that one day in that one race. The Ducks have done that before in their four previous indoor wins, especially in 2015 when distance runners scored nearly all of their 74 points. 
But LSU and host Arkansas will be ready to pounce if Oregon falters at all.

USC will send four men in four events to compete at NCAAs, including Earnie Sears, who has the second best mark nationally in the high jump. ASU will send just three, but one of those three is Turner Washington, who is favored to win the shot put. The Sun Devils also have two potential scorers in the 60 hurdles.
Washington's four-man contingent is led by Sam Tanner, who has the second-best time in the mile and could give UO's Hocker a very strong challenge.
Women
USC has the largest group of qualifiers among Pac-12 schools with nine individuals and one relay team. Senior Twanisha Terry has run 7.14 in the 60 to lead all qualifiers, but with one-tenth of a second separating the top 12 sprinters this could be a tough race to call.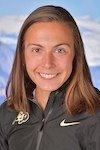 Other top qualifiers from the Pac-12 are Colorado senior Sage Hurta in the mile and Arizona junior Samantha Noennig in the shot put. Oregon has the second-ranked distance medley team going in, which is some consolation for the Ducks who could not muster a full cross country team for the Pac-12 championships.
On my formchart, I have the Trojans and Ducks both scoring around 25 points. They will need more than that to contend for a podium finish. No other Pac-12 team has more than two entries aside from UW, which has two individuals and a relay team.
The Arkansas women are likely to win the women's title in a walk at their home facility. The Razorbacks have one or more women in every running event plus entrants in three field events, and most of them are very likely to score. I don't see anyone mounting a serious challenge to them.
NCAA Cross Country Championships
Men

There were two great races at the Pac-12 Cross Country Championships last Friday. Colorado senior Eduardo Herrera pulled away from Stanford freshman Charles Hicks late in the race at Chambers Creek Regional Park.
The powerfully-built Herrera looked strong and confident throughout the race, but Hicks and Oregon's Jackson Mestler stayed with him through several loops before Herrera opened up a gap that he kept extending to the finish.
"I wanted conference with all my strength," Herrera said afterwards. "I didn't have a problem taking off with 4K to go."
Adding that his mentality changed during his summer training, Lalo, as he is known to teammates, got added motivation from his desire to turn pro after college.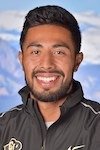 Herrera is not likely to be among the top favorites at the NCAAs, but the Pac-12 team champion Stanford is definitely in the mix for a title or a podium finish. Hicks led the way for the Cardinal and is an impressive runner, but what really gives Stanford a chance to win the NCAA title is their ability to run fast as a pack.
Halfway through the Pac-12 race they had an eight-second spread from their number one to their number five. They didn't quite maintain that through the second half of the race but still finished 2-5-6-7-8-9 with a 23-second spread at the line. Colorado and Washington have quality teams, but lost to Stanford by more than 30 points
BYU and Northern Arizona look like solid NCAA co-favorites, but I would not count Stanford out after that impressive performance at the conference meet. Colorado and Washington also received team bids to nationals. Individuals selected to compete at NCAAs are Oregon's Mestler and Arizona's Victor Ortiz-Rivera.
Women
The Pac-12 women's race was even better than the men's. Ella Donaghu was the overwhelming favorite (and my pick as well) to win her first Pac-12 title in cross, but she was surprised by a woman not considered to be the best runner on her own team, much less the best in one of the strongest conferences in the country.

That would be Washington's Haley Herberg who took the lead from the first strides and never gave it up, though Donaghu came back to challenge her in the final stretch. A Southern California product who transferred to UW from Oklahoma, Herberg said her plan was to "take it out aggressively and run aggressive the whole way." She did just that, building a 22-second lead after the first 2000 meters of the 6000 meter race. Even as Herberg kept increasing her lead, the pack seemed content to wait, thinking she would come back to them.
Halfway through the race, Donaghu and teammate Zofia Dudek realized they had to go after Herberg and began to slowly close the gap. At 5K Donaghu was still nine seconds behind Herberg who finally seemed to be struggling a bit. Coming into the final 300 meters Donaghu caught Herberg and seemed poised to pass her, but somehow Herberg got a second wind, picked up her pace and pulled away from Donaghu to win by eight seconds.

The Stanford women closed extremely well over the final third of the race and placed all five scoring runners in the top 12 to win the title easily with 30 points, 20 ahead of second-place Colorado. While their team spread was not as good as the Cardinal men, it was still very good and deserving of their fourth-place ranking. Ahead of Stanford is a major roadblock in Arkansas, which has a great chance to win nationals in indoor track and cross country in a three-day span.
Colorado, Washington and Oregon State also gained team bids to the NCAA, while Utah's Poppy Tank and WSU's Erin Mullins received individual bids.
---
—More from Steve Ritchie—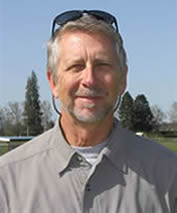 Latest posts by Steve Ritchie
(see all)