Posted on November 5, 2021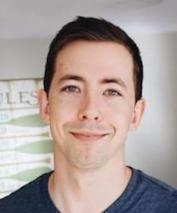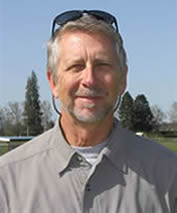 By Steve Ritchie and Eli Ritchie, SuperWest Sports
T
he start of November has brought a new feeling to the Oregon football season.
The Ducks followed up a big away win at UCLA with a blowout over Colorado, Anthony Brown has turned around his game and is starting to win fans back.

Then the College Football Playoff Committee surprised us all by handing the Ducks a No. 4 ranking that would have them in the big show if the season ended today.
This resurgence couldn't have come at a better time, as the Ducks enter the toughest section of their schedule against Washington, Washington State, Utah, and Oregon State.
According to Vegas, all of those teams (plus Arizona State) are the most likely teams to challenge Oregon for the conference title.
Add in the extra emotion and intensity of rivalry games, the intimidating venue at Utah, and tendency of Washington State to play Oregon tough even in down years, it becomes clear it won't be easy for the Ducks to win out.
Especially with the spotlight of their high ranking.
Thankfully, Jimmy Lake wanted the spotlight for himself this week, taking a shot at UO during his weekly press conference when asked about recruiting battles. Take it away Jimmy: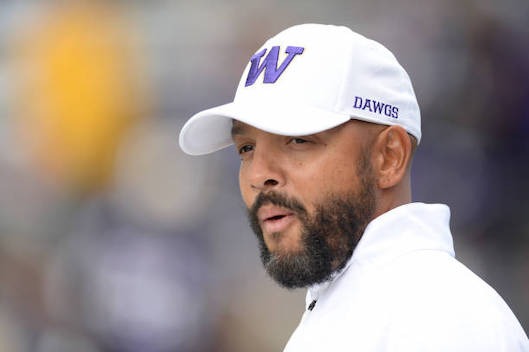 "Our battles are really the schools that we go against, that have academic prowess like the University of Washington. Notre Dame. Stanford. USC. We go with a lot of battles toe-to-toe all the way to the end with those schools. So I think that's made up in your world. In our world, we battle more academically prowess teams."
Ignore for a moment Lake's confusion of nouns, adjectives and adverbs, and the glaring irony of that mishmash in a conversation of academic bona fides. More importantly, Is he right?

At this point, we should note that while we are lifelong Duck fans, the younger of us (Eli) has a graduate degree from UW in a highly ranked program, and enjoyed his time as a student in Seattle. It is an excellent university.
But that doesn't change the fact Lake doesn't know what he's talking about.
If you look up some of the measurements that could define the academic rankings of the two schools for undergrads, like incoming GPA, acceptance rate, graduation rate, and graduate salaries, Washington is typically a little better than Oregon.
But Washington is no Stanford or Notre Dame by any metric, and even these large averages lose much of their meaning when considering football players on full academic scholarships don't compete for places in the same way as traditional students.
Lake might be referencing Washington football's Academic Progress Rate, or APR, which led the nation in 2020 at 999. Oregon came in at No. 66, with a score of 968.
APR Rankings & Scores for Football through 2018-19

1. Washington, 999
6. Stanford, 990
11. Utah, 988
35. ASU, 978
38. Cal, 977
41. OSU, 975
58. USC, 970
66. Oregon, 968
75. Arizona, 964
80. WSU, 963
103. Colorado, 955
123. UCLA, 944

*national avg: 968

— SportsPac12 (@SportsPac12) May 19, 2020
Before you make a judgment, though, take a moment to look at the formula.
Schools get a point for a student athlete returning to school, and a point for the student being eligible. That number is divided by the total available points, and multiplied by a thousand.
So Washington football kept all its players in school, and kept them eligible, at a level of 99.9%. That's admirable. Oregon kept ALMOST all its players in school and eligible, for nearly 97%, also pretty admirable.
Secondly, UW and Oregon battle for recruits all the time. Just this year, Oregon has flipped multiple former Washington commits.
Washington fans also won't react well to touting academics during a frustrating season, especially for a rival who has dominated the matchup in recent history. This isn't a great look with the recruits.
Worst of all for the Huskies, Oregon coaches have to be thrilled Lake just called all their players stupid.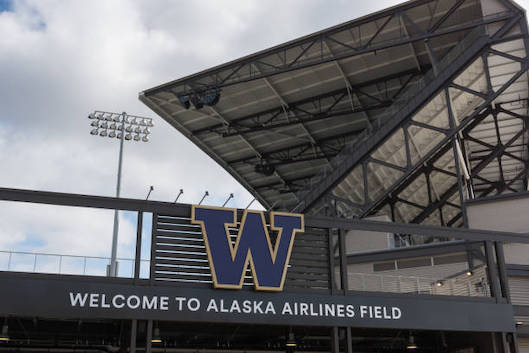 Trash talk between fans reaches a fever pitch when it comes to the UO-UW Border War. In 2010 at Husky Stadium, one of us used the restroom between quarters and was nearly collateral damage in trash talking exchange that came very close to fisticuffs.
This is quite understandable, though, in a rivalry that was dominated by one team (UW) for decades, only to completely flip the other way (UO) in the past nearly three decades.
And what other rivalry has "The Pick," "The Point," and "The Streak?"
In 1994, Oregon's Kenny Wheaton pulled in "The Pick" at the Oregon goal line, with the Huskies about to score and secure the last minute victory.
Instead, Wheaton took it all the way back for a touchdown, a remarkable turn of events made famous by Jerry Allen's call of "Kenny Wheaton's going to score!"
That 31-20 victory propelled Oregon to the Rose Bowl for the first time in 37 years and changed the trajectory of the Ducks' program.
Since "The Pick," Oregon has enjoyed a 19-6 margin in wins over the Huskies, including the 12 straight victories from 2004-2015, known as "The Streak."
During the years of complete Oregon dominance, UW head coaches Tyrone Willingham and Steve Sarkisan went 0-4 and 0-5, respectively, and even Chris Petersen endured a 2-4 record after the streak ended.
The Huskies and their fans suffered mightily until 2016, when they took out all the pent-up rage on the Ducks in a 70-21 win and reveled in "The Point."
That was the moment when UW QB Jake Browning taunted UO LB Jimmie Swain with a finger pointing as he ran it in for the first of ten touchdowns on the day.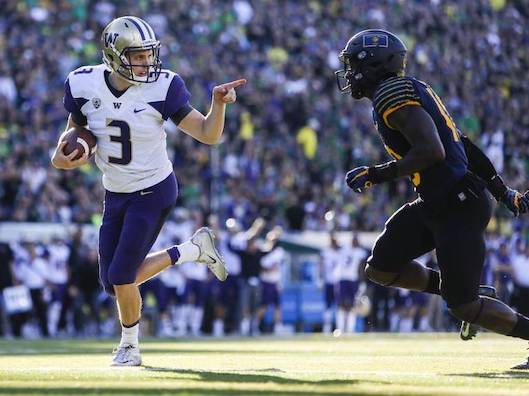 "The Point" was the UW response to "The Pick" and "The Streak." Articles have been written about it, complete with exhaustive commentary by former players, coaches, and media types about the one second event that was captured in several photos.
Will this year's game produce another historic moment, perhaps "The Catch" or "The Tackle," or even "The Kick Return" where a UW player lies down in the end zone to set up a trick kickoff return?
Oh wait, that last one already happened in 2019 and turned into "The Penalty."
Whatever happens probably won't compare to the 1962 battle in Seattle. The Huskies led 21-13 late in the fourth quarter, but the Ducks mounted a drive behind the passing of Bob Berry and the running of Mel Renfro.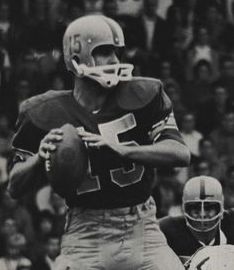 They scored, went for two, and got it to tie the game at 21-21.
The Ducks got the ball back with just 49 seconds left. They moved to the Husky 27 but were pushed back by a penalty and just had time for a final play, a Hail Mary. Here's how Dick Strite, then-sports editor of the Register Guard, described what happened:
"Berry, attempting to maneuver to pass, eventually uncorked one into the end zone but (RB Larry) Hill didn't have much of a chance. He was not only defended by two Huskies, but hundreds of juvenile and adult fans who were milling around in the end zone when the pass eventually arrived."
Other accounts at the time said that Hill was "tackled" by the Washington fans. So maybe there was "The Tackle," though without video evidence.
Just imagine if something like that were to happen on Saturday. SportsCenter would show endless replays, and Twitter would likely explode with commentary.
Aren't rivalries great?
---
—More from Steve Ritchie—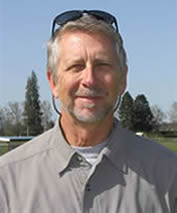 Latest posts by Steve Ritchie
(see all)