Posted on April 21, 2023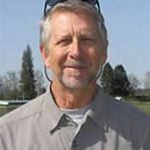 By Steve Ritchie, SuperWest Sports
S
everal intriguing storylines are taking shape in the outdoor track and field season.

With the Pac-12 Championships looming less than a month away, this is a great time to take a closer look at the teams and individuals who will be making news during the Conference and National Championships.
In this first installment of a series focusing on Pac-12 track and field, we look at the decline of the once-dominant Oregon men's program.
In subsequent installments, we'll examine the potential 2023 successors to the Conference throne and highlight some other developments to watch for before the season ends in June.
Can Oregon Men Continue their Incredible Streak of Pac-12 Titles?
T
he last time a team other than Oregon won the men's Pac-12 championship was in 2006. USC took the title that year in Eugene, but since then the Ducks have been on an amazing roll, with 15 straight conference championships.
The 2022 Pac-12 meet was a typical cakewalk for Oregon, as they scored 161 points, 56 more than runner-up Washington.

Despite the success of both the men's and women's squads, Head Coach Robert Johnson was let go at the end of the 2022 season, apparently for reasons related to the use of DEXA body scans and weight shaming.
In August, Jerry Schumacher, who has been guiding many of the country's best distance runners with the Bowerman Track Club, was hired to replace Johnson.
Schumacher continues to coach the BTC runners as well.
Several new assistants were hired, including Shalane Flanagan, Chris Solinsky, and former ASU throws coach Brian Blutreich. Sprint and hurdle guru Curtis Taylor was retained along with one of the other assistants.
Johnson's departure either spurred or coincided with the transfer of several high-profile athletes who had remaining eligibility.
That list included Olympian and NCAA champion triple jumper Emmanuel Ihemeje, 2022 Pac-12 long jump champion Pierce LaCoste, 2022 Pac-12 decathlon champion Max Vollmer, and versatile hurdler Will Mundy.
But, even considering those departures, the performance of the Oregon men's team to date has been surprising, to say the least.
Oregon does not have a single conference leader on their men's team, and only one in the top three in any event.
Apart from multi-event athletes, they have no high jumper, no shot putter, no discus thrower, and don't appear to have a 4 x 400 team.
In addition, the Ducks have just a single performer in the 400, both hurdle races, hammer, and the long jump and triple jump.
The Ducks currently project to score just 40 points at the Pac-12 meet, based on seasonal best marks.
Last year, 40 points would have placed them ninth, which is next to last as Oregon State and Utah do not have men's track programs.
In contrast to the men, the UO women are co-favorites for the Pac-12 title, along with USC, and some early form charts have them projected as high as fourth at the NCAA Championships.
So, What is Going On with the Oregon Men's Team?
A
review of the men's team roster also reveals 15 athletes who have not yet competed outdoors. Most of these athletes are distance runners and the majority are freshmen, so perhaps they are headed for a redshirt year.
It's hard to tell because Coach Schumacher is well-known for limiting how much racing his Bowerman athletes do.
The late summer hiring of Schumacher likely didn't help Oregon's recruiting efforts either.
Most of the nation's top seniors were already committed to a college by that time. Only two freshman recruits appear in the Top 10 of the conference performance lists.
Another factor is the disappearance of world-class sprinter Micah Williams, who won both the 100 and 200 at last year's conference meet and who, if healthy, would be a favorite to win NCAAs.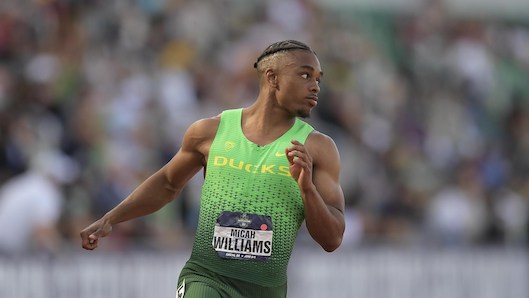 Just having a healthy Williams would not only give the Ducks valuable points in the sprints but also make the Oregon 4×100 relay competitive with any team in the conference.
Williams' last 100-meter race was during the indoor season in late January so whatever is ailing him is no doubt serious.
Who will Take Advantage of the Ducks' Demise at Pac-12s?

Will it be sprint-heavy UCLA? Or the very deep distance crew of UW? We'll take a look at UCLA's resurgence in our next column.
Unless things change soon, we're certain to see Oregon's 15-year streak of conference titles end—to paraphrase T.S. Eliot—not with the bang (of a close team race) but with a whimper.
---
—More from Steve Ritchie—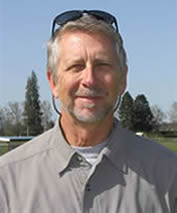 Latest posts by Steve Ritchie
(see all)